North America Renewable Diesel Market Size, Share, and COVID-19 Impact Analysis, By Feedstock (Waste oils, Vegetable oils), By Country (United States, Canada, Mexico), and North America Renewable Diesel Market Insights Forecasts to 2032
Industry: Energy & Power
---
REPORT FORMAT

---
North America Renewable Diesel Market Insights Forecasts to 2032
The North America Renewable Diesel Market Size was valued at USD 11.72 Billion in 2022.
The Market is growing at a CAGR of 8.42% from 2022 to 2032.
The North America Renewable Diesel Market Size is expected to reach USD 26.3 Billion by 2032.
The United States is expected to Grow the fastest during the forecast period.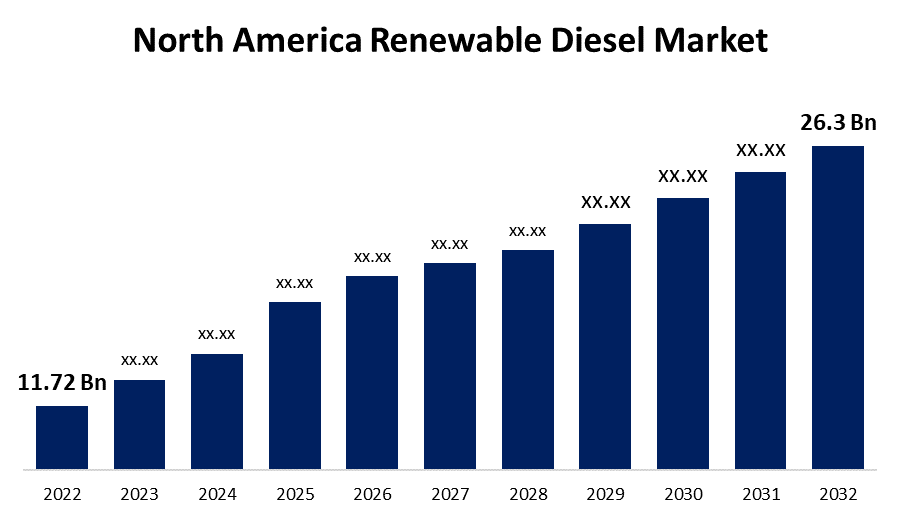 Get more details on this report -
Request Free Sample PDF
The North America Renewable Diesel Market Size is expected to reach USD 26.3 Billion by 2032, at a CAGR of 8.42% during the forecast period 2022 to 2032. The United States leads the renewable diesel market in North America, and this domination is likely to continue during the forecast period. According to EIA figures, the 11, along with current facilities, are expected to create around 135,000 barrels per day (bpd) of renewable diesel by 2025, up from approximately 80,000 bpd currently.
Market Overview
Renewable diesel is a fuel generated from fats and oils such as soybean oil or canola oil that has been treated to be chemically equivalent to petroleum diesel. Renewable diesel can either be utilized as a substitute for petroleum diesel or blended with any proportion of petroleum diesel. In recognition of the financial advantages of the Low Carbon Fuel Standard, nearly all domestically generated and imported renewable diesel is consumed in California. Additionally, biodiesel and renewable diesel do not constitute the same fuel type. Renewable diesel, formerly known as environmentally friendly diesel, is a hydrocarbon produced mostly through hydrotreating but also through the process of gasification, pyrolysis, and various other biochemical and thermochemical processes.
The hydrotreating method is being used in industrial production facilities, and fats, oils, and greases are the most prevalent feedstock. Furthermore, classical hydrotreating, biological sugar upgrading, gasification, pyrolysis, and hydrothermal processing are all technology approaches for producing renewable diesel. Renewable diesel fulfills the ASTM D975 petroleum specification in the United States and EN 590 in Europe. According to the Energy Information Agency (EIA), 11 domestic plants in six states with a capacity of 1,750 million gallons per year will be operational in January 2022. Furthermore, the US government provides a USD 1 per gallon tax benefit to manufacturers of biofuel diesel (although, the tax incentives expired on December 31, 2009). In August 2022, the US Senate passed the Inflation Reduction Act of 2022. The tax credit for biodiesel and renewable diesel blends of one dollar per gallon will be extended until the end of 2024.
Report Coverage
This research report categorizes the market for North America Renewable Diesel Market based on various segments and regions and forecasts revenue growth and analyzes trends in each submarket. The report analyses the key growth drivers, opportunities, and challenges influencing the North America Renewable Diesel Market. Recent market developments and competitive strategies such as expansion, product launch, and development, partnership, merger, and acquisition have been included to draw the competitive landscape in the market. The report strategically identifies and profiles the key market players and analyses their core competencies in each sub-segments of the North America Renewable Diesel Market.
North America Renewable Diesel Market Report Coverage
| Report Coverage | Details |
| --- | --- |
| Base Year: | 2022 |
| Market Size in 2022: | USD 11.72 Billion |
| Forecast Period: | 2022-2032 |
| Forecast Period 2022-2032 CAGR: | 8.42% |
| 2032 Value Projection: | USD 26.3 Billion |
| Historical Data for: | 2018-2021 |
| No. of Pages: | 200 |
| Tables, Charts & Figures: | 130 |
| Segments covered: | By Feedstock, By Country, and COVID-19 Impact Analysis |
| Companies Covered: | Chevron Group, Gevo, Inc, Aemetis, Inc., American GreenFuels, LLC, Cargill, Incorporated, Genuine Bio Fuel Inc, Valero Energy Corporation, Phillips 66, Canada Clean Fuels, PBF Energy Inc., Shell Plc, Marathon Petroleum Corporation, Imperial Oil Limited |
| Pitfalls & Challenges: | COVID-19 Empact, Challenge, Future, Growth, & Analysis |
Get more details on this report -
Request Free Sample PDF
Driving Factors
This market's expansion is attributed to the rising automobile industry, as well as rising concern about the need for mitigated environmental effects, government tax credits, and funding for renewable energy. The primary market opportunity has emerged as technological improvement and improving the supply chain of renewable diesel. In addition, governments throughout the region are providing tax breaks and refunds to stimulate the production and utilization of biofuels. For example, the United States and Europe have aided the biofuel business by offering tax breaks to manufacturers, blenders, and suppliers.
In addition, one of the major market influences is the increased demand for renewable biofuels that ensure complete combustion and can reduce carbon dioxide and other greenhouse gas emissions. Renewable diesel is also in high demand due to its excellent compatibility with existing diesel engines. However, the demand-supply mismatch generated by insufficient production capacity represents a significant opportunity for market participants. There is significant room for R&D in feedstock selection for product manufacturing, which is anticipated to open up prospects for market players.
Market Segment
By Feedstock (Waste oils, Vegetable oils
In 2022, the waste oils segment accounted for the largest revenue share of more than 27.3% over the forecast period.
On the basis of feedstock, the North America Renewable Diesel Market is segmented into waste oils and vegetable oils. Among these, the waste oils segment is dominating the market with the largest revenue share of 47.3% over the forecast period. Tallow, used cooking oil, fish oil, lard, and poultry are all regarded as waste oils feedstocks for renewable diesel production. Tallow also serves as a key element in leather conditioners, aviation biofuels, and soldering fluxes. Tallows' abundance and inexpensive cost have encouraged their application in biodiesel manufacturing. Because used cooking oil has a lower carbon footprint than soybean and other vegetable oils, it earns more marketable credits under California's low-carbon fuel standard. Feedstock cost and demand have risen as refiners and other businesses battle for supply in order to benefit from state and federal rules and tax benefits.
Furthermore, in the North American renewable diesel market, vegetable oils are the second largest market behind waste oils. Over the projection period, it is expected to increase at the fastest CAGR. Corn oil, canola oil, soyabean oil, sunflower oil, and palm oil are examples of vegetable oils used for the production of renewable diesel. Economic and political pressure is mounting to transform agricultural waste into sustainable fuel. Canola oil has been allowed by the Environmental Protection Agency to be used as a feedstock for renewable diesel and sustainable aviation fuel, potentially providing a fresh option to soybeans at a time when vegetable oil prices are rising globally.
Competitive Analysis:
The report offers the appropriate analysis of the key organizations/companies involved within the North America Renewable Diesel Market along with a comparative evaluation primarily based on their product offering, business overviews, geographic presence, enterprise strategies, segment market share, and SWOT analysis. The report also provides an elaborative analysis focusing on the current news and developments of the companies, which includes product development, innovations, joint ventures, partnerships, mergers & acquisitions, strategic alliances, and others. This allows for the evaluation of the overall competition within the market.
List of Key Companies
Chevron Group
Gevo, Inc
Aemetis, Inc.
American GreenFuels, LLC
Cargill, Incorporated
Genuine Bio Fuel Inc
Valero Energy Corporation
Phillips 66
Canada Clean Fuels
PBF Energy Inc.
Shell Plc
Marathon Petroleum Corporation
Imperial Oil Limited
Key Target Audience
Market Players
Investors
End-users
Government Authorities
Consulting and Research Firm
Venture capitalists
Value-Added Resellers (VARs)
Recent Developments
On April 2023, Kinder Morgan, Inc. announced the completion of its renewable diesel (RD) hub projects in Southern and Northern California. The Southern California hub, which has a throughput of up to 20,000 barrels per day (bpd) of mixed diesel over two inland destination truck racks, has been providing RD to San Diego since early February 2023, with deliveries to Colton starting recently.
On February 2023, Eni Sustainable Mobility and PBF Energy Inc. have announced that they have entered into definitive agreements to form a 50-50 joint venture (JV), St. Bernard Renewables LLC (SBR), to build a biorefinery in Louisiana, US, adjacent to PBF Energy's Chalmette refinery.
In November 2022, Lafarge Canada has established a cooperation with 4Refuel, a Finning Industrial Service, to deliver renewable diesel (R50, a 50% renewable diesel) to the Greater Vancouver Area (GVA) market. On a lifetime basis, switching from regular B5 to R50 renewable diesel will save roughly 36% or 1,300 tonnes of CO2 equivalent by the end of 2022; this is equivalent to taking 295 automobiles off the road. If the changeover to R50 is made for the entire year of 2023, Lafarge estimates a 5,000 tonnes CO2e annual decrease.
Market Segment
This study forecasts revenue at global, regional, and country levels from 2021 to 2032. Spherical Insights has segmented the North America Renewable Diesel Market based on the below-mentioned segments:
North America Renewable Diesel Market, By Feedstock Type
Waste Oils
Vegetable Oils
North America Renewable Diesel Market, By Country
United States
Canada
Mexico
Need help to buy this report?