North America Protein Market Size, Share, and COVID-19 Impact Analysis, By Source (Animal, Microbial, Plant), By End User (Animal Feed, Food & Beverages, Personal Care & Cosmetics, and Supplements), by Country (Canada, Mexico, United States) and North America Protein Market Insights, Industry Trend, Forecasts to 2032.
Industry: Food & Beverages
---
REPORT FORMAT

---
The North America Protein Market Size is expected to grow measurable count at a CAGR of 4.0% during the forecast period 2022-2032.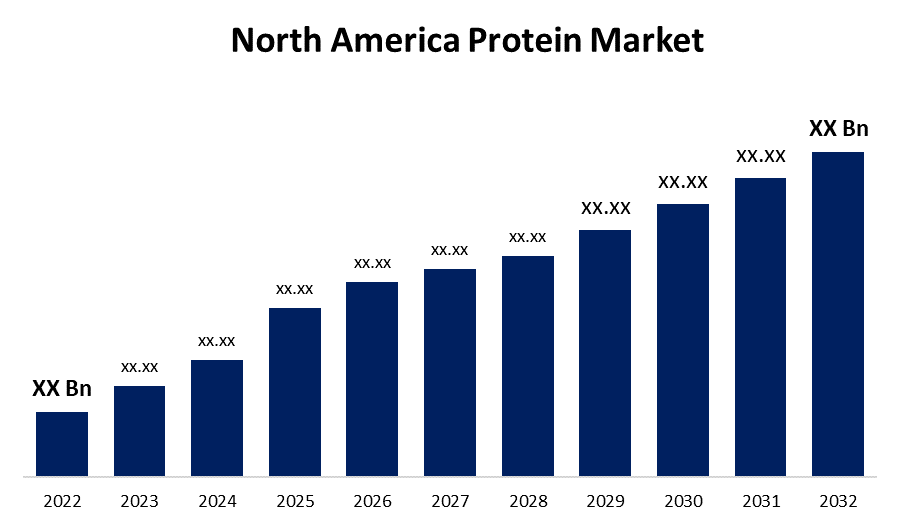 Get more details on this report -
Request Free Sample PDF
Market Overview
The North America protein market is significant and continues to grow. Factors such as increasing consumer awareness of the importance of protein in a healthy diet, rising demand for functional and nutritional food products, and the popularity of protein supplements among fitness enthusiasts contribute to the market's growth. The production, consumption, and distribution of items containing protein in the North American area, which includes the United States and Canada, are collectively referred to as the "North America protein market." Building and mending bodily tissues, promoting the growth of muscles, and sustaining general health all depend on protein, an important macronutrient. The protein industry in North America is diversified and includes both plant-based and animal-based proteins.
Report Coverage
This research report categorizes the market of the North America protein market based on various segments and regions and forecasts revenue growth and analyzes trends in each submarket. The report analyses the key growth drivers, opportunities, and challenges influencing the North America protein market. Recent market developments and competitive strategies such as expansion, product launch, and development, partnership, merger, and acquisition have been included to draw the competitive landscape in the market. The report strategically identifies and profiles the key market players and analyses their core competencies in each sub-segments of the North America protein market.
North America Protein Market Report Coverage
| Report Coverage | Details |
| --- | --- |
| Base Year: | 2021 |
| Forecast Period: | 2022–2032 |
| Forecast Period 2022–2032 CAGR: | 4.0% |
| Historical Data for: | 2020-2021 |
| No. of Pages: | 200 |
| Tables, Charts & Figures: | 120 |
| Segments covered: | By Source, By End User, By Country, |
| Companies Covered: | Archer Daniels Midland Company, Bunge Limited, CHS Inc, International Flavors & Fragrances, Inc, Kerry Group PLC (sorted alphabetically). |
| Pitfalls & Challenges: | COVID-19 Empact, Challenge, Future, Growth, & Analysis |
Get more details on this report -
Request Free Sample PDF
Driving Factors
In North America, the fitness and sports nutrition industries are expanding significantly. Protein is an important part of sports nutrition since it helps with muscle growth, repair, and recovery. The demand for protein powders, bars, and drinks is being driven by athletes, fitness enthusiasts, and active people as part of their workout regimens. Also, the demand for plant-based protein products is rising in North America as plant-based diets and vegetarian and vegan lifestyles become more popular. A sustainable and greener substitute for animal-based proteins is found in plant-based proteins including soy, peas, lentils, and other legumes. To meet the rising demand for plant-based choices, the plant-based protein industry is increasing quickly. Moreover, the market expansion is being driven by ongoing innovation in the creation of protein products. To satisfy a wide range of consumer tastes, businesses are producing novel formulas, flavors, and forms. For instance, protein bars with distinctive tastes, textures, and useful substances are becoming more popular. This ongoing product innovation helps grow the market and draw in new customers.
Restraining Factors
Alternative protein sources, such as other macronutrients and non-protein-based goods, are a challenge to the protein business. Consumers can choose alternate food items that offer total nutritional balance without focusing exclusively on protein consumption and yet deliver the vital nutrients of carbohydrates and fats, which may hinder the growth of the protein market. Moreover, Allergies and intolerances to specific protein sources, such as dairy or soy, can restrict the consumption of certain protein products. Consumer perception and misconceptions regarding protein consumption can impact market growth. Some consumers may be skeptical about the claims made by protein products or may lack trust in the industry as a whole.
Market Segment
In 2022, the plant is influencing the largest market share over the forecast period.
Based on the sources, the North America protein market is segmented into animal, microbial, and plant. Among these, the plant segment held the largest market share during the forecast period owing to its wide availability, usefulness, low cost, and status as a vegan source of protein. However, the microbial segment is the fastest growing segment by source due to the supplements market having shown a need for microbial proteins, particularly protein from algae. It is projected that this industry would be driven by ongoing innovation and new competitors.
In 2022, the food & beverage segment is witnessing a higher growth rate during the forecast period
Based on the end users, the North America protein market is segmented into animal feed, food & beverages, personal care & cosmetics, and supplements. Among these, the food & beverages segment is expected to have a higher market share value over the forecast period, due to the increased demand for whey, wheat, and pea protein in F&B products. The dairy and meat substitutes business maintained its dominance due to the widespread usage of soy-based plant protein. In 2022, the two sub-segments contributed 61.3% of the total volume of the F&B segment in the area. Soy protein dominates the protein industry because it can simulate the texture of muscle when stacked into linear fibers. This increases its application in high-moisture extrusion, gelling, and protein fortification. These meat analogs are extruded at high moisture levels (>40%) at higher temperatures exceeding 100 °C to produce the necessary anisotropic product structure.
The second-largest market is animal feed, and insect protein dominates it, accounting for 53.8% of the total market share. By making sustainable alternative protein sources like insect protein available, the market potential for animal feed is increased even further. Businesses including Darling Ingredients, Aspire Food Group, and Enterra Corporation are growing their production capabilities in the area to offer a cost-effective and effective supply of feed-grade protein.
In 2022, the United States segment is dominating the highest growth rate during the forecast period
On the basis of country, the North America protein market is divided into Canada, Mexico, United States. Among these, the United States segment dominates the largest market growth during the forecast period, because of the nation's high level of production consolidation and a vibrant competitive environment. Through the acquisition of small businesses, the expansion of protein manufacturing facilities, and the diversification of their product lines, corporations are enhancing their presence in the nation. Agropur, Anchor Ingredients, and Hilmar Cheese, among other businesses, increased their manufacturing capacity over the study period. As a result, market distinctiveness and ongoing product development led to more volumetric sales.
Canada continued to be the second-largest market, due to customer demands for a greater variety of protein sources. Animal proteins are being replaced by novel functional meals and value-added goods that are being developed by the burgeoning plant-protein sector. More than 40% of Canadians want to actively increase their consumption of plant-based meals by 2022. The adaptability of plant-based protein sources for vegetarian, vegan, and "flexitarian" lifestyles has lately enhanced their appeal.
Competitive Analysis:
The report offers the appropriate analysis of the key organizations/companies involved within the North America protein market along with a comparative evaluation primarily based on their product offering, business overviews, geographic presence, enterprise strategies, segment market share, and SWOT analysis. The report also provides an elaborative analysis focusing on the current news and developments of the companies, which includes product development, innovations, joint ventures, partnerships, mergers & acquisitions, strategic alliances, and others. This allows for the evaluation of the overall competition within the market.
List of Key Companies
Archer Daniels Midland Company
Bunge Limited
CHS Inc
International Flavors & Fragrances, Inc
Kerry Group PLC (sorted alphabetically)
Key Target Audience
Market Players
Investors
End-users
Government Authorities
Consulting and Research Firm
Venture capitalists
Value-Added Resellers (VARs)
Recent Development
In August 2022, the new Gold Standard Protein Shake was introduced by Optimum Nutrition. Each serving of the RTD has 24 grams of protein and is offered in chocolate and vanilla flavors.
In June 2022, for the release of Pro-Optima TM, a grade A functional whey protein concentrate (WPC), Fonterra JV formed a joint venture with the Tillamook County Creamery Association (TCCA) and a three-mile canyon farm in the United States.
Market Segment
This study forecasts revenue at global, regional, and country levels from 2019 to 2030. Spherical Insights has segmented the North America Protein Market based on the below-mentioned segments:
North America Protein Market, By Source
North America Protein Market, By End Users
Animal Feed
Food and Beverages
Personal Care and Cosmetics
Supplements
North America Protein Market, By Country
Canada
Mexico
United States
Need help to buy this report?