Global Molded Pulp Packaging Market Size By Type (Wood Pulp, Non-Wood Pulp), By Molded Type (Thick Wall, Transfer, Thermoformed, Processed), By Product (Trays, End Caps, Bowls & Cups, Clamshell, Plates, Others), By Application (Food Packaging, Food Service, Electronics, Healthcare, Industrial, Others), By Region, And Segment Forecasts, By Geographic Scope And Forecast Global Molded Pulp Packaging Market Insights Forecasts to 2032
Industry: Advanced Materials
---
REPORT FORMAT

---
Global Molded Pulp Packaging Market Insights Forecasts to 2032
The Molded Pulp Packaging Market Size was valued at USD 5.7 Billion in 2022.
The Market Size is growing at a CAGR of 8.1% from 2022 to 2032
The Global Molded Pulp Packaging Market Size is expected to reach USD 10.7 Billion by 2032
Asia Pacific is expected to grow the fastest during the forecast period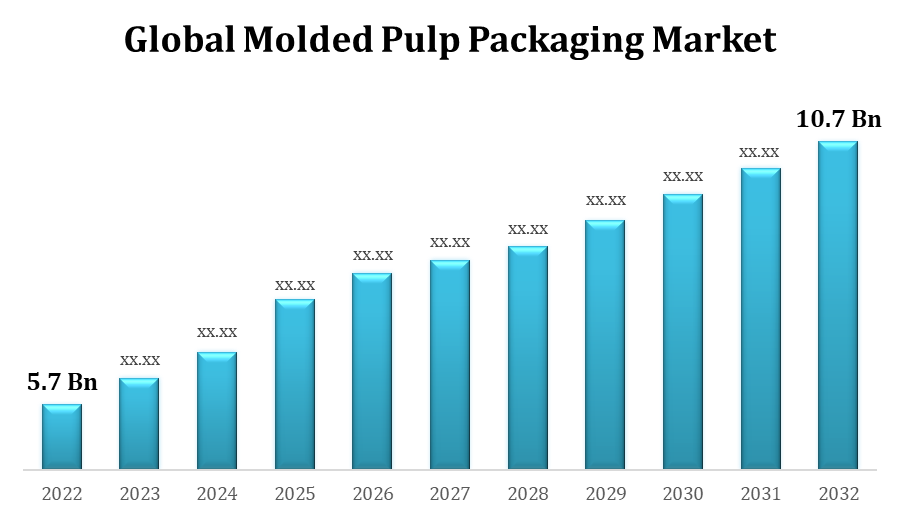 Get more details on this report -
Request Free Sample PDF
The Global Molded Pulp Packaging Market Size is expected to reach USD 10.7 Billion by 2032, at a CAGR of 8.1% during the forecast period 2022 to 2032.
Like a need for sustainability, demand for molded pulp packaging is high. Molded pulp is becoming more and more in demand as more companies and customers look for eco-friendly substitutes. It is appealing to a variety of industries, including food packaging and electronics, due to its adaptability. Companies are under pressure to adopt greener practices as consumers become more aware of their environmental impact; molded pulp is an ideal fit for this need. People are starting to realize that safeguarding the environment is just as important as protecting their goods. The market for molded pulp is projected to continue expanding as more industries choose environmentally friendly solutions.
Molded Pulp Packaging Market Value Chain Analysis
Cardboard and recycled paper are the foundations of it all. Waste paper and fibers are the main components of molded pulp, offering materials that might otherwise wind up in landfills a second chance. To create the package, the basic materials must be pulped, molded, and dried. Although it's a fairly straightforward production method, the finished result is robust and environmentally friendly. The molded pulp packaging is distributed to other businesses once it is completed. Another benefit of molded pulp is that its lightweight nature may help to reduce shipping expenses. Every industry, including the food and technology sectors, uses molded pulp for packaging. It supports sustainability objectives while offering product protection. The products are finally received by the final customers, who value the environmentally responsible packaging. Customers that are more environmentally conscious as a result frequently show more loyalty to brands.
Molded Pulp Packaging Market Opportunity Analysis
Molded pulp has a huge chance to replace plastic as the environmentally beneficial substitute given the global movement to limit plastic usage. Businesses who want to reach their sustainability goals will probably welcome molded pulp. Molded pulp has a lot of uses. Businesses have the chance to investigate specialized packaging options. Consider distinctive forms and patterns that serve as a branding statement in addition to providing product protection. With the continued growth of e-commerce, molded pulp packaging has a great possibility of being the preferred option for e-commerce businesses. It is strong, lightweight, and above all greenhouse friendly. Global market expansion for molded pulp is quite probable. Molded pulp has a great chance to establish itself in emerging countries as consumer awareness of environmentally friendly packaging rises.
Global Molded Pulp Packaging Market Report Coverage
| Report Coverage | Details |
| --- | --- |
| Base Year: | 2022 |
| Market Size in 2022: | USD 5.7 Billion |
| Forecast Period: | 2022-2032 |
| Forecast Period 2022-2032 CAGR: | 8.1% |
| 2032 Value Projection: | USD 10.7 Billion |
| Historical Data for: | 2019-2021 |
| No. of Pages: | 200 |
| Tables, Charts & Figures: | 110 |
| Segments covered: | By Type, By Molded Type, By Product, By Application, By Region, By Geographic Scope |
| Companies Covered: | Brodrene Hartmann A/S, Huhtamako Oyj, CKF Inc., Inc, Thermoform Engineered Quality LLC, Genpak, LLC, Eco-Products, Inc, Pro-Pac Packaging Limited, Fabri-Kal, Hentry Molded Products, Inc, Sabert Corporation and Other Key Vendors. |
| Growth Drivers: | Increasing demand for sustainable & eco-friendly packaging solutions |
| Pitfalls & Challenges: | COVID-19 Empact,Challenges, Future, Growth, & Analysis |
Get more details on this report -
Request Free Sample PDF
Market Dynamics
Molded Pulp Packaging Market Dynamics
Increasing demand for sustainable & eco-friendly packaging solutions
Businesses aim to achieve sustainability goals in addition to making a profit. They demonstrate their dedication to the environment and lessen their carbon footprint by using molded pulp packaging. Because molded pulp is biodegradable and made of recycled resources, it adheres to the circular economy's tenets. As a result, it takes center stage in the larger story of sustainability. Businesses aim to achieve sustainability goals in addition to making a profit. They demonstrate their dedication to the environment and lessen their carbon footprint by using molded pulp packaging. Customers are actively looking for goods packaged sustainably. A significant factor in organizations using molded pulp as their packaging option is the shift in consumer preferences.
Restraints & Challenges
Although molded pulp is less harmful to the environment, it can occasionally cost more to produce than other packaging materials. This could be a barrier for companies trying to make the move, particularly smaller ones. Since molded pulp is derived from paper, it may not be as moisture resistant as paper. This may restrict its uses, particularly in sectors where goods must have strong moisture resistance. Compared to materials like plastic, molded pulp is more versatile, but it does have certain design restrictions. It can be difficult to create complex forms or extremely specific patterns. It's possible that some customers are unaware of all the advantages of molded pulp or think it's not as strong as plastic. It is essential to inform the market about its advantages. The consistency of molded pulp may be impacted by the difficulty of locating premium recycled paper.
Regional Forecasts
North America Market Statistics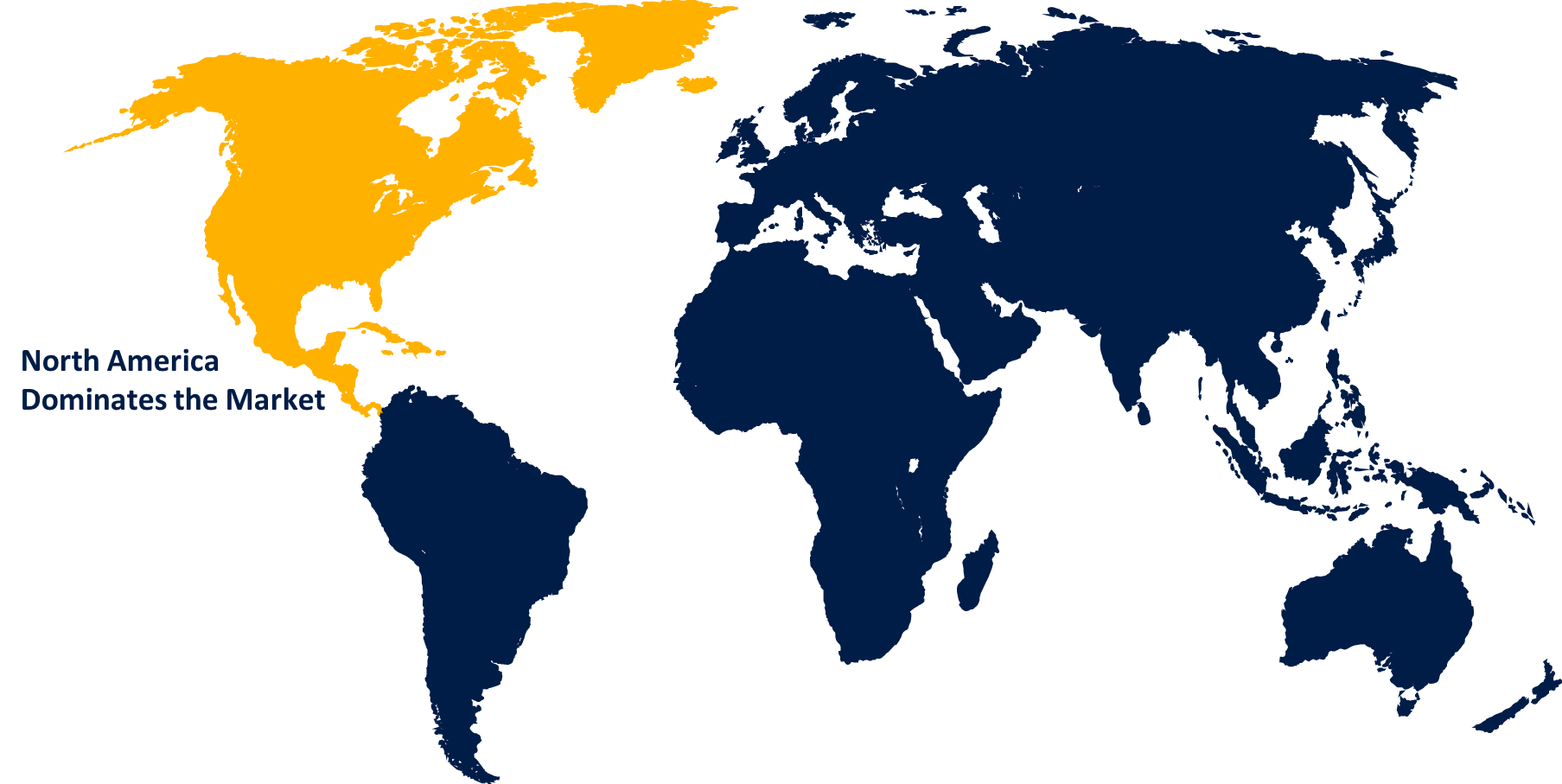 Get more details on this report -
Request Free Sample PDF
North America is anticipated to dominate the Molded Pulp Packaging Market from 2023 to 2032. Customers in North America have a high level of environmental sensitivity. They are actively looking for products that come in environmentally friendly packaging and are welcoming molded pulp. An increasing number of people are buying online, which has increased demand for packaging options that are both ecologically friendly and protective. The use of molded pulp is appropriate, and its portability can provide logistical benefits. In North America, a lot of businesses have big plans for sustainability. Because molded pulp packing complies with these objectives, it is a desirable option for companies trying to improve their environmental standing. In North America, the molded pulp industry is constantly innovating. Businesses are making research and development investments to solve problems and broaden the uses of molded pulp.
Asia Pacific Market Statistics
Asia Pacific is witnessing the fastest market growth between 2023 to 2032. Asia Pacific customers are looking for more sustainable and environmentally friendly products due to the region's large population and growing environmental consciousness. This demand is met by packaging made of molded pulp. Asia Pacific is a manufacturing giant, therefore there is a huge market for packaging products. Molded pulp is an appealing option for producers in the area due to its affordability and sustainability. A number of Asia-Pacific nations are putting policies and programs into place to encourage sustainable lifestyles. This influences the use of molded pulp packaging in a favorable way.
Segmentation Analysis
Insights by Source
The Wood Pulp segment accounted for the largest market share over the forecast period 2023 to 2032. Tree-derived wood pulp is a plentiful and sustainable resource. Because of its availability, molded pulp packaging can be produced with a steady supply. Because of its great versatility, wood pulp may be used to make a wide range of molded pulp products. Because of its versatility in shaping and molding, it can be used for a wide range of packaging applications in diverse industries. The biodegradability of molded pulp made from wood pulp is one of its main advantages. It is in complete harmony with the global movement toward environmentally friendly and sustainable packaging. The strength and durability required for molded pulp packaging is provided by wood pulp. Effective product protection during handling and transportation is possible with it.
Insights by Molded Type
Transfer molded segment is witnessing the fastest market growth over the forecast period 2023 to 2032. Transfer molding makes it possible to create molded pulp packaging with complex and elaborate designs. Due to its increased level of precision, this approach works well for products that need particular forms or branding elements. An increased level of consistency in the final goods is provided by transfer molding. This is especially important for sectors like electronics and pharmaceuticals where consistency and dependability are vital. Transfer molded packaging has the capacity to include intricate branding and design components, which enhances the perception of the brand. This is especially crucial for businesses who want their packaging to have a strong visual impression and communicate a certain corporate identity. Transfer molded packaging helps differentiate items in a crowded market.
Insights by Product
The tray sub segment accounted for the largest market share over the forecast period 2023 to 2032. Molded pulp trays are extremely adaptable and have uses in a wide range of sectors. The tray sub-segment serves a variety of purposes, ranging from electronics and healthcare to food and beverage packaging. When transporting fragile or sensitive objects, trays offer excellent protection. The molded pulp substance serves as a cushion to guard against damage and guarantee that goods arrive at their destination undamaged. Molded pulp trays help to promote an eco-friendly image because they are biodegradable and usually composed of recycled materials. This is in line with the growing need for sustainable packaging solutions from the industry and consumers. The way that products are presented on retail shelves is improved overall by the visual appeal of molded pulp trays. It's not just about protecting the consumer; it's also about grabbing their attention.
Insights by Application
Food packaging segment is witnessing the fastest market growth over the forecast period 2023 to 2032. Due to its adaptability, molded pulp may be made into any form or size, which makes it perfect for packing a variety of foods. Molded pulp can be customized to meet the unique needs of various items, from eggs to delicate fruits. Food products are well protected during transit by molded pulp trays and containers. Additionally, they offer a certain amount of insulation, which keeps perishable items fresher longer. Growingly aware of their influence on the environment, customers actively seek for food goods packaged sustainably. Companies that use molded pulp for food packaging might attract this group of conscious consumers.
Recent Market Developments
In February 2023, the acquisition of a joint venture for foodservice distribution in Australia was announced by Huhtamako Oyj.
Competitive Landscape
Major players in the market
Brodrene Hartmann A/S
Huhtamako Oyj
CKF Inc., Inc
Thermoform Engineered Quality LLC
Genpak, LLC
Eco-Products, Inc
Pro-Pac Packaging Limited
Fabri-Kal
Hentry Molded Products, Inc
Sabert Corporation
Market Segmentation
This study forecasts revenue at global, regional, and country levels from 2023 to 2032.
Molded Pulp Packaging Market, Type Analysis
Molded Pulp Packaging Market, Molded Type Analysis
Thick Wall
Transfer
Thermoformed
Processed
Molded Pulp Packaging Market, Product Analysis
Trays
End Caps
Bowls & Cups
Clamshell
Plates
Others
Molded Pulp Packaging Market, Application Analysis
Food Packaging
Food Service
Electronics
Healthcare
Industrial
Others
Molded Pulp Packaging Market, Regional Analysis
Need help to buy this report?