Global Modular Flooring Market Size, Share, and COVID-19 Impact Analysis, By Product Type (Flexible LVT, Rigid LVT, Carpet Tile, Non-Vinyl, Rubber, Ceramic, Others), By Application (Workplace, Healthcare, Education, Retail, Household, Others), and By Region (North America, Europe, Asia-Pacific, Latin America, Middle East, and Africa), Analysis and Forecast 2022 – 2032
Industry: Construction & Manufacturing
---
REPORT FORMAT

---
Global Modular Flooring Market Insights Forecasts to 2032
The Global Modular Flooring Market Size was valued at USD 57.76 Billion in 2022.
The Market Size is Growing at a CAGR of 5.3% from 2022 to 2032
The Worldwide Modular Flooring Market Size is expected to reach USD 97.41 Billion by 2032
North America is expected to grow the fastest during the forecast period
Get more details on this report -
Request Free Sample PDF
The Global Modular Flooring Market Size is expected to reach USD 97.41 Billion by 2032, at a CAGR of 5.3% during the forecast period 2022 to 2032.
Modular flooring is a type of floor that can be easily integrated into each other and rests firmly on the previously existing surface without additionally the use of anchors or glues. Modular flooring is ideal for providing superior antifatigue and ergonomic comfort for workers by being custom-fit around machinery. They are easily detachable and reusable in different applications such as raised floor systems, vinyl flooring, modular carpet, and so on. The advantage of establishing a modular floor is that its components are convenient to clean, economical, highly durable to use, require little maintenance contrary to other surfaces, and are very simple to install as well. The most common forms of modular flooring tiles are vinyl tiles, carpet tiles, and linoleum tiles.
The major key players in the Global Modular Flooring Market include Mohawk Industries, Shaw Industries, Tarkett, Armstrong Flooring, Forbo, Gerflor, Adore Floors, Mannington Mills Inc., Beaulieu International Group, TOLI Corporation, Balta Industries NV, and American Biltrite Inc. These market players are increasing the economic significance of their products through partnership agreements, new product development, and research and development, among several other methods.
For instance, on February 2023, Wearwell® introduced a diamond-plate, high-traction surface to its patented 24/Seven LockSafe line of ergonomic modular flooring systems. Wearwell has added a diamond-plate version to the spectrum of available alternatives due to the popularity of the original 24/Seven LockSafe and the desire for new types. The diamond-plate design adds traction and is the most popular and well-known surface style in the industrial industry.
Global Modular Flooring Market Report Coverage
| Report Coverage | Details |
| --- | --- |
| Base Year: | 2022 |
| Market Size in 2022 : | USD 57.76 Billion |
| Forecast Period: | 2022-2032 |
| Forecast Period 2022-2032 CAGR: | 5.3% |
| 2032 Value Projection: | USD 97.41 Billion |
| Historical Data for: | 2018-2021 |
| No. of Pages: | 200 |
| Tables, Charts & Figures: | 115 |
| Segments covered: | By Product Type, By Application, By Region |
| Companies Covered: | Mohawk Industries, Shaw Industries, Tarkett, Armstrong Flooring, Forbo, Gerflor, Adore Floors, Mannington Mills Inc., Beaulieu International Group, TOLI Corporation, Balta Industries NV, American Biltrite Inc. |
| Pitfalls & Challenges: | COVID-19 Empact,Challenges, Future, Growth, & Analysis |
Get more details on this report -
Request Free Sample PDF
Driving Factors
The growing emphasis on home decor and customer satisfaction and better lifestyles are likely to fuel the ongoing development of the modular flooring market throughout the forecast period. The general public is becoming more concerned with the aesthetics and interior design of their living environments. It also involves splurging on modular flooring to improve the overall atmosphere of rooms. This trend has been aided by changing lifestyles and the acceptance of other traditions in terms of furnishings and decor, which has increased consumer demand for interior decoration.
Furthermore, the rising construction industry's investments, together with an increase in the total number of refurbishment and remodeling operations, are the major driving factors for the modular flooring market expansion. Growing expenditures in the building construction sector and infrastructure investment are important economic drivers in the region. As a result, funding for major construction projects and infrastructure is likely to increase dramatically during the next decade. The rapid development of cities in newly industrialized countries such as China, India, Brazil, Malaysia, and Indonesia are expected to increase infrastructure investment in critical sectors such as hospitality, health care, retail, and transportation. The surge in demand from developing economies, combined with the expansion of the organized retail sector, creates prospects for the market.
Restraining Factors
The most significant challenge for the worldwide modular flooring market, however, is waste disposal. Since the modular flooring market expands, so does the amount of waste produced. Improper management, a shortage of logistics support, technical protocols, and growing product complexity all contribute to the huge production of waste. Numerous flooring production companies have taken critical measures to include recycled raw materials in the manufacturing process. Although all of these attempts, the bulk of garbage is either incinerated or disposed of in landfills, both of which are hazardous to the environment.
Market Segmentation
By Product Type Insights
The carpet tile segment is dominating the market with the largest revenue share over the forecast period.
On the basis of product type, the global Modular Flooring market is segmented into the flexible LVT, rigid LVT, carpet tile, non-vinyl, rubber, ceramic, and others. Among these, the carpet tile segment is dominating the market with the largest revenue share of 58.6% over the forecast period. The use of carpet tiles is becoming increasingly widespread in commercial settings such as restaurants, retail stores, the hospitality sector, and also in the residential sector. Carpet tiled flooring is a type of flooring that is capable of being used as a replacement for broadloom carpet, which is more typically used. These tiles offer the comfortable warmth and barefoot comfort that carpet is known for and can be purchased in pre-sized blocks and planks, structures, and materials. They are simple to upkeep and deploy, and they provide various designs for a relaxing environment. They enable faster installation while also reducing waste. Acoustic properties allow carpet tiles to be used in situations where noise suppression is required. Because of the incorporation of new technology, this flooring material has been gaining prominence primarily because of its low cost, durability, and appealing design selection.
By Application Insights
The workplace segment accounted for the largest revenue share of more than 57.2% over the forecast period.
On the basis of application, the global Modular Flooring market is segmented into the workplace, healthcare, education, retail, household, and others. Among these, the workplace segment is dominating the market with the largest revenue share of 57.2% over the forecast period. Workplaces demand special consideration since congested business corridors require resilient floors that can handle considerable foot traffic while still being simple to clean and preserve. Aesthetics and utility are important considerations to consider when selecting modular flooring for businesses. Furthermore, price, traffic, layout, and maintenance requirements all serve an integral part in selecting the ideal flooring for the working environment. The latest developments such as providing proper navigation and office zoning measures in accordance with government rules are crucial for workplace safety. Employees receive a clear, consistent, and visual reminder of how to navigate the workplace by embedding signage inside the floor. Flooring made of carpet tiles and luxury vinyl tiles (LVT) products are examples of modular flooring solutions that come in a variety of colors and designs that can be utilized separately or together.
Regional Insights
Asia Pacific dominates the market with the largest market share over the forecast period.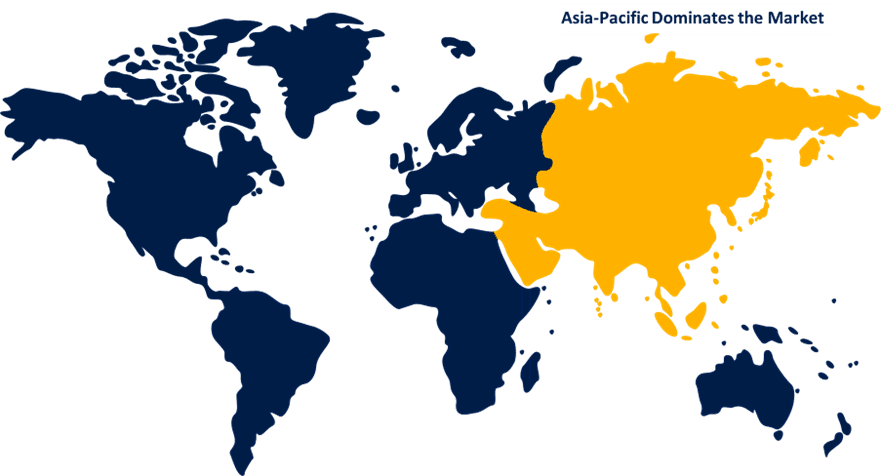 Get more details on this report -
Request Free Sample PDF
Asia Pacific is dominating the market with more than 43.7% market share over the forecast period. The region's need for modular flooring is also being pushed by rising demand in nations such as China, Australia, India, Japan, Thailand, Vietnam, and Indonesia, owing to the substantial rise of construction prospects in these economies. China is predicted to be the region's largest manufacturer and user of modular flooring, and the industry in this country is expected to expand further. The Asia Pacific market is being driven by rising demand from the nations of India and China.
Europe, on the contrary, is expected to grow the fastest during the forecast period. The development of the market in the region is due to population expansion, an increase in financial freedom, a rise in remodeling and reconstruction activities, and an expansion in investments in the residential and commercial sectors. The growing number of newly constructed residential units, as well as significant investments in the infrastructure sector, are driving up the popularity of modular flooring in this region.
List of Key Market Players
Mohawk Industries
Shaw Industries
Tarkett
Armstrong Flooring
Forbo
Gerflor
Adore Floors
Mannington Mills Inc.
Beaulieu International Group
TOLI Corporation
Balta Industries NV
American Biltrite Inc.
Key Market Developments
On April 2023, Tarkett, a global leader in creative and sustainable flooring and sports surface solutions, today announced a collaboration with AMA, a pioneer in augmented reality (aR) solutions and integrator of B2B software for the smart workplace. Tarkett's after-sales support will be improved thanks to the deployment of AMA's XpertEye remote assistance system to its flooring installers in the DACH region. Tarkett offers timely installation of the industry's largest flooring products while also boosting the quality of its after-sales service.
On April 2023, Beaulieu International Group (B.I.G.) has agreed to acquire the whole business of Signature Floors, an Australian B2B flooring supplier. Both firms will benefit from this transaction by expanding their growth potential in soft, resilient, and hard flooring across Australia and New Zealand. In the following months, B.I.G. and Signature will integrate their sales and commercial activities, providing business continuity for customers, partners, suppliers, and staff.
On March 2023, Encina Development Group, a maker of ISCC+ circular chemicals derived from waste plastics, has announced a new recycling relationship with Shaw Industries Group, Inc., a worldwide flooring manufacturer. Shaw will provide Encina with over 2 million pounds of waste materials from its carpet production processes each year under the terms of the deal. Shaw's overall environmental aims and commitment to waste reduction will benefit from the collaboration. This initiative will lower Shaw's greenhouse gas emissions and carbon footprint while also contributing to the company's long-standing sustainability commitment, which includes its Cradle to Cradle® design programs, which have been in place for more than 20 years.
Market Segment
This study forecasts revenue at global, regional, and country levels from 2020 to 2032. Spherical Insights has segmented the Global Modular Flooring Market based on the below-mentioned segments:
Modular Flooring Market, Product Type Analysis
Flexible LVT
Rigid LVT
Carpet Tile
Non-Vinyl
Rubber
Ceramic
Others
Modular Flooring Market, Application Analysis
Workplace
Healthcare
Education
Retail
Household
Others
Modular Flooring Market, Regional Analysis
North America
Europe

Germany
Uk
France
Italy
Spain
Russia
Rest of Europe

Asia Pacific

China
Japan
India
South Korea
Australia
Rest of Asia Pacific

South America

Brazil
Argentina
Rest of South America

Middle East & Africa

UAE
Saudi Arabia
Qatar
South Africa
Rest of Middle East & Africa
Need help to buy this report?