Global Microphone Market Size, Share, and COVID-19 Impact Analysis, By Type (Analog and Digital), By Technology (MEMS, Electret, and Others), By Communication Technology (Wired and Wireless), By Application (Automotive, Commercial Security & Surveillance, Consumer Electronics, Industrial, Medical, and Noise Monitoring & Sensing), By Region (North America, Europe, Asia-Pacific, Latin America, Middle East, and Africa), Analysis and Forecast 2022 – 2032
Industry: Semiconductors & Electronics
---
REPORT FORMAT

---
Global Microphone Market Insights Forecasts to 2032
The Global Microphone Market Size was valued at USD 4.36 Billion in 2022.
The Market is Growing at a CAGR of 6.8% from 2022 to 2032.
The Worldwide Microphone Market Size is expected to reach USD 8.42 Billion by 2032.
Asia-Pacific is expected To Grow the fastest during the forecast period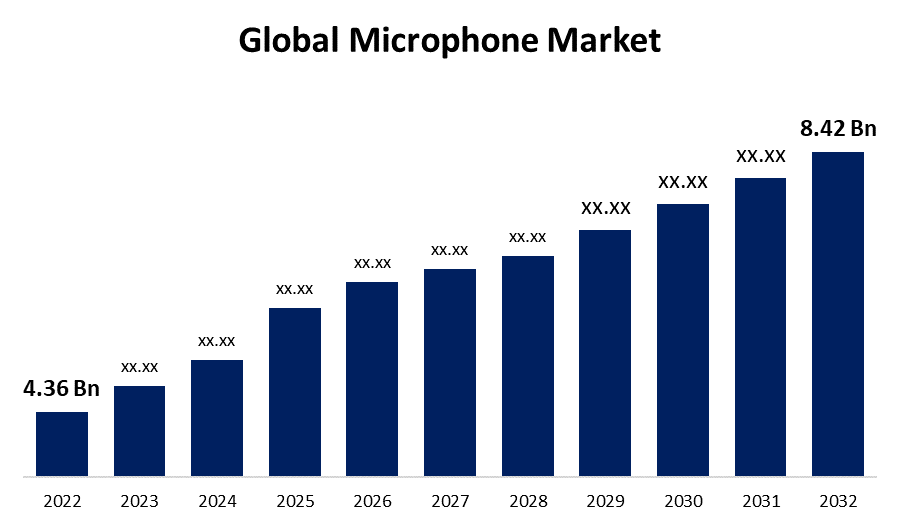 Get more details on this report -
Request Free Sample PDF
The Global Microphone Market Size is expected to reach USD 8.42 Billion by 2032, at a CAGR of 6.8% during the forecast period 2022 to 2032.
Market Overview
A microphone is a transducer that converts sound waves into electrical signals. It is a vital tool used in various industries, including broadcasting, music production, public speaking, and telecommunications. Microphones come in different types, such as dynamic, condenser, ribbon, and lavalier, each with its own characteristics and applications. They capture sound by employing various mechanisms, such as diaphragms, coils, or capacitors, which convert acoustic energy into electrical signals. Microphones are essential for recording clear and accurate audio, amplifying sound in live performances, facilitating clear communication in teleconferences, and capturing vocals or instruments in studios. Their advancements in technology have led to the development of wireless and miniature microphones, making them even more versatile and convenient for various applications.
Report Coverage
This research report categorizes the market for microphone market based on various segments and regions and forecasts revenue growth and analyzes trends in each submarket. The report analyses the key growth drivers, opportunities, and challenges influencing the microphone market. Recent market developments and competitive strategies such as expansion, product launch, and development, partnership, merger, and acquisition have been included to draw the competitive landscape in the market. The report strategically identifies and profiles the key market players and analyses their core competencies in each sub-segments of the microphone market.
Global Microphone Market Report Coverage
| Report Coverage | Details |
| --- | --- |
| Base Year: | 2022 |
| Market Size in 2022: | USD 4.36 Billion |
| Forecast Period: | 2022-2032 |
| Forecast Period 2022-2032 CAGR: | 6.8% |
| 2032 Value Projection: | USD 8.42 Billion |
| Historical Data for: | 2019-2021 |
| No. of Pages: | 200 |
| Tables, Charts & Figures: | 130 |
| Segments covered: | By Type, By Technology, By Communication Technology, ), By Application, By Region, and COVID-19 Impact Analysis |
| Companies Covered: | Audio-Technica Corporation, Sennheiser Electronic GmbH & Co. KG, Shure Incorporated, AKG Acoustics GmbH, Beyerdynamic GmbH & Co. KG, Sony Corporation, Harman International Industries, Inc., Rode Microphones, Blue Microphones, Electro-Voice, Samson Technologies Corp., MIPRO Electronics Co. Ltd., Audix Corporation, Heil Sound Ltd., CAD Audio, Lewitt GmbH, SE Electronics International Inc., MXL Microphones, Neumann, DPA Microphones A/S |
| Pitfalls & Challenges: | COVID-19 Empact, Challenge, Future, Growth, & Analysis |
Get more details on this report -
Request Free Sample PDF
Driving Factors
The drivers of the microphone market can be attributed to several factors. Firstly, the increasing demand for professional audio equipment in industries such as music, entertainment, and broadcasting fuels the market growth. Additionally, the rising popularity of podcasting, vlogging, and live streaming drives the demand for microphones among content creators. Furthermore, the growing adoption of teleconferencing and video conferencing solutions in the corporate sector boosts the microphone market. Technological advancements, such as wireless connectivity, improved noise cancellation, and compact designs, also contribute to market growth. Lastly, the increasing number of events, concerts, and public speaking engagements worldwide further propels the demand for microphones.
Restraining Factors
The microphone market faces certain restraints. Firstly, the increasing popularity of built-in microphones in smartphones and laptops limits the demand for external microphones. Additionally, the market faces challenges due to the high cost associated with high-quality microphones, which may deter budget-conscious consumers. Furthermore, the presence of counterfeit or low-quality microphones in the market poses a threat to genuine product sales. Lastly, the ongoing global semiconductor shortage affects the availability of key components for microphone manufacturing, leading to supply chain disruptions and potential market constraints.
Market Segmentation
In 2022, the digital microphone segment accounted for more than 57.6% market share
On the basis of type, the global microphone market is segmented into analog and digital. The digital microphone segment is dominating with the largest market share in 2022. This can be attributed to the advantages offered by digital microphones, including higher signal-to-noise ratio, improved sensitivity, and compatibility with digital audio interfaces. Digital microphones also enable advanced features such as noise cancellation and beamforming, making them preferable in applications like smartphones, smart speakers, and automotive systems. Additionally, the increasing adoption of digital audio technologies and the demand for enhanced audio quality have further propelled the growth and dominance of the digital microphone segment in the market.
In 2022, the wireless segment dominated the market with around 62.5% market share
Based on communication technology, the global microphone market is segmented into wired and wireless. Out of this, the wireless is dominating the market with the largest market share in 2022, due to its reliability and stability. Wired microphones offer a secure and uninterrupted connection, making them ideal for critical applications such as broadcasting, public address systems, and live events. However, with advancements in wireless communication technology, the wireless microphone segment has witnessed significant growth in recent years. The wireless microphones provide greater flexibility and convenience, enabling performers and speakers to move freely without constraints. Moreover, the increasing demand for wireless microphones in applications like sports commentary, live performances, and video production is further driving the growth of the wireless microphone market segment.
Regional Segment Analysis of the Microphone Market
North America (U.S., Canada, Mexico)
Europe (Germany, France, U.K., Italy, Spain, Rest of Europe)
Asia-Pacific (China, Japan, India, Rest of APAC)
South America (Brazil and the Rest of South America)
The Middle East and Africa (UAE, South Africa, Rest of MEA)
North America dominated the market with more than 41.3% revenue share in 2022.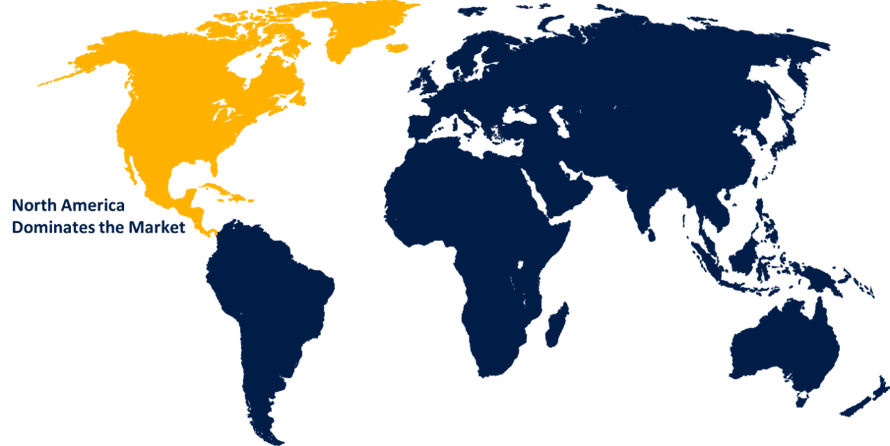 Get more details on this report -
Request Free Sample PDF
Based on region, North America has emerged as a dominant force in the microphone market. Several factors contribute to its market dominance. Firstly, the region has a strong presence of key market players, including renowned microphone manufacturers and technology innovators. Additionally, North America boasts a thriving entertainment industry, with a significant demand for microphones in broadcasting, music production, and live events. The region's advanced technological infrastructure, coupled with a high disposable income of consumers, fosters the adoption of premium and high-quality microphones. Moreover, the presence of major trade shows, conferences, and events in North America further drives the demand for microphones, solidifying the region's position as a market leader.
Competitive Analysis:
The report offers the appropriate analysis of the key organizations/companies involved within the global microphone market along with a comparative evaluation primarily based on their product offering, business overviews, geographic presence, enterprise strategies, segment market share, and SWOT analysis. The report also provides an elaborative analysis focusing on the current news and developments of the companies, which includes product development, innovations, joint ventures, partnerships, mergers & acquisitions, strategic alliances, and others. This allows for the evaluation of the overall competition within the market.
List of Companies:
Audio-Technica Corporation
Sennheiser Electronic GmbH & Co. KG
Shure Incorporated
AKG Acoustics GmbH
Beyerdynamic GmbH & Co. KG
Sony Corporation
Harman International Industries, Inc.
Rode Microphones
Blue Microphones
Electro-Voice
Samson Technologies Corp.
MIPRO Electronics Co. Ltd.
Audix Corporation
Heil Sound Ltd.
CAD Audio
Lewitt GmbH
SE Electronics International Inc.
MXL Microphones
Neumann
DPA Microphones A/S
Key Target Audience
Market Players
Investors
End-Users
Government Authorities
Consulting and Research Firm
Venture Capitalists
Value-Added Resellers (VARs)
Recent Developments
In May 2022, Infineon Technologies introduced its latest XENSIV MEMS microphones that have set a new benchmark in the industry. These microphones, namely IM69D127, IM73A135, and IM72D128, are the newest offerings from Infineon's expanding microphone range. With adjustable power modes, these MEMS microphones are a perfect fit for various consumer electronics, including headphones with ANC, TWS earbuds, conference devices equipped with beamforming capability, laptops, tablets, or smart speakers that have voice user interfaces (VUIs).
Market Segment
This study forecasts revenue at global, regional, and country levels from 2019 to 2032. Spherical Insights has segmented the global microphone market based on the below-mentioned segments:
Microphone Market, By Type
Microphone Market, By Technology
Microphone Market, By Communication Technology
Microphone Market, By Application
Automotive
Commercial Security & Surveillance
Consumer Electronics
Industrial
Medical
Noise Monitoring & Sensing
Microphone Market, Regional Analysis
North America
Europe

Germany
UK
France
Italy
Spain
Russia
Rest of Europe

Asia Pacific

China
Japan
India
South Korea
Australia
Rest of Asia Pacific

South America

Brazil
Argentina
Rest of South America

Middle East & Africa

UAE
Saudi Arabia
Qatar
South Africa
Rest of Middle East & Africa
Need help to buy this report?