Global Metal Doors Market Size, Share, and COVID-19 Impact Analysis, By Type (Flush Metal Doors, Metal Doors with Windows, Paneled Metal Doors, Others), By Application (Residential, Commercial and Institutional Building, Industrial, Others), and By Region (North America, Europe, Asia-Pacific, Latin America, Middle East, and Africa), Analysis and Forecast 2022 – 2032
Industry: Construction & Manufacturing
---
REPORT FORMAT

---
Global Metal Doors Market Insights Forecasts to 2032
The Global Metal Doors Market Size was valued at USD 4.18 Billion in 2022.
The Market is Growing at a CAGR of 5.7% from 2022 to 2032
The Worldwide Metal Doors Market Size is expected to reach USD 7.29 Billion by 2032
Europe is expected To Growth the fastest during the forecast period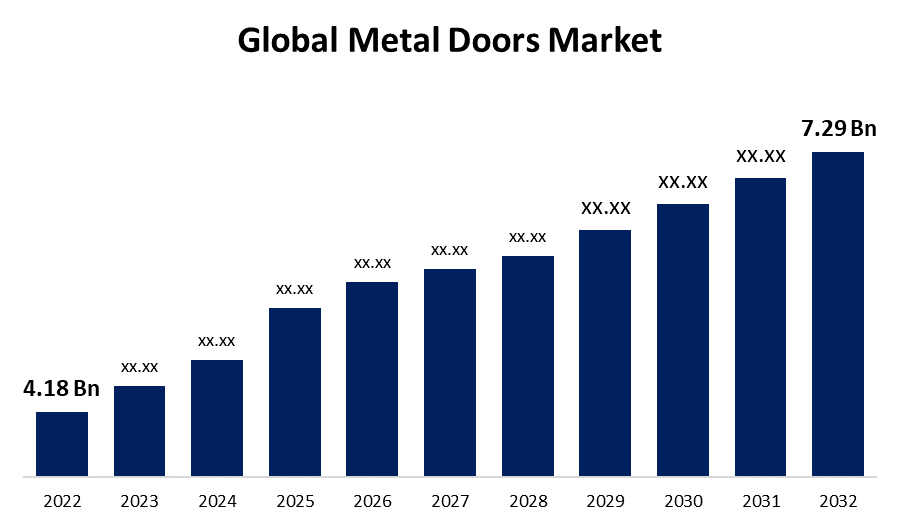 Get more details on this report -
Request Free Sample PDF
The Global Metal Doors Market Size is expected to reach USD 7.29 Billion by 2032, at a CAGR of 5.7% during the forecast period 2022 to 2032. The demand for metal doors application in homes, businesses, and factories is rising globally, which is primarily driving the Metal Doors Market expansion.
Metal doors are ideal to be used in commercial facilities such as offices, multiplexes, subway stations, hotels, auditoriums, restaurants, recording studios, airports, and a variety of different structures that demand excellent-quality and strong doors. They can be excellent at resisting extreme pressure, have an extended lifespan duration, and can accommodate panic door bars. Panic door bars complement the metal door well. In practically major large structure, metal doors featuring panic door bars are fitted. They offer great security and are effective in giving an easy and swift departure in the event of an emergency.
Metal doors are readily available in a wide range of styles. Fire rated doors, stainless steel doors, general doors, louvred doors, multi-purpose doors (internal & external security doors), puf doors, shaft doors, scientific doors, sliding doors, and swing doors are some of the types available in the metal door market. The widely used door is a general-purpose metal door that is simple to assemble and durable. They are constructed of non-corrosive steel. These doors can be outfitted with panic bars and utilized as emergency exits. Furthermore, these types of doors can be used in both commercial and residential settings.
The major key players in the global metal doors include Ceco Door, TRUDOOR, BARON Metal Industries, CURRIES, S.W. Fleming, Plyer Enterprises, Concept Frames, Houston-Starr Company, DCI, Beacon Metals, and ARCAT. The metal doors market is extremely competitive, with multiple significant competitors active in the environment. Leading competitors are making attempts to expand their operations by acquiring other players in order to gain a dominant market position.
Global Metal Doors Market Report Coverage
| Report Coverage | Details |
| --- | --- |
| Base Year: | 2022 |
| Market Size in 2022 : | USD 4.18 Billion |
| Forecast Period: | 2022-2032 |
| Forecast Period 2022-2032 CAGR: | 5.7% |
| 2032 Value Projection: | USD 7.29 Billion |
| Historical Data for: | 2018-2021 |
| No. of Pages: | 200 |
| Tables, Charts & Figures: | 120 |
| Segments covered: | By Type, By Application, By Region. |
| Companies Covered: | Ceco Door, TRUDOOR, BARON Metal Industries, CURRIES, S.W. Fleming, Plyer Enterprises, DKS Steel Doors & Frames, Inc., EightynineA LLC, Concept Frames, Plyler Entry Systems, Houston-Starr Company, DCI, AccessSMT Holdings Ltd., Beacon Metals, ARCAT |
| Pitfalls & Challenges: | COVID-19 Empact,Challenges, Future, Growth, & Analysis |
Get more details on this report -
Request Free Sample PDF
Driving Factors
Metal doors demand is being fueled primarily by a development in residential multifamily shifts, a growth in the usage of automated doors in commercial settings, and the creation of energy-efficient doors. Furthermore, increased urbanization and industrial development in regions such as Asia Pacific and Africa are likely to support the growth of the metal doors market. likewise, population growth among emerging markets such as China, India, and the United States has led to in accelerated urbanization, which is predicted to enhance industrial development and raise demand for metal doors over the forecast period.
Furthermore, metal door producers are working on boosting their capacity for manufacturing as the demand among end consumers continues to grows. When contrasted with other alternatives, its features, especially its superior strength, flexibility to withstand damage, and a longer service life with relatively little maintenance, among others, have been a key element boosting metal door market demand, especially within industries such as manufacturing. Additionally, the business sector is quickly developing, with hospitality establishments, retail business entities, storage facilities, and health, social, and educational institutions preferring metal doors over basic wooden doors. The surge in public investment on residential and commercial construction development is another key factor boosting the demand for the metal doors market. Furthermore, the rising trend in consumer spending on house remodeling and enhancement activities, as well as a spike in new building endeavors, are likely to present lucrative growth possibilities for market participants.
Market Segmentation
By Type Insights
The flush metal doors segment is dominating the market with the largest revenue share over the forecast period.
On the basis of product type, the global metal doors market is segmented into the flush metal doors, metal doors with windows, paneled metal doors, and others. Among them, the flush metal doors segment has the highest revenue share of 48.6% over the projection period. Flush metal doors do not have raised frames. Metal doors have grown in popularity as many businesses identify them because they are stronger, fireproof, and long-lasting than many other kinds of doors. They slide open and shut like ordinary doors, using hinges on one side and a sliding mechanism on the opposing side. These metallic doors have several benefits over typical solid wooden/metal doors, including automated closing of these flush wall-mounted cabinets if no interaction from users is detected for 30 seconds, convenience and speed of installation when compared to solid wood-based goods, and many more.
By Application Insights
The residential segment accounted for the largest revenue share of more than 31.3% over the forecast period.
On the basis of application, the global metal doors market is segmented into residential, commercial and institutional building, industrial, and others. Among these, the residential segment is dominating the market with the largest revenue share of 41.3% over the forecast period. Metal doors are known for their sleek and classy appearance, making them an excellent choice for residential buildings such as homes or flats. Consumers of all ages are able to utilize these sorts of doors in their daily lives without being concerned about maintenance or installing costs. These doors, unlike wooden doors, are free of frequent refinishing; therefore, they have numerous benefits over alternatives that are used for home door furnishings such as wood, glass, and other materials.
Furthermore, the commercial and institutional buildings had the highest CAGR growth in the metal doors market over the forecast period. Metal doors are the most popular door additions for commercial and educational institutions that include offices, shopping malls, and restaurants. It is able to be employed in exterior as well as interior applications without causing unease or problems due to the humidity or high temperatures that persist outside throughout severe temperatures, resulting in a perfect option for a variety of commercial segments such as government facilities, hotels, and healthcare institutions.
Regional Insights
Asia Pacific dominates the market with the largest market share over the forecast period.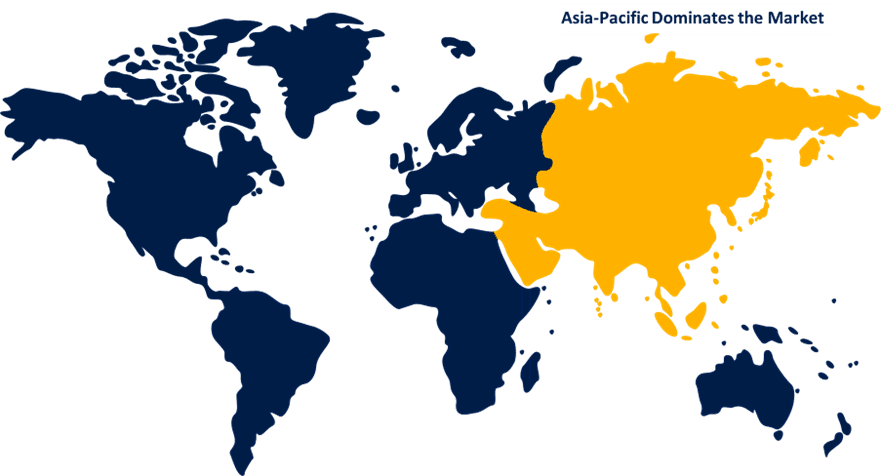 Get more details on this report -
Request Free Sample PDF
Asia Pacific is dominating the market with more than 53.7% market share over the forecast period. This expansion can be ascribed to the increasing construction of residential and commercial infrastructure, as well as the thriving tourism industry. The region's demand for custom-made metal doors is increasing significantly, owing to the increased demand for design appeal in the infrastructure sector. As a result, the metal doors market has been influenced favourably.
North America, on the contrary, is expected to grow the fastest during the forecast period. The rising infrastructure and building and construction sectors can be associated with the region's increased demand for metal doors. The growth of the remodeling industry across countries in North America is also indicating a surge in home furnishing and fittings, which is expected to positively impact the metal doors market.
List of Key Market Players
Ceco Door
TRUDOOR
BARON Metal Industries
CURRIES
S.W. Fleming
Plyer Enterprises
DKS Steel Doors & Frames, Inc.
EightynineA LLC
Concept Frames
Plyler Entry Systems
Houston-Starr Company
DCI
AccessSMT Holdings Ltd.
Beacon Metals
ARCAT
Market Segment
This study forecasts revenue at global, regional, and country levels from 2020 to 2032. Spherical Insights has segmented the Global Metal Doors Market based on the below-mentioned segments:
Metal Doors Market, Type Analysis
Flush Metal Doors
Metal Doors with Windows
Paneled Metal Doors
Others
Metal Doors Market, Application Analysis
Residential
Commercial and Institutional Building
Industrial
Others
Metal Doors Market, Regional Analysis
North America
Europe

Germany
Uk
France
Italy
Spain
Russia
Rest of Europe

Asia Pacific

China
Japan
India
South Korea
Australia
Rest of Asia Pacific

South America

Brazil
Argentina
Rest of South America

Middle East & Africa

UAE
Saudi Arabia
Qatar
South Africa
Rest of Middle East & Africa
Need help to buy this report?