Global Melanoma Therapeutics Market Size, Share, and COVID-19 Impact Analysis, By Product (Chemotherapy, Immunotherapy, Targeted Therapy, and Radiation Therapy), By Drug Type (Branded Drugs and Generic Drugs), By Region (North America, Europe, Asia-Pacific, Latin America, Middle East, and Africa), Analysis and Forecast 2022 – 2032
Industry: Healthcare
---
REPORT FORMAT

---
Global Melanoma Therapeutics Market Insights Forecasts to 2032
The Melanoma Therapeutics Market Size was valued at USD 5.03 Billion in 2022.
The Market Size is Growing at a CAGR of 9.4% from 2022 to 2032
The Worldwide Melanoma Therapeutics Market Size is expected to reach USD 12.35 Billion by 2032
Asia-Pacific is expected to grow fastest during the forecast period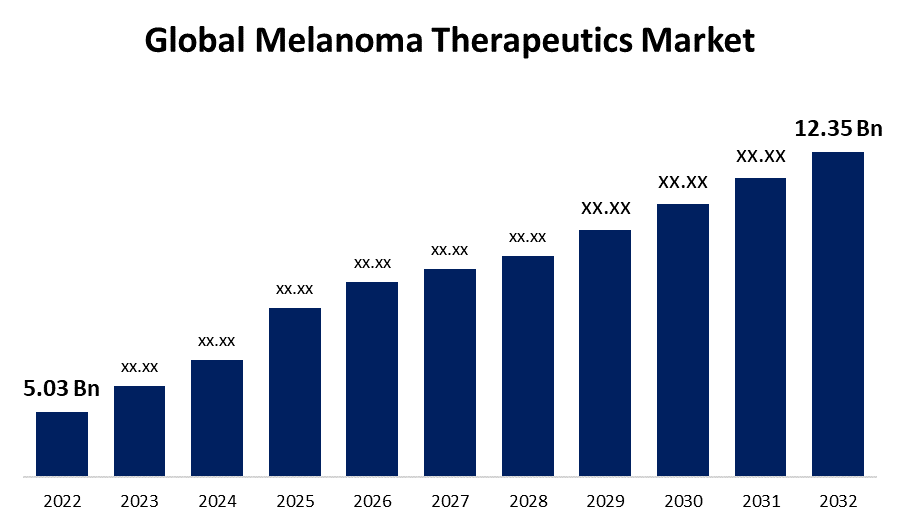 Get more details on this report -
Request Free Sample PDF
The Global Melanoma Therapeutics Market Size is expected to reach USD 12.35 Billion by 2032, at a CAGR of 9.4% during the forecast period 2022 to 2032.
Market Overview
Melanoma therapeutics refer to the diverse array of medical interventions aimed at diagnosing, treating, and managing melanoma, a potentially deadly form of skin cancer. The approach to melanoma treatment has evolved significantly in recent years due to advances in understanding its molecular and genetic basis. Therapeutic strategies include surgical removal of tumors at an early stage, immunotherapies that harness the body's immune system to target cancer cells (e.g., checkpoint inhibitors like pembrolizumab and nivolumab), targeted therapies that inhibit specific genetic mutations driving melanoma growth (e.g., BRAF inhibitors like vemurafenib), and radiation therapy for advanced cases. Combination therapies are increasingly used to enhance treatment effectiveness and reduce resistance. Early detection through regular skin checks remains crucial, and ongoing research continues to expand the arsenal of melanoma therapeutics, offering hope for improved outcomes and survival rates for patients.
Report Coverage
This research report categorizes the market for melanoma therapeutics market based on various segments and regions and forecasts revenue growth and analyzes trends in each submarket. The report analyses the key growth drivers, opportunities, and challenges influencing the melanoma therapeutics market. Recent market developments and competitive strategies such as expansion, product launch, and development, partnership, merger, and acquisition have been included to draw the competitive landscape in the market. The report strategically identifies and profiles the key market players and analyses their core competencies in each sub-segments of the melanoma therapeutics market.
Global Melanoma Therapeutics Market Report Coverage
| Report Coverage | Details |
| --- | --- |
| Base Year: | 2022 |
| Market Size in 2022: | USD 5.03 Billion |
| Forecast Period: | 2022-2032 |
| Forecast Period 2022-2032 CAGR: | 9.4% |
| 2032 Value Projection: | USD 12.35 Billion |
| Historical Data for: | 2018-2021 |
| No. of Pages: | 200 |
| Tables, Charts & Figures: | 110 |
| Segments covered: | By Product, By Drug Type, By Region |
| Companies Covered: | Bristol-Myers Squibb Company, AstraZeneca, Novartis AG, Merck & Co. Inc., Amgen Inc., F. Hoffman-La Roche Ltd., Abbott Laboratories, GlaxoSmithKline PLC, Pfizer, Inc., DermTech, BioMerieux SA, Dermlite, Canfield Scientific, Inc., Caliber Imaging & Diagnostics, Inc., and other key venders |
| Pitfalls & Challenges: | COVID-19 Empact,Challenges, Future, Growth, & Analysis |
Get more details on this report -
Request Free Sample PDF
Driving Factors
The melanoma therapeutics market is influenced by a multitude of drivers that collectively shape its growth and development, the rising incidence of melanoma worldwide is a significant driver. Factors such as increased UV radiation exposure, changing lifestyle patterns, and a growing aging population contribute to the higher prevalence of melanoma, necessitating a greater demand for therapeutic options. The advancements in medical research and technology play a pivotal role. A deeper understanding of melanoma's molecular and genetic basis has led to the development of targeted therapies, immunotherapies, and combination treatments that are more effective and less toxic than traditional approaches. This research-driven innovation propels market expansion. The increasing awareness of melanoma and the importance of early detection drive the market. Public health campaigns and educational efforts emphasize skin cancer prevention and regular screenings, resulting in earlier diagnoses and higher treatment rates. A supportive regulatory environment accelerates market growth. Regulatory agencies like the FDA (U.S. Food and Drug Administration) and the EMA (European Medicines Agency) have streamlined approval processes for novel melanoma therapies, enabling quicker market access for innovative treatments. The competitive landscape among pharmaceutical and biotechnology companies fosters innovation. The desire to capture a share of the growing melanoma therapeutics market has led to increased research and development efforts, promoting the introduction of new drugs and treatment modalities. Additionally, collaborations and partnerships within the healthcare industry contribute to market expansion. Pharmaceutical companies often collaborate with academic institutions and research organizations to accelerate drug development and clinical trials, bringing novel therapies to market faster. Lastly, a growing patient population with unmet medical needs presents a substantial driver. Despite recent advancements, there is still room for improvement in melanoma treatment outcomes, and this drives continued investment in research and development.
Restraining Factors
The melanoma therapeutics market faces several significant restraints, high treatment costs and limited access to advanced therapies can impede market growth, especially in lower-income regions. Additionally, the potential for adverse side effects associated with some melanoma treatments can deter patient compliance and limit their adoption. Moreover, the emergence of drug resistance remains a challenge, necessitating the development of new therapeutic strategies. Furthermore, the long and complex clinical trial process can delay the introduction of innovative treatments to the market. The unpredictable nature of melanoma progression and the need for personalized treatment approaches pose challenges for developing universally effective therapies, making precision medicine a critical yet challenging goal in melanoma treatment.
Market Segmentation
In 2022, the immunotherapy segment accounted for around 52.6% market share
On the basis of the product, the global melanoma therapeutics market is segmented into chemotherapy, immunotherapy, targeted therapy, and radiation therapy. The immunotherapy segment's dominance in the melanoma therapeutics market can be attributed to its remarkable success in treating melanoma. Immunotherapies, such as checkpoint inhibitors like pembrolizumab and nivolumab, have revolutionized melanoma treatment by enhancing the body's immune response to cancer cells. They offer durable responses and prolonged survival rates, making them the preferred choice for many patients. Additionally, ongoing research and clinical trials continue to expand the range of immunotherapeutic options. The proven efficacy and ongoing innovation in this segment have resulted in a larger market share, reflecting its pivotal role in melanoma treatment.
The generic drug segment is expected to grow at a CAGR of around 9.6% during the forecast period
Based on the drug type, the global melanoma therapeutics market is segmented into branded drugs and generic drugs. The generic drug segment is poised for the fastest growth during the forecast period in the melanoma therapeutics market due to several reasons. Generic drugs offer cost-effective alternatives to brand-name medications, making them more accessible to a broader patient population. With increasing pressure to reduce healthcare expenses, both patients and healthcare systems are inclined towards generics. Additionally, as patents for branded melanoma drugs expire, it opens up opportunities for generic manufacturers to enter the market, driving competition and lowering prices. These factors collectively contribute to the expected rapid growth of the generic drug segment in melanoma therapeutics.
Regional Segment Analysis of the Melanoma Therapeutics Market
North America (U.S., Canada, Mexico)
Europe (Germany, France, U.K., Italy, Spain, Rest of Europe)
Asia-Pacific (China, Japan, India, Rest of APAC)
South America (Brazil and the Rest of South America)
The Middle East and Africa (UAE, South Africa, Rest of MEA)
North America dominated the market with more than 35.8% revenue share in 2022.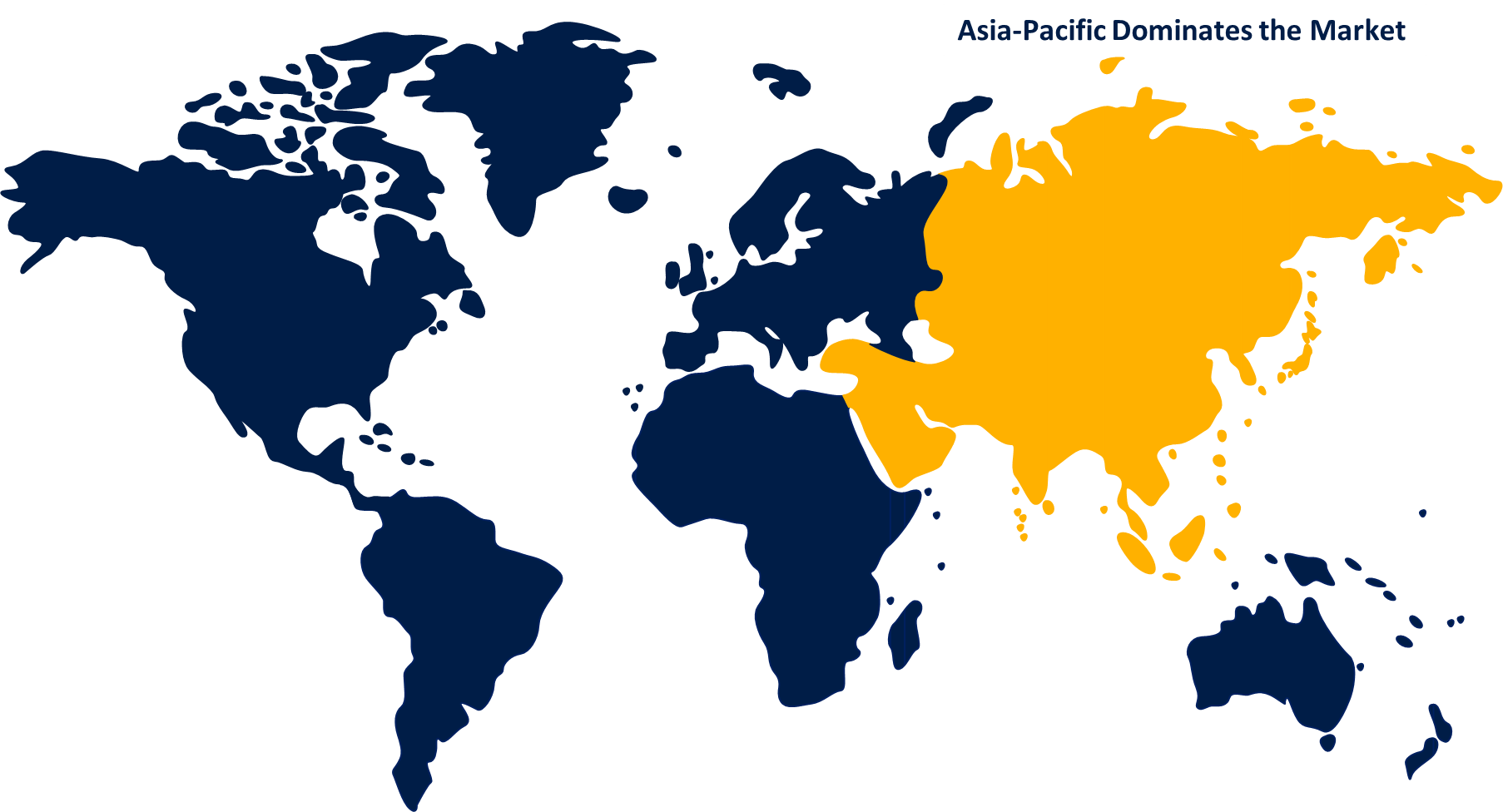 Get more details on this report -
Request Free Sample PDF
Based on region, North America's dominance in the melanoma therapeutics market can be attributed to several factors. The region boasts advanced healthcare infrastructure, a robust pharmaceutical industry, and a high incidence of melanoma cases. Additionally, well-established regulatory frameworks and a strong focus on research and development contribute to the availability and adoption of cutting-edge melanoma therapies. Furthermore, extensive awareness campaigns and routine screenings encourage early detection and treatment. Altogether, these factors make North America a leader in the market, with a substantial share driven by its capacity for innovation and comprehensive healthcare systems.
Asia Pacific's rapid growth in the melanoma therapeutics market during the forecast period is driven by several key factors. This region is experiencing a rising incidence of melanoma due to changing lifestyles, increased exposure to UV radiation, and growing aging populations. Additionally, improving healthcare infrastructure, rising disposable incomes and greater awareness of skin cancer are promoting early diagnosis and treatment. As a result, pharmaceutical companies are increasingly targeting this market, leading to the development and availability of advanced melanoma therapies. These factors collectively contribute to the region's projected fastest growth in the melanoma therapeutics market.
Recent Developments
February 2021, The PD-1 inhibitor Libtayo (cemiplimab-rwlc) has been authorized by the US Food and Drug Administration as the first immunotherapy suggested for patients with advanced basal cell carcinoma (BCC) who have previously been treated with a hedgehog pathway inhibitor (HHI) or for whom an HHI is not acceptable. Libtayo is now authorized for advanced-stage patients with the two most prevalent skin malignancies in the United States.
In January 2022, Pfizer Inc. received FDA approval for CIBINQO (abrocitinib), an oral, once-daily Janus kinase 1 (JAK1) inhibitor, for the treatment of adults with refractory, moderate-to-severe atopic dermatitis (AD) whose disease is not adequately controlled with other systemic drug products, including biologics, or when the use of those therapies is contraindicated.
Competitive Analysis:
The report offers the appropriate analysis of the key organizations/companies involved within the global melanoma therapeutics market along with a comparative evaluation primarily based on their product offering, business overviews, geographic presence, enterprise strategies, segment market share, and SWOT analysis. The report also provides an elaborative analysis focusing on the current news and developments of the companies, which includes product development, innovations, joint ventures, partnerships, mergers & acquisitions, strategic alliances, and others. This allows for the evaluation of the overall competition within the market.
List of Companies:
Bristol-Myers Squibb Company
AstraZeneca
Novartis AG
Merck & Co. Inc.
Amgen Inc.
F. Hoffman-La Roche Ltd.
Abbott Laboratories
GlaxoSmithKline PLC
Pfizer, Inc.
DermTech
BioMerieux SA
Dermlite
Canfield Scientific, Inc.
Caliber Imaging & Diagnostics, Inc.
Key Target Audience
Market Players
Investors
End-Users
Government Authorities
Consulting and Research Firm
Venture Capitalists
Value-Added Resellers (VARs)
Market Segment
This study forecasts revenue at global, regional, and country levels from 2019 to 2032. Spherical Insights has segmented the global melanoma therapeutics market based on the below-mentioned segments:
Melanoma Therapeutics Market, By Product
Chemotherapy
Immunotherapy
Targeted Therapy
Radiation Therapy
Melanoma Therapeutics Market, By Drug Type
Branded Drugs
Generic Drugs
Melanoma Therapeutics Market, Regional Analysis
North America
Europe

Germany
UK
France
Italy
Spain
Russia
Rest of Europe

Asia Pacific

China
Japan
India
South Korea
Australia
Rest of Asia Pacific

South America

Brazil
Argentina
Rest of South America

Middle East & Africa

UAE
Saudi Arabia
Qatar
South Africa
Rest of Middle East & Africa
Need help to buy this report?