Global Marine VFD Market Size, By Type (AC Drive, DC Drive, Servo Drive), By Application (Pump, Propulsion, Fan, Compressor, Crane & Hoist, Winch, HVAC, Steering, Shaft Generator, Power Electronics, Others), By End-users (Marine Vessels, Offshore Oil & Gas, Offshore Wind Power, Others), By Geographic Scope and Forecast, 2022 – 2032
Industry: Aerospace & Defense
---
REPORT FORMAT

---
Global Marine VFD Market Insights Forecasts to 2032
The Marine VFD Market Size was valued at USD 1.35 Billion in 2022.
The Market is Growing at a CAGR of 4.6% from 2022 to 2032
The Global Marine VFD Market Size is expected to reach USD 2.16 Billion by 2032
North America is expected to Grow the fastest during the forecast period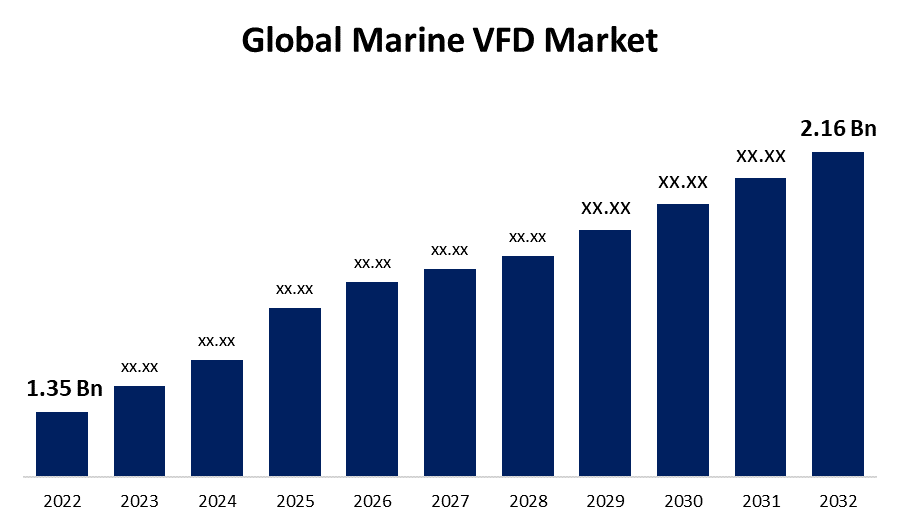 Get more details on this report -
Request Free Sample PDF
The Global Marine VFD Market Size is expected to reach USD 2.16 Billion by 2032, at a CAGR of 4.6% during the forecast period 2022 to 2032.
A variable frequency drive (VFD), also known as an adjustable-frequency drive, variable-speed drive, AC drive, microdrive, or inverter drive, is a form of motor drive that controls AC motor speed and torque by adjusting motor input frequency and voltage. Marine VFDs are designed to endure the harsh environmental conditions seen on ships and offshore sites. This includes elements such as excessive levels of salt, moisture, and temperature fluctuations. Because a standard industrial VFD may be unable to endure these circumstances, marine VFDs are particularly developed with protection features. The potential for energy savings is one of the primary benefits of employing a VFD in marine applications. Power consumption can be considerably lowered by altering the speed of the electric motor to fit the actual demand rather than running it at a constant speed. Depending on their operational status (e.g., moored, navigating, or docked), ships and marine platforms have different requirements. Marine VFDs allow the vessels to alter motor speeds and operations based on these states, assuring optimal performance. Given today's increased emphasis on energy economy and sustainability, marine VFDs are rapidly developing into a key component of the maritime industry. Their expanding prominence in the maritime industry is likely to have a significant effect on market dynamics, product demand, and the future trajectory of technological innovation in maritime equipment.
Market Outlook
Marine VFD Market Price Analysis
Marine VFDs are classified according to their power ratings. Higher power-rated VFDs are typically more expensive than lower-power-rated equivalents. Also, different applications may necessitate different standards. A VFD used for primary propulsion, for example, may differ from one used for a deck crane. Raw material availability, manufacturing prices, distribution logistics, and retail strategy can all have a substantial impact on the final market price. Furthermore, different manufacturers provide varying levels of product quality, brand trustworthiness, and after-sales service. High-end businesses with a reputation for dependability and excellent service may charge a premium price for their products. Sustainability in marine conditions, energy efficiency, and manufacturer support infrastructure (such as training, maintenance, and after-sales service) will likely play a significant role in deciding the price and its dynamics.
Marine VFD Market Distribution Analysis
Manufacturers initially produce marine VFDs. These businesses may have their own distribution channels or collaborate with distributors and agents to reach a larger market. Some marine manufacturers establish alliances with Original Equipment Manufacturers (OEMs). This enables VFDs to be directly connected to maritime systems throughout the production process. Furthermore, distributors and agents serve as go-betweens for manufacturers and end-users. They may stock and advertise a variety of VFD products, allowing shipbuilders, maritime equipment providers, and other stakeholders to access them. Moreover, as e-commerce grows, marine VFDs are becoming more widely available through Internet channels. Buyers benefit from such, while producers and distributors benefit from a global reach.
Global Marine VFD Market Report Coverage
| Report Coverage | Details |
| --- | --- |
| Base Year: | 2022 |
| Market Size in 2022: | USD 1.35 Billion |
| Forecast Period: | 2022-2032 |
| Forecast Period 2022-2032 CAGR: | 4.6% |
| 2032 Value Projection: | USD 2.16 Billion |
| Historical Data for: | 2018-2021 |
| No. of Pages: | 200 |
| Tables, Charts & Figures: | 100 |
| Segments covered: | By Type, By Application, By End-users, By Geographic |
| Companies Covered: | Siemens, General Electric, Danfoss, Denmark, ABB, Rockwell Automation, Schneider Electric, Johnson Controls, Honeywell, Parker Hannifin, Eaton Corporation, Mitsubishi Electric, Yaskawa, NIDEC, WEG, Ingeteam, Triol, CG Power and Industrial Solutions, LS Electronics Co., Ltd., Invertek Drives, SELMA, HI-SEA, Bosch Rexroth, Nord, and Others. |
| Growth Drivers: | Increasing Emphasis on Energy Efficiency and Fuel Cost Reduction |
| Pitfalls & Challenges: | COVID-19 Empact, Challenges, Future, Growth, & Analysis |
Get more details on this report -
Request Free Sample PDF
Market Dynamics
Marine VFD Market Dynamics
Increasing Emphasis on Energy Efficiency and Fuel Cost Reduction
In the marine industry, fuel efficiency is a significant consideration. Operating ships and other marine vessels necessitate large energy expenditures, and fuel is a major operational expense for the majority of maritime firms. Because VFDs enable for exact control of electric motor activities, they aid in optimizing energy usage and lowering total power consumption. VFDs ensure that energy is not wasted by running motors at full speed when it is not necessary by regulating the speed and torque of electric motors based on the real-time requirements of ship systems. This enhanced energy use directly leads to fuel savings, especially in larger vessels where even slight efficiency improvements can contribute to significant cost savings over long periods of time.
Rising Demand for Retrofitting and Modernization of Existing Vessels
The increasing demand for retrofitting and upgrading of older vessels is a crucial driver for the marine VFD market. The majority of vessels in the world's marine fleet are getting older and may not have been outfitted with new energy-efficient systems from the start. Retrofitting existing vessels with marine VFDs provides a cost-effective alternative for improving performance, lowering operational costs, and complying with growing environmental standards. This trend is especially noticeable in regions with a high proportion of older vessels, such as Europe and portions of Asia. As a result, as shipowners attempt to upgrade their fleets and remain competitive in the shifting maritime sector, demand for marine VFDs as a retrofitting solution is driving market growth.
Restraints & Challenges
Complexity of Integration in Older Vessel Systems
While marine VFDs have numerous advantages, incorporating them into older vessel systems can be difficult. Many older ships were not designed with such sophisticated technological systems in consideration. As a result, upgrading these boats with marine VFDs may need major changes to the existing electrical and mechanical systems. This can increase costs while also posing technical obstacles that may dissuade shipowners from installing VFDs.
Regional Forecasts
Asia Pacific Market Statistics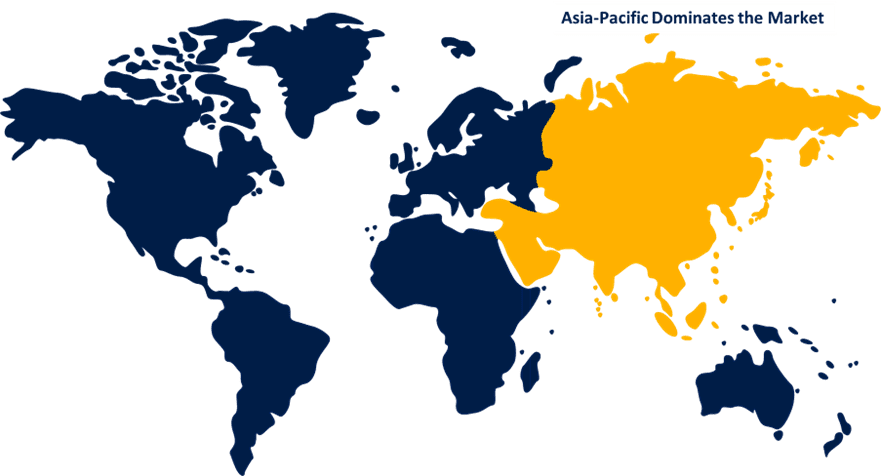 Get more details on this report -
Request Free Sample PDF
Asia Pacific is anticipated to dominate the Marine VFD market from 2023 to 2032. The Asia Pacific region is a worldwide nautical powerhouse, home to some of the world's busiest ports, shipbuilding industries, and a vast angling fleet. China, Japan, South Korea, and Singapore all offer significant contributions to the maritime industry. For these newly built ships, there is a high demand for modern technologies such as VFDs. Cargo ships, container vessels, and passenger ferries vary from VFD technology for propulsion and electrical system management, owing to the region's emphasis on maritime transportation. The growing amount of maritime activities, combined with the trend toward more energy-efficient and environmentally friendly operations, has boosted the region's marine VFD industry. Furthermore, rising industrialization and increased international trade in nations such as India and Vietnam are expected to contribute to market expansion. Moreover, Asia Pacific is home to a number of well-known maritime VFD producers. These businesses not only serve the domestic market but also export to other parts of the world.
North America Market Statistics
North America is witnessing the fastest market growth between 2023 to 2032. North America, primarily the United States and Canada, is a prominent player in the maritime VFD market. North American enterprises are early adopters in implementing cutting-edge VFD technologies with the goal of energy efficiency and operational excellence in their marine activities. Global VFD market leaders such as Rockwell Automation, General Electric, and Siemens have a strong presence in North America, driving innovation and adoption. There is a rising emphasis in North America on energy-efficient solutions in the maritime sector to decrease operational costs and environmental effects. VFDs, through optimizing power consumption, play a critical role in attaining these aims. Furthermore, offshore drilling has the greatest market share in North America. VFDs are significantly used in the offshore oil and gas industry to manage the power supply for various drilling equipment, ensuring safe and efficient operations.
Segmentation Analysis
Insights by Type
The AC drives segment accounted for the largest market share over the forecast period 2023 to 2032. Alternating Current (AC) Drives, also known as Variable Frequency Drives (VFDs) or Variable Speed Drives (VSDs), are used to control the speed and torque of an alternating current induction motor. They control the speed of the motor by modulating the frequency and voltage supplied to it. These drives are widely employed in marine applications such as propulsion, pumps, HVAC, and winches. AC Drives provide the flexibility to adjust motor speed in marine situations, resulting in energy savings and reduced wear and tear. AC technology has advanced significantly over the years, making these drives more efficient and reliable. AC Drives are a natural fit for such arrangements because modern ships are increasingly being designed with AC electrical systems.
Insights by Application
The propulsion segment accounted for the largest market share over the forecast period 2023 to 2032. VFDs regulate the speed and torque of motors used in the propulsion system of a ship. Marine VFDs in propulsion provide more accurate speed control while also reducing mechanical stress and increasing fuel efficiency. With the marine sector increasingly focused on energy savings and operational efficiency, VFDs in propulsion systems offer considerable benefits in terms of fuel savings, lower emissions, and greater navigational control. Demand for VFDs in this segment is being driven by the desire for more energy-efficient and environmentally friendly propulsion systems.
Insights by End-users
The marine vessels segment accounted for the largest market share over the forecast period 2023 to 2032. This section includes all maritime vessels, including cargo ships, cruise ships, fishing boats, and naval ships. VFDs help a variety of systems on these vessels, including propulsion, ventilation, and ballast systems. This area is crucial due to the sheer quantity of vessels in service worldwide, as well as the multitude of onboard systems that benefit from VFDs. Vessels are constantly striving for operating efficiency and fuel savings, especially with fuel prices rising and environmental restrictions growing. VFDs are directly responsible for obtaining these efficiencies. VFDs are frequently used to improve performance and extend operating lives on older vessels that are being modernized or retrofitted.
Competitive Landscape
Major players in the market
Siemens
General Electric
Danfoss
Denmark
ABB
Rockwell Automation
Schneider Electric
Johnson Controls
Honeywell
Parker Hannifin
Eaton Corporation
Mitsubishi Electric
Yaskawa
NIDEC
WEG
Ingeteam
Triol
CG Power and Industrial Solutions
LS Electronics Co., Ltd.
Invertek Drives
SELMA
HI-SEA
Bosch Rexroth
Nord
Recent Market Developments
On July 2023, Renesas Electronics Corporation and Wolfspeed, Inc. announced the signing of a wafer supply agreement and a $2 billion (USD) deposit by Renesas to guarantee a 10-year supply commitment from Wolfspeed of silicon carbide bare and epitaxial wafers. Wolfspeed will supply Renesas with 150mm silicon carbide bare and epitaxial wafers scaling in CY2025, cementing the businesses' aim for an industry-wide transition from silicon to silicon carbide semiconductor power devices.
On May 2023, MTE Corporation, a worldwide recognized provider of electrical power quality solutions for commercial and industrial automation, has announced the availability of its much-anticipated microNexus motor safety filter. This innovative device is the most recent advancement in MTE's remarkable range of motor protection filters, ensuring total elimination of hazardous electrical harmonics from Variable Frequency Drives (VFDs) and protecting motor bearings from electrical damage.
Market Segmentation
This study forecasts revenue at global, regional, and country levels from 2023 to 2032.
Marine VFD Market, Type Analysis
AC Drive
DC Drive
Servo Drive
Marine VFD Market, Application Analysis
Pump
Propulsion
Fan
Compressor
Crane & Hoist
Winch
HVAC
Steering
Shaft Generator
Power Electronics
Others
Marine VFD Market, End-users Analysis
Marine Vessels
Offshore Oil & Gas
Offshore Wind Power
Others
Marine VFD Market, Regional Analysis
Germany
Uk
France
Italy
Spain
Russia
Rest of Europe
China
Japan
India
South Korea
Australia
Rest of Asia Pacific
Brazil
Argentina
Colombia
UAE
Saudi Arabia
South Africa
Need help to buy this report?