Global Manga Market Size, Share and COVID-19 Impact Analysis, By Content Type (Printed and Digital), By Distribution Channel (Offline and Online), By Genre (Action & Adventure, Sci-Fi & Fantasy, sports, Romance & Drama, and Others), By Gender (Male and Female), By Audience (Children & Kids, Teenagers, and Adults), By Region (North America, Europe, Asia-Pacific, Latin America, Middle East, and Africa), Analysis and Forecast 2022 – 2032.
Industry: Information & Technology
---
REPORT FORMAT

---
Global Manga Market Insights Forecasts to 2032
The Global Manga Market Size was valued at USD 11.45 Billion in 2022.
The Market is Growing at a CAGR of 16.3% from 2022 to 2032
The Worldwide Manga Market Size is expected to reach USD 51.83 Billion by 2032
North America is expected to Grow higher during the forecast period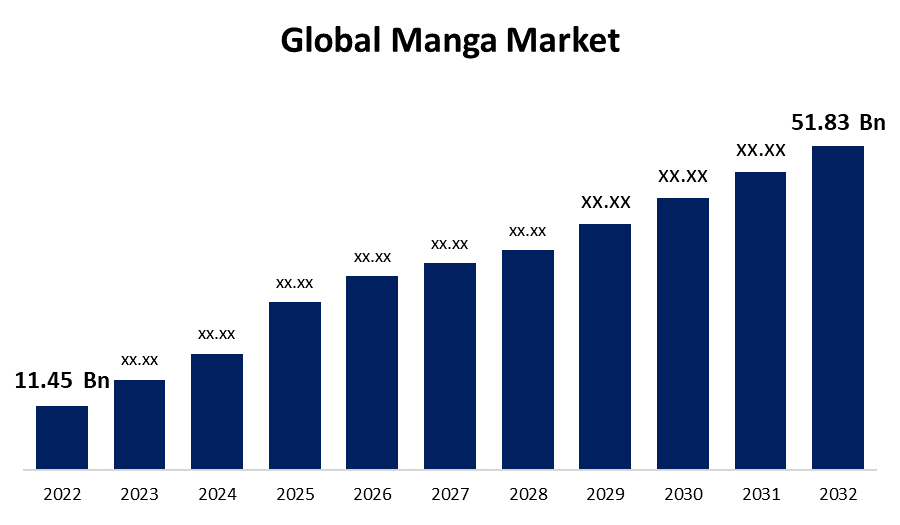 Get more details on this report -
Request Free Sample PDF
The Global Manga Market Size is expected to reach USD 51.83 Billion by 2032, at a CAGR of 16.3% during the forecast period 2022 to 2032.
Market Overview
Manga, a term referring to Japanese comics and graphic novels, has become a cultural phenomenon renowned worldwide. Combining captivating storytelling with unique artwork, manga has a distinct visual style that sets it apart. It covers a vast array of genres, catering to diverse readers of all ages and interests. From action-packed adventures and fantasy epics to romantic dramas and thought-provoking narratives, manga offers something for everyone. Its popularity extends beyond Japan, with translations and localized versions available in numerous languages. Manga has also had a significant influence on other forms of media, inspiring anime adaptations, live-action films, and video games. With its rich storytelling, intricate characters, and immersive worlds, manga continues to captivate readers, transcending borders and shaping the global entertainment landscape. Its enduring appeal and wide-ranging themes ensure that manga remains a beloved and influential medium for years to come.
Report Coverage
This research report categorizes the market for manga market based on various segments and regions and forecasts revenue growth and analyzes trends in each submarket. The report analyses the key growth drivers, opportunities, and challenges influencing the manga market. Recent market developments and competitive strategies such as expansion, product launch, and development, partnership, merger, and acquisition have been included to draw the competitive landscape in the market. The report strategically identifies and profiles the key market players and analyses their core competencies in each sub-segments of the manga market.
Global Manga Market Report Coverage
| Report Coverage | Details |
| --- | --- |
| Base Year: | 2022 |
| Market Size in 2022: | USD 11.45 Billion |
| Forecast Period: | 2022-2032 |
| Forecast Period 2022-2032 CAGR: | 16.3% |
| 2032 Value Projection: | USD 51.83 Billion |
| Historical Data for: | 2018-2021 |
| No. of Pages: | 200 |
| Tables, Charts & Figures: | 120 |
| Segments covered: | By Content Type, By Distribution Channel, By Genre, By Gender, By Audiencere, By Region.   |
| Companies Covered: | Akita Publishing Co., Ltd., Bilibili Comics Pte. Ltd., Bungeishunu Ltd., Good Smile Company, Inc., Hitotsubashi Group, Houbunsha Co., Ltd., Kadokawa Corporation, Kodansha Ltd., Nihon Bungeisha Co., Ltd., Seven Seas Entertainment, Inc., Shogakukan Inc., Shueisha Inc., VIZ Media LLC, Yen Press LLC, Others. |
| Pitfalls & Challenges: | COVID-19 Empact,Challenges, Future, Growth, & Analysis |
Get more details on this report -
Request Free Sample PDF
Driving Factors
Several drivers contribute to the growth and expansion of the manga market, due to the increasing global demand for manga plays a crucial role. Manga's captivating storytelling, unique art style, and diverse genres have attracted a broad audience, transcending cultural boundaries. Additionally, the digitalization of manga has significantly boosted its market size. The availability of online platforms and digital reading devices has made manga easily accessible to fans worldwide, leading to increased consumption and sales. Furthermore, the globalization of manga has fueled its market growth. The translation and localization of manga in various languages have widened its reach and attracted a new readership. Collaborations with other mediums, such as anime adaptations and merchandise, have also contributed to the market expansion. With these drivers in play, the manga market is expected to continue its upward trajectory, appealing to a growing fan base and generating significant revenue.
Restraining Factors
While the manga market has experienced significant growth, there are also some restraints that impact its market size. The main key restraints are piracy and the unauthorized distribution of manga. The availability of illegal scanlations and pirated copies hinders legitimate sales and revenue generation for publishers and creators. Additionally, the rising competition from other forms of entertainment, such as streaming services and video games, diverts consumer attention and spending away from manga. Moreover, the production and distribution costs involved in creating manga can be substantial, limiting the ability of smaller publishers and independent creators to enter the market. These restraints pose challenges to the manga industry, affecting its overall market size and potential growth.
Market Segmentation
In 2022, the action & adventure segment accounted for around 33.4% market share
On the basis of the genre, the global manga market is segmented into action & adventure, Sci-Fi & fantasy, sports, romance & drama, and others. The action and adventure segment has emerged as the dominant force in the manga market, holding the largest market share. This genre has captivated readers with its thrilling narratives, intense action sequences, and high-stakes adventures. The popularity of action and adventure manga can be attributed to its ability to provide adrenaline-pumping stories that keep readers engaged and entertained. Whether it's epic battles, heroic quests, or supernatural abilities, this genre offers a sense of excitement and escapism that resonates with a wide audience. One of the key factors driving the success of the action and adventure segment is its universal appeal. Action-packed stories transcend cultural and language barriers, making them accessible to manga enthusiasts worldwide. Moreover, the genre often incorporates elements of fantasy, science fiction, and supernatural themes, appealing to readers' imagination and fascination with extraordinary worlds and powers. Additionally, the action and adventure segment has benefited from successful adaptations into other media forms, such as anime series and films. These adaptations not only attract new fans but also serve as gateways to the original manga source material. The cross-promotion between manga and anime creates a symbiotic relationship, further fueling the market share of the action and adventure genre. Furthermore, publishers and creators have continued to innovate within the genre, delivering fresh and diverse storylines, dynamic artwork, and memorable characters. This constant evolution ensures that readers are consistently engaged and eager to explore new action and adventure titles.
In 2022, the online segment dominated with more than 65.2% market share
Based on the distribution channel, the global manga market is segmented into online and offline. The online segment of the manga market has emerged as a significant revenue contributor, holding a substantial share in the industry. The shift towards digital platforms has revolutionized the way manga is consumed and distributed. Online platforms offer a convenient and accessible way for readers to explore and enjoy manga content. With the proliferation of smartphones, tablets, and e-readers, readers can easily access manga anytime, anywhere. This ease of access has led to a surge in online manga consumption, resulting in increased revenue generation. Furthermore, digital platforms provide a vast catalog of manga titles, including both popular series and niche genres, catering to diverse reader preferences. Online platforms also allow for features such as interactive panels, zooming options, and bookmarking, enhancing the reading experience. Moreover, the online segment enables manga publishers to reach a global audience, transcending geographical barriers. With its convenience, extensive offerings, and global reach, the online segment continues to play a pivotal role in driving revenue growth in the manga market.
Regional Segment Analysis of the Manga Market
North America (U.S., Canada, Mexico)
Europe (Germany, France, U.K., Italy, Spain, Rest of Europe)
Asia-Pacific (China, Japan, India, Rest of APAC)
South America (Brazil and the Rest of South America)
The Middle East and Africa (UAE, South Africa, Rest of MEA)
Asia-Pacific dominated the market with more than 78.2% revenue share in 2022.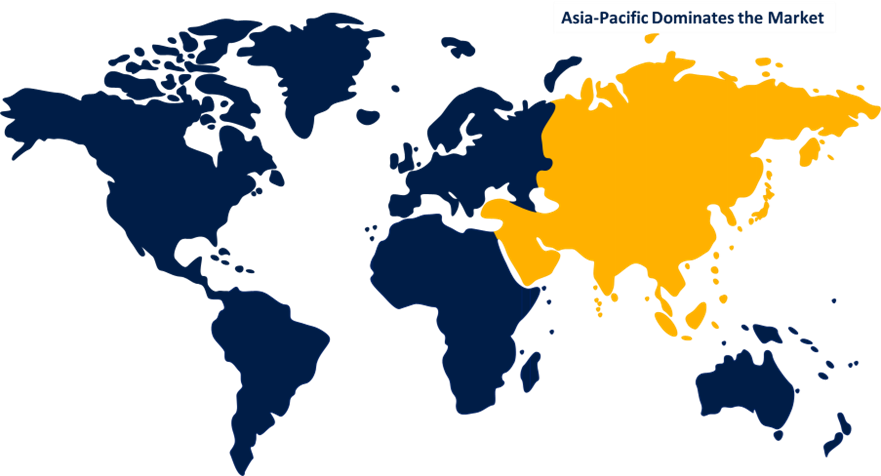 Get more details on this report -
Request Free Sample PDF
Based on region, Asia Pacific is projected to maintain a dominant share in the manga market due to several reasons because manga has its roots in Japan, where it originated and gained immense popularity. As a result, Japan has a well-established manga industry and a large consumer base. Additionally, countries like South Korea and China have also developed thriving manga industries, contributing to the dominance of the Asia Pacific region. Moreover, the cultural affinity for manga in these countries, coupled with the availability of a wide range of manga titles in local languages, further strengthens the market. Furthermore, the region's growing internet penetration and digitalization have made manga easily accessible through online platforms and mobile devices, driving its consumption. With a strong manga infrastructure, a dedicated fan base, and the presence of key publishers, Asia Pacific is expected to retain its dominant position in the manga market.
Recent Developments
In March 2023, Seven Seas Entertainment, Inc. has obtained the licensing rights for Nagata Kabi's manga titled 'My Pancreas Broke, But My Life Got Better.' This collaboration between Nagata Kabi and Seven Seas Entertainment, Inc. brings excitement to manga fans as they eagerly await the arrival of this highly anticipated release. The partnership signifies the recognition and appreciation of Nagata Kabi's storytelling prowess and artistic talent, further solidifying her position as a prominent figure in the manga industry.
In July 2022, Square Enix has unveiled the latest version of the MANGA UP Global app, making it available on both iOS and Android platforms. The announcement brings exciting news for manga enthusiasts worldwide, as they can now easily access a vast library of over 160 titles. What's more, the app includes English translations for over 100 manga series, offering a wider range of options for international readers. The release of the new Global app version reflects Square Enix's commitment to providing a seamless and enjoyable manga reading experience to fans globally, solidifying its position in the competitive manga market.
Competitive Analysis:
The report offers the appropriate analysis of the key organizations/companies involved within the global manga market along with a comparative evaluation primarily based on their product offering, business overviews, geographic presence, enterprise strategies, segment market share, and SWOT analysis. The report also provides an elaborative analysis focusing on the current news and developments of the companies, which includes product development, innovations, joint ventures, partnerships, mergers & acquisitions, strategic alliances, and others. This allows for the evaluation of the overall competition within the market.
List of Companies:
Akita Publishing Co., Ltd.
Bilibili Comics Pte. Ltd.
Bungeishunu Ltd.
Good Smile Company, Inc.
Hitotsubashi Group
Houbunsha Co., Ltd.
Kadokawa Corporation
Kodansha Ltd.
Nihon Bungeisha Co., Ltd.
Seven Seas Entertainment, Inc.
Shogakukan Inc.
Shueisha Inc.
VIZ Media LLC
Yen Press LLC
Key Target Audience
Market Players
Investors
End-Users
Government Authorities
Consulting and Research Firm
Venture Capitalists
Value-Added Resellers (VARs)
Market Segment
This study forecasts revenue at global, regional, and country levels from 2019 to 2032. Spherical Insights has segmented the global manga market based on the below-mentioned segments:
Manga Market, By Content Type
Manga Market, By Distribution Channel
Manga Market, By Genre
Action & Adventure
Sci-Fi & Fantasy
Sports
Romance & Drama
Others
Manga Market, By Gender
Manga Market, By Audience
Children & Kids
Teenagers
Adults
Manga Market, Regional Analysis
North America
Europe

Germany
UK
France
Italy
Spain
Russia
Rest of Europe

Asia Pacific

China
Japan
India
South Korea
Australia
Rest of Asia Pacific

South America

Brazil
Argentina
Rest of South America

Middle East & Africa

UAE
Saudi Arabia
Qatar
South Africa
Rest of Middle East & Africa
Need help to buy this report?