Global Macarons Market Size, Share, and COVID-19 Impact Analysis, By Type (Basic, Chocolate, Strawberry), By Application (Supermarkets/Hypermarkets, Convenience Stores, Independent Retailers), by Region (North America, Europe, Asia-Pacific, Latin America, Middle East, and Africa), Analysis and Forecast 2022 – 2032
Industry: Food & Beverages
---
REPORT FORMAT

---
Global Macarons Market Insights Forecasts to 2032
The Global Macarons Market Size was valued at USD 755.35 Billion in 2022.
The market is growing at a CAGR of 7.60% from 2022 to 2032
The global Macarons Market is expected to reach USD 1232.66 billion by 2032
Asia Pacific is expected to grow the fastest during the forecast period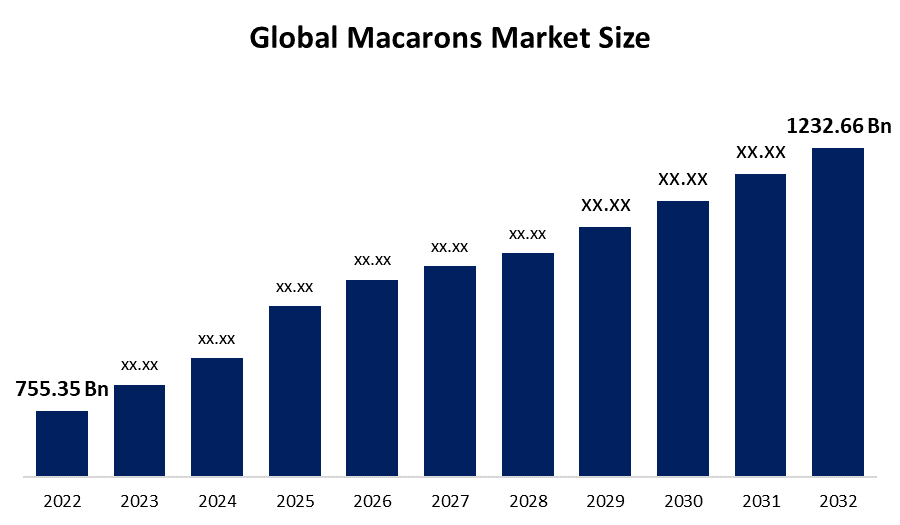 Get more details on this report -
Request Free Sample PDF
The Global Macarons Market Size is expected to reach USD 1232.66 billion by 2032, at a CAGR of 7.60% during the forecast period 2022 to 2032.
Macarons are delicious treats made of meringue that can be coloured and flavoured with various ingredients. French sandwich cookies or macaroons, also known as macarons, typically have a ganache, buttercream, or jam filling sandwiched between two cookies. The cookies can either be part of the macaron's main structure (in which case they are referred to as macaron shells) or they can be used to sandwich the filling. They are mostly popular for their crispy exterior, chewy interior, delicate, and vibrant colours. In fact, the macarons market is known as the food industry segment which is specialized on manufacturing and selling of macarons. This market comprises of patisseries, bakeries, specialty stores, and online retailers which provide various types of colours, flavours, and designs of macarons.
The macarons market is famous for its huge level of competition along with numerous businesses and a reputation for innovation, quality, and customer satisfaction. Macarons have gained popularity in the past few years and the market is continuously growing and it is continuously growing because the demand for these sweet treats is increasing on a continuous basis.
Key Market Drivers
The macarons market is mainly driven by the change in the preferences of the consumers, increasing awareness of the pastry, as well as the availability of high quality macarons in different flavours and designs. Macarons are now available in various countries and the market for these pastries has been expanded in France. Apart from this, the global macarons market has also witnessed a significant growth due the increase in the number of small as well as medium sized companies and established brands that are entering the market. Furthermore, the increasing e-commerce as well as online retailing has made it easier for the customers across the world to get macarons which has propelled the market growth. The use of social media platforms like Facebook and Instagram has played a significant role to increase the popularity of macarons and expanded the market. Apart from this, the market is very competitive and businesses should continue to launch new products and stay ahead in the market. The market is also anticipated to witness growth over the upcoming the years because customers are looking for new and exciting macarons offerings.
Key Market Challenges
Due to the price volatility, especially in raw materials prices such as sugar, flour, eggs, and others has limited the growth of the market.
Market Segmentation
Type Insights
Chocolate macarons segment is dominating the market over the forecast period
Based on type, the global macarons market is segmented into basic, chocolate, strawberry, lemon, lavender coconut, and others. Among these, the chocolate macarons segment is dominating the market over the forecast period. Rich chocolate and the delicate, chewy texture of a macaron combine to create a delectable treat. Chocolate is a timeless and well adored flavour. Dark, milk, and white chocolate are all available for making chocolate macarons, which can then be filled with a choice of fillings like ganache, buttercream, or chocolate mousse.
Due to its versatility and rich, decadent flavour, chocolate macarons are a preferred option among consumers. The popularity of chocolate macarons is on the rise, and there are many places to buy them, including bakeries, patisseries, internet sellers, and specialised shops. Consumer preferences, cultural diversity, and the availability of high-quality goods all contribute to the popularity of chocolate macarons.
Global Macarons Market Report Coverage
| Report Coverage | Details |
| --- | --- |
| Base Year: | 2022 |
| Market Size in 2022: | USD 755.35 Billion |
| Forecast Period: | 2022 - 2032 |
| Forecast Period 2022 - 2032 CAGR: | 7.60% |
| 2032 Value Projection: | USD 1232.66 Billion |
| Historical Data for: | 2018 - 2021 |
| No. of Pages: | 210 |
| Tables, Charts & Figures: | 135 |
| Segments covered: | By Type, By Application, By Region |
| Companies Covered: | Laduree, Chantal Guillon, Dana's Bakery, Dalloyau, Pierre Herme Paris, Jean-Paul-Hevin, Jouer, La Maison du Chocolat, Olivia Macaron, RICHART |
Get more details on this report -
Request Free Sample PDF
Application Insights
Supermarkets/ Hypermarkets segment holds the highest market share over the forecast period
Based on application, the global macarons market is segmented into supermarkets/ hypermarkets, convenience stores, independent retailers, online sales, and others. Among these, the supermarkets/ hypermarkets segment holds the highest market share over the forecast period. Supermarkets and hypermarkets are likely to sell the most macarons since they provide a wide selection and are convenient for many customers. Additionally, compared to specialty shops or independent retailers, supermarkets and hypermarkets sometimes sell macarons at a cheaper price range, making them a popular option for those on a budget. Additionally, they provide a variety of flavours and sizes, enabling customers to buy single macarons or packages of several at once.
As consumer preferences for quick and easy sweet treats continue to change, the Macarons Market in supermarkets and hypermarkets is predicted to expand over the next years. The variety and calibre of macarons that are offered in supermarkets and hypermarkets will probably increase in response to this desire. Overall, the supermarkets/hypermarkets channel plays a big role in the macarons industry and is expected to continue to grow at a high rate.
Regional Insights
Europe is dominating the market with the largest market share over the forecast period
Get more details on this report -
Request Free Sample PDF
Europe is dominating the global macarons market over the forecast period. The European market is highly developed which has various countries that boost a strong tradition of pastry making and a growing market for sweet treats. In France, macarons are considered as a staple of French patisseries and bakeries which are widely consumed by people across the country. French macarons are specifically known for their delicate texture and flavours and they are popular because of these qualities. The market is anticipated to witness growth over the upcoming years because consumers are looking for innovative flavours as well as high quality ingredients.
Recent Market Developments
In December 2022, Dalloyau Christmas creation macarons has introduced lots of flavours like citrus fruit flavours and Brazilian chocolate.
In May 2022, The MetStore and Laduree has launched a limited edition macaron gift box.
List of Key Companies
Laduree
Chantal Guillon
Dana's Bakery
Dalloyau
Pierre Herme Paris
Jean-Paul-Hevin
Jouer
La Maison du Chocolat
Olivia Macaron
RICHART
Market Segment
This study forecasts revenue at global, regional, and country levels from 2019 to 2032. Spherical Insights has segmented the global Macarons Market based on the below-mentioned segments:
Macarons Market, Product Analysis
Basic
Chocolate
Strawberry
Macarons Market, Application Analysis
Supermarkets and Hypermarkets
Convenience Stores
Independent Retailers
Macarons Market, Regional Analysis
North America
Europe

Germany
Uk
France
Italy
Spain
Russia
Rest of Europe

Asia Pacific

China
Japan
India
South Korea
Australia
Rest of Asia Pacific

South America

Brazil
Argentina
Rest of South America

Middle East & Africa

UAE
Saudi Arabia
Qatar
South Africa
Rest of Middle East & Africa
Need help to buy this report?