Global Locomotive Market Size, By Engine Type (Diesel, Electric, Hybrid-Electric, Others), By Technology (IGBT Module, GTO Thyristor, SiC Power Module, Others), By Component (Rectifier, Inverter, Traction Motor, Alternator, Auxiliary Power Unit [APU], Others), By Application (Freight, Passengers, Switcher), By Geographic Scope and Forecast, 2022 – 2032
Industry: Automotive & Transportation
---
REPORT FORMAT

---
Global Locomotive Market Insights Forecasts to 2032
The Locomotive Market Size was valued at USD 22.71 Billion in 2022.
The Market is Growing Size at a CAGR of 9.3% from 2022 to 2032
The Global Locomotive Market Size is expected to reach USD 55.2 Billion by 2032
Asia Pacific is expected to Grow the fastest during the forecast period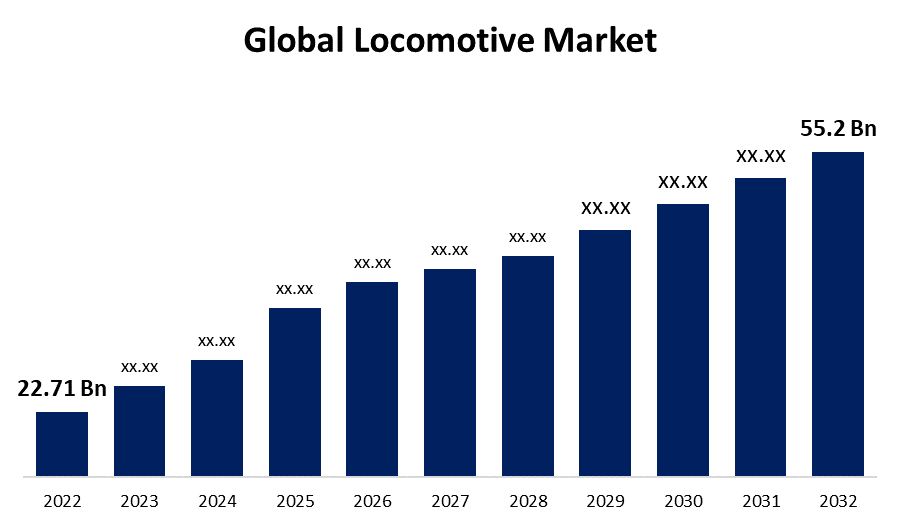 Get more details on this report -
Request Free Sample PDF
The Global Locomotive Market is expected to reach USD 55.2 Billion by 2032, at a CAGR of 9.3% during the forecast period 2022 to 2032.
A locomotive, often known as an engine, is a type of railroad transportation vehicle that serves as the driving force for a train. If a locomotive can carry a payload, it is commonly referred to as a multiple unit, motor coach, railcar, or power car; the usage of these self-propelled vehicles is becoming more prevalent for passenger trains but is still uncommon for freight services. Locomotive manufacturing has expanded greatly in conjunction with the growth of the worldwide rail infrastructure and increasing patronage for public transit, which has culminated in higher worldwide demand for switching systems. In accordance with the need to promote connectivity between remote and suburban areas, the railroad system continues to grow. Growing demand for various types of locomotives, such as freight, passenger, and repowered engines, has driven production companies to invest in the development of modern locomotive vehicles on the marketplace as railway networks have developed and locomotives in transportation. Furthermore, the advent of advanced technologies such as backup power units, SiC modules, and IGBT modules contributes to the global market's most significant volume. These innovations, which tend to increase fuel efficiency, reduce emissions, and minimize overall weight, could culminate in less power loss when switching states. Over the projected period, huge investment in the expansion of railroad systems for transport and rapid transit trains is predicted to drive the growth of the worldwide locomotive market.
Global Locomotive Market Report Coverage
| Report Coverage | Details |
| --- | --- |
| Base Year: | 2022 |
| Market Size in 2022: | USD 22.71 Billion |
| Forecast Period: | 2022-2032 |
| Forecast Period 2022-2032 CAGR: | 9.3% |
| 2032 Value Projection: | USD 55.2 Billion |
| Historical Data for: | 2019-2021 |
| No. of Pages: | 210 |
| Tables, Charts & Figures: | 110 |
| Segments covered: | By Engine Type, By Technology, By Component, By Application and By Geographic Scope |
| Companies Covered: | Caterpillar Inc., Hitachi Ltd., Wabtec Corporation, CRRC Corporation Limited, AEG Power Solutions, Bharat Heavy Electricals Limited, Mitsubishi Heavy Industries Ltd., GE Transportation, Kawasaki Heavy Industries, Hyundai Corporation, Turbo Power Systems, Alstom S.A., Toshiba Corporation, Strukton, Siemens AG, Bombardier, and other key players. |
| Growth Drivers: | Rapid urbanization and increased freight transportation will fuel market expansion. |
| Pitfalls & Challenges: | COVID-19 Empact, Challenges, Future, Growth, & Analysis |
Get more details on this report -
Request Free Sample PDF
Market Outlook
Locomotive Market Price Analysis
The inquiry into the dynamics of locomotive market prices illustrates a complicated setting driven by several influencing factors. This market demonstrates a balance of diesel and electric locomotives, with electric types gaining popularity due to environmental benefits and economic effectiveness. Fuel costs, environmental laws, and technological improvements all have a significant impact on the pricing of the locomotive market. While electric locomotives have higher initial costs, their lower operating expenses frequently make them more cost-effective in the long term. Furthermore, used locomotives are in high demand among budget-conscious buyers, particularly in developing countries or towns with restricted budgets and low population density.
Locomotive Market Distribution Analysis
The locomotive market distribution analysis indicates a varied world with numerous outlets and a global reach. Manufacturers, dealers, and leasing firms constituted the primary conduits for locomotive distribution. Due to their substantial railway infrastructure, North America and Asia Pacific dominated the industry geographically. Emerging economies in Latin America and Africa, on the other hand, demonstrated growth potential. A major trend was an upsurge in leasing arrangements, which provide operators with flexibility and cost-efficiency. Online portals, which provided simple access to locomotive listings, also played a more prominent part in acquiring the locomotives and their services.
Market Dynamics
Locomotive Market Dynamics
Rapid urbanization and increased freight transportation will fuel market expansion.
As the population grows, so does the complexity of transportation, leading to traffic congestion and pollution from automobiles on the road. As a result, train transit has become a popular means of transportation for daily trips inside and between cities. In addition, rail mass transit provides people with cost-effective and time-saving transportation. The growth of urban and metropolitan areas produces a profitable demand for rail network expansion. As the number of lines increases, so do the locomotive requirements to meet these diverse transit demands. Governments from various nation-states are also focusing on extending railway networks and investing massive sums of money in creating railways that are going to propel the locomotive market growth.
Restraints & Challenges
Market expansion may be hampered by high initial investment and technological hurdles.
Except for being an important mode of transportation, the railway network necessitates large capital and operational costs to create and maintain. The expenditure for the purchase of locomotive engines alone consumes a significant portion of the capital, including maintenance and servicing charges. To buy new locomotives or upgrade existing fleets, locomotive makers and operators must make significant capital investments. This can be difficult, especially for developing nations or smaller rail operators with limited budgets. Furthermore, the incorporation of sophisticated technology, such as automation and digitalization, into locomotives can pose technical problems and necessitate large R&D investments.
Regional Forecasts
North America Market Statistics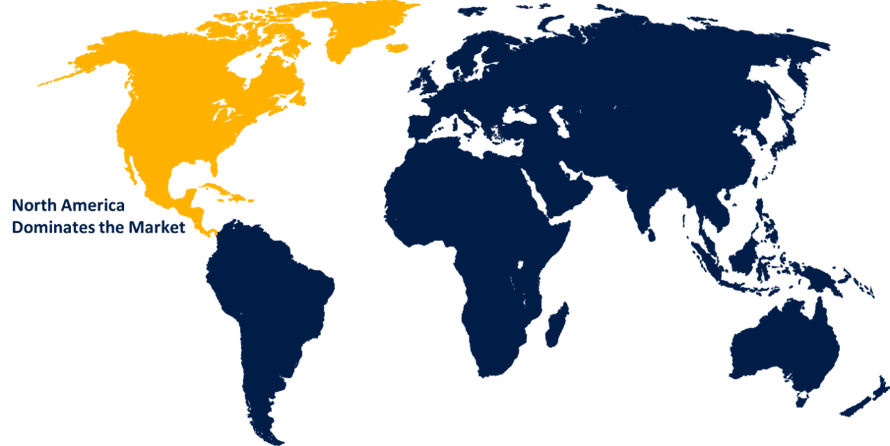 Get more details on this report -
Request Free Sample PDF
North America is anticipated to dominate the locomotive market from 2023 to 2032. This is due to the increasing deployment of electric and autonomous locomotives in countries around the United States and Canada. The growing concern about greenhouse gas emissions has led to an increase in the adoption of battery electric power, which reduces greenhouse gas emissions while also improving local air quality. To cut greenhouse gas emissions, the government is investing in sophisticated electric locomotives. Progress Rail, a Caterpillar affiliate firm, for example, began operating battery-electric locomotives in the ports of Los Angeles and Long Beach in 2021 as part of a trial with the Pacific Harbor Line. In addition, the region has a widely recognized railway infrastructure, a robust manufacturing base, and a high demand for locomotives. Major locomotive manufacturers, such as General Electric Company (GE) and Wabtec Corporation, have long had a presence in the marketplace in the United States. The region's prominence can also be ascribed to its massive freight transportation network, which heavily relies on locomotives to transfer commodities across long distances.
Asia Pacific Market Statistics
Asia Pacific is witnessing the fastest market growth between 2023 to 2032. Accelerated economic growth, urbanization, advancement of infrastructure, financial investments in the continued growth of the railway sector, and broad adoption of economical public transit in the Asia Pacific area have led to higher demands for reliable modes of transport. China, in particular, has a well-developed rail network in the region and is a significant locomotive manufacturing center. The Chinese firm CRRC Corporation Limited has become one of the world's largest locomotive producers. Furthermore, India's railway sector is also expanding rapidly, with projects such as the Dedicated Freight Corridor (DFC) project and the modernization of the current rail infrastructure increasing demand for locomotives. For example, the Indian government announced a INR 2.45 trillion investment in the rail sector in February 2022. The investment comprises the creation of railway infrastructure as well as the creation of rolling stock.
Segmentation Analysis
Insights by Engine Type
The electric segment accounted for the largest market share over the forecast period 2023 to 2032. The rising emphasis of governmental and commercial manufacturers on sustainable development is contributing to the rise of this industry. Electric locomotives emit fewer pollutants, lowering air pollution and emission of greenhouse gases. The growing curiosity about environmental safety and green is attributable to the rise in the electric locomotive market. As a result of increased interest in electric mobility and the utilization of renewable resources, the segment is expected to grow significantly over the projection period. Furthermore, governments and regulatory agencies are expanding their initiatives to boost the use of electric locomotives as part of their measures to address climate change, which has been beneficial to the progress of the locomotive sector.
Insights by Technology
The IGBT module segment accounted for the largest market share over the forecast period 2023 to 2032. IGBT modules are power electronics used in the transaction systems of electric and diesel electric trains to reduce power consumption during operation. The increasing demand for sustainable and dependable power electronics solutions for traction, propulsion, and control systems in modernized rail transportation is driving the expansion of this industry. Long-distance locomotives are experiencing an increase in demand for IGBT modules. Furthermore, the increasing electrification of locomotives for environmental sustainability and safety reasons would stimulate the locomotive market growth. As a result, the transition of locomotives to electric trains is likely to spur future development.
Insights by Component
The rectifier segment accounted for the largest market share over the forecast period 2023 to 2032. In an electric locomotive, a rectifier converts the alternating current source into direct current to power the traction motors. This is critical for the locomotive to function properly. The increased need for electricity-powered locomotives to convert AC to DC supply for DC traction motors is contributing to the segment's rise. Additionally, the increasing demand for less expensive and dependable power conversion options contributes to lower energy consumption and operating costs for locomotives. As a result, increased demand for electric locomotives will propel the segment's market expansion.
Insights by Application
The freight segment accounted for the largest market share over the forecast period 2023 to 2032. Locomotives provide cost-effective and sustainable solutions, allowing enterprises to meet environmental targets. The expansion in logistics due to the increase in the e-commerce business has produced a lucrative market need for freight transportation. Locomotives will become a dependable and scalable option for hauling freight as global trade expands and the requirement for efficient supply networks grows. Freight locomotives play an important role in the transportation of raw materials, completed goods, and bulk items, hence contributing to the economic growth of businesses such as manufacturing, mining, and logistics. The market expansion is primarily driven by significant countries increasing rail transportation activities. Furthermore, the requirement for efficient, dependable, and economical freight transportation solutions boosts the segment's advancement.
Competitive Landscape
Major players in the market
Caterpillar Inc.
Hitachi Ltd.
Wabtec Corporation
CRRC Corporation Limited
AEG Power Solutions
Bharat Heavy Electricals Limited
Mitsubishi Heavy Industries Ltd.
GE Transportation
Kawasaki Heavy Industries
Hyundai Corporation
Turbo Power Systems
Alstom S.A.
Toshiba Corporation
Strukton
Siemens AG
Bombardier
Recent Market Developments
On July 2023, Vale announced a collaboration with Wabtec Corporation to accelerate the decarbonization of its rail operations. The agreement includes a purchase of three Wabtec FLXdrive battery locomotives as well as a collaboration to investigate ammonia as a potential clean, alternative fuel to diesel. Wabtec will manufacture the FLXdrive locomotives at its Contagem (Minas Gerais) factory. The locomotives are expected to arrive in 2026.
On June 2023, The CBH Group (CBH) has entered into an agreement with Wabtec Corporation to acquire 17 narrow-gauge locomotives, representing a significant investment in extending the co-operative's rail fleet as part of the 'Path to 2033 Strategy'. The first five locomotives will arrive in Australia in the March quarter of 2026 and will be operating shortly thereafter. The second batch of 12 locomotives will arrive in the June quarter of 2026.
Market Segmentation
This study forecasts revenue at global, regional, and country levels from 2023 to 2032.
Locomotive Market, Engine Type Analysis
Diesel
Electric
Hybrid-Electric
Others
Locomotive Market, Technology Analysis
IGBT Module
GTO Thyristor
SiC Power Module
Others
Locomotive Market, Component Analysis
Rectifier
Inverter
Traction Motor
Alternator
Auxiliary Power Unit [APU]
Others
Locomotive Market, Application Analysis
Freight
Passengers
Switcher
Locomotive Market, Regional Analysis
Germany
Uk
France
Italy
Spain
Russia
Rest of Europe
China
Japan
India
South Korea
Australia
Rest of Asia Pacific
Brazil
Argentina
Colombia
UAE
Saudi Arabia
South Africa
Need help to buy this report?