Global Liquid Waste Management Market Size, Share, and COVID-19 Impact Analysis, By Source (Residential, Commercial, and Industrial), By Service (Transportation, Collection, and Treatment, Disposal/ Recycling), By Industry Vertical (Textile, Paper, Iron & Steel, Automotive, Pharmaceutical, Oil & Gas, and Others), By Region (North America, Europe, Asia-Pacific, Latin America, Middle East, and Africa), Analysis and Forecast 2023 – 2032
Industry: Chemicals & Materials
---
REPORT FORMAT

---
Global Liquid Waste Management Market Insights Forecasts to 2032
The Global Liquid Waste Management Market Size was valued at USD 96.30 billion in 2022.
The market is growing at a CAGR of 2.8% from 2023 to 2032
The global liquid waste management market is expected to reach USD 126.93 billion by 2032
Europe is expected to grow higher during the forecast period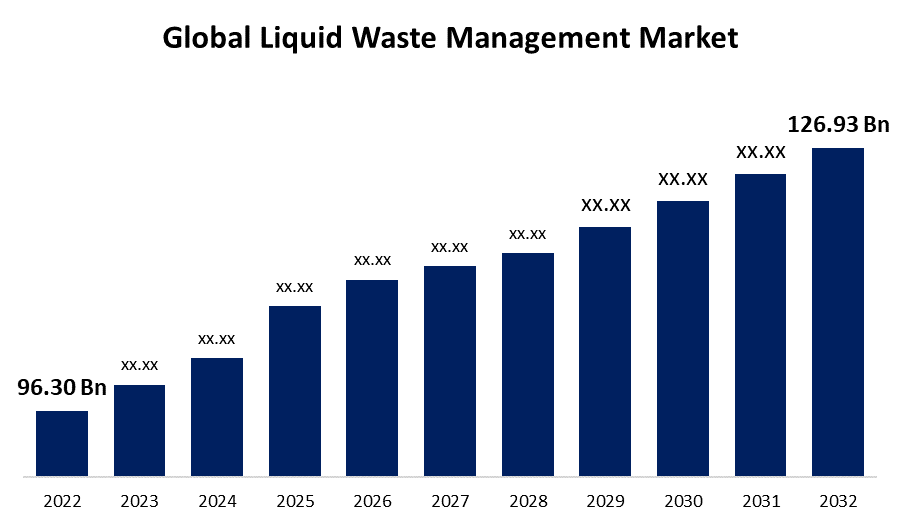 Get more details on this report -
Request Free Sample PDF
The Global Liquid Waste Management Market Size is expected to reach USD 126.93 billion by 2032, at a CAGR of 2.8% during the forecast period 2023 to 2032.
Market Overview
Liquid waste management refers to the systematic handling, treatment, and disposal of liquid waste generated by various sources such as households, industries, and commercial establishments. It involves the implementation of effective strategies to minimize environmental and health risks associated with liquid waste. The process typically includes collection, segregation, and transportation of liquid waste to appropriate treatment facilities. Treatment methods may vary depending on the nature and composition of the waste, ranging from physical, chemical, and biological processes to advanced technologies like membrane filtration and incineration. The aim is to remove pollutants, toxins, and contaminants from the waste, ensuring compliance with environmental regulations. Proper liquid waste management promotes environmental sustainability, protects public health, and preserves natural resources.
Report Coverage
This research report categorizes the market for liquid waste management market based on various segments and regions and forecasts revenue growth and analyzes trends in each submarket. The report analyses the key growth drivers, opportunities, and challenges influencing the liquid waste management market. Recent market developments and competitive strategies such as expansion, product launch, and development, partnership, merger, and acquisition have been included to draw the competitive landscape in the market. The report strategically identifies and profiles the key market players and analyses their core competencies in each sub-segments of the liquid waste management market.
Global Liquid Waste Management Market Report Coverage
| Report Coverage | Details |
| --- | --- |
| Base Year: | 2022 |
| Market Size in 2022: | USD 96.30 Billion |
| Forecast Period: | 2022 - 2032 |
| Forecast Period 2022 - 2032 CAGR: | 2.8% |
| 2032 Value Projection: | USD 126.93 Billion |
| Historical Data for: | 2018 - 2021 |
| No. of Pages: | 212 |
| Tables, Charts & Figures: | 129 |
| Segments covered: | By Source, By Service, By Industry Vertical, By Region |
| Companies Covered: | Veolia, Waste Management Solutions, Clean Harbors Inc., Clean Water Environmental, Liquid Environmental Solutions, DC Water, Covanta Holding Corp., Stericycle, Inc., U.S. Ecology, Inc., Republic Services, Inc., Hazardous Waste Experts |
Get more details on this report -
Request Free Sample PDF
Driving Factors
The liquid waste management market is driven by several factors, due to increasing population and urbanization lead to higher liquid waste generation, necessitating efficient management practices. Industrial growth and economic development also contribute to the market's expansion, as industries generate substantial amounts of liquid waste that require proper treatment and disposal. Stringent environmental regulations and sustainability initiatives play a crucial role in driving the market. Governments worldwide are imposing strict standards to mitigate environmental pollution and protect public health, compelling industries and communities to adopt effective liquid waste management strategies. Rapid technological advancements drive innovation in the market. The development of advanced treatment technologies and automation systems enhances the efficiency and effectiveness of liquid waste management processes. Growing awareness about environmental issues among individuals, communities, and businesses fuels the demand for sustainable waste management practices. This includes the adoption of recycling, resource recovery, and circular economy principles. Additionally, investments in infrastructure development and the establishment of public-private partnerships facilitate the growth of the liquid waste management market by improving waste collection, transportation, and treatment capabilities. Overall, the drivers of the liquid waste management market encompass population growth, urbanization, industrialization, regulatory frameworks, technological advancements, sustainability initiatives, and infrastructure investments.
Restraining Factors
The liquid waste management market faces certain restraints that impact its growth. One significant restraint is the high cost associated with implementing advanced treatment technologies and establishing robust waste management systems. These costs can be prohibitive for smaller industries or regions with limited financial resources. Additionally, the complex regulatory landscape and varying standards across different jurisdictions pose challenges for businesses operating in multiple locations. Limited public awareness and understanding of the importance of proper liquid waste management also hinder progress. Furthermore, the lack of skilled personnel and technical expertise in the field can impede the adoption of innovative solutions. Inadequate infrastructure, particularly in developing regions, poses difficulties in terms of waste collection, transportation, and treatment.
Market Segmentation
In 2022, the residential segment accounted for around 39.8% market share
On the basis of the source, the global liquid waste management market is segmented into The residential segment has emerged as a leading force in the liquid waste management market. Increasing population and urbanization have led to a rise in the number of households, resulting in a greater volume of liquid waste being generated. This surge in residential waste necessitates efficient management practices to ensure environmental sustainability and public health. Furthermore, the growing awareness among individuals about the importance of proper waste management has spurred demand for residential liquid waste management services. People are becoming more conscious of the potential environmental and health hazards associated with improper disposal and are actively seeking solutions. Moreover, advancements in technology have made it easier for residential users to access convenient waste collection and disposal services. Mobile applications and online platforms have simplified the process of scheduling pickups and accessing information about proper waste handling. Overall, the residential segment's dominance in the liquid waste management market can be attributed to population growth, increased awareness, government initiatives, and technological advancements that have collectively driven demand for efficient and sustainable residential waste management solutions.
In 2022, the transportation segment dominated with more than 47.5% market share
Based on the service, the global liquid waste management market is segmented into transportation, collection, and treatment, disposal/ recycling. The transportation segment held the largest market share, because certain hazardous elements are included in liquid waste, and certain precautions must be followed when handling and collecting the trash. A landfill is not an option for hazardous waste disposal. Segregation of trash, loading, and unloading of garbage, selection of a suitable region for storage of liquid waste at a minimal distance from where the waste is created, and waste maintenance are all part of liquid waste collection services. The transportation of liquid waste from storage places to recycling and processing facilities is included in the service. To minimize trash spilling and leaking, garbage transported by vehicle must be transported under adequate surveillance. During shipment, these waste items must be covered and leak-proof. Some liquid waste transportation poses a significant environmental danger. convey trucks convey hazardous liquid waste from industrial and commercial sites, whereas non-hazardous liquid waste is delivered to a recycling facility or a licensed sewage system intake. The transfer of hazardous chemicals is included in the transportation of liquid waste, and the transporter is subject to many rules under the Resource Conservation and Recovery Act (RCRA). The companies that provide transportation services spend considerably in cars and transportation networks. Liquid waste transporters are required to retain waste during transit. Liquid waste is disposed of or recycled in privately owned and run sewage treatment plants or liquid waste treatment facilities. Liquid waste is disposed of by either direct landfill injection via a bioreactor process, solidification, and subsequently landfilling, or a chemical wastewater treatment method. With the growth in liquid waste, the market for wastewater disposal and recycling is expanding at a rapid rate. Furthermore, hazardous waste disposal is connected with significant risk, and the treatment facility must have innovative technology and competent employees to avoid mishaps in such locations.
Regional Segment Analysis of the Liquid Waste Management Market
North America (U.S., Canada, Mexico)
Europe (Germany, France, U.K., Italy, Spain, Rest of Europe)
Asia-Pacific (China, Japan, India, Rest of APAC)
South America (Brazil and the Rest of South America)
The Middle East and Africa (UAE, South Africa, Rest of MEA)
North America dominated the market with more than 35.6% revenue share in 2022.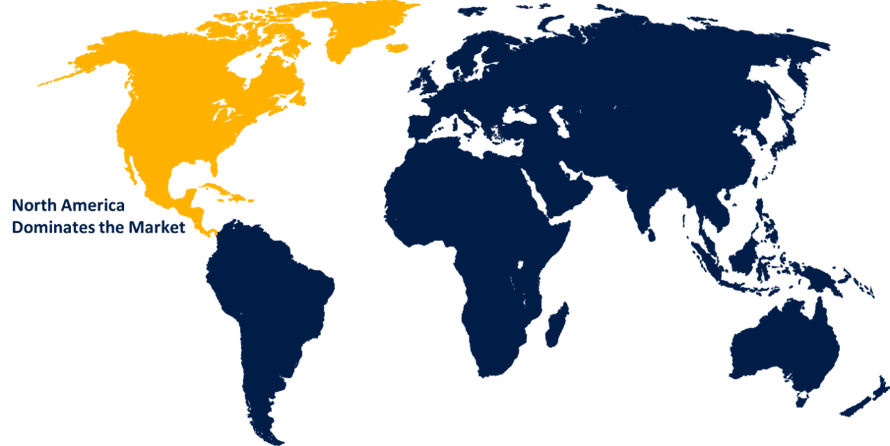 Get more details on this report -
Request Free Sample PDF
North America held the largest share in the market with highest revenue share in 2022. This growth is attributed to growing industrial sector, including manufacturing, chemicals, pharmaceuticals, and energy, which generates a substantial volume of liquid waste across the region. This region has stringent environmental regulations and standards in place, which necessitate effective liquid waste management practices. Compliance with these regulations drives the demand for advanced treatment and disposal technologies. Furthermore, the region's high level of awareness regarding environmental issues and sustainability has led to a greater emphasis on responsible waste management practices. This has created opportunities for innovative and environmentally friendly solutions in the liquid waste management sector.
Recent Developments
In January 2022, Veolia has completed the sale of the new Suez to a consortium of investors comprised of Meridiam, GIP, CDC Group, and CNP Assurances. The transaction represents a strategic move aimed at maximizing the potential of Suez and further strengthening its position in the market. With the completion of this sale, both Veolia and the consortium of investors are poised to embark on their respective paths of growth and innovation within the industry.
Competitive Analysis:
The report offers the appropriate analysis of the key organizations/companies involved within the global liquid waste management market along with a comparative evaluation primarily based on their product offering, business overviews, geographic presence, enterprise strategies, segment market share, and SWOT analysis. The report also provides an elaborative analysis focusing on the current news and developments of the companies, which includes product development, innovations, joint ventures, partnerships, mergers & acquisitions, strategic alliances, and others. This allows for the evaluation of the overall competition within the market.
List of Companies:
Veolia
Waste Management Solutions
Clean Harbors Inc.
Clean Water Environmental
Liquid Environmental Solutions
DC Water
Covanta Holding Corp.
Stericycle, Inc.
U.S. Ecology, Inc.
Republic Services, Inc.
Hazardous Waste Experts
Key Target Audience
Market Players
Investors
End-Users
Government Authorities
Consulting and Research Firm
Venture Capitalists
Value-Added Resellers (VARs)
Market Segment
This study forecasts revenue at global, regional, and country levels from 2019 to 2032. Spherical Insights has segmented the global liquid waste management market based on the below-mentioned segments:
Liquid Waste Management Market, By Source
Residential
Commercial
Industrial
Liquid Waste Management Market, By Service
Transportation
Collection
Treatment, Disposal/ Recycling
Liquid Waste Management Market, By Industry Vertical
Textile
Paper
Iron & Steel
Automotive
Pharmaceutical
Oil & Gas
Others
Liquid Waste Management Market, Regional Analysis
North America
Europe

Germany
UK
France
Italy
Spain
Russia
Rest of Europe

Asia Pacific

China
Japan
India
South Korea
Australia
Rest of Asia Pacific

South America

Brazil
Argentina
Rest of South America

Middle East & Africa

UAE
Saudi Arabia
Qatar
South Africa
Rest of Middle East & Africa
Need help to buy this report?