Global Liquefied Natural Gas (LNG) Market Size, Share, and COVID-19 Impact Analysis, By Infrastructure (LNG liquefaction plants, LNG regasification facilities, LNG shipping), By Application (Transportation Fuel, Power Generation, Mining & Industrial, Others), and By Region (North America, Europe, Asia-Pacific, Latin America, Middle East, and Africa), Analysis and Forecast 2022 – 2032
Industry: Energy & Power
---
REPORT FORMAT

---
Global Liquefied Natural Gas (LNG) Market Insights Forecasts to 2032
The Global Liquefied Natural Gas (LNG) Market Size was valued at USD 102.23 Billion in 2022
The Market Size is Growing at a CAGR of 7.6% from 2022 to 2032
The Worldwide Liquefied Natural Gas (LNG) Market Size is expected to reach USD 213.78 Billion by 2032
North America is expected to grow the fastest during the forecast period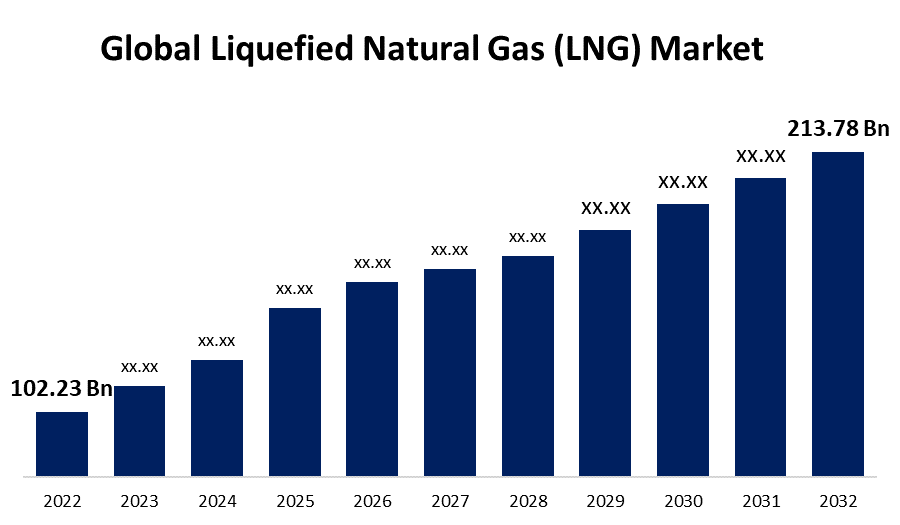 Get more details on this report -
Request Free Sample PDF
The Global Liquefied Natural Gas (LNG) Market Size is expected to reach USD 213.78 Billion by 2032, at a CAGR of 7.6% during the forecast period 2022 to 2032.
Liquefied natural gas (LNG) is natural gas that has been cooled to liquid form for the convenience as well as security of non-pressurized storage or transportation. LNG has no odor, color, or corrosive properties. LNG can be used to power internal combustion engines. LNG is on its way to becoming a popular transportation fuel. It is being evaluated and tested for over-the-road trucking, off-road, marine, and train applications. Despite known issues with fuel tanks and petrol delivery to the engine, the transition to LNG as a transportation fuel has begun. LNG competes directly with compressed natural gas as a fuel for natural gas vehicles since the engines are identical. There are applications where LNG trucks, buses, trains, and boats could be cost-effective in delivering LNG energy along with general freight and/or passengers to smaller, isolated communities without a local gas source or pipeline access. Furthermore, as new projects continued to expand capacity far beyond steady demand growth, the LNG market was positioned for oversupply in 2020 and 2021. Reduced petrol demand as a result of the pandemic has contributed to excess supply, causing market volatility. In addition, a sustained period of lower oil prices, combined with increased competition among gas supply sources as new supply enters the market, have reduced margins, putting pressure on gas and LNG producers.
Global Liquefied Natural Gas (LNG) Market Report Coverage
| Report Coverage | Details |
| --- | --- |
| Base Year: | 2022 |
| Market Size in 2022: | USD 102.23 Billion |
| Forecast Period: | 2022-2032 |
| Forecast Period 2022-2032 CAGR: | 7.6% |
| 2032 Value Projection: | USD 213.78 Billion |
| Historical Data for: | 2020-2021 |
| No. of Pages: | 200 |
| Tables, Charts & Figures: | 110 |
| Segments covered: | By Infrastructure, By Application, By Region. |
| Companies Covered: | China Petroleum & Chemical Corporation, Eni SpA, Equinor ASA, Exxon Mobil Corporation, Gazprom Energy, PetroChina Company Limited, Royal Dutch Shell PLC, Total S.A, British Petroleum (BP) p.l.c., Chevron Corporation, Conoco Philips, Shell, and others key players. |
| Pitfalls & Challenges: | Covid-19 Empact,Challenges,Growth, Analysis,. |
Get more details on this report -
Request Free Sample PDF
Driving Factors
The growing preference for clean energy over conventional and polluting energy sources such as coal and oil has driven market growth. Various technological advancements, such as a significant reduction in the cost of LNG value chain components and enhanced design innovations, have fuelled market growth. The increasing emphasis on developing sustainable energy generation sources will boost market growth. Because of the depletion of coal resources and the negative environmental impact, natural gas surpassed coal as the most common electricity generation source in the United States in 2016. In addition, rising demand for natural gas in power generation offices, expansion of pipeline infrastructure, and strategic government norms are the major factors driving the liquified natural gas market size. Furthermore, rapid industrialization and rising urban populations, as well as fluctuations in oil prices, are expected to boost market growth in the coming years. The presence of a well-developed gas infrastructure, expansion in the oil and gas industry, and increased industrial activities have increased demand for natural gas for power generation and transportation fuel, propelling market growth. However, there has been a shift away from traditional fuel in favour of better available options on the market, such as natural gas, which provides the same performance in terms of power, acceleration, and cruising speed, but with added financial and environmental benefits. When compared to conventional fuels, LNG is typically less expensive than diesel, resulting in lower operating costs over medium to long distances and the lowest total cost of ownership. It also has significant environmental benefits, such as improved air quality and lower greenhouse gas emissions.
Restraining Factors
With the greater reliance on oil prices, the liquefied natural gas market is highly volatile. In most emerging markets, the spot price of liquefied natural gas is determined by oil linkage. The lack of universal directives governing LNG applications is also limiting market growth. Each country has its own set of regulations governing LNG applications. Key players in this market are finding it difficult to comply with these country-specific regulations and directives. This is preventing investment in the market, and stifling market growth.
Market Segmentation
By Infrastructure Insights
The LNG liquefaction plants segment dominates the market with the largest revenue share over the forecast period.
On the basis of infrastructure, the global liquefied natural gas (LNG) market is segmented into LNG liquefaction plants, LNG regasification facilities, and LNG shipping. Among these, the LNG liquefaction plants segment is dominating the market with the largest revenue share over the forecast period. They provide high versatility for site-specific requirements and can be configured as a single-unit terminal or as a multi-module terminal when connected to other units. Where raw gas from the wellhead or gas pipeline can be routed to the Gas Treatment module, followed by the Liquefaction module.
By Application Insights
The power generation segment is witnessing significant CAGR growth over the forecast period.
Based on application, the global liquefied natural gas (LNG) market is segmented into transportation fuel, power generation, mining & industrial, and others. Among these, the power generation segment is witnessing significant growth over the forecast period. Rising natural gas demand also contributes to lower greenhouse gas emissions. The increased use of this fuel in the mining, industrial, and power generation sectors has shown a significant change over time. Price reductions and low fuel switching costs are boosting industry growth in transportation and power generation applications.
Regional Insights
Asia Pacific dominates the market with the largest market share over the forecast period.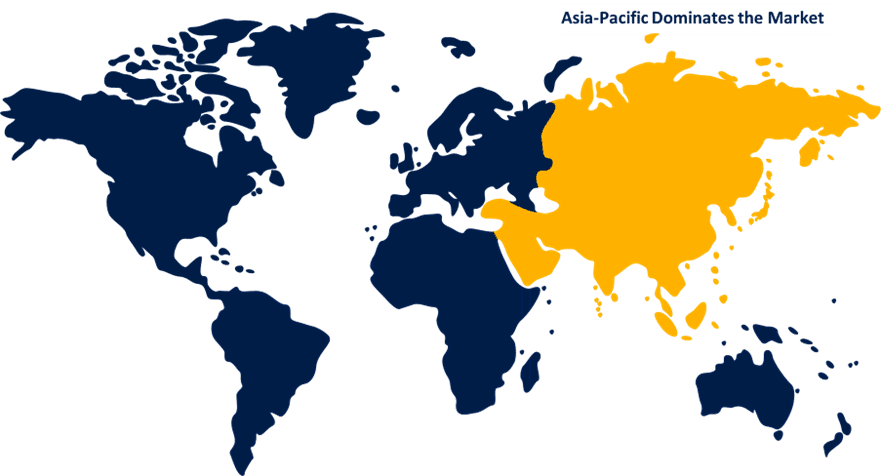 Get more details on this report -
Request Free Sample PDF
Asia Pacific is dominating the market with the largest market share over the forecast period. Japan accounted for the most country-level demand and is expected to grow at a rapid pace during the forecast period. In the coming years, China is expected to have the highest growth rate in the Asia Pacific region. Energy mix petrol accounts for only 4%-5% of prime energy consumption in the country, leaving plenty of room for growth. Robust economic growth across the country is also driving up consumption of gas-powered power plants, which has expanded the market's application scope.
North America is expected to grow the fastest during the forecast period. The presence of shale gas reserves in the United States, as well as an increasing government focus on developing clean energy sources in the country's energy mix, is driving the high demand for LNG. Alberta, British Columbia, Manitoba, Saskatchewan, Ontario, New Brunswick, Quebec, and Nova Scotia, among other territories, have shale gas reserves. several factors, including the presence of agencies such as the US Environmental Protection Agency (EPA), which imposes strict rules in North America.
Europe market is expected to register a substantial growth rate during the forecast period. The rising population has a significant impact on the region's power generation market. Population and GDP growth are expected to drive power generation demand through clean energy sources, which are expected to drive the region's LNG market.
List of Key Market Players
China Petroleum & Chemical Corporation
Eni SpA
Equinor ASA
Exxon Mobil Corporation
Gazprom Energy
PetroChina Company Limited
Royal Dutch Shell PLC
Total S.A
British Petroleum (BP) p.l.c.
Chevron Corporation
Conoco Philips
Shell
Key Market Developments
On September 2023, BP has signed its third long-term LNG offtake contract with the Woodfibre LNG facility in British Columbia, Canada. This agreement covers 0.45 million tonnes of LNG annually on a free-on-board (FOB) basis for 15 years.
On August 2023, Cummins Inc. and Chevron U.S.A. Inc. have signed an agreement to expand their collaboration in the hydrogen, natural gas, and other low-carbon fuel sectors, with the goal of promoting commercial and industrial adoption of these technologies in North America.
On March 2023, ConocoPhillips intends to become the upstream operator of Australia Pacific LNG (APLNG) and acquire up to a 2.49% stake in APLNG for USD 0.5 billion, subject to the completion of EIG's transaction with Origin Energy.
Market Segment
This study forecasts revenue at global, regional, and country levels from 2020 to 2032. Spherical Insights has segmented the global liquefied natural gas (LNG) market based on the below-mentioned segments:
Liquefied Natural Gas (LNG) Market, Infrastructure Analysis
LNG liquefaction plants
LNG regasification facilities
LNG shipping
Liquefied Natural Gas (LNG) Market, Application Analysis
Transportation Fuel
Power Generation
Mining & Industrial
Others
Liquefied Natural Gas (LNG) Market, Regional Analysis
North America
Europe

Germany
UK
France
Italy
Spain
Russia
Rest of Europe

Asia Pacific

China
Japan
India
South Korea
Australia
Rest of Asia Pacific

South America

Brazil
Argentina
Rest of South America

Middle East & Africa

UAE
Saudi Arabia
Qatar
South Africa
Rest of Middle East & Africa
Need help to buy this report?