Japan Whisky Market Size, Share, and COVID-19 Impact Analysis, By Distribution Channel (On-Trade, Off-Trade), By Application (Commercial, Residential) and Japan Whisky Market Insights Forecasts to 2032
Industry: Consumer Goods
---
REPORT FORMAT

---
Japan Whisky Market Insights Forecasts to 2032
The Japan Whisky Market Size was valued at USD 3.86 Billion in 2022.
The Market is growing at a CAGR of 9.2% from 2022 to 2032.
The Japan Whisky Market Size is expected to reach USD 9.32 Billion by 2032.
Japan is expected to grow the fastest during the forecast period.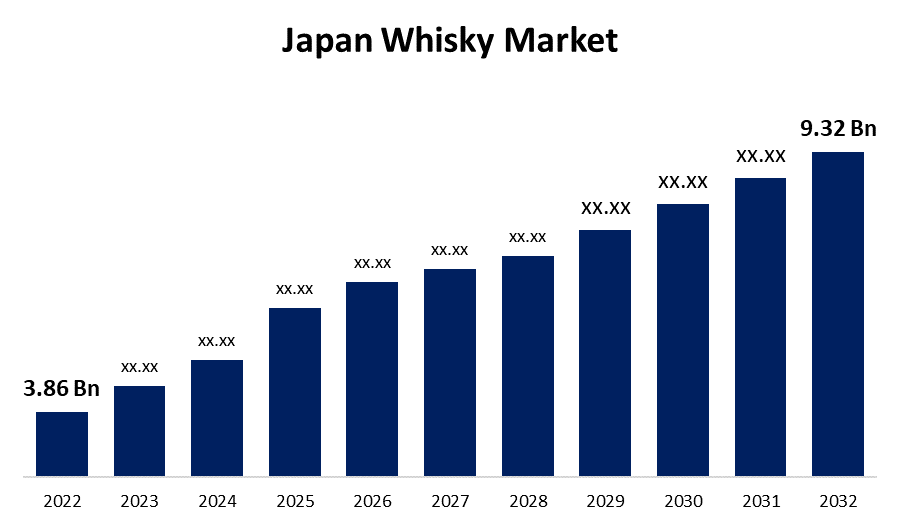 Get more details on this report -
Request Free Sample PDF
The Japan Whisky Market Size is expected to reach USD 9.32 Billion by 2032, at a CAGR of 9.2% during the forecast period 2022 to 2032.
Market Overview
Japanese whisky is a type of whisky that originated and is manufactured in Japan. Japanese whisky is either consumed like Scotch whisky or as Japanese shochu. The majority of Japanese blended whisky is used in cocktails, particularly whisky highballs, whereas good whisky, like Scotch whisky, is primarily sipped neat or on the rocks. This combined with the passion, excellent quality, and master craftsmanship that goes into its manufacture, has made Japanese whisky a sensation globally.
In terms of global whisky production, Japan is currently ranked fourth. Furthermore, due to the presence of Japan's largest manufacturing facility and considerable consumption of the product in the region, Asia Pacific is the greatest market for Japanese whiskey. In Japan, various businesses produce whisky, but the two most well-known and widely accessible are Suntory and Nikka. Both of these distilleries make blended, single malt, and blended malt whiskies, with their primary blended whiskies being Suntory kakubin and Black Nikka Clear.
Report Coverage
This research report categorizes the market for Japan Whisky Market based on various segments and regions and forecasts revenue growth and analyzes trends in each submarket. The report analyses the key growth drivers, opportunities, and challenges influencing the Japan Whisky Market. Recent market developments and competitive strategies such as expansion, product launch, and development, partnership, merger, and acquisition have been included to draw the competitive landscape in the market. The report strategically identifies and profiles the key market players and analyses their core competencies in each sub-segments of the Japan Whisky Market.
Japan Whisky Market Report Coverage
| Report Coverage | Details |
| --- | --- |
| Base Year: | 2022 |
| Market Size in 2022: | USD 3.86 Billion |
| Forecast Period: | 2022-2032 |
| Forecast Period 2022-2032 CAGR: | 9.2% |
| 2032 Value Projection: | USD 9.32 billion |
| Historical Data for: | 2018-2021 |
| No. of Pages: | 200 |
| Tables, Charts & Figures: | 100 |
| Segments covered: | By Distribution Channel, By Application, COVID-19 Impact Analysis |
| Pitfalls & Challenges: | COVID-19 Empact, Challenge, Future, Growth, & Analysis |
Get more details on this report -
Request Free Sample PDF
Driving Factors
Japan's demand for whisky has been increasing as a result of extensive indigenous promotional campaigns and increasing awareness of the exceptional quality of Japanese whisky. Several factors are expected to lead to the growth of the Japanese whiskey market, including influences from the natural environment surrounding distilleries, constant efforts in quality development, and product adaptation to satisfy the Japanese taste. Furthermore, the growing interest in cocktail cultures and imaginative mixology inspires consumers to choose diverse alcoholic spirits. As a result of this scenario, the market for Japanese whisky is becoming more popular. As a result of increased awareness of different cultural alcoholic beverages, the market is expected to witness an increasing significance of Japanese whisky across cultures.
The global demand for Japanese whisky has grown to an all-time high pitch, with prices skyrocketing. The two biggest distilleries, Nikka Whisky Distilling Company and Suntory Beverages, which controls the nation's oldest commercial whisky maker, Yamazaki, are driving the rapid growth of Japan whisky market. Furthermore, Japanese whiskies have risen to international prominence as a result of numerous international accolades that their products have garnered year after year, namely 'World's Best Grain Whisky' and 'World Best Whisky Producer' in various events in the US and UK.
Increasing inclinations toward combination culture and experimental mixology are some of the other significant factors driving the market and consumption of Japanese whiskey. Rising economic levels as a result of fast urbanization in nations such as India, Thailand, and China are raising awareness of alcoholic beverages. This is also supplementing the global market for Japanese whisky and fuelling its product demand.
Market Segment
In 2022, the on-trade segment is witnessing a higher growth rate over the forecast period.
Based on the distribution channel, the Japan Whisky Market is segmented as on-trade and off-trade. Among these, the on-trade segment is witnessing a higher growth rate over the forecast period. This is primarily due to the growing number and ease of access to retail stores providing a variety of alcoholic beverages. The rise is also ascribed to increased consumer income per individual, the growing acceptance of a lavish lifestyle, and the consumption of high-end liquor in nations such as the United States, the United Kingdom, Germany, India, and China. The growing trend of Happy Hours provided by numerous commercial dining establishments, pubs, hotels, and distilleries that serve alcohol is increasing customer traffic in such retail markets.
In 2022, the commercial segment is witnessing significant CAGR growth over the forecast period.
On the basis of application, the Japan Whisky Market is segmented into commercial and residential. Among these, the commercial segment is witnessing significant CAGR growth over the forecasted period. A major reason for boosting the sale of Japanese whisky is the increased accessibility of alcohol in pubs, clubs, nightclubs, lounges, hotels, and restaurants in a bid to attract a huge number of customers. The use of Japanese whiskey as a component in a variety of cocktails is a common trend in commercial businesses providing alcoholic beverages, spurred by an increasing fascination in cocktail mixtures and exploratory craft cocktails. Moreover, through articles and blogs, social media has also played a significant role in raising awareness and boosting the demand for Japanese whisky.
Competitive Analysis:
The report offers the appropriate analysis of the key organizations/companies involved within the Japan Whisky Market along with a comparative evaluation primarily based on their product offering, business overviews, geographic presence, enterprise strategies, segment market share, and SWOT analysis. The report also provides an elaborative analysis focusing on the current news and developments of the companies, which includes product development, innovations, joint ventures, partnerships, mergers & acquisitions, strategic alliances, and others. This allows for the evaluation of the overall competition within the market.
List of Key Companies
Suntory Holdings Ltd.
Nikka Whisky Distilling Co., Ltd.
Asahi Breweries Ltd.
Shinshu Mars distillery
FLAVIAR
Kirin Company
Hombo Shuzo Co Ltd.
Venture Whisky, Ltd.
Kirin Brewery Company, Ltd.
Yoshino Spirits
Chichibu Distillery
Jf Hillebrand Japan Kk
Key Target Audience
Market Players
Investors
End-users
Government Authorities
Consulting and Research Firm
Venture capitalists
Value-Added Resellers (VARs)
Recent Developments
On February 2023, Suntory, a worldwide beverage industry leader with legendary whisky brands such as Yamazaki, Hibiki, and Hakushu, recently commemorated its 100th anniversary of whisky production in Japan. Suntory will invest roughly 10 billion JPY (equal to approximately 77 million USD*1) in its Yamazaki and Hakushu Distilleries by 2024 to improve quality craftmanship by focusing on processes prior to maturing whiskies and to raise its tourist experience. Suntory will use "floor malting*2" at both the Yamazaki and Hakushu Distilleries, a traditional method of malting barley. The Hakushu Distillery will also pioneer a method for cultivating yeast*3, a key element in the production of alcohol.
In March 2022, Kirin Brewery Company, Limited (Kirin Brewery) began selling Kirin Single Grain Japanese Whiskey Fuji in China and Australia in April. In addition, Kirin Single Blended Japanese Whisky Fuji - a blend of malt and grain whiskies from a single distillery - will be available year-round beginning in June.
Market Segment
This study forecasts revenue at global, regional, and country levels from 2021 to 2032. Spherical Insights has segmented the Japan Whisky Market based on the below-mentioned segments:
Japan Whisky Market, By Distribution Channel
Japan Whisky Market, By Application
Need help to buy this report?