Japan Sensor Market Size, Share, and COVID-19 Impact Analysis, By Type (Temperature, Pressure, Level, Flow, Proximity, Environmental, Chemical, Inertial, Magnetic, and Vibration), Mode of Operation (Optical, Electrical Resistance, Biosensor, Piezoresistive, Image, Capacitive, Piezoelectric, LiDAR, and Radar), End-user Industry (Automotive, Consumer Electronics, Energy, Industrial, Medical and Wellness, Construction, Agriculture, and Mining, Aerospace and Defense), and Japan Sensor Market Insights, Industry Trend, Forecasts to 2032
Industry: Semiconductors & Electronics
---
REPORT FORMAT

---
Japan Sensor Market Insights Forecasts to 2032
The Japan Sensor Market Size was valued at USD XX Billion in 2022.
The Market Size is Growing at a CAGR of 7.7% from 2022 to 2032
The Japan Sensor Market Size is expected to reach USD XX Billion by 2032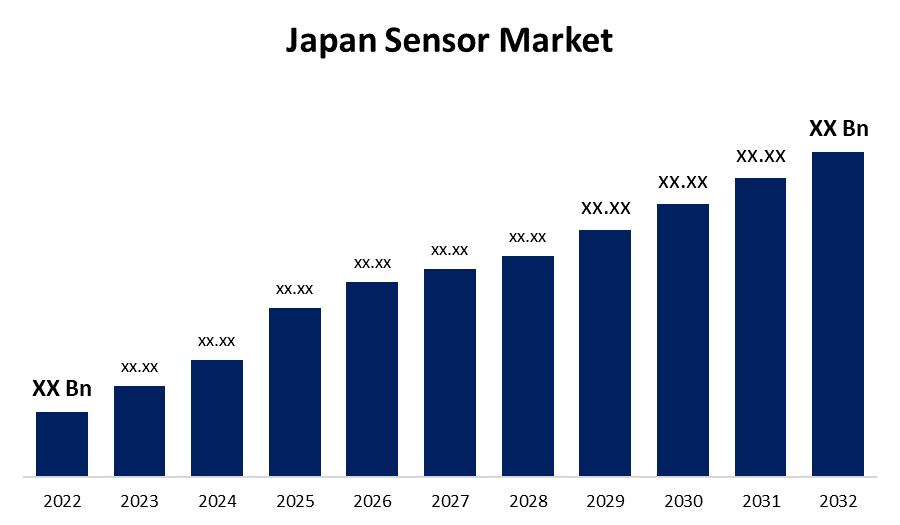 Get more details on this report -
Request Free Sample PDF
The Japan Sensor Market Size is anticipated to exceed USD XX Billion by 2032, growing at a CAGR of 7.7% from 2022 to 2032. Sensor adoption has steadily increased as a result of technological advancements in the automotive, healthcare, industrial, and various other sectors.
Market Overview
The future transition of Japan's smart city market to energy-efficient and conservation-related solutions may have a direct impact on sensor demand from early adoption to mass adoption. Sensors are critical components in a variety of industries, including automotive, consumer electronics, industrial manufacturing, healthcare, and others. The growing demand for home automation is driving the development of advanced sensors with lower costs and power consumption. Because of their widespread use in daily life, fitness and health monitoring devices are in high demand. Smartwatches, activity trackers, and other personal digital health devices are becoming increasingly popular. Companies are developing new sensors, such as barometric pressure sensors, that are ideal for embedding in watches, fitness bands, earphones, or smartphones to support fitness parameters, enable higher accuracy of physical activity, and allow enhanced analysis of activity being done.
Report Coverage
This research report categorizes the market for the Japan sensor market based on various segments and regions and forecasts revenue growth and analyzes trends in each submarket. The report analyses the key growth drivers, opportunities, and challenges influencing the sensor market. Recent market developments and competitive strategies such as expansion, product launch, and development, partnership, merger, and acquisition have been included to draw the competitive landscape in the market. The report strategically identifies and profiles the key market players and analyses their core competencies in each sub-segment of the sensor market.
Japan Sensor Market Report Coverage
| Report Coverage | Details |
| --- | --- |
| Base Year: | 2022 |
| Market Size in 2022: | USD XX Billion |
| Forecast Period: | 2022-2032 |
| Forecast Period 2022-2032 CAGR: | 7.7% |
| 2032 Value Projection: | USD XX Billion |
| Historical Data for: | 2018-2021 |
| No. of Pages: | 200 |
| Tables, Charts & Figures: | 110 |
| Segments covered: | By Type |
| Companies Covered: | Texas Instruments Incorporated, TE Connectivity Ltd, Honeywell International Inc., Rockwell Automation Inc. Siemens AG, STMicroelectronics NV, AMS AG, NXP Semiconductors NV, Others And other key venders |
| Pitfalls & Challenges: | COVID-19 Empact,Challenges, Future, Growth, & Analysis |
Get more details on this report -
Request Free Sample PDF
Driving Factors
The sensor functions as an electronic device in the car's coolant system, temperature, oil pressure, vehicle speed, emission levels, and engine. It sends signals to the electronic control unit, which makes necessary adjustments and alerts the driver. Speed, parking, temperature, airflow, oxygen, and fuel temperature sensors are among the many types of sensors found in automobiles. Japan is home to some of the world's leading consumer electronics companies. Sensors are essential in smartphones, wearable devices, cameras, and other electronic devices. As consumer electronics become more feature-rich and interconnected, the demand for sensors that enable these functionalities grows. Sensors for industrial automation and control systems are in high demand in Japan, due to the country's strong manufacturing industry. Sensors are used in manufacturing processes to monitor and control various parameters, ensuring quality, efficiency, and safety.
Restraining Factors
Although integrating sensors raises the level of industrial automation, it adds a cost, limiting its use in cost-sensitive applications. Furthermore, the high development costs associated with R&D activities to manufacture new products are a critical challenge, particularly for financially strapped small and medium-sized sensor manufacturers.
Market Segmentation
The Japan Sensor Market share is classified into type and end-user industry.
The temperature segment is expected to hold a significant share of the Japan sensor market during the forecast period.
The Japan sensor market is segmented by type into temperature, pressure, level, flow, proximity, environmental, chemical, inertial, magnetic, and vibration. Among these, the temperature segment is expected to hold a significant share of the Japan sensor market during the forecast period. Temperature sensors detect changes in temperature and are used in a variety of applications including weather monitoring, industrial processes, automotive systems, and consumer electronics.
The automotive segment is expected to hold a significant share of the Japan sensor market during the forecast period.
Based on the end-user industry, the Japan sensor market is divided into automotive, consumer electronics, energy, industrial, medical and wellness, construction, agriculture, and mining, aerospace and defense. Among these, the automotive segment is expected to hold a significant share of the Japan sensor market during the forecast period. In Japan, the automotive industry is a major driver of the sensor market. Sensors are essential in modern vehicles because they enable safety features, performance enhancements, and autonomous driving capabilities. Sensors measure temperature, pressure, and emissions to improve engine performance and fuel efficiency.
Competitive Analysis:
The report offers the appropriate analysis of the key organizations/companies involved within the Japan sensor market along with a comparative evaluation primarily based on their product offering, business overviews, geographic presence, enterprise strategies, segment market share, and SWOT analysis. The report also provides an elaborative analysis focusing on the current news and developments of the companies, which includes product development, innovations, joint ventures, partnerships, mergers & acquisitions, strategic alliances, and others. This allows for the evaluation of the overall competition within the market.
List of Key Companies
Texas Instruments Incorporated
TE Connectivity Ltd
Honeywell International Inc.
Rockwell Automation Inc.
Siemens AG
STMicroelectronics NV
AMS AG
NXP Semiconductors NV
Key Target Audience
Market Players
Investors
End-users
Government Authorities
Consulting And Research Firm
Venture capitalists
Value-Added Resellers (VARs)
Recent Developments
In September 2022, STMicroelectronics declared the next-generation dual image sensor, which will monitor the entire vehicle interior, including the driver and all passengers. The new image sensor will be used for applications such as child-left detection, passenger safety belt checks, gesture recognition, vital-sign monitoring, and high-quality picture/video recording.
Market Segment
This study forecasts revenue at Japan, regional, and country levels from 2020 to 2032. Spherical Insights has segmented the Japan Sensor Market based on the below-mentioned segments:
Japan Sensor Market, By Type
Temperature
Pressure
Level
Flow
Proximity
Environmental
Chemical
Inertial
Magnetic
Vibration
Japan Sensor Market, By Mode of Operation
Optical
Electrical Resistance
Biosensor
Piezoresistive
Image
Capacitive
Piezoelectric
LiDAR
Radar
Japan Sensor Market, By End-user Industry
Automotive
Consumer Electronics
Energy
Industrial
Medical and Wellness
Construction
Agriculture and Mining
Aerospace and Defense
Need help to buy this report?