Japan Meat Market Size, Share, and COVID-19 Impact Analysis, By Type (Poultry, Red Meat, and Seafood), By Product Type (Chilled, Fresh, and Frozen), By Processed Meat Type (Sausage, Hamburger, Kebabs, and Nuggets), and Japan Meat Market Insights, Industry Trend, Forecasts to 2032
Industry: Food & Beverages
---
REPORT FORMAT

---
Global Japan Meat Market Insights Forecasts to 2030
The Japan Meat Market was valued at USD 19.1 Billion in 2022.
The Market is growing at a CAGR of 3.7% from 2022 to 2032
The Japan Meat Market is expected to reach USD 27.7 Billion by 2032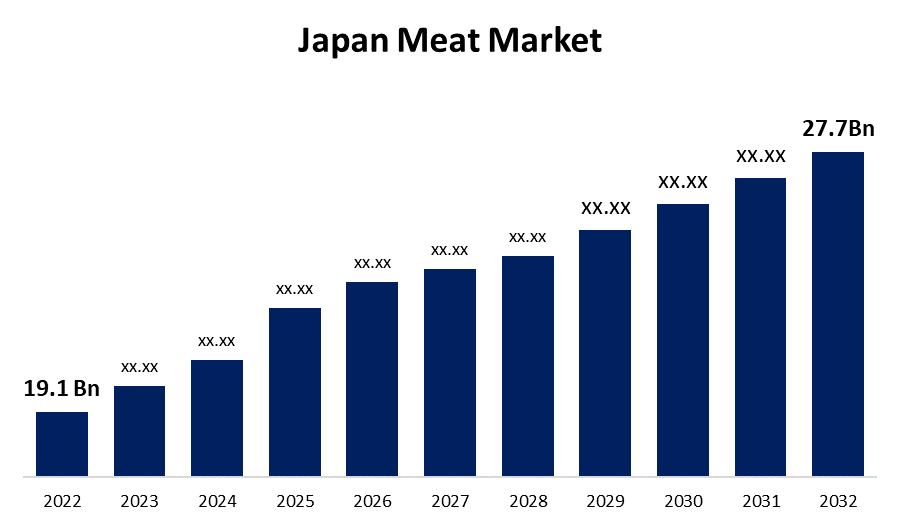 Get more details on this report -
Request Free Sample PDF
The Japan Meat Market size was valued at USD 19.1 Billion in 2022. The Japan Meat Market is expected to reach USD 27.7 Billion by 2032, at a CAGR of 3.7% during the forecast period 2022 to 2032. Japan's meat market is expanding rapidly owing to the availability of a variety of meat products such as beef, pork, chicken, and so on. Furthermore, shifting consumption patterns and increasing awareness among consumers about health drive the country's meat market.
Market Overview
Meat is animal flesh that is intended for human beings to consume as food. Proteins, iron, zinc, selenium, phosphorus, vitamin A, and B-complex vitamins are among the nutrients found in meat. Beef, lamb, goat, chicken and turkey, snake, monkey, bear, Java mouse, braised goat testicles, grilled wild boar, bat, fried fox meat, and grilled porcupine are all offered in Japan. Pork is the most popular type of meat in Japan.
Due to a lack of animal protein consumption, the Japanese geriatric population is at a high risk of developing health problems in old age. In accordance with The Tokyo National Institute of Biomedical Innovation, the general Japanese population is at a higher risk of sarcopenia and frailty due to a lack of protein in both quantity and quality. To meet the increasing need for meat products and increase the population's protein intake, the Japanese government has increased imports of meat and meat products from other countries such as the United States and Australia. According to Foreign Agricultural Services, Japan imported nearly 712,511 metric tonnes of meat products in 2021, representing a nearly 125% increase in meat imports over the previous ten years.
Report Coverage
This research report categorizes the market for Japan meat market based on various segments and regions and forecasts revenue growth and analyzes trends in each submarket. The report analyses the key growth drivers, opportunities, and challenges influencing the Japanese meat market. Recent market developments and competitive strategies such as expansion, product launch, and development, partnership, merger, and acquisition have been included to draw the competitive landscape in the market. The report strategically identifies and profiles the key market players and analyses their core competencies in each sub-segment of the Japanese meat market.
Japan Meat Market Report Coverage
| Report Coverage | Details |
| --- | --- |
| Base Year: | 2022 |
| Market Size in 2022: | USD 19.1 Billion |
| Forecast Period: | 2022-2032 |
| Forecast Period 2022-2032 CAGR: | 3.7% |
| 2032 Value Projection: | 27.2 |
| Historical Data for: | 2018-2021 |
| No. of Pages: | 200 |
| Tables, Charts & Figures: | 100 |
| Segments covered: | By Objective, By Sequencer Type, By Application, By Region, COVID-19 Impact Analysis |
| Pitfalls & Challenges: | COVID-19 Empact, Challenge, Future, Growth, & Analysis |
Get more details on this report -
Request Free Sample PDF
Driving Factors
Japan's meat products market is benefiting from an increase in livestock production. Japan's livestock production is rapidly increasing as a result of livestock species expansion and intensification. According to data from Japan's Ministry of Agriculture, Forestry, and Fisheries, chicken consumption has increased rapidly in Japan and is expected to surpass pork consumption in the coming years. Furthermore, due to a strong preference for home meals and increased retail purchases of meat products during the COVID-19 pandemic, the percentage of household consumption of meat products such as chicken, pork, and beef has increased significantly. These factors are expected to drive the growth of Japan's meat products market share.
Restraining Factors
The popularity of vegan food is driving up demand for plant-based meat products in Japan. Plant-based meat products are now being used as an alternative to animal-based meat products by the Japanese population. The high influence of plant-based meat products on people's health is having a significant impact on the growth of the country's animal-based meat products market.
Market Segment
The Japan Meat Market share is segmented into type, product type, and processed meat type.
The red meat segment is expected to grow at the highest pace in the Japan meat market over the forecast period.
On the basis of type, the Japan meat market is classified into poultry, red meat, and seafood. Among these, the red meat segment is expected to grow at the highest pace in the Japan meat market over the forecast period. The growth can be attributed due the wide adoption of red meat by consumers across the country. Red meat is further subdivided into goat, beef, lamb, pork, dog, and others. In Japan, pork is the most popular meat. In this region, pork consumption is nearly equal to that of chicken and meat combined. Many regions in Japan are involved in pig farming, making pork one of the most easily accessible meats in the country.
The fresh meat segment dominated the Japan meat market in 2021.
Based on the product type, the Japan meat market is classified into chilled, fresh, and frozen. Among these, fresh meat held the largest market share in 2021 and is expected to maintain its dominance throughout the projected period due to rising consumer health consciousness. Fresh meat has more nutritional value than chilled or frozen meat, which increases its market appeal. Furthermore, the increasing number of butcher shops and the easy availability of fresh meat in the Japanese market contribute to the market's expansion.
The sausage segment is expected to grow at the highest pace in the Japan meat market during the forecast period.
On the basis of processed meat type, the Japan meat market is classified into sausage, hamburger, kebabs, and nuggets. Among these, the sausage segment is expected to grow at the highest pace in the Japan meat market during the forecast period. The reason for the increase is the wide consumption of sausage across the country is the primary reason for the growth. A sausage is a type of meat product that is typically made with ground meat, primarily beef, pork, or chicken, as well as salt, spices, and other seasonings. Additional components such as grains or breadcrumbs can be used as extenders or fillers. Uncooked meat sausages are commonly used to make patties. Crispy skins and Arabiki sausages are the most distinguishing features of Japanese sausages, which differ from those we are accustomed to in the West.
Competitive Analysis:
The report offers the appropriate analysis of the key organizations/companies involved within the Japan meat market along with a comparative evaluation primarily based on their product offering, business overviews, geographic presence, enterprise strategies, segment market share, and SWOT analysis. The report also provides an elaborative analysis focusing on the current news and developments of the companies, which includes product development, innovations, joint ventures, partnerships, mergers & acquisitions, strategic alliances, and others. This allows for the evaluation of the overall competition within the market.
List of Key Companies
SANKYOMEAT INC.
NH FOODS LTD
NICHIREI CORPORATION
STARZEN CO., LTD
JOHNSONVILLE JAPAN LLC
SOJITZ CORPORATION
LACTO JAPAN CO., LTD.
ITOHAM FOODS INC.
MARUBENI CORPORATION
TYSON FOODS, INC.
Others
Key Target Audience
Market Players
Investors
End-users
Government Authorities
Consulting and Research Firm
Venture capitalists
Value-Added Resellers (VARs)
Recent Developments
On January 2021, Aleph Farms, Ltd. and the Food Industry Group of Mitsubishi Corporation signed a Memorandum of Understanding (MoU) to introduce farmed meat to the Japanese table. Aleph Farms will deliver its proven, scalable manufacturing platform (BioFarmTM) for whole-muscle steak growing. Mitsubishi Corporation will provide its knowledge of biotechnology processes, branded food manufacturing, and Japanese distribution channels.
On June 2021, Prima Meat, a leading Japanese meat and gammon manufacturer, announced the acquisition of Singaporean meat company Rudi's Fine Food Pte. Ltd. This acquisition will assist Prima Meat in expanding its presence in the South Asian market, allowing it to meet the demands of Japanese meat product enthusiasts in this region.
Market Segment
This study forecasts revenue at, regional, and country levels from 2019 to 2030. Spherical Insights has segmented the Japan Meat Market based on the below-mentioned segments:
Japan Meat Market, By Type
Japan Meat Market, By Product Type
Japan Meat Market, By Processed Meat Type
Sausage
Hamburger
Kebabs
Nuggets
Need help to buy this report?