Japan IoT Market Size, Share, and COVID-19 Impact Analysis, By Offering (Hardware, Software, Service, Platform) By Industry Verticals (BFSI, Consumer Electronics, Building Automation, IT & Telecom, Industrial, Automotive & Transportation, Healthcare, Manufacturing, Retail, Oil & Gas, Agriculture, Others), and Japan IoT Market Insights Forecasts to 2032
Industry: Information & Technology
---
REPORT FORMAT

---
Japan IoT Market Insights Forecasts to 2032
The Japan IoT Market Size was valued at USD 12.65 Billion in 2022.
The Market Size is Growing at a CAGR of 17.2% from 2022 to 2032.
The Japan IoT Market Size is expected to reach USD 61.89 Billion by 2032.
Japan is expected To Growth the fastest during the forecast period.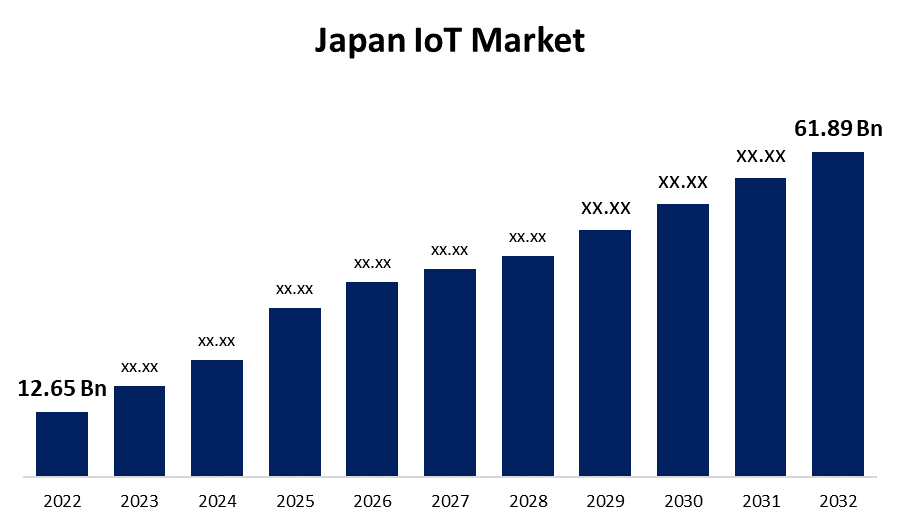 Get more details on this report -
Request Free Sample PDF
The Japan Internet of Things Market Size is expected to reach USD 61.89 Billion by 2032, at a CAGR of 17.2% during the forecast period 2022 to 2032.
Market Overview
The Internet of Things, or IoT, is a flourishing and extremely future-oriented market with significant connections to breakthroughs in several fields of technology, such as 5G, sensors, smart home gadgets, and AI, to mention a few of them. In an economy with a thriving telecoms industry, Japan's IoT companies are especially developed. Internet of Things (IoT) companies in Japan not only illustrate the country's obsession with robotics and cutting-edge advancements but also a sustainable system to which Japan's aging society may adapt by lowering human resource expenses.
The overall number of IoT lines is fast increasing as the popularity of mobile phones, computers, and other devices grows, and the country's ICT market is the world's third-largest. Business enterprises throughout Japan are growing digital innovation as a specialty through programs and events, as well as by building more appealing work environments and improving internal educational opportunities. The advancement of technology in the fields of telecommunications and electronics has aided the establishment of the IoT in Japan. The farming industry is one of the primary areas in Japanese society where the Internet of Things has had a favorable impact. The Internet of Things has transformed farming into more accessible for the elderly population of Japan by increasing food production efficiency.
Report Coverage
This research report categorizes the market for Japan IoT Market based on various segments and regions and forecasts revenue growth and analyzes trends in each submarket. The report analyses the key growth drivers, opportunities, and challenges influencing the Japan IoT Market. Recent market developments and competitive strategies such as expansion, product launch, and development, partnership, merger, and acquisition have been included to draw the competitive landscape in the market. The report strategically identifies and profiles the key market players and analyses their core competencies in each sub-segments of the Japan IoT Market.
Japan IoT Market Report Coverage
| Report Coverage | Details |
| --- | --- |
| Base Year: | 2022 |
| Market Size in 2022 : | USD 12.65 Billion |
| Forecast Period: | 2022-2032 |
| Forecast Period 2022-2032 CAGR: | 17.2% |
| 2032 Value Projection: | USD 61.89 Billion |
| Historical Data for: | 2018-2021 |
| No. of Pages: | 200 |
| Tables, Charts & Figures: | 110 |
| Segments covered: | By Offering, By Industry Verticals. |
| Companies Covered: | Fujitsu Ltd., TDK, Rakuten, Hitachi, ARAYA, Fanuc, Toshiba, Sakura Internet, Epson, NTT Docomo Inc., SoftBank Group Corp., Omron Industrial Automation, Yaskawa Electric Corporation, Renesas Electronics Corporation, Asahi Kasei Microdevices, NEC, Panasonic, Sumida Automation, Murata Manufacturing, Avanade Japan K.K., Canon Inc., ROHM Co., Ltd., Taiyo Yuden, Sanken Electric, Mitsubishi Electric, DENSO Corporation |
| Pitfalls & Challenges: | COVID-19 Empact,Challenges, Future, Growth, & Analysis |
Get more details on this report -
Request Free Sample PDF
Driving Factors
Japan has historically been on the leading-edge of technological advances and innovations. As a result, businesses are rapidly introducing advanced Internet of Things (IoT) technologies and building infrastructure to support them. The Japanese government anticipates that IoT automation will replace some traditional duties in healthcare, administration, and managing assets, and as a result, strongly pushes new wireless IoT, Intelligent Transportation Systems (ITS), and 5G technology. The IoT market in Japan is being driven by a labor shortage as well as the growing complexity of analytics applications and artificial intelligence (AI) technology.
Furthermore, the market is expanding rapidly as a result of rising government investment in smart public facilities such as smart parks and the introduction of a diverse range of IoT sensors and solutions. In addition, the increased acceptance of IoT in many industries including agriculture, healthcare, manufacturing, and so on has driven the Japan IoT market forward. Furthermore, Japan is a world leader in consumer products and vehicle manufacturing. Japan is also heavily investing in developing its manufacturing capabilities with introductions such as smart factory automation. IoT is widely utilized in industrial plants to optimize equipment and operations, as well as to track casualties through statistical modeling, which further improves the security of workers. As a result, IoT use in the manufacturing industry has recently emerged as the primary driving driver for the Japan IoT market.
Market Segmentation
In 2022, the software segment accounted for the largest revenue share of more than 32.14% over the forecast period.
On the basis of offering, the Japan Internet of Things Market (IoT) Market is segmented into hardware, software, service, and platform. Among these, the software segment is dominating the market with the largest revenue share of 32.14% over the forecast period. The software is sub-segmented into real-time streaming analytics, application and network security, data management, remote monitoring system, and network bandwidth management. A number of industries have implemented intelligent solutions into operation to improve their current systems. Healthcare facilities, for example, use connected gadgets to optimize the results of medical treatments. The real-time streaming analytics sub-segment has the biggest market share of these. The real-time streaming analytics software processes and evaluates real-time 'in-motion' data and distinguishes it from the previously collected information to identify and track any flaws in the process or hardware and take corrective action as soon as possible. As a result, Japanese businesses are growing more dependent on real-time streaming analytics for identifying security threat trends and their associated risks.
In 2022, the agriculture segment accounted for the largest revenue share of more than 34.2% over the forecast period.
On the basis of industry verticals, the Japan Internet of Things (IoT) Market is segmented into BFSI, consumer electronics, building automation, IT & telecom, industrial, automotive & transportation, healthcare, manufacturing, retail, oil & gas, agriculture, and others. Among these, the agriculture segment is dominating the market with the largest revenue share of 34.2% over the forecast period. There are various emerging problems about agricultural sustainability, including a projected water scarcity by 2030. Japan has developed a digital cultivation method to overcome this issue. With their extensive knowledge, information, and expertise, experienced farmers can make better use of water and compost. This invention could enable even the most unskilled cultivators to implement beneficial methods by combining IoT and AI to gather and analyze information from their cultivating experience and the overall state of the soil. It has the potential to boost agricultural efficiency even in areas with limited access to water. Smart farming, smart greenhouses, automated agriculture, precision farming, and smart drones are some of the key services of technology in the agricultural sector.
Competitive Analysis:
The report offers the appropriate analysis of the key organizations/companies involved within the Japan IoT Market along with a comparative evaluation primarily based on their product offering, business overviews, geographic presence, enterprise strategies, segment market share, and SWOT analysis. The report also provides an elaborative analysis focusing on the current news and developments of the companies, which includes product development, innovations, joint ventures, partnerships, mergers & acquisitions, strategic alliances, and others. This allows for the evaluation of the overall competition within the market.
List of Key Companies
Fujitsu Ltd.
TDK
Rakuten
Hitachi
ARAYA
Fanuc
Toshiba
Sakura Internet
Epson
NTT Docomo Inc.
SoftBank Group Corp.
Omron Industrial Automation
Yaskawa Electric Corporation
Renesas Electronics Corporation
Asahi Kasei Microdevices
NEC
Panasonic
Sumida Automation
Murata Manufacturing
Avanade Japan K.K.
Canon Inc.
ROHM Co., Ltd.
Taiyo Yuden
Sanken Electric
Mitsubishi Electric
DENSO Corporation
Key Target Audience
Market Players
Investors
End-users
Government Authorities
Consulting and Research Firm
Venture capitalists
Value-Added Resellers (VARs)
Recent Developments
On January 2023, for enterprise customers in Japan, SoftBank has commenced sales of the '1NCE IoT Flat Rate,' a low-bandwidth IoT connectivity service from worldwide IoT provider 1NCE GmbH (1NCE). Because the 1NCE IoT Flat Rate focuses in low-bandwidth services, it is ideal for narrow bandwidth communication applications that demand infrequent communications and a cheap cost. Building and manufacturing equipment management, asset monitoring in logistics, smart metering, and smart appliance connectivity are some suitable use cases.
On June 2022, Skyports, developer and operator of air taxi vertiports and PARK 24 Co. Ltd., Japan's largest parking-lot and car-sharing operator, inked a memorandum of understanding to investigate integrating Skyports' advanced air mobility (AAM) infrastructure with PARK 24's parking and car-sharing network. The four partners will collaborate on joint research, including feasibility studies, to evaluate which PARK 24 parking spaces are suitable for vertiport service, such as take-off and landing locations and charging stations for electric vertical take-off and landing (eVTOL) passenger craft. The group will concentrate its efforts in Japan's Kansai region, particularly in Osaka, as well as in other parts of the country.
Market Segment
This study forecasts revenue at global, regional, and country levels from 2021 to 2032. Spherical Insights has segmented the Japan IoT Market based on the below-mentioned segments:
Japan IoT Market, By Offering
Hardware

Processor
Memory Device
Logic Device
Sensor
Connectivity IC

Software

Real-Time Streaming Analytics
Application and Network Security
Data Management
Remote Monitoring System
Network Bandwidth Management

Service

Professional Services
Managed Services

Platform

Device Management Platform
Application Management Platform
Network Management Platform
Japan IoT Market, By Organization Size
Japan IoT Market, By Industry Verticals
BFSI
Consumer Electronics
Building Automation
IT & Telecom
Industrial
Automotive & Transportation
Healthcare
Manufacturing
Retail
Oil & Gas
Agriculture
Others
Need help to buy this report?