Japan Foodservice Market Size, Share, and COVID-19 Impact Analysis, By Type (Full-Service Restaurants, Quick Service Restaurants, Institutes, and Others), By System (Conventional, Centralized, Ready-Prepared, Assembly Serve), and Japan Foodservice Market Insights, Industry Trend, Forecasts to 2032.
Industry: Food & Beverages
---
REPORT FORMAT

---
Japan Foodservice Market Insights Forecasts to 2032
The Japan Foodservice Market Size was valued at USD 214.35 Million in 2022.
The Market Size is Growing at a CAGR of 11.8% from 2022 to 2032
The size is expected to reach USD 654.46 Million by 2032.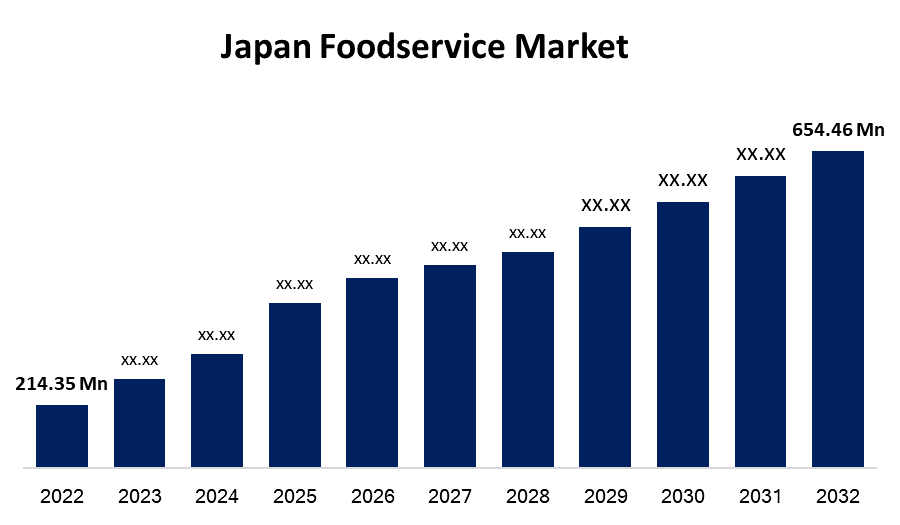 Get more details on this report -
Request Free Sample PDF
The Japan Foodservices Market Size was valued at USD 214.35 Million in 2022 and is expected To Grow to USD 654.46 Million by 2032, at a CAGR of 11.8% during the forecast period 2022-2032.
Market Overview
Food and beverage consumed outside the house or ordered at home through food-serving facilities are the focus of food service. Restaurants are visited for a variety of reasons, including cross-cultural dietary trends owing to the convenience of trying out new tastes and sensations. The market is one of Japan's most important industries, with a high presence of food service reported in places such as Tokyo and Osaka, where the number of restaurants is constantly growing. The old and the young fuel Japan's industrial progress.
Report Coverage
This research report categorizes the market of Japan foodservice market based on various segments and regions and forecasts revenue growth and analyzes trends in each submarket. The report analyses the key growth drivers, opportunities, and challenges influencing the Japan foodservice market. Recent market developments and competitive strategies such as expansion, product launch, and development, partnership, merger, and acquisition have been included to draw the competitive landscape in the market. The report strategically identifies and profiles the key market players and analyses their core competencies in each sub-segments of the Japan foodservice market.
Japan Foodservice Market Report Coverage
| Report Coverage | Details |
| --- | --- |
| Base Year: | 2022 |
| Market Size in 2022: | USD 214.35 Million |
| Forecast Period: | 2022-2032 |
| Forecast Period 2022-2032 CAGR: | 11.8% |
| 2032 Value Projection: | USD 654.46 Million |
| Historical Data for: | 2018-2021 |
| No. of Pages: | 200 |
| Tables, Charts & Figures: | 110 |
| Segments covered: | By Type, By System, (Demand, Price, Growth, Competitors, Challenges) |
| Companies Covered: | McDonald's, Starbucks, Plenus Co., Ltd, Zensho Holdings Co., Tori Doll Holdings Corp., Dominos, KFC Corporation, Yum! Brands, Inc, Skylark Co., Ltd., Tully's Coffee Japan Co. Ltd. |
| Pitfalls & Challenges: | COVID-19 Empact, Challenge, Future, Growth, & Analysis |
Get more details on this report -
Request Free Sample PDF
Driving Factors
Shopping and food malls are becoming increasingly popular in both developed and developing countries. The trend of shopping malls, which was formerly limited to major cities, has recently expanded to tier 2 and tier 3 cities. Customers frequently choose to shop at multi-brand establishments under one roof. The customer wants everything under one roof, and the business is capitalizing on this need by creating specialized multi-branded food courts/malls/halls under one roof. Designing F&B and leisure sections, including stand-alone food booths and kiosks, is becoming increasingly important in new shopping center projects and additions. Furthermore, implementing technology into food and beverage is critical in the industry. Starbucks and Dunkin' Donuts have significantly enlarged the function and reach of conventional coffee shops by providing specialty drinks and customized coffee blends to general audiences. For example, Starbucks first used incorrect spellings of customers' names as part of their marketing plan for them to write about it on social media and attract additional consumers. This announcement caused a social media frenzy, so many customers flocked to Starbucks to try it. Companies are constantly increasing efficiency, discovering significant areas for research and development, and releasing new goods into the market, which will fuel market growth in the future years.
Restraining Factors
For the benefit of consumers, Japan's government has enacted rules and regulations governing food and beverage items. To start a restaurant in Japan, the proprietor must get a license, which is only valid for one person in one location. According to Japanese legislation, correct labeling and packaging of Korean products are necessary, as is the Food Additive Approval Process, and importing and exporting items are also subject to a slew of rigorous regulations. As a result, complicated laws and regulations may stifle the expansion of the food service industry.
COVID 19 Impacts
Due to limits implemented around the middle of 2020, when the viral propagation was at its peak, the COVID-19 pandemic had a substantial impact on the global economy and various businesses. Various businesses have been impacted by government regulations and limitations such as lockdowns and border closures. Furthermore, supply networks were affected as borders were blocked and mobility was prohibited. The food service business is suffering as a result of production unit closures, supply chain disruptions, and economic slowdowns. During the epidemic, there were severe restrictions on eating out, therefore hotels and restaurants were shuttered.
Market Segment
In 2022, the full-service restaurant segment is influencing the largest market share over the forecast period.
Based on the type, the Japan foodservice market is segmented into full-service restaurants, quick-service restaurants, institutes, and others. Among these segments, the full-service restaurant segment dominates the largest market share during the forecast period. Full-service restaurants are brick-and-mortar enterprises that serve clients with table service and offer a complete meal menu. They have a variety of food options, including breakfast, lunch, and supper. To attract guests, full-service restaurants with unique, high-quality interiors and excellent service standards expand their menus, include broad beverage selections, and choose a more sophisticated design and atmosphere.
In 2022, the conventional segment is dominating the largest market growth during the forecast period.
Based on the system, the Japan foodservice market is classified into several factors such as conventional, centralized, ready-prepared, and assembly service. Among these, the conventional segment held the largest market share during the forecast period. Processed or frozen food is becoming increasingly popular across the world. Foods that are packed, frozen, or processed are becoming increasingly popular. These benefits tools are good for urban customers demanding easy, ready-to-eat meals to fit their changing and fast-paced lifestyles. The introduction of online meal delivery services, which give additional benefits such as convenience, savings, and free delivery services, is expected to boost demand for food from restaurants, hence increasing demand for food service.
Competitive Analysis:
The report offers the appropriate analysis of the key organizations/companies involved within Japan foodservice market along with a comparative evaluation primarily based on their product offering, business overviews, geographic presence, enterprise strategies, segment market share, and SWOT analysis. The report also provides an elaborative analysis focusing on the current news and developments of the companies, which includes product development, innovations, joint ventures, partnerships, mergers & acquisitions, strategic alliances, and others. This allows for the evaluation of the overall competition within the market.
List of Key Companies
McDonald's
Starbucks
Plenus Co., Ltd
Zensho Holdings Co.
Tori Doll Holdings Corp.
Dominos
KFC Corporation
Yum! Brands, Inc
Skylark Co., Ltd.
Tully's Coffee Japan Co. Ltd.
Key Target Audience
Market Players
Investors
End-users
Government Authorities
Consulting and Research Firm
Venture capitalists
Value-Added Resellers (VARs)
Recent Development
In August 2022, Starbucks introduced the Marrone "Cassis Frappuccino" for the fall season. The blended beverage mixes earthy chestnuts and cassis with trademark Starbucks coffees from throughout Japan.
In March 2022, Domino Japan launches its 900th location. It is the first Domino's Pizza Enterprises Ltd store to attain this milestone, only nine months after the business launched its 800th shop.
Market Segment
This study forecasts revenue at global, regional, and country levels from 2022 to 2032. Spherical Insights has segmented the Japan Foodservice Market based on the below-mentioned segments:
Japan Foodservice Market, By Type
Full-Service Restaurants
Quick Service Restaurants
Institutes
Others
Japan Foodservice Market, By System
Conventional
Centralized
Ready-Prepared
Assembly Serve
Need help to buy this report?