Japan Fluorochemicals Market Size, Share, and COVID-19 Impact Analysis, By Product (Fluorocarbon, Inorganics & Specialties, Fluoropolymer), By Application (Refrigerant, Aluminum Production, Blowing Agent, Components & Others), and Japan Fluorochemicals Market Insights, Industry Trend, Forecasts to 2032
Industry: Chemicals & Materials
---
REPORT FORMAT

---
Japan Fluorochemicals Market Size Insights Forecasts to 2032
The Japan Fluorochemicals Market Size was valued at USD XX Billion in 2022.
The Market Size is Growing at a CAGR of 4.2% from 2022 to 2032
The Japan Fluorochemicals Market Size is expected to reach USD XX Billion by 2032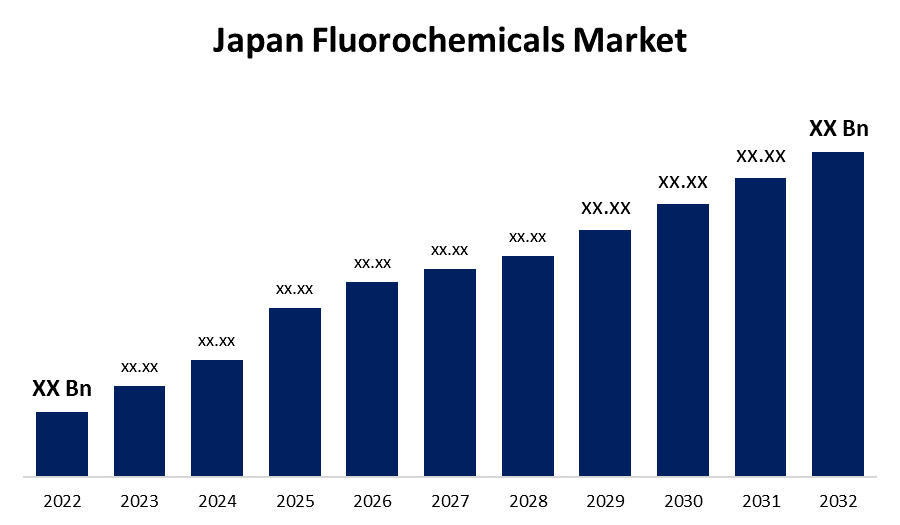 Get more details on this report -
Request Free Sample PDF
The Japan Fluorochemicals Market size was valued at USD XX Billion in 2022. The Japan Fluorochemicals Market Size is expected to reach USD XX Billion by 2032, at a CAGR of 4.2% during the forecast period 2022 to 2032.
Market Overview
The Japan fluorochemicals market is an important sector of the country's chemical industry, encompassing a wide range of fluorine-containing chemical compounds and products. Fluorochemicals have unique properties such as high chemical stability, heat and cold resistance, low surface energy, and excellent electrical insulating properties. These characteristics make them useful in a variety of industries, including electronics, pharmaceuticals, automotive, and manufacturing. The Japan fluorochemicals market is diverse and dynamic, with products ranging from refrigerants, fluoropolymers, and fluoroelastomers to specialty chemicals like fluorosurfactants and fluorochemical intermediates. One of the most well-known subsets of fluorochemicals is perfluorocarbons (PFCs), often used as refrigerants and propellants. Demand for eco-friendly refrigerants is driving this market in Japan, as the country continues to phase out harmful chlorofluorocarbons (CFCs) and hydrochlorofluorocarbons (HCFCs) due to environmental concerns. Furthermore, the Japanese electronics and automotive industries rely heavily on fluorochemicals for specialized coatings, insulating materials, and components, propelling market growth even further.
Report Coverage
This research report categorizes the market for the Japan fluorochemicals market based on various segments and regions and forecasts revenue growth and analyzes trends in each submarket. The report analyses the key growth drivers, opportunities, and challenges influencing the fluorochemicals market. Recent market developments and competitive strategies such as expansion, product launch, and development, partnership, merger, and acquisition have been included to draw the competitive landscape in the market. The report strategically identifies and profiles the key market players and analyses their core competencies in each sub-segment of the fluorochemicals market.
Japan Fluorochemicals Market Report Coverage
| Report Coverage | Details |
| --- | --- |
| Base Year: | 2022 |
| Market Size in 2022: | USD XX Billion |
| Forecast Period: | 2022-2032 |
| Forecast Period 2022-2032 CAGR: | 4.2% |
| 2032 Value Projection: | USD XX Billion |
| Historical Data for: | 2018-2021 |
| No. of Pages: | 200 |
| Tables, Charts & Figures: | 110 |
| Segments covered: | By Product, By Application |
| Companies Covered: | AGC Inc., Daikin Industries, Ltd, 3M Japan Ltd., Kureha Corporation, Mitsubishi Chemical Corporation, And other key venders |
| Pitfalls & Challenges: | COVID-19 Empact,Challenges, Future, Growth, & Analysis |
Get more details on this report -
Request Free Sample PDF
Driving Factors
Stringent environmental regulations in Japan and global commitments like the Kyoto Protocol and the Montreal Protocol have led to a shift towards environmentally friendly fluorochemicals. The phasing out of ozone-depleting substances and high-global warming potential (GWP) refrigerants has boosted the demand for more sustainable alternatives. Japan's thriving electronics and semiconductor sectors heavily rely on fluorochemicals for the production of integrated circuits, semiconductors, and electronic components. The demand for miniaturization and high-performance electronics fuels the need for specialized fluorochemical coatings and etching gases.
Restraining Factors
Japan has stringent regulations and standards concerning the use and production of fluorochemicals. These regulations are in line with international agreements like the Montreal Protocol and the Kigali Amendment, which aim to phase out high-GWP refrigerants and reduce greenhouse gas emissions. Compliance with these regulations can be costly and challenging for manufacturers.
Market Segmentation
The Japan Fluorochemicals Market share is classified into product and application.
The fluorocarbon segment is expected to hold a significant share of the Japan fluorochemicals market during the forecast period.
The Japan fluorochemicals market is segmented by product into Fluorocarbon, Inorganics & Specialties, Fluoropolymer. Among these, the fluorocarbon segment is expected to hold a significant share of the Japan fluorochemicals market during the forecast period. Fluoropolymers are widely used in critical industries such as electronics, automotive, and chemical processing due to their exceptional properties. These materials are necessary for applications such as insulating wires, printed circuit board coatings, gaskets, and seals. Fluoropolymers' versatility and dependability have made them indispensable in a variety of high-value applications, contributing significantly to their market dominance.
The Refrigerant segment is expected to hold a significant share of the Japan fluorochemicals market during the forecast period.
Based on the application, the Japan fluorochemicals market is divided into Refrigerant, Aluminum Production, Blowing Agent, Components & Others. Among these, the Refrigerant segment is expected to hold a significant share of the Japan fluorochemicals market during the forecast period. The country's efforts to transition to low-GWP refrigerants in compliance with environmental regulations, coupled with the widespread use of refrigerants in residential, commercial, and industrial cooling systems, make this segment pivotal. The focus on reducing the environmental impact of refrigerants and the continuous development of eco-friendly alternatives contribute to the dominance of the refrigerant segment in the market.
Competitive Analysis:
The report offers the appropriate analysis of the key organizations/companies involved within the Japan fluorochemicals market along with a comparative evaluation primarily based on their product offering, business overviews, geographic presence, enterprise strategies, segment market share, and SWOT analysis. The report also provides an elaborative analysis focusing on the current news and developments of the companies, which includes product development, innovations, joint ventures, partnerships, mergers & acquisitions, strategic alliances, and others. This allows for the evaluation of the overall competition within the market.
List of Key Companies
AGC Inc.
Daikin Industries, Ltd
3M Japan Ltd.
Kureha Corporation
Mitsubishi Chemical Corporation
Others
Key Target Audience
Market Players
Investors
End-users
Government Authorities
Consulting And Research Firm
Venture capitalists
Value-Added Resellers (VARs)
Market Segment
This study forecasts revenue at Japan, regional, and country levels from 2020 to 2032. Spherical Insights has segmented the Japan Fluorochemicals Market based on the below-mentioned segments:
Japan Fluorochemicals Market, By Product
Fluorocarbon
Inorganics & Specialties
Fluoropolymer
Japan Fluorochemicals Market, By Application
Refrigerant
Aluminum Production
Blowing Agent
Components
Others
Need help to buy this report?