Japan Edge AI Market Size, Share, and COVID-19 Impact Analysis, By Offering (Hardware, Software, Services, Edge Cloud Infrastructure), By End-Use Application (Automotive/Mobility, Consumer Electronics, Smart Cities, Manufacturing/Robotics, Plant & Infrastructure Preservation, Healthcare, Government, IT & Telecom, Others), and Japan Edge AI Market Insights Forecasts to 2032
Industry: Information & Technology
---
REPORT FORMAT

---
Japan Edge AI Market Size Insights Forecasts to 2032
The Japan Edge AI Market Size was valued at USD 11.25 Billion in 2022.
The Market is Growing at a CAGR of 24.3% from 2022 to 2032.
The Japan Edge AI Market Size is expected to reach USD 98.82 Billion by 2032.
Japan is expected to grow the fastest during the forecast period.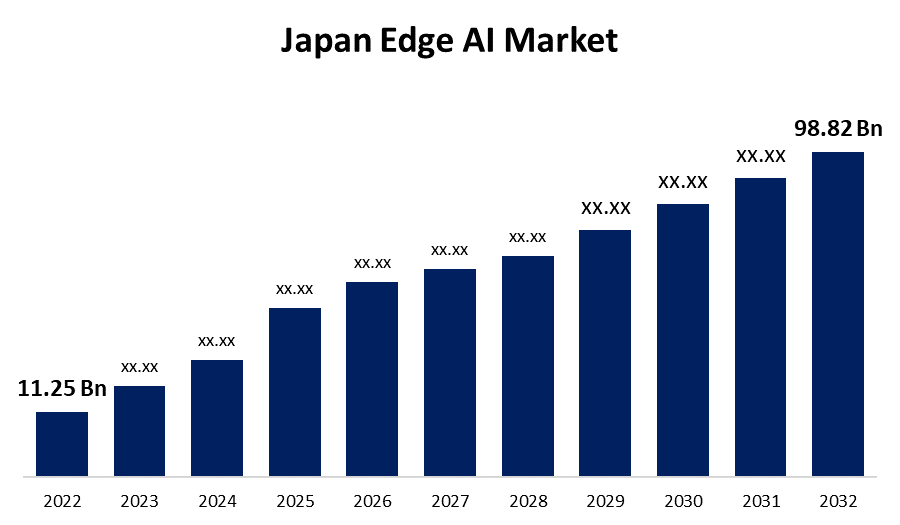 Get more details on this report -
Request Free Sample PDF
The Japan Edge AI Market Size is expected to reach USD 98.82 Billion by 2032, at a CAGR of 24.3% during the forecast period 2022 to 2032.
Market Overview
Edge AI integrates edge computing with artificial intelligence (AI). This entails running AI algorithms on physical devices equipped with edge computing capabilities. Edge AI eliminates the need for internet and system integration, enabling users to manage data on the device in real-time. Although they require a large amount of computer power, the majority of AI procedures are presently executed in cloud-based centers. These technologies could range from smartphones, IoT devices, sensors, and drones to robotics and automobiles. Edge AI is fast developing into an essential innovation, particularly with the growing number of IoT devices and rising demands for real-time data processing. From electronics to vehicles, Japan has a long history of technological and innovative leadership. This technological base provides a great foundation for the country's growth and advancement of Edge AI solutions. The Japanese government has frequently been active in fostering technological advances. Japan's 'Society 5.0 plan aspires to establish a super-smart society in which digital transformation, including AI and IoT, will be fundamental. Edge AI will undoubtedly be a key element of this concept. Japan's technological might could be a challenge. The country's reputation for being at the leading edge of technological innovation raises expectations. Meeting these challenges in the fast-expanding industry of Edge AI may be difficult.
Report Coverage
This research report categorizes the market for Japan Edge AI Market based on various segments and regions and forecasts revenue growth and analyzes trends in each submarket. The report analyses the key growth drivers, opportunities, and challenges influencing the Japan Edge AI Market. Recent market developments and competitive strategies such as expansion, product launch, and development, partnership, merger, and acquisition have been included to draw the competitive landscape in the market. The report strategically identifies and profiles the key market players and analyses their core competencies in each sub-segments of the Japan Edge AI Market.
Japan Edge AI Market Report Coverage
| Report Coverage | Details |
| --- | --- |
| Base Year: | 2022 |
| Market Size in 2022: | USD 11.25 Billion |
| Forecast Period: | 2022-2032 |
| Forecast Period 2022-2032 CAGR: | 24.3% |
| 2032 Value Projection: | USD 98.82 Billion |
| Historical Data for: | 2018-2021 |
| No. of Pages: | 200 |
| Tables, Charts & Figures: | 120 |
| Segments covered: | By Offering, By End-Use Application and COVID-19 Impact Analysis. |
| Companies Covered: | Panasonic Corporation, Toshiba Corporation, Maxell, Ltd., Furukawa Edge AI Co., Ltd., Vehicle Energy, NGK Insulators Ltd., FDK Corporation, ELIIY-Power, KYOCERA, Hitachi, Ltd., NEC Corporation, Murata, GS Yuasa International Ltd and other key vendors. |
| Pitfalls & Challenges: | COVID-19 Empact, Challenge, Future, Growth, & Analysis |
Get more details on this report -
Request Free Sample PDF
Driving Factors
The Japan Edge AI market is expanding rapidly, owing to reasons such as increased usage of IoT devices, the requirement for real-time data processing, and developments in AI technology. In Japan, major industries such as automotive, manufacturing, healthcare, and retail have been researching or incorporating Edge AI technologies. For example, the automobile industry is utilizing Edge AI for real-time processing in self-driving vehicles. Similarly, industrial manufacturing is utilizing Edge AI to improve operational efficiency and predict maintenance. Organizations are adopting Edge AI technologies due to the economic benefits of increased productivity, reduced downtime, and new solutions. Sony, Panasonic, and Toshiba are among the major Japanese technology companies actively participating in the research, growth & development, and deployment of Edge AI technologies. Furthermore, there is a thriving start-up ecosystem in Japan focused on AI and its applications. Many of these start-ups emphasize Edge AI solutions, fostering innovation along with offering new panoramas.
Market Segment
In 2022, the hardware segment accounted for the largest revenue share of more than 47.2% over the forecast period.
On the basis of offering, the Japan Edge AI Market is segmented into hardware, software, services, and edge cloud infrastructure. Among these, the hardware segment is dominating the market with the largest revenue share of 47.2% over the forecast period. The rapid deployment of 5G networks, as well as the increased need for IoT-based edge computing technologies to connect IT and telecom, are driving growth in the hardware market. For on-device image analyses, IoT devices have a significant advantage of dedicated AI processors. Edge chipsets have great processing capability with minimal power consumption, which makes them popular in IoT devices. Smartphones, motor vehicles, and industrial robots represent enormous development opportunities for this hardware. AI-at-the-edge chips in smartphones offer numerous advantages to users, including faster learning and longer battery life.
In 2022, the healthcare segment accounted for the largest revenue share of more than 34.2% over the forecast period.
On the basis of end-use application, the Japan Edge AI Market is segmented into automotive/mobility, consumer electronics, smart cities, manufacturing/robotics, plant & infrastructure preservation, healthcare, government, IT & telecom, and others. Among these, the healthcare segment is dominating the market with the largest revenue share of 34.2% over the forecast period, driven by the increased deployment of information technology to improve medical treatment and results. Edge AI, with its capacity to collect, process, and analyze data in real-time, provides healthcare providers with a solution that can aid in more accurate diagnoses and individualized treatment plans. Additionally, edge AI has an opportunity to reduce healthcare costs by eliminating the need for costly hardware and optimizing data processing and evaluation, making it a compelling option for healthcare organizations seeking ways to streamline their operations and improve efficiency.
Competitive Analysis:
The report offers the appropriate analysis of the key organizations/companies involved within the Japan Edge AI Market along with a comparative evaluation primarily based on their product offering, business overviews, geographic presence, enterprise strategies, segment market share, and SWOT analysis. The report also provides an elaborative analysis focusing on the current news and developments of the companies, which includes product development, innovations, joint ventures, partnerships, mergers & acquisitions, strategic alliances, and others. This allows for the evaluation of the overall competition within the market.
List of Key Companies
Panasonic Corporation
Toshiba Corporation
Maxell, Ltd.
Furukawa Edge AI Co., Ltd.
Vehicle Energy
NGK Insulators Ltd.
FDK Corporation
ELIIY-Power
KYOCERA
Hitachi, Ltd.
NEC Corporation
Murata
GS Yuasa International Ltd
Key Target Audience
Market Players
Investors
End-users
Government Authorities
Consulting and Research Firm
Venture capitalists
Value-Added Resellers (VARs)
Recent Developments
On January 2023, TDK Corporation and Texas Instruments, announced collaboration on new i3 Micro Module, the world's first sensor module with built-in edge AI and wireless mesh connectivity capability. The new module additionally integrates TDK's IIM-42352 high-performance SmartIndustrialTM MEMS accelerometer and digital output temperature sensor, edge AI, and mesh network functionality into a single unit, facilitating data aggregation, integration, and processing.
On May 2023, NVIDIA and SoftBank Corp. announced they are collaborating on a pioneering platform for generative AI and 5G/6G applications that is based on the NVIDIA GH200 Grace Hopper™ Superchip and which SoftBank plans to roll out at new, distributed AI data centers across Japan. The platform will use the new NVIDIA MGX™ reference architecture with Arm Neoverse-based GH200 Superchips and is expected to improve performance, scalability and resource utilization of application workloads
In October 2021, Blaize, a semiconductor manufacturer in the U.S., partnered with NEXTY Electronics, a supplier of electronic components and equipment in Japan, to market AI edge computing products of Blaize in Japan's industrial and automotive markets. This collaboration is intended to focus on innovation, analyzing customer needs across different industries, and driving the adoption of edge AI applications empowered by Blaize's low latency, low-power AI offering.
Market Segment
This study forecasts revenue at global, regional, and country levels from 2021 to 2032. Spherical Insights has segmented the Japan Edge AI Market based on the below-mentioned segments:
Japan Edge AI Market, By Offering
Hardware
Software
Services
Edge Cloud Infrastructure
Japan Edge AI Market, By End-Use Application
Automotive/Mobility
Consumer Electronics
Smart Cities
Manufacturing/Robotics
Plant & Infrastructure Preservation
Healthcare
Government
IT & Telecom
Others
Need help to buy this report?