Japan Cosmetics Market Size, Share, and COVID-19 Impact Analysis, By Product Type (Skin Care, Hair Care, Makeup, Fragrance, Others), By Distribution Channel (Specialist Retail Stores, Supermarkets/Hypermarkets, Convenience Stores, Pharmacies/Drug Stores, Online Retail Channels, Other Distribution Channels), and Japan Cosmetics Market Insights, Industry Trend, Forecasts to 2030
Industry: Consumer Goods
---
REPORT FORMAT

---
Japan Cosmetics Market Insights Forecasts to 2030
The Japan Cosmetics Market Size was valued at USD 16.5 billion in 2021.
The Market is Growing at a CAGR of 3.5% from 2022 to 2030
The Japan Market key players are actively advertising their products to stay in the competition and capture the attention of consumers all over the world.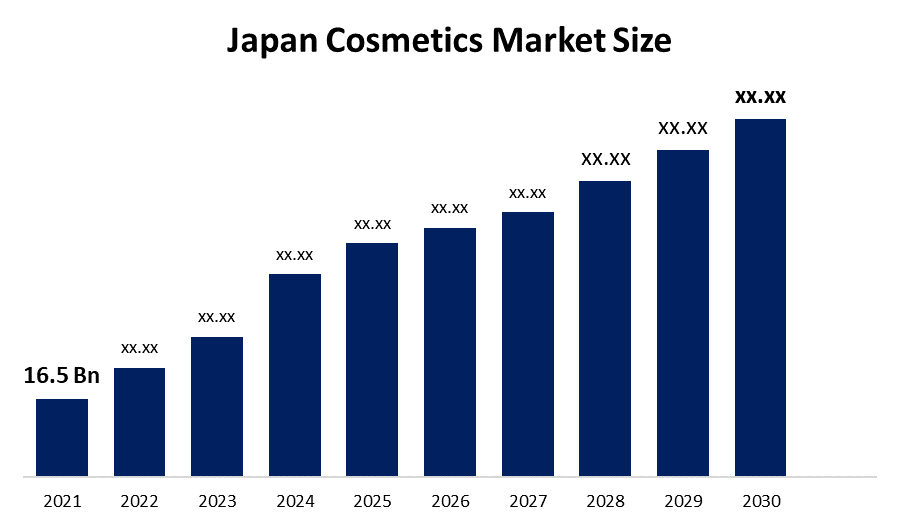 Get more details on this report -
Request Free Sample PDF
Market Overview
Globally, Japan is considered as the largest market for cosmetics. Japanese customers are highly educated and sophisticated when it comes to the chemical compositions of hair care products. Even though the Japan cosmetics market is much more established and refined, it has been stagnant for the past few years. The maintenance of a beauty routine is an obsession for Japanese people, who follows beauty routines religiously. Also, the cosmetics market in Japan is increasing due to Japanese consumers spending the most expenditure per person on cosmetics, especially skincare products. The high market demand for organic and natural formulations is driving key manufacturers to introduce new products utilizing natural ingredients in Japan cosmetic formulations.
Report Coverage
This research report categorizes the market of Japan Cosmetics Market based on various segments and regions and forecasts revenue growth and analyzes trends in each submarket. The report analyses the key growth drivers, opportunities, and challenges influencing the Japan Cosmetics Market. Recent market developments and competitive strategies such as expansion, product launch, and development, partnership, merger, and acquisition have been included to draw the competitive landscape in the market. The report strategically identifies and profiles the key market players and analyses their core competencies in each sub-segments of the Japan Cosmetic Market.
Japan Cosmetics Market Report Coverage
| Report Coverage | Details |
| --- | --- |
| Base Year: | 2021 |
| Market Size in 2021: | USD 16.5 Billion |
| Forecast Period: | 2021-2030 |
| Forecast Period 2021-2030 CAGR: | 3.5% |
| 2030 Value Projection: | xx |
| Historical Data for: | 2017-2020 |
| No. of Pages: | 200 |
| Tables, Charts & Figures: | 130 |
| Segments covered: | By Product Type, By Distribution Channel, COVID-19 Impact Analysis |
| Companies Covered: | Kao Corporation, Shiseido Company Ltd., KOSE Corporation, POLA Orbis Holdings, FANCL Corporation, Mandom Corporation, Pias Corporation, Noeivir Holdings, Nippon Menard Cosmetic Co. Ltd., Ci:z Holding Co. Ltd., Albion co, Ltd.,, DHC Corporation, Hada Labo, NARS Cosmetics, Rohto Pharmaceuticals, Kao Corporation, Isehan Cosmetics, Takasago International Corporation |
| Pitfalls & Challenges: | COVID-19 has the potential to impact the global market |
Get more details on this report -
Request Free Sample PDF
Driving Factors
Japan's cosmetics market is driving the market owing to high expenditure on skincare and cosmetics. Also, Japanese consumers are highly aware of the type of brands they use along with the quality of products and the need to secure value from the money after the purchase of cosmetics. Moreover, the country has witnessed a rise in the popularity of skin-fixing makeup products, which is the key driver of increased demand for natural and clean-label cosmetics goods. Japanese companies are very much active when it comes to the advertising and promotions of their products and market players are actively advertising their products to stay in the competition and capture the attention of consumers. The growing internet penetration across the country and the high usage of intelligent electronic devices may drive the demand for online sales channels.
Restraining Factors
The advertisements for cosmetic products in Japan make false promises that can restraints the growth of the market. For example, using statistical information to indicate a product's value is limited. As a result, American products with more appealing packaging, designs, and textures may become more attractive to consumers as their preferences change. These value propositions may appeal to Japanese customers who are sick of buying the same old unscented, unappealing cosmetics designed in their own region. Furthermore, the ingredients, packaging, and knowledge of many international cosmetic brands are influencing customers since these are the aspects that Japanese consumers value most in a cosmetic product.
COVID 19 Impacts
Three significant consequences of COVID-19 on the Japan cosmetics economy are possible: a direct impact on demand and supply; a disruption of the market and supply chain; and a financial impact on companies and financial markets pursuing the COVID-19 issue.
Market Segment
In 2021, the skin care segment holds the largest market share growth during the forecast period
Based on the product type, the market is classified into hair care, skincare, makeup, fragrances, and others. Among these, the skin care segment holds the largest market share growth during the forecast period, due to the majority of the population using skincare products daily compared to hair care products and makeup. Moreover, the youth generation and working women are also exploring into beauty care options more and more. Therefore, an increasing number of working women in Japan is also expected to boost product demand and support market growth.
In 2021, the pharmacies/drug stores are dominating the market with the largest market share over the forecast period.
On the basis of distribution channel, the Japan cosmetics market is bifurcated into different segments such as, specialist retail stores, supermarkets/hypermarkets, convenience stores, pharmacies/drug stores, online retail channels, and other distribution channels. Among these, the pharmacies/drug stores are projecting market growth during the forecast period owing to the financial and professional benefits, such as high-profit margins and changing consumers perceptions of good product availability at such stores. Moreover, the cosmetics organizations in Japan are channelizing their products with pharmacies to authorize strong distribution through the pharmacies or drug stores which is likely to enhance the market growth during the forecast period, such as companies include Canmake, Biore UV, Shiseido, and several others have their cosmetics products available in a drug store, all over Japan.
Competitive Analysis:
The report offers the appropriate analysis of the key organizations/companies involved within the Japan Cosmetics Market along with a comparative evaluation primarily based on their product offering, business overviews, geographic presence, enterprise strategies, segment market share, and SWOT analysis. The report also provides an elaborative analysis focusing on the current news and developments of the companies, which includes product development, innovations, joint ventures, partnerships, mergers & acquisitions, strategic alliances, and others. This allows for the evaluation of the overall competition within the market.
List of Key Companies
Kao Corporation
Shiseido Company Ltd.
KOSE Corporation
POLA Orbis Holdings
FANCL Corporation
Mandom Corporation
Pias Corporation
Noeivir Holdings
Nippon Menard Cosmetic Co. Ltd.
Ci:z Holding Co. Ltd.
Albion co, Ltd.,
DHC Corporation
Hada Labo
NARS Cosmetics
Rohto Pharmaceuticals
Kao Corporation
Isehan Cosmetics
Takasago International Corporation
Key Target Audience
Market Players
Investors
End-users
Government Authorities
Consulting and Research Firm
Venture capitalists
Value-Added Resellers (VARs)
Recent Developments
In October 2022, the AS Watson Group launched "SkinlifeLab," an innovative skin analysis tool that creates highly personalized skincare product recommendations based on customers' selfies.
In June 2021, Shiseido launched a sustainable skincare brand named Baum in Japan. According to the company, 90% of the formula for the products of this brand was derived from trees.
In September 2021: Kao Corporation launched a new sheet mask called Smile Performer. This company is suggested that, the sheet mask makes a smiling impression by promising to give the skin more radiance and bounce.
Market Segment
This study forecasts revenue at global, regional, and country levels from 2019 to 2030. Spherical Insights has segmented the Japan Cosmetics Market based on the below-mentioned segments:
Japan Cosmetics Market, By Product Type
Skin Care
Hair Care
Makeup
Fragrance
Others
Japan Cosmetics Market, By Distribution Channel
By Specialist Retail Stores
Supermarkets/Hypermarkets
Convenience Stores
Pharmacies/Drug Stores
Online Retail Channels
Other Distribution Channels
Need help to buy this report?