Japan Construction Market Size, Share, and COVID-19 Impact Analysis, By Sector (Commercial, Industrial, Infrastructure, Energy & Utilities, Institutional, Residential) and Japan Construction Market Insights Forecasts to 2032
Industry: Construction & Manufacturing
---
REPORT FORMAT

---
Japan Construction Market Insights Forecasts to 2032
The Japan Construction Market Size was valued at USD 573.82 Billion in 2022.
The Market is growing at a CAGR of 5.8% from 2022 to 2032.
The Japan Construction Market Size is expected to reach USD 1009.27 Billion by 2032.
Japan is expected to grow the fastest during the forecast period.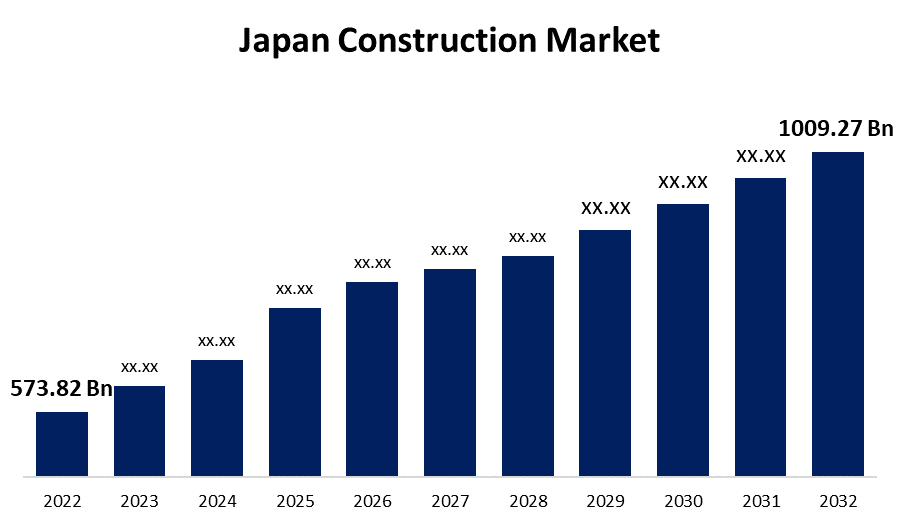 Get more details on this report -
Request Free Sample PDF
The Japan Construction Market Size is expected to reach USD 1046.27 Billion by 2032, at a CAGR of 5.8% during the forecast period 2022 to 2032.
Market Overview
According to estimates of Gross Domestic Product (GDP) growth and employment, Japan's construction industry accounts for a sizable portion of the Japanese economy. In the decade preceding, the construction sector experienced a steadily rising trend, fueled by reconstruction following the major earthquake in East Japan and the Summer Olympics in Tokyo. Commercial construction, industrial construction, infrastructure construction, energy & utilities construction, institutional construction, and residential building are the primary sectors in the Japan construction market.
Considering the statistic that there are over 465,000 authorized construction companies in Japan, Super Zenecon—a collection of five big general contractors—dominates the market. These companies include Obayashi Corporation, Tasei Corporation, Kajima Corporation, Shimizu Corporation, and Taneka Corporation. Japanese businesses have displayed their superior technological understanding and capabilities while assisting in the long-term growth of nations all over the world through developing human resources and technology shifts. Japanese businesses engage in the design, operation, and other construction of different types of infrastructures, including residential and commercial projects.
Furthermore, the Japanese government has made reducing energy consumption and decreasing greenhouse gas emissions a priority, which has led to changes in overall energy use guidelines and also regulations on emissions imposed by municipal governments. Additionally, there are emerging technological solutions, such as prefabricated homes made with fewer CO2 emissions or with more energy-efficient building supplies. Moreover, neglecting the influence of the Coronavirus, the Tokyo 2020 Olympic Games prompted an enormous demand in the construction business in 2020. For example, the World Expo 2025 building projects in Osaka and the Chuo Shinkansen maglev line show that infrastructure management and urban redevelopment will be growing factors in the construction industry in the years to come.
Report Coverage
This research report categorizes the market for Japan Construction Market based on various segments and regions and forecasts revenue growth and analyzes trends in each submarket. The report analyses the key growth drivers, opportunities, and challenges influencing the Japan Construction Market. Recent market developments and competitive strategies such as expansion, product launch, and development, partnership, merger, and acquisition have been included to draw the competitive landscape in the market. The report strategically identifies and profiles the key market players and analyses their core competencies in each sub-segments of the Japan Construction Market.
Japan Construction Market Report Coverage
| Report Coverage | Details |
| --- | --- |
| Base Year: | 2022 |
| Market Size in 2022: | USD 573.82 Billion |
| Forecast Period: | 2022-2032 |
| Forecast Period 2022-2032 CAGR: | 5.8% |
| 2032 Value Projection: | USD 1009.27 Billion |
| Historical Data for: | 2019-2021 |
| No. of Pages: | 120 |
| Tables, Charts & Figures: | 130 |
| Segments covered: | By Sector, COVID-19 Impact Analysis |
| Companies Covered: | Kajima Corporation, Obayashi Corporation, Shimizu Corporation, Mitsubishi Heavy Industries Ltd., Nippon Koei Co Ltd., Takenaka Corporation, Sumitomo Mitsui Construction Co Ltd., Taisei Corporation, The Zenitaka Corp., Mitsubishi Estate Co Ltd. |
| Pitfalls & Challenges: | COVID-19 Empact, Challenge, Future, Growth, & Analysis |
Get more details on this report -
Request Free Sample PDF
Driving Factors
The Japan construction market had substantial development as a result of earthquake reconstruction and special demands from the Paralympic and Olympic Games. The construction engineering market is anticipated to experience an ongoing demand resulting from Linear Chuo Shinkansen (maglev bullet train service), disaster prevention and mitigation activities, and maintenance and reconstruction of the current infrastructure. Even though corporate demand for offices is anticipated to increase in the Japan construction market, it is anticipated that consumer demand for suburban single-family homes will decline as second-generation baby boomer demand declines.
With major construction projects expected to continue inclusion on the government's priority list in the foreseeable future, government investment and incentives for the country's housing program are expected to maintain market expansion. Furthermore, for the past several years, the Japanese government has provided mortgage assistance to families with children. In 2021, government officials took action to assist families with children in purchasing homes by offering incentives to encourage newly constructed buildings. In 2022, the government will invest an extra JPY 60 billion (USD 0.46 billion) in the initiative. Due to the assumption that 120,000 petitions for subsidies will be received, the government additionally postponed the deadline from the end of October 2022 to the end of March 2023. As a result, these government measures are likely to boost the rise of Japan's constriction market over the projection period.
Restraining Factors
Labor shortages, which have become a severe problem globally, have impacted Japan's construction market, resulting in it being one of the lowest-performing sectors in Japan when contrasted to other business sectors such as automobiles and consumer electronics. Furthermore, in the supply-chain context, construction expenses are increasing as a result of a major drop in laborers due to the declining number of highly skilled workers and lagging labor involvement, soaring labor costs as a result of the difficulty in acquiring workers from emerging economies and increasing expenses for materials such as oil and steel. This, along with a drop in order quantities as a result of increased competitors, has resulted in a dramatic drop in efficiency and revenue margins. As a result, the Japanese government has also begun to encourage the adoption of modern technology in the construction industry as a means of addressing the problem, including allowing the sector to invest in machine learning and artificial intelligence (AI), which will result in a reduction in the need for human resources.
Market Segment
In 2022, The residential segment accounted for the largest revenue share of more than 37.8% over the forecast period.
On the basis of end-users, the Japan Construction Market is segmented into commercial, industrial, infrastructure, energy & utilities, institutional, and residential. Among these, the electronics segment is dominating the market with the largest revenue share of 37.8% over the forecast period. This expansion can be ascribed to an increase in housing demand, which has led to an increase in new home building and residential purchases. While the overall number of residential construction starts grew marginally, the total floor area of new construction projects decreased. Single-family dwellings accounted for the greatest share of construction starts when broken down by building type. Furthermore, Japan's real estate inventory includes over 60 million residences, with single-family homes accounting for the majority, then followed by apartment complexes. As a result of shifting demographics, the increasing real estate inventory now outnumbers the number of households, leading to increased vacant property rates throughout the entire country. Furthermore, wood has a long history as utilized construction material in Japan, and Japanese detached houses with wooden constructions are still the standard. The Ministry of Land, Infrastructure, Transport, and Tourism estimates that houses with wooden structures will survive roughly 30 years.
Competitive Analysis:
The report offers the appropriate analysis of the key organizations/companies involved within the Japan Construction Market along with a comparative evaluation primarily based on their product offering, business overviews, geographic presence, enterprise strategies, segment market share, and SWOT analysis. The report also provides an elaborative analysis focusing on the current news and developments of the companies, which includes product development, innovations, joint ventures, partnerships, mergers & acquisitions, strategic alliances, and others. This allows for the evaluation of the overall competition within the market.
List of Key Companies
Kajima Corporation
Obayashi Corporation
Shimizu Corporation
Mitsubishi Heavy Industries Ltd.
Nippon Koei Co Ltd.
Takenaka Corporation
Sumitomo Mitsui Construction Co Ltd.
Taisei Corporation
The Zenitaka Corp.
Mitsubishi Estate Co Ltd.
Key Target Audience
Market Players
Investors
End-users
Government Authorities
Consulting and Research Firm
Venture capitalists
Value-Added Resellers (VARs)
Recent Developments
On September 2022, Mitsubishi Heavy Industries, Ltd. created the conceptual design of an advanced light water reactor "SRZ-1200" in partnership with four Japanese PWR utilities. When compared to traditional pressurized light water reactors, this reactor offers added safety features. MHI intends to proceed with basic design efforts based on the SRZ-1200 conceptual design. These efforts will ensure that new innovative nuclear technologies are available to Japan in order to provide a reliable energy supply.
Market Segment
This study forecasts revenue at global, regional, and country levels from 2021 to 2032. Spherical Insights has segmented the Japan Construction Market based on the below-mentioned segments:
Japan Construction Market, By Sector Type
Commercial
Industrial
Infrastructure
Energy & Utilities
Institutional
Residential
Need help to buy this report?