Japan Big Data Market Size, Share, and COVID-19 Impact Analysis, By Component (Hardware, Software, and Service), By Industry Vertical (BFSI, Government and Defense, Healthcare and Life Sciences, Manufacturing, Retail and Consumer Goods, Media and Entertainment, Telecommunications and IT, Transportation and Logistics, and Others), By Deployment Mode (On Premise and Cloud), and Japan Big Data Market Insights, Industry Trend, Forecasts to 2032
Industry: Information & Technology
---
REPORT FORMAT

---
Japan Big Data Market Insights Forecasts to 2032
The Japan Big Data Market Size was valued at USD 10.79 Billion in 2022.
The Market Size is Growing at a CAGR of 8.77% from 2022 to 2032
The Japan Big Data Market Size is expected to reach USD 25.02 Billion by 2032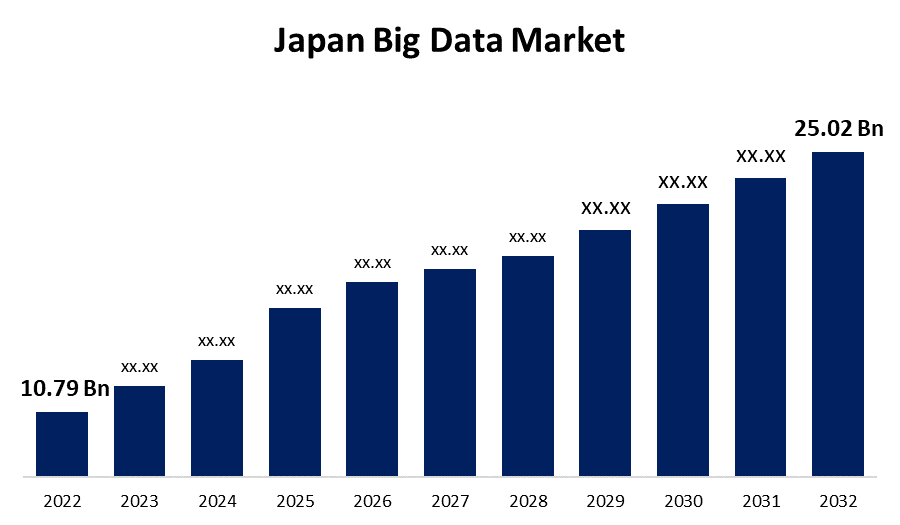 Get more details on this report -
Request Free Sample PDF
The Japan Big Data Market Size is anticipated to exceed USD 25.02 Billion by 2032, Growing at a CAGR of 8.77% from 2022 to 2032.
Market Overview
Big data is defined as a well-defined volume of structured, semi-structured, or unstructured data that can be mined for information. Big data analytics is now more than just an experimental system. The rise of big data in Japan has aided enterprises in achieving real-world results with their approach, and they are now expanding their efforts to include massive amounts of data and models. Furthermore, big data technologies like Hadoop and cloud analytics offer significant cost savings. Large corporations, on the other hand, are discovering that using technology to make faster and higher-quality decisions is now possible. Company researchers are now focused on speeding up their current decision due to the momentum of Hadoop and other analytical tools. The most intriguing function of big data analytics today is the development of cutting-edge products and solutions for end users.
Report Coverage
This research report categorizes the market for the Japan big data market based on various segments and regions and forecasts revenue growth and analyzes trends in each submarket. The report analyses the key growth drivers, opportunities, and challenges influencing the big data market. Recent market developments and competitive strategies such as expansion, product launch, and development, partnership, merger, and acquisition have been included to draw the competitive landscape in the market. The report strategically identifies and profiles the key market players and analyses their core competencies in each sub-segment of the big data market.
Japan Big Data Market Report Coverage
| Report Coverage | Details |
| --- | --- |
| Base Year: | 2022 |
| Market Size in 2022: | USD 10.79 Billion |
| Forecast Period: | 2022-2032 |
| Forecast Period 2022-2032 CAGR: | 8.77% |
| 2032 Value Projection: | USD 25.02 Billion |
| Historical Data for: | 2018-2021 |
| No. of Pages: | 200 |
| Tables, Charts & Figures: | 100 |
| Segments covered: | By Component, By Industry Vertical, By Deployment Mode and COVID-19 Impact Analysis |
| Companies Covered: | Rikkeisoft, IBM Corporation, QBurst, Hitachi Data System, Dell Corporation, ThinkPalm Technologies, HPE, Oracle Corporation, Teradata, Finatext Ltd., and Others. |
| Pitfalls & Challenges: | COVID-19 Empact, Challenges, Future, Growth, & Analysis |
Get more details on this report -
Request Free Sample PDF
Driving Factors
Japan's strong presence in industries like manufacturing, finance, healthcare, and telecommunications generates vast amounts of data. The need to extract insights from this data to drive innovation and efficiency is a significant driver for the big data market. The Japanese government has been actively promoting the use of big data and analytics in various sectors. Initiatives such as the "Society 5.0" vision, which emphasizes the integration of technology, including big data, into daily life, are instrumental in driving the market.
Restraining Factors
The collection and utilization of large volumes of data raise concerns about data privacy and security. Japan, like many other regions, has implemented stringent data protection regulations, such as the Act on the Protection of Personal Information (APPI). Companies must comply with these regulations, which can be complex and expensive.
Market Segmentation
The Japan Big Data Market share is classified into component and deployment mode.
The service segment is expected to grow at a significant pace in the Japan Big Data market during the forecast period.
The Japan big data market is segmented by component into hardware, software, and service. Among these, the service segment is expected to grow at a significant pace in the Japan Big Data market during the forecast period. The services segment encompasses consulting, implementation, support, and managed services related to big data. It includes services provided by consultants, data scientists, and IT professionals who help organizations plan, deploy, and maintain their big data solutions.
The BFSI segment is expected to hold a significant share in the Japan Big Data market during the forecast period.
Based on the deployment mode, the Japan big data market is divided into BFSI, government and defense, healthcare and life sciences, manufacturing, retail and consumer goods, media and entertainment, telecommunications and IT, transportation and logistics, and others. Among these, the BFSI segment is expected to hold a significant share in the Japan Big Data market during the forecast period. The BFSI sector relies heavily on big data for risk assessment, fraud detection, customer insights, and algorithmic trading. Data analytics plays a critical role in optimizing operations and enhancing customer experiences.
Competitive Analysis:
The report offers the appropriate analysis of the key organizations/companies involved within the Japan big data market along with a comparative evaluation primarily based on their product offering, business overviews, geographic presence, enterprise strategies, segment market share, and SWOT analysis. The report also provides an elaborative analysis focusing on the current news and developments of the companies, which includes product development, innovations, joint ventures, partnerships, mergers & acquisitions, strategic alliances, and others. This allows for the evaluation of the overall competition within the market.
List of Key Companies
Rikkeisoft
IBM Corporation
QBurst
Hitachi Data System
Dell Corporation
ThinkPalm Technologies
HPE
Oracle Corporation
Teradata
Finatext Ltd.
Others
Key Target Audience
Market Players
Investors
End-users
Government Authorities
Consulting And Research Firm
Venture capitalists
Value-Added Resellers (VARs)
Market Segment
This study forecasts revenue at Japan, regional, and country levels from 2020 to 2032. Spherical Insights has segmented the Japan Big Data Market based on the below-mentioned segments:
Japan Big Data Market, By Component
Hardware
Software
Service
Japan Big Data Market, By Industry Vertical
BFSI
Government and Defense
Healthcare and Life Sciences
Manufacturing
Retail and Consumer Goods
Media and Entertainment
Telecommunications and IT
Transportation and Logistics
Others
Japan Big Data Market, By Deployment Mode
Need help to buy this report?