Japan Beer Market Size, Share, and COVID-19 Impact Analysis, By Application (Residential and Commercial), By Distribution Channel (Off-Trade and On-Trade), and Japan Beer Market Insights, Industry Trend, Forecasts to 2032
Industry: Food & Beverages
---
REPORT FORMAT

---
Japan Beer Market Insights Forecasts to 2032
The Japan Beer Market was valued at USD 17.98 Billion in 2022.
The Market is growing at a CAGR of 5.1% from 2022 to 2032
The Japan Beer Market is expected to reach USD 29.79 Billion by 2032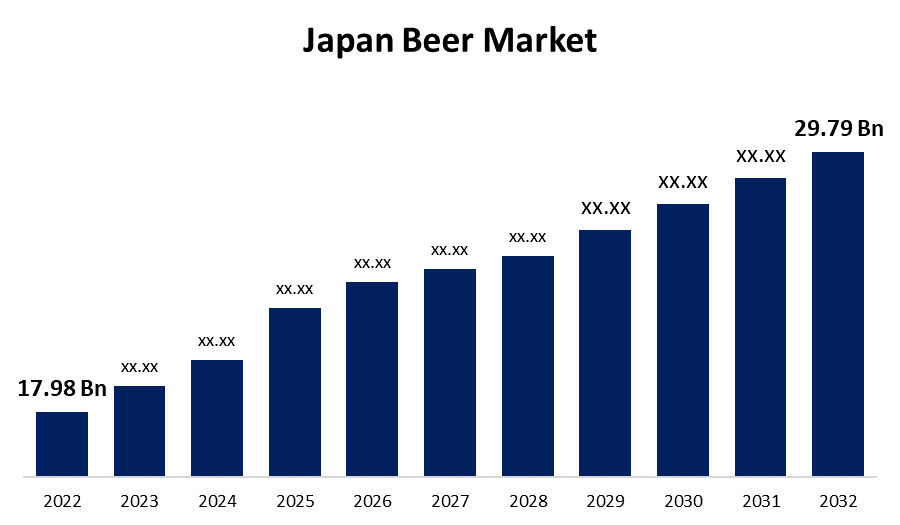 Get more details on this report -
Request Free Sample PDF
The Japan Beer Market Size was valued at USD 17.98 Billion in 2022. The Japan Beer Market is expected to reach USD 29.79 Billion by 2032, at a CAGR of 5.1% during the forecast period 2022 to 2032.
Factors like growing awareness of beer and a developing taste for unique and spirits are fueling market demand for Japanese beer. The popularity of various beer variants in Japan has drawn consumers' attention to high-quality spirits produced in this country. As a result of rising awareness of different cultural alcoholic drinks, the market sees a growing prominence of Japanese beer across cultures.
Market Overview
Beer is an alcoholic beverage that is carbonated and fermented by combining water, yeast, hops, and cereal grains such as rye, wheat, corn, barley, and rice. Some of the most common beer varieties are lager, stout, ale, malt, and porter. To enhance taste and fragrance, beer is additionally infused with a variety of fruit and herb flavorings. It is typically stored and packed in metallic cans and glass bottles, and it is produced in macro, micro, and craft breweries. It is high in essential vitamins, fibers, minerals, polyphenols, and antioxidants. Moderate beer consumption can help reduce stress, improve muscles, and improve cognitive function. It also keeps blood pressure stable, prevents kidney stones, and lowers the chances of developing cardiovascular and circulatory problems.
Japan is one of the largest beer markets in the world, with a long history of beer production and consumption. The Japanese beer market is highly competitive, with many small and medium-sized breweries producing a wide range of beer styles. However, these smaller breweries face challenges in gaining market share due to the dominance of the big players.
Report Coverage
This research report categorizes the market for Japan beer market based on various segments and regions and forecasts revenue growth and analyzes trends in each submarket. The report analyses the key growth drivers, opportunities, and challenges influencing the Japanese beer market. Recent market developments and competitive strategies such as expansion, product launch, and development, partnership, merger, and acquisition have been included to draw the competitive landscape in the market. The report strategically identifies and profiles the key market players and analyses their core competencies in each sub-segment of the Japanese beer market.
Japan Beer Market Report Coverage
| Report Coverage | Details |
| --- | --- |
| Base Year: | 2022 |
| Market Size in 2022: | USD 17.98 Billion |
| Forecast Period: | 2022-2032 |
| Forecast Period 2022-2032 CAGR: | 5.1% |
| 2032 Value Projection: | USD 29.79 Billion |
| Historical Data for: | 2018-2021 |
| No. of Pages: | 200 |
| Tables, Charts & Figures: | 100 |
| Segments covered: | By Application, By Distribution Channel and COVID-19 Impact Analysis |
| Pitfalls & Challenges: | COVID-19 Empact, Challenge, Future, Growth, & Analysis |
Get more details on this report -
Request Free Sample PDF
Driving Factors
The younger generation is increasingly health-conscious and is seeking lower-calorie and lower-alcohol options. This trend has led to the rise of alternative alcoholic beverages, such as low-malt beer, happoshu, and chuhai, which are gaining popularity among consumers. The major brewers in Japan have responded by introducing new products to cater to these changing preferences. Technological advances are also driving the evolution of the Japan beer market. E-commerce and online delivery services are becoming increasingly popular, creating new opportunities for brewers to reach consumers. Additionally, advances in brewing technology are enabling brewers to produce more innovative products and improve the efficiency of their operations. These are the major factors expected to drive the Japan beer market during the forecast period.
Restraining Factors
The Japanese government imposes a high tax rate on beer, which has led to the introduction of alternative beverages with lower tax rates, such as happoshu and low-malt beer. The high tax rate can also make beer less affordable for consumers, which can impact sales and consumption. The Japan beer market faces competition from other alcoholic and non-alcoholic beverages, such as wine, spirits, and soft drinks. These beverages may offer a more diverse range of flavors and lower calorie options, which can attract consumers away from beer.
Market Segment
The Japan Beer Market share is segmented into application and distribution channel.
The commercial segment is expected to hold the largest share of the Japan Beer market during the forecast period.
Based on the application, the Japan beer market is segmented into residential and commercial. Among these, the commercial segment is expected to hold the largest share of the Japan beer market during the forecast period. The growth can be attributed due the fact that the commercial segment is larger in terms of overall consumption, as bars and restaurants are able to serve large numbers of customers on a regular basis. Additionally, the commercial segment tends to focus on more affordable products, which are more accessible to a wider range of consumers.
The On-Trade segment is expected to hold the largest share of the Japan Beer market during the forecast period.
Based on the distribution channel, the Japan beer market is classified into Off-Trade and On-Trade. Among these, the On-Trade segment is expected to hold the largest share of the Japan beer market during the forecast period. The growth can be due to the prevalence of beer bars in Japan, as well as the country's drinking culture which places a high value on socializing and drinking with friends and colleagues. Additionally, the on-trade segment tends to focus on premium products, which are more popular in Japan than in other markets. The on-trade segment refers to the distribution of beer in bars, restaurants, and other establishments where alcohol is consumed on-site. In Japan, the on-trade segment is highly important and is the largest channel for beer sales. The on-trade segment tends to focus on premium products and is highly influenced by trends in the cocktail and mixology industry.
Competitive Analysis:
The report offers the appropriate analysis of the key organizations/companies involved within the Japan beer market along with a comparative evaluation primarily based on their product offering, business overviews, geographic presence, enterprise strategies, segment market share, and SWOT analysis. The report also provides an elaborative analysis focusing on the current news and developments of the companies, which includes product development, innovations, joint ventures, partnerships, mergers & acquisitions, strategic alliances, and others. This allows for the evaluation of the overall competition within the market.
List of Key Companies
Asahi Breweries.
Sapporo Brewery.
Baird Brewing Company
Kirin Company.
Hitachino Nest Beer
Orion Breweries.
Suntory.
Yebisu Beer
Echigo Beer Co., Ltd
The Tama Brewery
Key Target Audience
Market Players
Investors
End-users
Government Authorities
Consulting and Research Firm
Venture capitalists
Value-Added Resellers (VARs)
Recent Developments
On June 2022, Bira 91, a beer brand, has released its first Gose-style beer, Yuzu Gose Sour, in collaboration with Japan's Far Yeast Brewing Company. A Gose-style beer is traditionally a German wheat beer with low hop bitterness. The new beer was made with Himalayan Pink Salt from India and the peel of Yuzu, a traditional Japanese citrus fruit grown in the Kochi prefecture and used to make Kagua, a popular Japanese ale. The ingredients contribute to the sour beer experience, which is popular in both countries.
On November 2022, Asahi Europe & International disclosed the launch of Asahi Super Dry 0.0%, an alcohol-free beer, in the United Kingdom and Ireland. Asahi Super Dry 0.0% is a free of alcohol version of the super-premium Asahi Super Dry brand. Customers can expect the same signature crisp, refreshing, super dry taste that has helped it become Japan's best-selling beer.
Market Segment
This study forecasts revenue at, regional, and country levels from 2019 to 2030. Spherical Insights has segmented the Japan Beer Market based on the below-mentioned segments:
Japan Beer Market, By Application
Japan Beer Market, By Distribution Channel
Need help to buy this report?