Japan Automotive Fuel Cell Market Size, Share, and COVID-19 Impact, By Electrolyte Type (Polymer Electrolyte Membrane Fuel Cells, Phosphoric Acid Fuel Cells, Direct Methanol Fuel Cells, Solid Oxide Fuel Cells, Alkaline Fuel Cells, Others), By Fuel Type (Hydrogen, Methanol), By Application Type (Stationary, Transportation, Portable, Others), By Vehicle Type (Passenger Vehicles, Bus, Light Commercial Vehicle (LCV), Truck, Others) and Japan Automotive Fuel Cell Market Insights Forecasts to 2030
Industry: Automotive & Transportation
---
REPORT FORMAT

---
Market Overview
A fuel cell vehicle is an electric vehicle that uses a fuel cell to power its onboard electric motor, sometimes in conjunction with a small battery or supercapacitor. Fuel cells in automobiles usually use compressed hydrogen solutions and airborne oxygen to generate energy. Against the backdrop of increasing oil reserve depletion and volatile oil prices, the hydrogen-based fuel cell is regarded as the fuel of the future and is proving to be one of the most probable alternatives.
Japan has been one of the most aggressive pioneers of fuel cell adoption in various sectors of the economy. Japan is at the forefront of incorporating fuel cells into backup services for data centers, for heat and power in homes, but primarily in the automobile sector. Since early 2015, Japan has been actively involved in the commercialization of fuel cell systems. It accomplished this by launching the "ENE-FARM" initiative, which resulted in the installation of over 120,000 residential fuel cell systems. Japan added over 50,000 residential micro-CHO fuel cell systems under this initiative in 2018.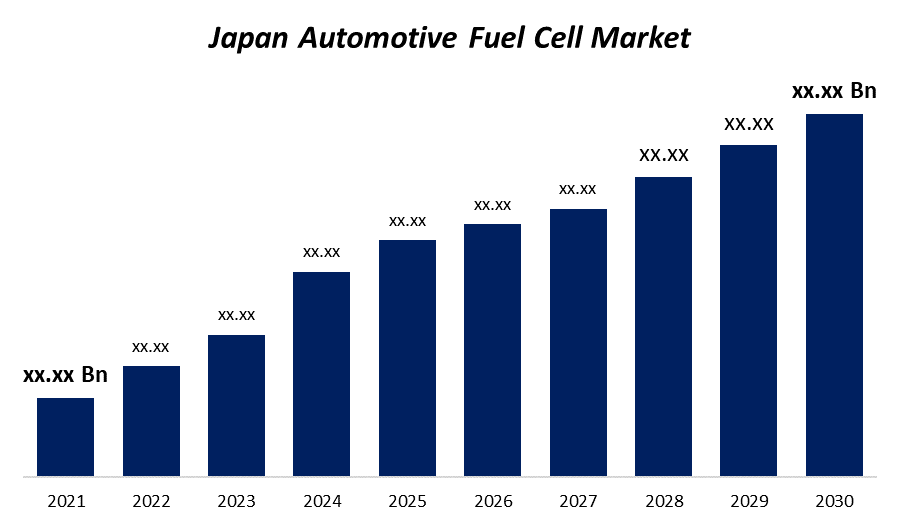 Get more details on this report -
Request Free Sample PDF
Japan is working to commercialize hydrogen power generation in the future by using CO2-free hydrogen due to its commitment to fuel cell technologies. Through the widespread sale of fuel cell automobiles, Japan is also advancing the hydrogen society.
Japanese automotive manufacturer Toyota Motor Corporation is regarded as a forerunner in the advancement of fuel cell electric vehicle technology. By 2030, Japan hopes to have 800,000 fuel cell vehicles on the road, up from the over 2800 that was on the road in 2018. In the Kato region alone, there are 56 hydrogen filling stations for fuel cell electric vehicles as of 2021. The majority of these hydrogen stations are concentrated in Japan's major metropolitan areas, ranging from Tokyo to northern Kyushu.
Report Coverage
This research report categorizes Japan Automotive Fuel Cell Market based on various segments and regions, forecasts revenue growth, and analyzes trends in each submarket. The report analyses the key growth drivers, opportunities, and challenges influencing Japan Automotive Fuel Cell Market. Recent market developments and competitive strategies such as market expansion, product launch, and development, partnership, merger, and acquisition have all been included to depict the market's competitive landscape. The report strategically identifies and profiles the key market players and analyses their core competencies in each sub-segments of Japan Automotive Fuel Cell Market.
Driving Factors
The Japanese government has set a USD 19.2 billion zero-emissions goal for 2050, and fuel cells appear to be playing an increasingly important role in meeting this goal. In order to develop a commercial scale hydrogen supply chain by 2030, Japan built a massive hydrogen supply chain project in 2021, costing around USD 2.7 billion. Japan is also planning to use chemical hydrides to store massive amounts of hydrogen.
The growing concerns about the supply security of petroleum fuels are one of the notable factors contributing to Japan's decision to convert to clean energy technology. Japan is significantly dependent on other nations since it imports fossil fuels to meet nearly 94% of its energy demands. In light of this, Japan is actively promoting the development of hydrogen to reduce its reliance on fossil fuels.
Japan has significantly increased its fuel cell research and pilot testing in the automobile sector in order to improve the efficiency of fuel cell usage in vehicles. For the research, development, and commercialization of fuel cells, the Japanese government provided a funding package to the country's automakers in the amount of about $380 million yearly. The projects will receive 2.5 billion yen ($21.50 million) from the budget for this fiscal year, according to the Ministry of Economy, Trade, and Industry.
Market Restraints
Fuel cell vehicles do not have as many high-volume applications as electric vehicles, which would increase demand and help the supply chain grow. Additionally, the cost of producing fuel cell vehicles is higher due to the additional complexity, onboard hydrogen tank, pumps, and compressors required.
High infrastructure costs
The cost of constructing a hydrogen refueling station is exorbitant. A single refueling station is expected to cost around $400 million, compared to $100 million for a conventional gas station.
High cost of Hydrogen fuel
In terms of fuel consumption per unit mile driven, hydrogen fuel is more expensive than gasoline or electricity. Japan intends to reduce the cost of hydrogen to the cost of fossil fuels by 2050. By establishing production facilities abroad, more hydrogen will be available through imports, which will help to lower the cost.
Market Segment
In 2021, the polymer electrolyte membrane fuel cells segment is witnessing the highest growth rate over the forecast period
Based on electrolyte type, the Japan Automotive Fuel Cell Market is segmented into polymer electrolyte membrane fuel cells, phosphoric acid fuel cells, direct methanol fuel cells, solid oxide fuel cells, alkaline fuel cells, and others. The polymer electrolyte membrane fuel cells segment is expected to witness the highest growth rate over the forecast period. In comparison to other fuel cells, the polymer electrolyte membrane fuel cell is lighter, has a lower working temperature, a higher power density, and a relatively small volume. This cell fuel is also utilized in buses, automobiles, and large trucks.
In 2021, the hydrogen segment is witnessing significant CAGR growth over the forecast period
On the basis of fuel type, the Automotive Fuel Cell Market is segmented into hydrogen and methanol. Among these, hydrogen is witnessing significant CAGR growth over the forecast period. A hydrogen fuel cell powers the on-board electric motor in hydrogen fuel cell vehicles. Hydrogen fuel cell technology allows for powertrains that do not emit tailpipe greenhouse gases or other harmful pollutants like nitrogen oxides and particulates. Toyota joined forces with Nissan and Honda, as well as major gas and energy companies such as French industrial gases company Air Liquide, to build 80 new hydrogen stations in Japan over the next four years.
In 2021, the transportation segment accounted for the largest share of the market, with 34.4% over the forecast period
Based on application type, the Japan Automotive Fuel Cell Market is segmented into stationary, transportation, portable, and others. Among these, the transportation segment accounted for the largest share of the market, with 34.4% over the forecast period. The increased emphasis on clean energy usage in the transportation sector is expanding the potentials for Japan's automotive fuel cell market. There has been a significant increase in fuel cell research and pilot testing in the transportation sector in order to improve the efficiency and sustainability of fuel cell use in vehicles. As a result of the increase in fuel cell-based vehicles and the phase-out of conventional fuel-based vehicles, the Japanese automotive fuel cell market is anticipated to expand during the forecast period.
In 2021, the passenger vehicles segment is dominating the market with the largest market share of 47% over the forecast period
According to end-user, Japan Automotive Fuel Cell Market is divided into passenger vehicles, buses, light commercial vehicles (LCV), trucks, and others. Given the high adoption rate, increased demand for personal mobility, and numerous emission policies implemented by Japanese governments, the passenger vehicles segment dominates the market with a 47% market share over the forecast period. Furthermore, the adoption of clean and lower emission vehicles by many Japanese consumers and governments is one of the factors that have led to an increase in demand for the fuel cell-based passenger vehicle market.
Competitive Analysis:
The report offers the appropriate analysis of the key organizations/companies involved in Japan Automotive Fuel Cell Market along with a comparative evaluation primarily based on their product offering, business overviews, geographic presence, enterprise strategies, segment market share, and SWOT analysis. The report also provides an elaborative analysis focusing on the current news and developments of the companies, which includes product development, innovations, joint ventures, partnerships, mergers & acquisitions, strategic alliances, and others. This allows for the evaluation of the overall competition within the market.
List of Key Companies
NYK Line
TOYOTA fuel cells
ENEOS Corporation
Toshiba Corporation
Nippon Kaiji Kyokai
Panasonic Corporation
Denso Corporation
Nissan Motor Corporation
FUJI ELECTRIC CO., LTD.
Toyota Motor Corporation
Woven Planet Holdings, Inc.
Kawasaki Heavy Industries Ltd.
Mitsubishi Hitachi Power Systems Ltd
Toshiba Fuel Cell Power Systems Corporation
Key Target Audience
Market Players
Investors
End-users
Government Authorities
Consulting and Research Firm
Venture capitalists
Value-Added Resellers (VARs)
Recent Developments
In June 2022, Toyota has announced the introduction of hydrogen fuel-cell trucks in partnership with Isuzu and Hino Motors. These trucks can travel long distances in order to complete multiple delivery tasks in a single day.
In June 2022, Hyundai Motor has announced that their upgraded hydrogen-powered Nexo SUV will be accessible in 2024. The company has determined that mass production and sales of its new Nexo will begin in the 2nd quarter of 2024.
In January 2021, Hyundai unveiled the HTWO designation for its world-class hydrogen fuel cell systems. The company built a factory in Guangzhou, China, with a capacity of 6,500 fuel cells per year.
In February 2021, Toyota created a packaged fuel cell system module that incorporates critical features such as fuel cell stacks into a small container and is compatible with the company's upcoming bus and truck projects.
In September 2020, Hyundai will launch a brand-new Tucson model with industry-leading features. The latest Tucson model may be able to run on a variety of fuels. The new Tucson vehicle also comes in a hybrid variant.
Market Segment
This study forecasts revenue at global, regional, and country levels from 2019 to 2030. Spherical Insights has segmented Japan Automotive Fuel Cell Market based on the below-mentioned segments:
Japan Automotive Fuel Cell Market, By Electrolyte Type
Polymer Electrolyte Membrane Fuel Cells
Phosphoric Acid Fuel Cells
Direct Methanol Fuel Cells
Solid Oxide Fuel Cells
Alkaline Fuel Cells
Others
Japan Automotive Fuel Cell Market, By Fuel Type
Japan Automotive Fuel Cell Market, By Application Type
Stationary
Transportation
Portable
Others
Japan Automotive Fuel Cell Market, By Vehicle Type
Passenger vehicles
Buss
Trucks
Light Commercial Vehicle (LCV)
Others
Need help to buy this report?