Japan Artificial Intelligence (AI) in Healthcare Market Size, Share, and COVID-19 Impact, By Offering (Software, Hardware, Solutions, Services), By Application (Critical Care, Robot-Assisted Surgery, Virtual Nursing Assistant, Administrative Workflow Assistance, Fraud Detection, Dosage Error Reduction, Clinical Trial Participant Identifier, Preliminary Diagnosis, Medical Administration & Support, Other Applications), By End-User (Hospitals & Clinics, Healthcare Providers, Pharmaceutical & Biotechnology Companies, Patients, Contract Research Organization, Others) and Japan Artificial Intelligence (AI)in Healthcare Market Insights Forecasts to 2030
Industry: Healthcare
---
REPORT FORMAT

---
Japan Artificial Intelligence (AI) in Healthcare Market Size was valued at USD 265.0 million in 2021 and is expected to reach USD 1,870.0 million by 2030, growing at a CAGR of 21.7% from 2021 to 2030.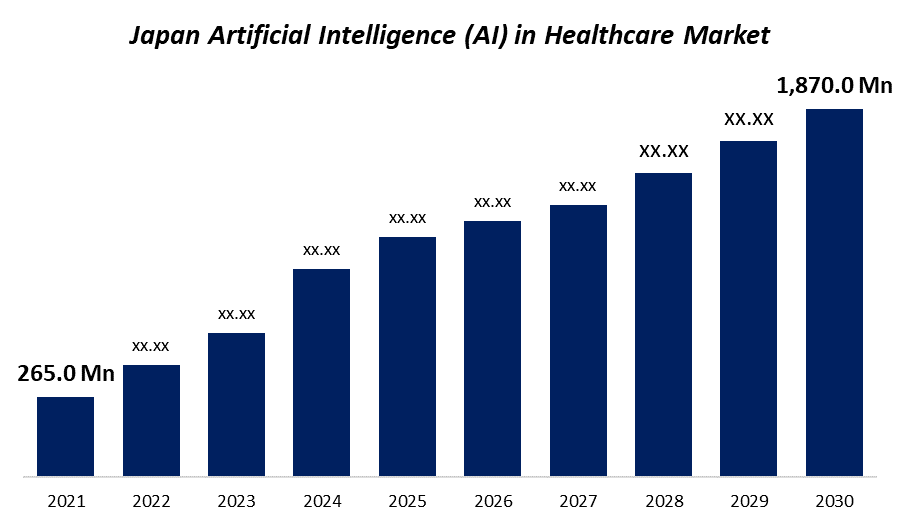 Get more details on this report -
Request Free Sample PDF
Market Overview
The healthcare sector is gradually adopting artificial intelligence (AI) technologies that are becoming more and more common in modern business and daily life. Healthcare professionals may benefit from using artificial intelligence in many areas of patient care and standard operating procedures, as it will enable them to build on current solutions and solve problems more quickly. The majority of AI and healthcare technologies have a substantial impact on the healthcare industry; however, hospitals and other healthcare organizations may use different strategies as a result. Japan has a great possibility to lead in the field of medical AI due to its distinct national healthcare system, as well as its abundant healthcare and socioeconomic characteristics.
In 2016, Japan established the AI Technology Strategy Council and identified AI as a crucial technology pillar for its "Society 5.0" 5th Science and Technology Basic Plan. Furthermore, the Japanese government has also established partnerships with business and academic organizations to create ten AI-enhanced hospitals. Additionally, partnerships between hospitals and businesses are taking AI system-wide rather than just at the bedside. For instance, Fujitsu Ltd. has made an effort to include AI in both administrative processes and the administration of medical information.
Report Coverage
This research report categorizes Japan's Artificial Intelligence (AI) in Healthcare Market based on various segments and regions, forecasts revenue growth, and analyzes trends in each submarket. The report analyses the key growth drivers, opportunities, and challenges influencing Japan's Artificial Intelligence (AI) in Healthcare Market. Recent market developments and competitive strategies such as market expansion, product launch, and development, partnership, merger, and acquisition have all been included to depict the market's competitive landscape. The report strategically identifies and profiles the key market players and analyses their core competencies in each sub-segments of Japan's Artificial Intelligence (AI) in the Healthcare Market.
Driving Factors
The AI capability in Japan is largely centered in the industry and research facilities. Numerous regional, national, and worldwide initiatives are fostering the development of a medical AI workforce. Software using artificial intelligence (AI), notably the branch of AI known as machine learning (ML), has become an increasingly important component of a growing variety of medical devices as technology continues to advance every area of health care.
The existing healthcare industry is being transformed by smart wearables in a significant way. They are employed in many different applications, such as heart rate monitoring, step counting, blood pressure monitoring, and many more. To provide an interactive response, this generates data that must be processed and examined. AI can aid in this situation by quickly analyzing and processing data.
Restraining Factors
Despite the fact that Artificial Intelligence (AI) has numerous applications in healthcare, its use is limited. The complexity that healthcare providers must deal with is the cause of this. Artificial intelligence may introduce errors and leave a breach between patient prescriptions for prescribed medications and the diagnosis. The risk to patient data safety is further increased by issues like the unethical collection of sensitive data.
COVID 19 Impacts
The COVID-19 pandemic has had a favorable impact on a number of healthcare-related businesses, including AI in healthcare. Although the idea of using AI in healthcare isn't really revolutionary, its implementation during the COVID-19 pandemic crisis has demonstrated the technology's potential in the industry. Through personalized information and learning, AI tools are rapidly being used to detect and diagnose viruses and respond to outbreaks.
Market Segment
In 2022, the software segment is witnessing a highest growth rate over the forecast period.
Based on the offering, Japan's Artificial Intelligence (AI) in Healthcare Market is segmented into software, hardware, solutions, and services. The software segment is expected to witness a highest growth rate over the forecast period. This rapid growth rate is driven by the growth of AI-based technologies in a wide range of medical applications, including cybersecurity, clinical trials, virtual assistants, robot-assisted surgeries, telemedicine, dose error reduction, and identity verification.
In 2021, the critical care segment is witnessing significant CAGR growth over the forecast period.
On the basis of application, Japan's Artificial Intelligence (AI) in Healthcare Market is segmented into critical care, robot-assisted surgery, virtual nursing assistant, administrative workflow assistance, fraud detection, dosage error reduction, clinical trial participant identifier, preliminary diagnosis, medical administration & support, and other applications. Among these, critical care is witnessing significant CAGR growth over the forecast period. The ICU is a challenging and captivating area for AI deployment due to the need for quick communication, quick decision-making, and constant information flow. On average, the AI solution improved predictions by 40%, outperforming other traditional warning scores such as the area under the receiver operating characteristic.
In 2022, the hospitals & clinics segment is dominating the market with the largest market share of 35% over the forecast period.
According to end-user, Japan's Artificial Intelligence (AI) in Healthcare Market is divided into hospitals & clinics, healthcare providers, pharmaceutical & biotechnology companies, patients, contract research organizations, and others. The hospitals & clinics segment dominates the market with a 35% market share over the forecast period. To date, technological development in Japan appears to have focused primarily on the automation of existing diagnostic modalities, with the potential for widespread clinic and hospital deployment. Other fields, like oncology, are similarly impacted by the use of AI in disease classification. Applications of AI in pathology could aid in the growth of additional telemedicine services.
Competitive Analysis:
The report offers the appropriate analysis of the key organizations/companies involved in Japan's Artificial Intelligence (AI) in the Healthcare Market along with a comparative evaluation primarily based on their product offering, business overviews, geographic presence, enterprise strategies, segment market share, and SWOT analysis. The report also provides an elaborative analysis focusing on the current news and developments of the companies, which includes product development, innovations, joint ventures, partnerships, mergers & acquisitions, strategic alliances, and others. This allows for the evaluation of the overall competition within the market.
List of Key Companies
Ubie
LPixel
Molcure
Atonarp
BIPROGY
Medmain
ThinkCyte
Hacarus
Cyberdyne
A-Traction
IBM Japan
Hitachi, Ltd.
Microsoft Japan
Rakuten Medical
Cardio Intelligence
AI Medical Service
FRONTEO Healthcare
MedVenture Partners, Inc.
Key Target Audience
Market Players
Investors
End-users
Government Authorities
Consulting and Research Firm
Venture capitalists
Value-Added Resellers (VARs)
Recent Developments
In August 2021, AI Medical Service Co., Ltd. has introduced an endoscopic diagnosis support system that uses artificial intelligence to determine whether gastric lesions are neoplastic or non-neoplastic. By using gastric cancer discrimination AI, it is expected to detect early-stage gastric cancer with the same level of accuracy as specialists, reducing oversight of early-stage gastric cancer and equalizing the quality of endoscopy examinations.
In November 2022, The "MOLCURE-AI Robotics and Synthetic Biology Program" has been launched by MOLCURE in partnership with Earth-Life Science Institute (ELSI) to foster the next generation of professionals and make a positive impact on society through cutting-edge research and education that combines expertise and technology from diverse fields.
Market Segment
This study forecasts revenue at global, regional, and country levels from 2019 to 2030. Spherical Insights has segmented Japan AI in Healthcare Market based on the below-mentioned segments:
Japan Artificial Intelligence (AI) in Healthcare Market, By Offering
Software
Hardware
Solutions
Services
Japan Artificial Intelligence (AI) in Healthcare Market, By Application
Critical Care
Fraud Detection
Dosage Error Reduction
Robot-Assisted Surgery
Preliminary Diagnosis
Virtual Nursing Assistant
Administrative Workflow Assistance
Clinical Trial Participant Identifier
Medical Administration & Support
Other Applications
Japan Artificial Intelligence (AI) in Healthcare Market, By End-User
Patients
Hospitals & Clinics
Healthcare Providers
Contract Research Organization
Pharmaceutical & Biotechnology Companies
Others
Need help to buy this report?