Global IO-Link Market Size, Share, and COVID-19 Impact Analysis, By Type (IO-Link Wired and IO-Link Wireless), By Component (IO-Link Masters and IO-Link Devices), By Application (Machine Tools, Handling & Assembly Automation Systems, Intralogistics Solutions, and Packaging Automation Solutions), By Industry (Process Industries, Discrete Industries, and Hybrid Industries), By Region (North America, Europe, Asia-Pacific, Latin America, Middle East, and Africa), Analysis and Forecast 2022 – 2032
Industry: Electronics, ICT & Media
---
REPORT FORMAT

---
Global IO-Link Market Size Insights Forecasts to 2032
The IO-link Market Size was valued at USD 12.73 Billion in 2022.
The Market is Growing at a CAGR of 22.3% from 2022 to 2032
The Worldwide IO-link Market Size is expected to reach USD 95.30 Billion by 2032
Asia-Pacific is Expected To Grow the fastest during the forecast period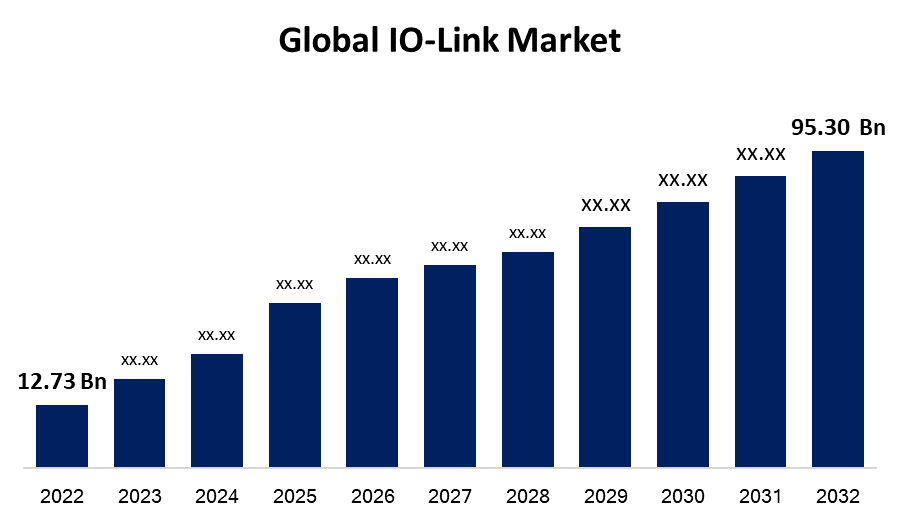 Get more details on this report -
Request Free Sample PDF
The Global IO-link Market Size is expected to reach USD 95.30 Billion by 2032, at a CAGR of 22.3% during the forecast period 2022 to 2032.
Market Overview
IO-link is a communication standard used in industrial automation systems to connect sensors and actuators with control systems. It acts as a point-to-point communication interface, enabling bidirectional data exchange between devices and controllers. IO-link provides a simple and cost-effective solution for integrating sensors and actuators into industrial networks. It operates on a three-wire connection, consisting of a power supply, ground, and communication line. The communication protocol supports real-time data transmission, allowing for parameterization, diagnostics, and process data exchange. With IO-link, devices can be easily replaced or added without complex reprogramming, reducing downtime. It enhances flexibility, transparency, and efficiency in industrial processes, facilitating intelligent automation and Industry 4.0 applications.
Report Coverage
This research report categorizes the market for IO-link market based on various segments and regions and forecasts revenue growth and analyzes trends in each submarket. The report analyses the key growth drivers, opportunities, and challenges influencing the IO-link market. Recent market developments and competitive strategies such as expansion, product launch, and development, partnership, merger, and acquisition have been included to draw the competitive landscape in the market. The report strategically identifies and profiles the key market players and analyses their core competencies in each sub-segments of the IO-link market.
Global IO-Link Market Report Coverage
| Report Coverage | Details |
| --- | --- |
| Base Year: | 2022 |
| Market Size in 2022: | USD 12.73 Billion |
| Forecast Period: | 2022-2032 |
| Forecast Period 2022-2032 CAGR: | 22.3% |
| 2032 Value Projection: | USD 95.30 Billion |
| Historical Data for: | 2018-2021 |
| No. of Pages: | 200 |
| Tables, Charts & Figures: | 100 |
| Segments covered: | By Type, By Component, By Application, By Industry, By Region. |
| Companies Covered: | Siemens AG, Rockwell Automation, Inc, OMRON Corporation, Hans Turck GmbH & Co. KG, Balluff GmbH, IFM Electronic GmbH, Pepperl+Fuchs, Sick AG, Festo SE & Co. KG, SMC Corporation |
| Pitfalls & Challenges: | COVID-19 Empact, Challenge, Future, Growth, & Analysis |
Get more details on this report -
Request Free Sample PDF
Driving Factors
The IO-link market is driven by several factors that contribute to its growth and adoption in industrial automation. The need for increased efficiency and productivity in manufacturing processes fuels the demand for IO-link. Its ability to enable real-time data exchange, remote device parameterization, and diagnostics enhances operational efficiency and reduces downtime. The rise of Industry 4.0 and smart manufacturing drives the adoption of IO-link. It provides the necessary connectivity and interoperability for intelligent automation, enabling the integration of sensors and actuators into digital networks. The flexibility offered by IO-link in terms of device interchangeability and easy integration supports quick reconfiguration and scalability of production lines. Additionally, the cost-effectiveness of IO-link compared to traditional fieldbus systems makes it an attractive solution for small to medium-sized enterprises looking to upgrade their automation infrastructure. Overall, the drivers of the IO-link market encompass increased efficiency, Industry 4.0 initiatives, flexibility, scalability, and cost-effectiveness.
Restraining Factors
Despite the numerous benefits and drivers of the IO-link market, there are also some restraints that may impact its growth. One of the main challenges is the existing installed base of legacy automation systems that may not be compatible with IO-Link technology, requiring significant investment and effort for integration. Additionally, the complexity of IO-link implementation and the need for skilled personnel for setup and configuration can be a barrier for some organizations. Moreover, interoperability issues with different vendors and devices may pose compatibility challenges, limiting the seamless integration of IO-link devices. Overall, concerns around data security and the potential vulnerability of connected devices may also restrain the adoption of IO-link in certain industries.
Market Segmentation
In 2022, the IO-link wireless segment accounted for around 63.4% market share
On the basis of the type, the global IO-link market is segmented into IO-link wired and IO-link wireless. The IO-link wireless segment has emerged as the leader, holding the largest market share in the IO-Link market. This can be attributed to several factors driving its adoption. The IO-link wireless offers the advantage of eliminating the need for physical cables, enabling greater flexibility and mobility in industrial automation systems. It allows for easier installation and reconfiguration of devices, reducing the time and cost associated with wiring. The IO-link wireless addresses the demand for scalability and expansion in industrial networks. It facilitates the seamless integration of additional devices without the constraints of physical cabling, enabling quick and cost-effective network expansion. Moreover, IO-link wireless provides reliable and secure data transmission, leveraging technologies such as wireless LAN or Bluetooth. This ensures high data integrity and supports real-time communication between sensors, actuators, and control systems. These factors, combined with the growing trend towards wireless connectivity in industrial automation, contribute to the dominant market share of IO-link wireless in the IO-link industry.
The machine tools segment is expected to grow at a CAGR of around 19.4% during the forecast period
Based on application, the global IO-link market is segmented into machine tools, handling & assembly automation systems, intralogistics solutions, and packaging automation solutions. The machine tools sector is anticipated to experience significant growth in the forecast period. Several factors contribute to this expected expansion. The machine tools industry plays a critical role in various manufacturing sectors, including automotive, aerospace, electronics, and machinery. As these industries continue to evolve and grow, the demand for advanced and efficient machine tools increases. Technological advancements, such as automation, digitization, and Industry 4.0, are driving the transformation of the machine tools sector. Integration of IO-link technology in machine tools enables enhanced connectivity, real-time data exchange, and remote monitoring, leading to improved productivity and operational efficiency. Additionally, the focus on precision and quality in manufacturing processes further fuels the adoption of advanced machine tools. Moreover, the increasing investments in infrastructure development and industrialization across emerging economies in Asia-Pacific and other regions create opportunities for the expansion of the machine tools market. Overall, these factors contribute to the significant growth expected in the machine tools sector in the forecast period.
Regional Segment Analysis of the IO-Link Market
North America (U.S., Canada, Mexico)
Europe (Germany, France, U.K., Italy, Spain, Rest of Europe)
Asia-Pacific (China, Japan, India, Rest of APAC)
South America (Brazil and the Rest of South America)
The Middle East and Africa (UAE, South Africa, Rest of MEA)
Europe dominated the market with more than 38.7% revenue share in 2022.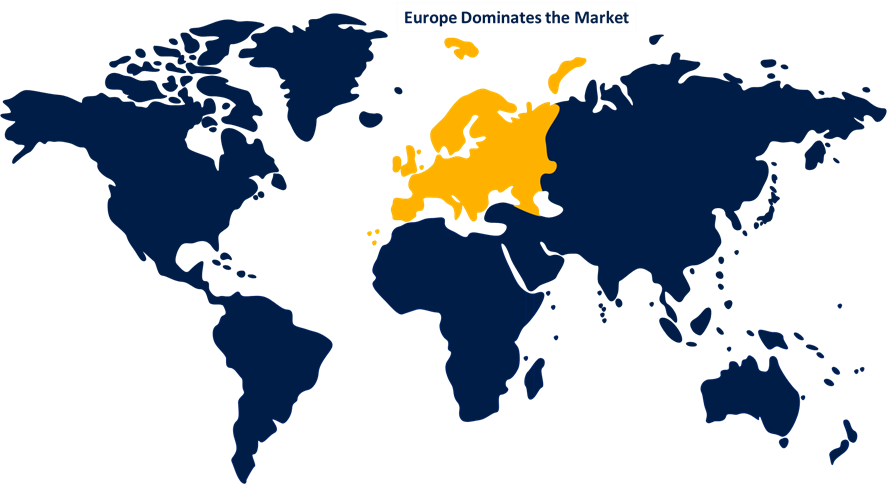 Get more details on this report -
Request Free Sample PDF
Based on region, Europe has emerged as a significant player in the IO-link market, holding the largest market share. This can be attributed to several factors. Europe is home to a robust manufacturing industry, including automotive, machinery, and industrial equipment sectors, which heavily rely on automation technologies. The region's emphasis on advanced manufacturing practices and Industry 4.0 initiatives has driven the adoption of IO-link for seamless integration of sensors and actuators into digital networks. Additionally, Europe has a strong focus on energy efficiency and sustainability, and IO-link offers the potential for optimizing energy consumption and reducing waste in industrial processes. Moreover, the presence of well-established automation solution providers and a skilled workforce in Europe has facilitated the implementation and deployment of IO-link systems. These factors combined have contributed to Europe's leading market position in the IO-link industry.
Competitive Analysis:
The report offers the appropriate analysis of the key organizations/companies involved within the global IO-link market along with a comparative evaluation primarily based on their product offering, business overviews, geographic presence, enterprise strategies, segment market share, and SWOT analysis. The report also provides an elaborative analysis focusing on the current news and developments of the companies, which includes product development, innovations, joint ventures, partnerships, mergers & acquisitions, strategic alliances, and others. This allows for the evaluation of the overall competition within the market.
List of Companies:
Siemens AG
Rockwell Automation, Inc.
OMRON Corporation
Hans Turck GmbH & Co. KG.
Balluff GmbH
IFM Electronic GmbH
Pepperl+Fuchs
Sick AG
Festo SE & Co. KG.
SMC Corporation
Key Target Audience
Market Players
Investors
End-Users
Government Authorities
Consulting and Research Firm
Venture Capitalists
Value-Added Resellers (VARs)
Recent Developments
In July 2022, Pepperl+Fuchs has introduced the CB10 series I/O hubs, providing an ideal solution for seamless integration into compact installation spaces. These CB10 modules offer direct connectivity to an IO-Link master, enabling push button boxes to become IO-Link-capable.
Market Segment
This study forecasts revenue at global, regional, and country levels from 2019 to 2032. Spherical Insights has segmented the global IO-link market based on the below-mentioned segments:
IO-Link Market, By Type
IO-Link Wired
IO-Link Wireless
IO-Link Market, By Component
IO-Link Masters
IO-Link Devices
IO-Link Market, By Application
Machine Tools
Handling & Assembly Automation Systems
Intralogistics Solutions
Packaging Automation Solutions
IO-Link Market, By Industry
Process Industries
Discrete Industries
Hybrid Industries
IO-Link Market, Regional Analysis
North America
Europe

Germany
UK
France
Italy
Spain
Russia
Rest of Europe

Asia Pacific

China
Japan
India
South Korea
Australia
Rest of Asia Pacific

South America

Brazil
Argentina
Rest of South America

Middle East & Africa

UAE
Saudi Arabia
Qatar
South Africa
Rest of Middle East & Africa
Need help to buy this report?