Global Insecticides Market Size, Share, and COVID-19 Impact Analysis, By Product Type (Organophosphates, Pyrethroids, Carbamates, Others) By Origin (Synthetic Insecticides, Bio-Insecticides, Others), By Application (Cereals & Grains, Oilseeds & Pulses, Fruits & Vegetables, Others), By Insect Pest Type (Sucking Pest Insecticides, Biting and chewing pest insecticides), By Region (North America, Europe, Asia-Pacific, Latin America, Middle East, and Africa), Analysis and Forecast 2021 – 2030
Industry: Agriculture
---
REPORT FORMAT

---
Global Insecticides Market Insights Forecasts to 2030
The Global Insecticides Market was valued at USD 13.80 Billion in 2021.
The Market is Growing at a CAGR of 4.9% from 2022 to 2030
The Global Insecticides Market is expected to reach USD 21.60 Billion by 2030
North America is expected to grow the fastest during the forecast period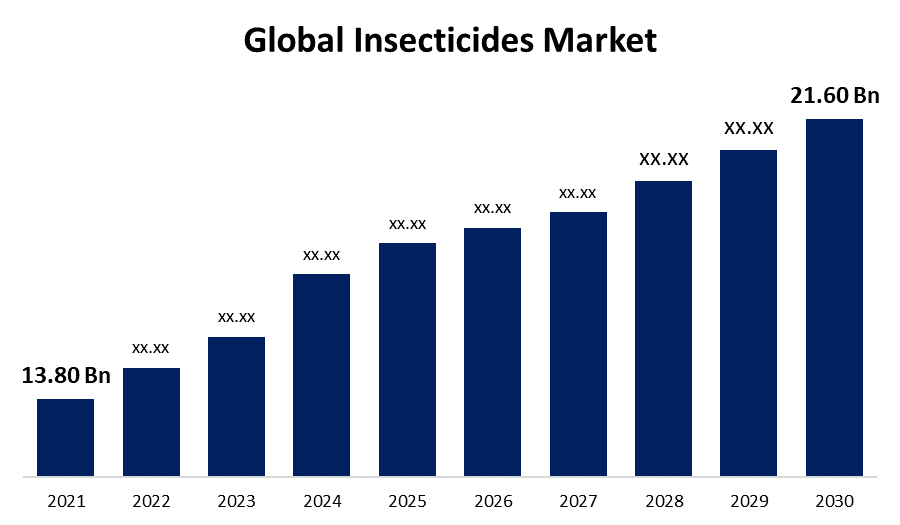 Get more details on this report -
Request Free Sample PDF
The global Insecticides market is expected to reach USD 21.60 Billion By 2030, at a CAGR of 4.9% during the forecast period 2022 to 2030. APAC region has substantiated climatic conditions which support the production of a wide variety of crops. The rise in the number of resistant pests, increasing food demand, and the need for increased agricultural productivity are the major factors driving the insecticide market in the Asia-Pacific region.
Market Overview
Insecticide products are widely used in agricultural applications to keep crops away from the attack of insects across the globe. The rapid growth of the population across the world, increasing agricultural production to satisfy the rising food demand, and developments in farming techniques and technologies are the factors that drive the market growth over the predicted time frame. Insecticides play an important role in various applications like vegetables, fruits, grains, and cereals, and oilseeds & pulses are expected to provide significant growth opportunities for the global market.
Different types of Insecticide Solutions are available in the market like systematic insecticides, biological insecticides, and others which are useful for preserving pests and crops. Sometimes the implementation method is unique like soil amendment, space recovery, and soil infusion. The most approaches are fluids, sprays, and location bait injections. Due to remarkable climate changes, a high level of plant biodiversity, growing demand for crops, and increased production in Asia Pacific countries like India, China, Japan, and the rest of APAC, the Asia Pacific area holds a prominent share of the market.
Report Coverage
This research report categorizes the market for Insecticides market based on various segments and regions and forecasts revenue growth and analyzes trends in each submarket. The report analyses the key growth drivers, opportunities, and challenges influencing the Insecticides market. Recent market developments and competitive strategies such as expansion, product launch, and development, partnership, merger, and acquisition have been included to draw the competitive landscape in the market. The report strategically identifies and profiles the key market players and analyses their core competencies in each sub-segments of the Insecticides market.
Global Insecticides Market Report Coverage
| Report Coverage | Details |
| --- | --- |
| Base Year: | 2021 |
| Market Size in 2021: | USD 13.80 Billion |
| Forecast Period: | 2021-2030 |
| Forecast Period 2021-2030 CAGR: | 4.9% |
| 2030 Value Projection: | USD 21.60 Billion |
| Historical Data for: | 2017-2020 |
| No. of Pages: | 200 |
| Tables, Charts & Figures: | 100 |
| Segments covered: | By Product Type, By Origin, By Application, By Insect Pest Type, By Region, COVID-19 Impact Analysis |
| Companies Covered: | Adama Agricultural Solutions Ltd, American Vanguard Corporation, BASF SE ,Bayer CropScience AG,Corteva Agriscience,FMC Corporation, Isagro SPA, Nufarm Ltd, Syngenta AG, Sumitomo Chemical Co. Ltd, UPL Limited, Cheminova A/S, Bioworks, Inc., AMVAC Chemical Corp |
| Pitfalls & Challenges: | COVID-19 Empact, Challenge, Future, Growth, & Analysis |
Get more details on this report -
Request Free Sample PDF
Driving Factors
Use of Insecticides for Crop Production and Protection
Wheat, rice, and corn are the most common insecticide-treated crops in the cereals and grains sector. Grains are grown in almost every nation, the worldwide demand for pesticides is significant and this growth is projected to continue over the upcoming years. Total grain output has been expanding on a global basis and with the increase in cereal production and distribution, it became increasingly important for farmers to focus on quality and yield by using appropriate pesticides.
Increase in demand for agrochemicals
The different types of agrochemicals such as insecticides, fungicides, and herbicides among others help to increase the productivity of the crops. Agriculture is a highly varying sector comprising operations from small farms to large multinational holdings. The rapid use of agricultural activities on account high demand for food products from the growing population has increased the consumption level of insecticide. Insecticides help to reduce the loss of food crops by removing the unfavorable effects of insects. According to the National Horticulture Database published by National Horticulture Board, fruit production in India stood at 99.08 million metric tonnes during 2019-20 and accounted for 6.63 million hectares of area under cultivation of fruits. Thus, an increase in demand for agrochemicals is boosting the growth of the global Insecticides market.
Rise in Research to Develop New Variants of Products
Insecticide resistance usually develops as a result of increased reliance on insecticide-based pest control of insect's pests. This tolerance grows rapidly as the heat increases, allowing insects or lice to proliferate more quickly.
Continues investigation to develop new product varieties, boost product releases, and increase operational company revenues, all benefitting the worldwide insecticides industry.
Restraining Factors
Poisonousness Related to Insecticides
Insecticides are chemicals used to kill insects. Some insecticides are also dangerous to humans. Many insecticides can cause poisoning after being inhaled, swallowed, or absorbed through the skin. Symptoms may include eye tearing, coughing, heart problems, and breathing difficulties, requiring proper handling and proper safety practices, which is restricting insecticides' acceptability for residential use. The US Environmental Protection Agency (EPA) banned the use of Endosulfan in the US in 2018.
Market Segmentation
The Insecticides market share is classified into the product, origin, application, and insect pest type.
On the basis of Product: On the basis of product, the global insecticides market is segmented into Organophosphates, Pyrethroids, Carbamates, and Others. Among these, the organophosphate segment held the largest insecticides market share in 2021, with a share of over 25.9%. Organophosphate is considered one of the most versatile classes of synthetic insecticides. The major compounds used in organophosphate are diazinon, malathion, dichlorvos, parathion, and methyl parathion.
On the basis of Application: Based on the application, the global insecticides market is segmented into Cereals & Grains, Oilseeds & Pulses, Fruits & Vegetables, and Others. Insecticides are widely used on a range of crops such as cereals, grains, oilseeds, pulses, fruits, and vegetables among others. The cereals & grains application segment dominated the global market in 2022 and accounted for the largest share of more than 41.90% of the overall market revenue. Its high share is driven by the rising consumption of cereals & grains, such as wheat, oats, corn, rice, and barley, due to their nutritional benefits. According to Food and Agriculture Organization, the production of primary crops was 9.3 billion tonnes in 2019 which was 52.8% more than in the year 2000. Thus, the growth in agricultural production increases the demand for insecticides.
On the basis of Origin: On the basis of origin, the global insecticides market is categorized into Synthetic Insecticides, Bio-Insecticides, and Others. The synthetic insecticide segment is dominant over other product types of insecticides because of the increasing population, rising food consumption, shrinking farmland, and crop loss due to insects and pathogens are all major drivers driving the global market for agricultural chemicals, particularly synthetic insecticides.
On the basis of Insect Pest Type: On the basis of insect pest type, the global Insecticides market is differentiated into sucking pest insecticide and biting and chewing pest insecticide. The sucking pest insecticide segment was the highest contributor to the market because using sucking pest insecticide is followed on a large scale for pest control aphids, thrips, and other sucking pests. It is a more effective and faster method as compared to other methods.
Regional Segment Analysis of the Global Insecticides Market
North America (U.S., Canada, Mexico)
Europe (Germany, France, U.K., Italy, Spain, Rest of Europe)
Asia-Pacific (China, Japan, India, Rest of APAC)
South America (Brazil and the Rest of South America)
The Middle East and Africa (UAE, South Africa, Rest of MEA)
Asia Pacific holds the largest market share over the forecast period.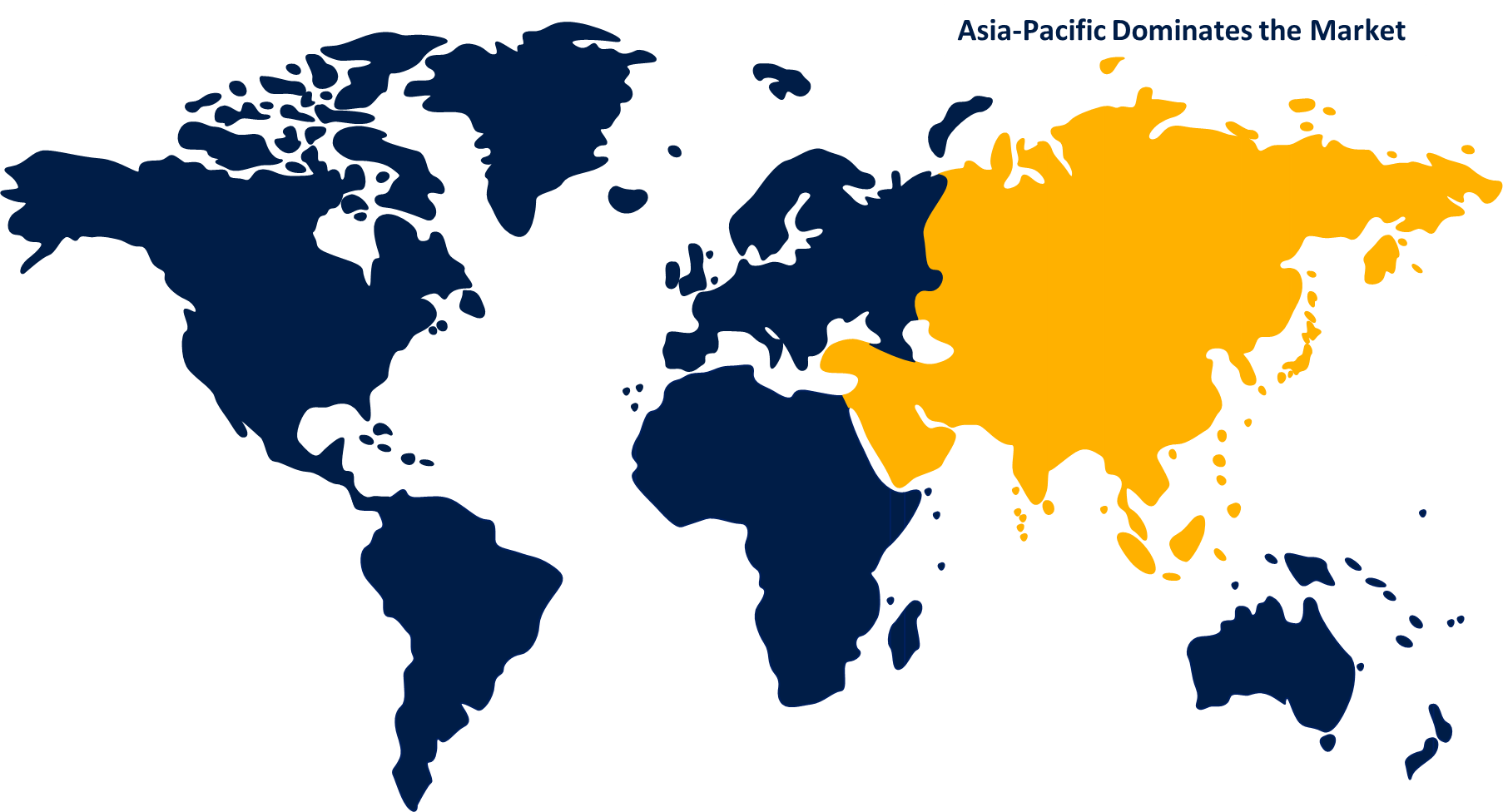 Get more details on this report -
Request Free Sample PDF
The Asia-Pacific insecticides market is anticipating productive growth in the coming future. Asia-Pacific Insecticides market is expected to generate a value of USD 8,870 million by 2030. The reason behind the growth of the Asia Pacific region has wide climatic variations and a high degree of plant diversity. Hence, the use of insecticides is extensive throughout the region. The growth is attributed to the increased demand for insecticides in the agriculture sector including fruits, vegetables, cereals and grains, oilseeds, pulses, and other commercial applications. It is also used in industrial applications to reduce the impact of insects.
Developing countries such as China, India, Malaysia, and Indonesia among others are the major countries supporting the growth of the market. The rise in demand for organic food, increase in population, and agricultural output in the region is boosting the market for insecticides.
Competitive Analysis:
The report offers the appropriate analysis of the key organizations/companies involved within the global Insecticides market along with a comparative evaluation primarily based on their product offering, business overviews, geographic presence, enterprise strategies, segment market share, and SWOT analysis. The report also provides an elaborative analysis focusing on the current news and developments of the companies, which includes product development, innovations, joint ventures, partnerships, mergers & acquisitions, strategic alliances, and others. This allows for the evaluation of the overall competition within the market.
List of Key Companies
Adama Agricultural Solutions Ltd
American Vanguard Corporation
BASF SE
Bayer CropScience AG
Corteva Agriscience
FMC Corporation
Isagro SPA
Nufarm Ltd
Syngenta AG
Sumitomo Chemical Co. Ltd
UPL Limited
Cheminova A/S
Bioworks, Inc.
AMVAC Chemical Corp.
Key Target Audience
Market Players
Investors
End-users
Government Authorities
Consulting And Research Firm
Venture capitalists
Value-Added Resellers (VARs)
Recent Developments
In April 2022, BASF SE launched Exponus Insecticide in India which is useful for farmers in the region to protect their crops from Thrips and Caterpillars & boosts crop productivity. It is registered to use on crops like pulses, oilseeds, and vegetables.
In February 2021, Syngenta Crop Protection collaborated with an artificial intelligence (AI) company, Insilico Medicine, to increase the invention and development of new, more effective crop protection solutions that protect crops from diseases and pests.
In December 2020, BASF SE launched Renestra insecticide for the growing season in 2021. It offers a complete solution for soybean farmers for controlling a wide range of insect pests.
Market Segment
This study forecasts revenue at global, regional, and country levels from 2021 to 2030. Spherical Insights has segmented the global Insecticides market based on the below-mentioned segments:
Global Insecticides Market, By Product Type
Organophosphates
Pyrethroids
Carbamates
Others
Global Insecticides Market, By Origin
Synthetic Insecticides
Bio-Insecticides
Others
Global Insecticides Market, By Application
Cereals
Grains
Oilseeds
Pulses
Fruits
Vegetables
Others
Global Insecticides Market, By Insect Pest Type
Sucking Pest Insecticides
Biting and chewing pest insecticides
Global Insecticides Market, Regional Analysis
North America
Europe

Germany
Uk
France
Italy
Spain
Russia
Rest of Europe

Asia Pacific

China
Japan
India
South Korea
Australia
Rest of Asia Pacific

South America

Brazil
Argentina
Rest of South America

Middle East & Africa

UAE
Saudi Arabia
Qatar
South Africa
Rest of Middle East & Africa
Need help to buy this report?