Global In-Mold Labels Market Size By Type (Gravure, Flexo, Offset, Screen, Digital, Others), By End User (Food, Beverage, Pharma, Domestic Care, Cosmetics & Personal Care, Others), By Geographic Scope And Forecast, 2022 - 2032
Industry: Advanced Materials
---
REPORT FORMAT

---
Global In-Mold Market Insights Forecasts to 2032
The In-Mold Market was valued at USD 18.1 Billion in 2022.
The Market is Growing at a CAGR of 7.4% from 2022 to 2032
The Worldwide In-Mold Market is expected to reach USD 31.9 Billion by 2032
Asia Pacific is expected to grow the fastest during the forecast period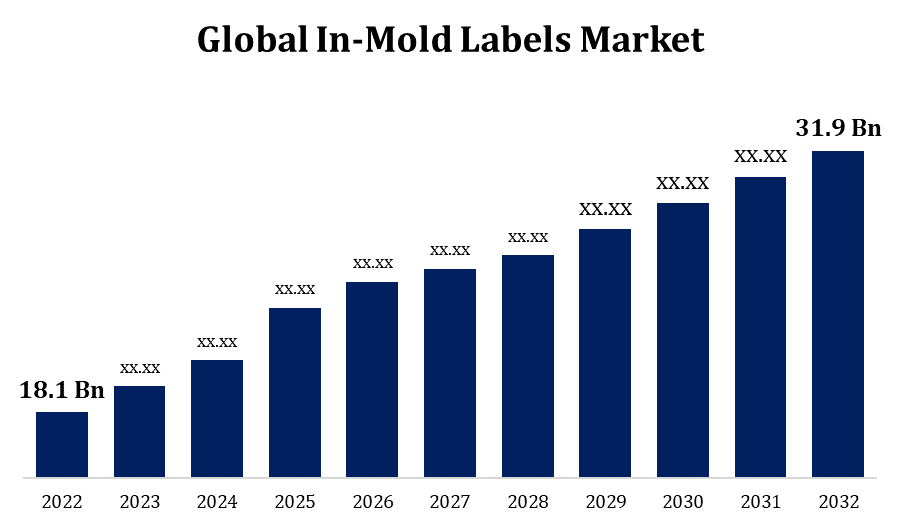 Get more details on this report -
Request Free Sample PDF
The global In-Mold Market Size is expected to reach USD 31.9 Billion by 2032, at a CAGR of 6.6% during the forecast period 2022 to 2032.
The packaging and labelling industry uses in-mold labels (In-Mold) more often than any other sort of labelling process. Prior to injecting or forming the plastic or other material, this technique includes inserting a label or graphic design that has already been printed into the mould. As a result, throughout the manufacturing process, the label is integrated into the finished product. In-mold labels are frequently utilised in sectors such consumer products, cosmetics, beverage containers, and food packaging. They are particularly well-liked for goods that need labels that are both attractive and long-lasting. Globally, the in-mold labels market has been steadily expanding. The increased demand for packaged and convenient meals, beverages, and consumer products are some of the causes contributing to this growth. Additionally, the market has grown as a result of the use of In-Mold in numerous industries due to its durability and aesthetic appeal. While there are many advantages to in-mold labelling, there are drawbacks as well, like the requirement for specialised tools and moulds. For some producers, this may operate as a barrier to entrance. In-Mold might not be appropriate for all kinds of products or package formats, as well.
Global In-Mold Labels Market Report Coverage
| Report Coverage | Details |
| --- | --- |
| Base Year: | 2022 |
| Market Size in 2022: | USD 18.1 Billion |
| Forecast Period: | 2022-2032 |
| Forecast Period 2022-2032 CAGR: | 6.6% |
| 2032 Value Projection: | USD 1360.3 Billion |
| Historical Data for: | 2019-2020 |
| No. of Pages: | 200 |
| Tables, Charts & Figures: | 110 |
| Segments covered: | By End User, By End User and COVID 19 Impact. |
| Companies Covered: | ChemGuard, I. Du Pont De Nemours and Company, 3M Company, Maflon S.p.A, Dynax Corporation, OMNOVA Solutions Inc., The Chemours Company, Advanced Polymer Inc., Merck KGaA, DIC Corporation, Pilot Chemical Corporation, and Other key vendors. |
| Pitfalls & Challenges: | COVID-19 Empact, Challenge, Future, Growth & Analysis. |
Get more details on this report -
Request Free Sample PDF
In-Mold Labels Market Price Analysis
The price of raw materials, including label substrates, inks, and plastic films, can have a big impact on In-Mold costs. In-Mold goods' costs may vary depending on how much these materials fluctuate in price. Pricing can vary depending on how intricate the label designs are and how much customisation the customer wants. It could be more expensive to make labels with complex images, elaborate finishes, or unusual designs. Pricing can be impacted by the printing technology you choose. For small runs and intricate designs, digital printing might be more flexible and affordable, although conventional flexographic printing might be more cost-effective for bigger volumes. Pricing may vary depending on how many labels are needed. Volume discounts are frequently offered on large purchases, which lowers the price per label per unit. The label's dimensions and size have an impact on the price. Costs may be greater for labels that are larger or that use more material. Custom moulds and tooling costs for the injection moulding or blow moulding process can be accounted for in the overall cost of In-Mold products. Pricing may vary depending on labour costs, which include pre-press and design work as well as facility operating expenses for a label production facility.
In-Mold Labels Market Distribution Analysis
Many In-Mold producers sell their finished products directly to makers of consumer goods, including producers of food and beverages, cosmetics, and automobiles. Direct sales provide more intimate customization and collaboration. Some In-Mold producers work with distributors or label converters who serve as middlemen. These intermediates can act as a one-stop shop for all labelling requirements and provide a variety of label options, including In-Mold. Larger In-Mold producers with a global presence may create distribution networks that cover several nations or regions. This enables them to effectively serve their multi-national clients. In-Mold products are distributed to numerous producers and end customers by logistics and shipping businesses. They guarantee prompt and effective delivery.
Market Dynamics
In-Mold Labels Market Dynamics
Increasing use of In-Mold Labels in Home and Personal Care Industry
Packaging is essential for drawing customers in the personal care and home goods industries. In-Mold enables the creation of vivid, captivating label designs with elaborate graphics and premium printing. This makes brands stand out on store shelves and successfully conveys the qualities and advantages of their products. The personal care and home goods industries typically need labels that can be altered to highlight various fragrances, formulas, or product variants. To meet these objectives, In-Mold provides flexible design and labelling options. Brands in the home and personal care industries are implementing eco-friendly packaging strategies as environmental concerns rise. Numerous household and personal care goods contain ingredients and chemicals that can tamper with conventional labelling. In-Mold labels have a reputation for being chemically resistant.
Restraints & Challenges
Easy availability of substitute products
Increased competition within the In-Mold market may result from the availability of inexpensive alternatives. For In-Mold producers to be competitive, they might need to reduce their prices or add more value-added services. Customers in markets where In-Mold is widely used, including food and beverage or cosmetics, could be price-conscious. It can be difficult to persuade customers of the extra value of In-Mold because alternatives like sticky labels can cost less. Although In-Mold is adaptable, not all package types or product requirements may be met by it. In these circumstances, alternatives like shrink sleeves or direct printing might be more useful. In-Mold may not be as cost-effective for smaller production runs or limited-edition products as traditional adhesive labels or digital printing. These specialised markets can be served by substitutes.
Regional Forecasts
North America Market Statistics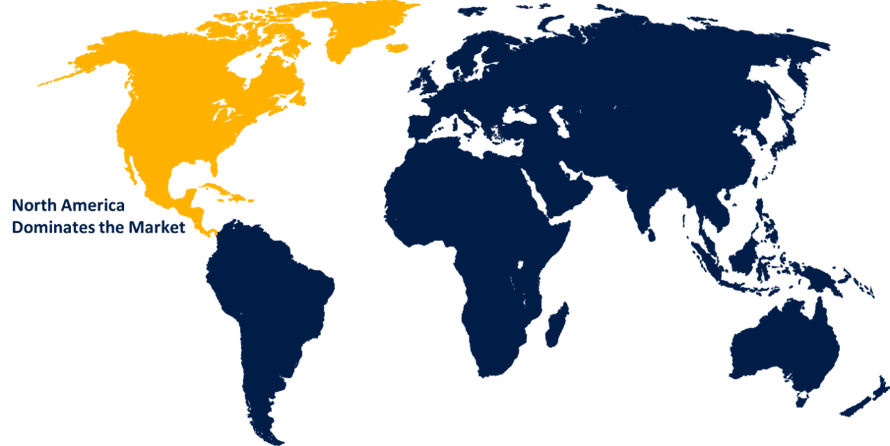 Get more details on this report -
Request Free Sample PDF
North America is anticipated to dominate the In-Mold Labels market from 2023 to 2032. In order to meet the demand for intricately designed, high-quality labels, North American In-Mold producers have adopted more and more modern printing techniques, including digital printing and better materials. In order to stand out from the competition in a crowded market, brands in North America valued label personalization options. The use of In-Mold improved branding efforts by enabling distinctive label styles and forms. With numerous established and up-and-coming firms offering a wide range of labelling solutions, the In-Mold market in North America was competitive. Competition prompted innovation and enhanced service provisions. Indirect effects of the expansion of e-commerce and online shopping in North America included packaging and labelling, especially In-Mold. For internet sales, products had to be both attractive to the eye and sturdy.
Asia Pacific Market Statistics
Asia Pacific is witnessing the fastest market growth between 2023 to 2032. One of the main industries in APAC using In-Mold was the food and beverage sector. In-Mold was used for a variety of goods, such as dairy, snacks, sauces, and drinks. In-Mold was widely used to package numerous beauty and grooming items in the personal care and cosmetics industry. In-Mold was used for interior and exterior components in the car industry in nations like Japan and South Korea, which profited from its durability and customisation possibilities. Brands around APAC loved the ability to customise labels and used In-Mold to distinguish their products and strengthen their brand identity. Particularly appealing were the distinctive label shapes and patterns.
Segmentation Analysis
Insights by Type
The printing segment accounted for the largest market share over the forecast period 2023 to 2032. Labels with detailed graphics, vivid colours, and photorealistic photographs were increasingly in demand. When brand owners wanted to improve the attractiveness of their products, they picked printing technologies that could produce such high-quality graphics. Barcodes, QR codes, and serialisation are examples of printing methods that accommodate variable data printing and so satisfy the demands of sectors demanding traceability and anti-counterfeiting measures. The demand for high-quality printed labels was fueled by the expansion of the In-Mold market in a variety of sectors, including food & beverage, cosmetics, and automotive.
Insights by End User
The food and beverage segment accounted for the largest market share over the forecast period 2023 to 2032. In order to draw customers in the cutthroat food and beverage sector, In-Mold enables complex designs and high-resolution visuals. In-Mold provides a fantastic platform for the marketing of brands. To make their items stand out on store shelves, businesses might employ eye-catching colours and distinctive designs. It can be applied to a variety of food and drink containers, such as yoghurt cups, ice cream tubs, beverage bottles, and more. In-Mold labels can improve the whole consumer experience and increase the allure of the product due to their excellent graphics and tactile feel.
Recent Market Developments
In March 2020, The M-Line robot has been introduced by Fort Collins, Colorado-based Muller Technology Colorado.
Competitive Landscape
Major players in the market
ChemGuard
Du Pont De Nemours and Company
3M Company
Maflon S.p.A
Dynax Corporation
OMNOVA Solutions Inc.
The Chemours Company
Advanced Polymer Inc.
Merck KGaA
DIC Corporation
Pilot Chemical Corporation
Market Segmentation
This study forecasts revenue at global, regional, and country levels from 2023 to 2032.
In-Mold Labels Market, Type Analysis
Gravure
Flexo
Offset
Screen
Digital
Others
In-Mold Labels Market, Printing Technology Analysis
Food Beverage
Pharma
Domestic Care
Cosmetics & Personal Care
Others
In-Mold Labels Market, Regional Analysis
Need help to buy this report?