Global Immuno Oncology Market Size, Share, and COVID-19 Impact Analysis, By Type (Immune Cell Therapy (CAR-T), Monoclonal Antibodies, Checkpoint Inhibitors, Cytokines, Cancer Vaccines, Others), By Targets (IDO1i, oncolytic virus, STING agonist, TLR agonist, TIL, MEKi, TIGIT, CPI, GITR agonist, TGF-b trap, A2AR antagonist/CD73i, LAG-3, anti-CTLA-4, MAGE-A3, VEGF, HDAC, STING, TIM-3, TGF-Beta, OX40, Others), By Indication (Malignant Tumors, Benign Tumors, Others), By End-User (Hospitals, Speciality Clinics, Others), By Region (North America, Europe, Asia-Pacific, Latin America, Middle East, and Africa), Analysis and Forecast 2021 – 2030
Industry: Healthcare
---
REPORT FORMAT

---
Global Immuno Oncology Market Forecasts to 2030
The Global Biotechnology Market Size was valued at USD 26.6 Billion in 2021
The Worldwide Market is Growing at a CAGR of 22.9% from 2022 to 2030
The Worldwide Biotechnology Market is expected to reach 154.57 USD Billion by 2030
Asia Pacific expected to Grow the fastest during the forecast period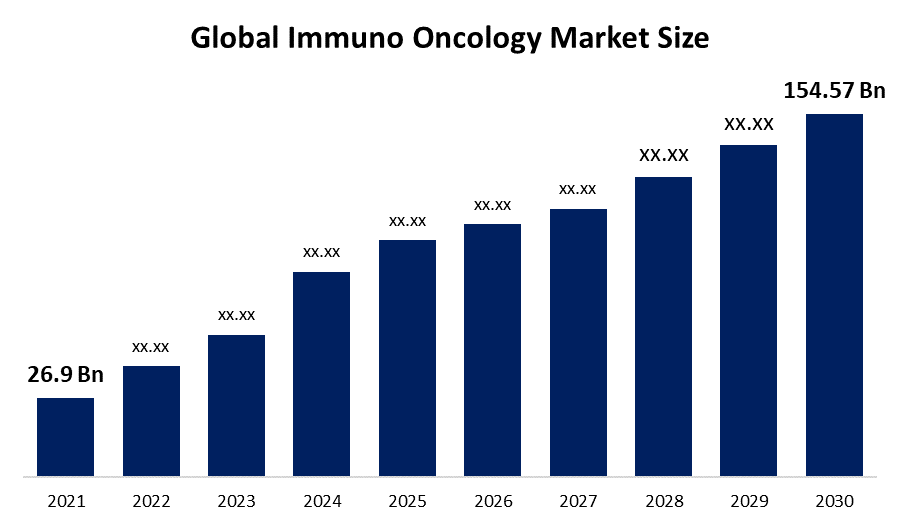 Get more details on this report -
Request Free Sample PDF
The Global Immuno Oncology Market is expected to reach USD 154.57 billion by 2030, at a CAGR of 22.9% during the forecast period 2022-2030.
Market Overview
Immuno Oncology is also known as cancer immunotherapy, which is the study of the development of a treatment that uses the body's immune system to prevent, control, and eliminate cancer. In this development therapy, the human body's immune responses are utilized both innate and adaptive to target the cancer cell. This therapy improves the immune system to find and destroy cancer cells by using molecules manufactured within the body or in a lab. Previously conventional chemotherapies were used as an alternative to immune-oncology therapies. Immuno Oncology therapies are moving to the immuno-oncology market growth over the forecast period.
For instance, according to the Cancer Research Institute, the number of active agents in immuno-oncology ranging across multiple immunotherapy approaches increased by 67% in a single year, which is brought out in natural reviews of drug discovery. Industry analysis indicates that the rising demand for Immuno-Oncology treatments is driven by changing market trends, which are expected to support industry growth as well as market growth over the forecast period. The most important drug in the development of immuno oncology thematic research is providing a classification of therapy and technologies, regulator, market access details, and product & company profiles along with information.
Report Coverage
This research report categorizes the market for Global Immuno Oncology market based on various segments and regions and forecasts revenue growth and analyses trends in each submarket. The report analyses the key growth drivers, opportunities, and challenges influencing the Global Oncology market. Recent market developments and competitive strategies such as expansion, product launch, and development, partnership, merger, and acquisition have been included to draw the competitive landscape in the market. The report strategically identifies and profiles the key market players and analyses their core competencies in each sub-segments of the market.
Global Immuno Oncology Market Report Coverage
| Report Coverage | Details |
| --- | --- |
| Base Year: | 2021 |
| Market Size in 2021: | USD 26.9 Billion |
| Forecast Period: | 2021 - 2030 |
| Forecast Period 2021 - 2030 CAGR: | 22.9% |
| 2030 Value Projection: | USD 154.57 Billion |
| Historical Data for: | 2017 - 2020 |
| No. of Pages: | 200 |
| Tables, Charts & Figures: | 120 |
| Segments covered: | By Type, By Targets, By Indication, By End- User, By Region |
| Companies Covered: | Amgen, Inc., AstraZeneca, Bristol Myers Squibb, Celgene Corporation, Eli Lilly and Company, F. Hoffmann-La Roche AG, GlaxoSmithKline Plc., Incyte, Janssen Biotech, Merck, Novartis AG, Pfizer, Roche, Sanofi, Dendreon, Spectrum Pharmaceuticals, Takeda Pharmaceuticals |
| Pitfalls & Challenges: | COVID-19 Empact, Challenge, Future, Growth, & Analysis |
Get more details on this report -
Request Free Sample PDF
Driving Factors
Nowadays, due to the increasing number of cancer patients, the global immuno oncology market is expected to reach a considerably large market size. The immune-oncology market is driving due to rising investment by the government and several pharmaceutical companies in R&D cancer treatment during the forecast period. An increasing number of cancer patients all over the world accelerate the enormous demand for immune-oncology treatment. Research and development funding is heavily invested in the fight against cancer, particularly accuracy medicine. Certainly, the future of cancer treatment is likely to involve a combination of immunotherapy and personalized therapy.
Restraining Factors
The high medical expense may produce serious problems for the market growth of immune-oncology. Because of the absence of affordable medication, there is an impact on the health of people in developing countries, resulting in shorter average life expectancy. Although high cost as compared to radiotherapy and chemotherapy along with various challenges in clinical trials is expected to restrain the immuno-oncology (IO) industry growth over the forecast period.
Market Segmentation
In 2021, Checkpoint Inhibitors is dominating the market over the forecast period.
On the basis of type, the global immuno oncology market is segmented into Immune Cell Therapy (CAR-T), Monoclonal Antibodies, Checkpoint Inhibitors, Cytokines, Cancer Vaccines, Others, among these, the checkpoint inhibitor is dominating the market with the largest market share over the forecast period. Checkpoint Inhibitors held the largest market share in 2021. Checkpoint inhibitors are made by different stem cells such as T cells, and cancer cells. These inhibitors block checkpoint proteins to connect with their companion proteins which allow T cells to destroy the cancer cells. The checkpoint inhibitors are further subdivided as CTLA-4, PD-1, and PD-L1. Among these CTLA-4 and PD-1 are primarily found in T-cells and PD-L1 in cancer cells. Nivolumab and pembrolizumab drugs are mostly used in the prevention of PD-1. These drugs are also used for other different cancer types such as melanoma skin cancer, Hodgkin lymphoma and non-small cell lung cancer as well as for some kidney cancers, head cancer, neck cancer and for urinary tract cancer pembrolizumab is used.
In 2021, Benign has projected the largest market share during the forecast period
Based on indications, the immuno-oncology is categorized into malignant tumors, benign tumors, and Others. In 2021, the Benign segment accounted for the largest market share during the forecast period. The benign tumour moves towards growing slowly and avoids spreading easily, and can become quite large but it will not damage the nearby tissues or spread to other parts of the body. Examples of Benign tumours are fibroids in the uterus and lipomas in the skin. The benign causes extreme pain or other complications if they compress against nerves or blood vessels and may trigger the overproduction of hormones in the endocrine system.
Regional Segment Analysis of the Global Immuno-Oncology Market
North America (U.S., Canada, Mexico)
Europe (Germany, France, U.K., Italy, Spain, Rest of Europe)
Asia-Pacific (China, Japan, India, Rest of APAC)
South America (Brazil and the Rest of South America)
The Middle East and Africa (UAE, South Africa, Rest of MEA)
North America is influencing the market over the forecast period.
North America is expected to maintain its dominance during the forecast period owing to the rising geriatric population with the conjunction of developed healthcare infrastructure. Rising cancer cases in North America are expected to build opportunities for the market growth owing to the presence of key market players. The incidence of disease rising is dominating the North American immuno-oncology market.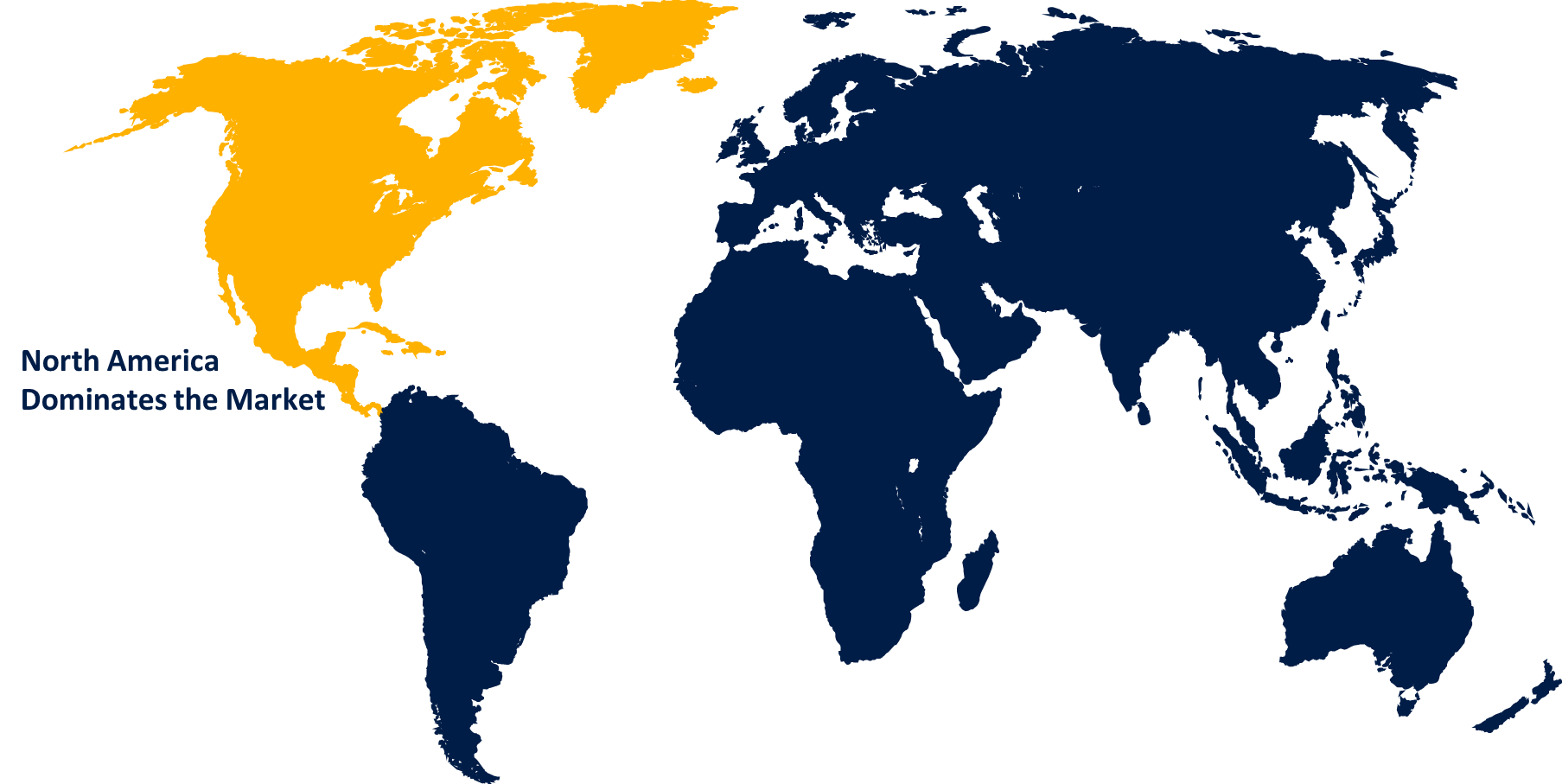 Get more details on this report -
Request Free Sample PDF
Asia Pacific is anticipated to have the highest growth rate over the projection period of 2023-2030 due to the uptake of cancer immunotherapy expanding at a good value. Due to enhanced factors like medical infrastructure, rise in disposable income and increased patient awareness, Asia Pacific will command the growth of the global market.
Competitive Analysis:
The report offers the appropriate analysis of the key organizations/companies involved within the global Immuno Oncology market along with a comparative evaluation primarily based on their product offering, business overviews, geographic presence, enterprise strategies, segment market share, and SWOT analysis. The report also provides an elaborative analysis focusing on the current news and developments of the companies, which includes product development, innovations, joint ventures, partnerships, mergers & acquisitions, strategic alliances, and others. This allows for the evaluation of the overall competition within the market.
List of Key Companies
Amgen, Inc.
AstraZeneca
Bristol Myers Squibb
Celgene Corporation
Eli Lilly and Company
F. Hoffmann-La Roche AG
GlaxoSmithKline Plc.
Incyte
Janssen Biotech
Merck
Novartis AG
Pfizer
Roche
Sanofi
Dendreon
Spectrum Pharmaceuticals
Takeda Pharmaceuticals
Key Target Audience
Market Players
Investors
End-users
Government Authorities
Consulting And Research Firm
Venture capitalists
Value-Added Resellers (VARs)
Recent Developments
In June 2021, GlaxoSmithKline plc and Iteos Therapeutics declared an acceptance of co-develop and co-commercialise EOS-448, an anti-TIGIT monoclonal antibody currently in phase I development as a potential treatment for patients with cancer. With this association GSK is uniquely placed with access to antibodies that mutually target all three known CD226 checkpoints - TIGIT, CD96 and PVRIG.
Market Segment
This study forecasts revenue at global, regional, and country levels from 2021 to 2030. Spherical Insights has segmented the global Immuno Oncology market based on the below-mentioned segments:
Global Immuno Oncology Market, By Type
Immune Cell Therapy (CAR-T)
Monoclonal Antibodies
Checkpoint Inhibitors
Cytokines,
Cancer Vaccines
Others
Global Immuno Oncology Market, By Novel Targets
IDO1i
LAG-3 CPI
Oncolytic virus
STING agonist
TLR agonist
HDACi
TIL
VEGFi
MEKi
TIGIT
CPI
GITR agonist
TGF-b trap
A2AR antagonist/CD73i
Global Immuno Oncology Market, By Indication
Malignant Tumors
Benign Tumors
Others
Global Immuno Oncology Market, By End Users
Hospitals
Speciality Clinics
Others
Global Immuno Oncology Market, Regional Analysis
North America
Europe

Germany
Uk
France
Italy
Spain
Russia
Rest of Europe

Asia Pacific

China
Japan
India
South Korea
Australia
Rest of Asia Pacific

South America

Brazil
Argentina
Rest of South America

Middle East & Africa

UAE
Saudi Arabia
Qatar
South Africa
Rest of the Middle East & Africa
Need help to buy this report?