Global Horticulture Lighting Market Size, Share, and COVID-19 Impact Analysis, By Technology (Fluorescent, HID, LED, High Pressure Sodium, Metal Halide, Other Technologies) By Type (Top Lighting, Inter lighting) By Application (Indoor Farming, Greenhouse, Vertical Farming, Others) By Installation (New Installations, Retrofit Installations) by Region (North America, Europe, Asia-Pacific, Latin America, Middle East, and Africa) Analysis and Forecast 2021 – 2030)
Industry: Electronics, ICT & Media
---
REPORT FORMAT

---
Global Horticulture Lighting Market Insights Forecasts to 2030
The Horticulture Lighting Market size was valued at USD 6 billion in 2021.
The market is growing at a CAGR of 19% from 2022 to 2030
The Global Horticulture Lighting Market is expected to reach USD 19 billion by 2030
Asia Pacific is expected to grow the fastest during the forecast period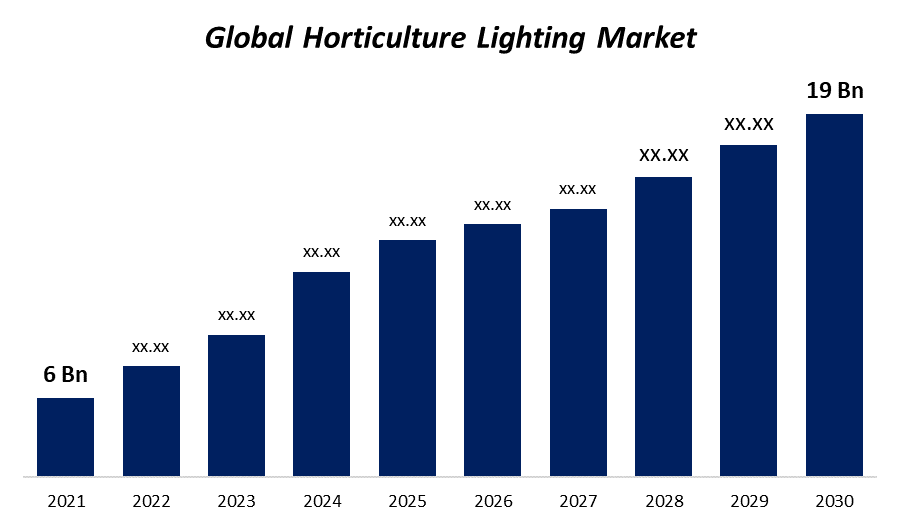 Get more details on this report -
Request Free Sample PDF
The Global Horticulture Lighting Market is expected to reach USD 19 billion by 2030, at a CAGR of 19% during the forecast period 2022 to 2030. The COVID-19 pandemic has been inapt and staggering with the horticulture lighting market facing considerable losses across different regions as compared to pre-pandemic levels due to the steady demands for products and solutions.
Market Overview
As sunlight is basically considered for the growth of plants since the existence of mankind but in case of indoor or greenhouse farming sunlight is replaced with horticulture lighting for large-scale and professional operations tending towards HID and LED lamps for most auxiliary and alternate lighting for plant growth. Horticulture lighting produces better plant growth by utilizing the intensity conditions according to the need of plants that help boost the boost throughout the season. Due to the increasing knowledge regarding sustainability, resourcefulness has been taken by governments and institutions globally to advance horticulture with effective and efficient lighting.
Report Coverage
This research report categorizes the market for Horticulture Lighting market based on various segments and regions and forecasts revenue growth and analyzes trends in each submarket. The report analyses the key growth drivers, opportunities, and challenges influencing the Horticulture Lighting market. Recent market developments and competitive strategies such as expansion, product launch and development, partnership, merger, and acquisition have been included to draw the competitive landscape in the market. The report strategically identifies and profiles the key market players and analyses their core competencies in each sub-segments of the Horticulture Lighting market.
Driving Factors
As the alternating solutions regarding increasing health concerns to improper growth of plants using excessive amounts of fertilizers horticulture lighting has replaced many small and medium-sized farms for its nutritious cultivating and healthy food is rapidly gaining the market around the world. Indoor farming is gaining more popularity in city areas owing to the demand for organic and food scarcity. The world market is prioritizing the horticulture lighting sector to meet the demands of drought-filled regions and further advance exports globally. Furthermore, the rapid development of lighting technology with higher radiant efficiency is having a booming impact on potential look-in for the horticulture lighting market expansion. In addition market for horticulture lighting systems is expanding in vertical farming applications & top competitors are coming up with initiatives that support the farmers economically.
Global Horticulture Lighting Market Report Coverage
| Report Coverage | Details |
| --- | --- |
| Base Year: | 2021 |
| Market Size in 2021: | USD 6 Billion |
| Forecast Period: | 2021-2030 |
| Forecast Period 2021-2030 CAGR: | 19% |
| 2030 Value Projection: | USD 19 Billion |
| Historical Data for: | 2017-2020 |
| No. of Pages: | 209 |
| Tables, Charts & Figures: | 119 |
| Segments covered: | By Technology, By Type, By Application, By Installation, By Region, COVID-19 Impact Analysis |
| Companies Covered: | Signify Lighting  Solutions, OSRAM, Hortilux Schreder B.V., Hubbell, Eye Hortilux, Bridgelux, Heliospectra, GE Lighting, LumiGrow, Agrolux, Lumileds, PARsource, Maxigrow, Gavita Holland B.V., California Lightworks |
| Pitfalls & Challenges: | Due to the increasing number of COVID-19 cases |
Get more details on this report -
Request Free Sample PDF
Restraining Factors
Horticulture lighting is rapidly gaining popularity as more people realize its benefits for lighting devices. But the high manufacturing and installation costs which need huge initial capital are constraining the market growth. The one-time installation of energy-saving LED light technologies, the limiting number of crops to yield results in the major constraining element that limits the growth of market.
Market Segmentation
In 2021, LED segment is dominating the market with the highest CAGR over the forecast period.
On the basis of technology, the global horticulture lighting market is segmented into Fluorescent, HID, LED, High Pressure Sodium, Metal Halide, Other Technologies. Among these, LED is supposed to have the largest share in of the market based on technology 2021. The distinguished properties of LED light like energy-efficient, low heat emission, compact size and life span of tens of thousands of hours.
In 2021, Inter Lighting segment is witnessing the significant growth over the forecast period.
Based on Type, the global horticulture lighting market is segmented into top lighting, inter lighting. Among these, inter lighting segment is witnessing a huge market growth over the forecasted period. Inter lighting is the latest concept in horticultural that concentrate on growth-stimulating light on the most vital parts of the crop, like leaves and veins. Top lighting is the most widely and conventionally used lighting type in indoor cultivation and accounts for the most of the market share.
In 2021, Greenhouse segment to generate the highest revenue over the predicted timeframe.
On the basis of Application, the global horticulture lighting market is segmented into Indoor Farming, Greenhouse, Vertical Farming, Others. The greenhouses segment is anticipated to dominate the application segment. The greenhouse emphasizes horticulture practices to be done in an isolated & controlled environment that ensures optimum yield. Increasing demands greenhouse cultivation for organic fruit and vegetables in urban cities, promoting healthy food is expected to drive the growth of greenhouse market.
In 2021, Retrofit Installation segment is anticipated to generate the highest revenue over the forecast period.
Based on Installation, the global horticulture lighting market is segmented into New Installations, Retrofit Installations. In installation type, retrofit Installation segment is expected to generate the highest revenue over the forecast period as the retrofit installation is mostly used in commercial greenhouses and vertical farming to aid in energy saving, providing supplementary light for a better quality of yield. In addition, it helps in low operation cost of greenhouses and vertical farming. These elements fuel the greater expansion of the market globally.
Regional Segment Analysis of the Horticulture Lighting Market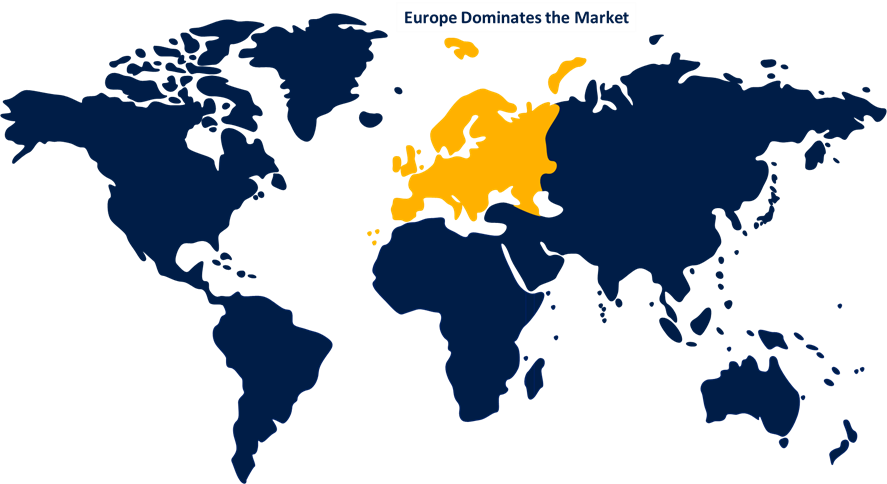 Get more details on this report -
Request Free Sample PDF
North America (U.S., Canada, Mexico)
Europe (Germany, France, U.K., Italy, Spain, Rest of Europe)
Asia-Pacific (China, Japan, India, Rest of APAC)
South America (Brazil and the Rest of South America)
The Middle East and Africa (UAE, South Africa, Rest of MEA)
Europe region is expected to dominate with the largest market by 2030
Europe region is expected to dominate with the largest market by 2030. The European region can attributed as top three in the strongest economies in the world, along with the further developing industries that has the capital investment capabilities. In addition, countries such as France, Netherland, Italy and France have large areas for greenhouse cultivation. Use of LED for indoor and vertical farming for supplement growth of yield has further improved the market of these countries. The Europe's initiatives to energize the adoption of LED grow lights are likely to provide increasing in the opportunities for producers of LED modules and lamps in Europe.
Competitive Analysis:
The report offers the appropriate analysis of the key organizations/companies involved within the global Horticulture Lighting market along with a comparative evaluation primarily based on their product offering, business overviews, geographic presence, enterprise strategies, segment market share, and SWOT analysis. The report also provides an elaborative analysis focusing on the current news and developments of the companies, which includes product development, innovations, joint ventures, partnerships, mergers & acquisitions, strategic alliances, and others. This allows for the evaluation of the overall competition within the market.
List of Key Market Players
Signify Lighting Solutions
OSRAM
Hortilux Schreder B.V.
Hubbell
Eye Hortilux
Bridgelux
Heliospectra
GE Lighting
LumiGrow
Agrolux
Lumileds
PARsource
Maxigrow
Gavita Holland B.V.
California Lightworks
Key Target Audience
Market Players
Investors
End-users
Government Authorities
Consulting And Research Firm
Venture capitalists
Value-Added Resellers (VARs)
Recent Development
In February 2022, California Light Works introduced the latest vertical series for indoor cannabis practices to reduce heat, energy consumption and carbon footprint.
In March 2020, Signify Lighting Solutions collaborated with Planet Farms farm operator in Europe to provide horticulture LED lights and to build and expand its operations in countries such as U.K., Switzerland, and other EU's region.
Market Segment
This study forecasts revenue at global, regional, and country levels from 2019 to 2030. Spherical Insights has segmented the Global Horticulture Lighting Market based on the below-mentioned segments:
Horticulture Lighting Market, By Technology
Fluorescent
HID
LED
High Pressure Sodium
Metal Halide
Other Technologies
Horticulture Lighting Market, By Type
Top Lighting
Inter lighting
Horticulture Lighting Market, By Application
Indoor Farming
Greenhouse
Vertical Farming
Others
Horticulture Lighting Market, By Installation
New Installations
Retrofit Installations
Horticulture Lighting Market, Regional Analysis
North America
Europe

Germany
Uk
France
Italy
Spain
Russia
Rest of Europe

Asia Pacific

China
Japan
India
South Korea
Australia
Rest of Asia Pacific

South America

Brazil
Argentina
Rest of South America

Middle East & Africa

UAE
Saudi Arabia
Qatar
South Africa
Rest of Middle East & Africa
Need help to buy this report?