Global Hemoglobinopathies Market Size, Share, and COVID-19 Impact Analysis, By Indication Type (Sickle Cell Disease, Alpha Thalassemia, and Beta Thalassemia), By Test Type (Red blood cell (RBC) count test, Genetic testing, hemoglobin by high-performance liquid chromatography (HPLC) test, Hemoglobin isoelectric (Hb IEF) focusing, Hemoglobin electrophoresis (Hb ELP) test, and Hemoglobin solubility test), By End-User (Hospitals, Diagnostic Laboratories, and Clinics), By Region (North America, Europe, Asia-Pacific, Latin America, Middle East, and Africa), Analysis and Forecast 2022 – 2032
Industry: Healthcare
---
REPORT FORMAT

---
Global Hemoglobinopathies Market Insights Forecasts to 2032
The Hemoglobinopathies Market Size was valued at USD 7.85 Billion in 2022.
The Market Size is Growing at a CAGR of 9.5% from 2022 to 2032
The Worldwide Hemoglobinopathies Market is expected to reach USD 19.45 Billion by 2032
Asia-Pacific is expected to Grow fastest during the forecast period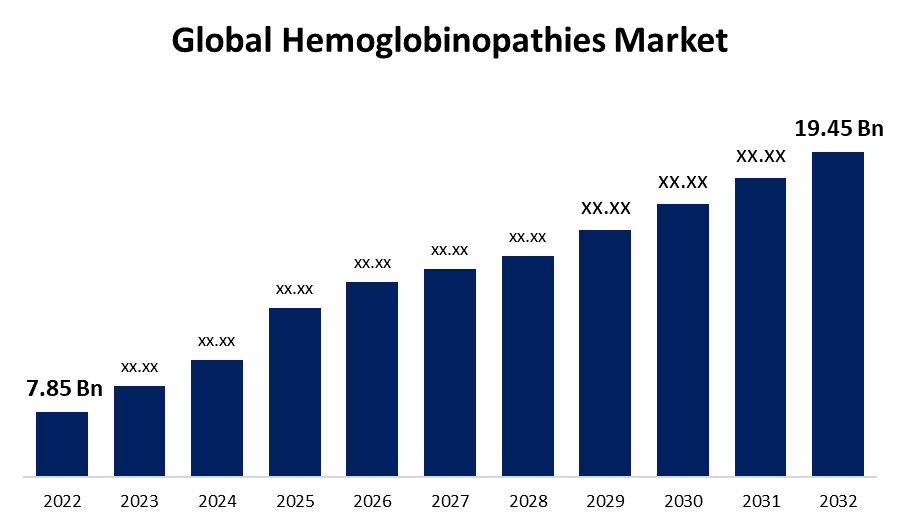 Get more details on this report -
Request Free Sample PDF
The Global Hemoglobinopathies Market Size is expected to reach USD 19.45 Billion by 2032, at a CAGR of 9.5% during the forecast period 2022 to 2032.
Market Overview
Hemoglobinopathies are a group of genetic disorders characterized by abnormalities in the structure or production of hemoglobin, the protein responsible for transporting oxygen in red blood cells. The most common and well-known hemoglobinopathy is sickle cell disease, where a mutation in the HBB gene results in the formation of abnormal, crescent-shaped red blood cells that can cause vaso-occlusive crises, anemia, and various complications. Thalassemias, another group of hemoglobinopathies, involve reduced production of either the alpha or beta globin chains, leading to an imbalance in hemoglobin subunits and subsequent anemia. Hemoglobinopathies predominantly affect populations in regions where malaria is endemic, as the genetic variations can provide some resistance to the disease. Diagnosis, management, and treatment options for hemoglobinopathies have advanced significantly in recent years, but these conditions still pose significant health challenges for affected individuals and their families.
Report Coverage
This research report categorizes the market for hemoglobinopathies market based on various segments and regions and forecasts revenue growth and analyzes trends in each submarket. The report analyses the key growth drivers, opportunities, and challenges influencing the hemoglobinopathies market. Recent market developments and competitive strategies such as expansion, product launch, and development, partnership, merger, and acquisition have been included to draw the competitive landscape in the market. The report strategically identifies and profiles the key market players and analyses their core competencies in each sub-segments of the hemoglobinopathies market.
Global Hemoglobinopathies Market Report Coverage
| Report Coverage | Details |
| --- | --- |
| Base Year: | 2022 |
| Market Size in 2022: | USD 7.85 Billion |
| Forecast Period: | 2022-2032 |
| 2032 Value Projection: | USD 19.45 Billion |
| Historical Data for: | 2018-2021 |
| No. of Pages: | 200 |
| Tables, Charts & Figures: | 100 |
| Segments covered: | By Indication Type, By Test Type, By End-User, By Region and COVID-19 Impact Analysis |
| Companies Covered: | Sangamo Therapeutics, Inc., Global Blood Therapeutics, Inc., Bluebird Bio, Inc., Emmaus Life Sciences Inc., Pfizer, Inc., Novartis AG, Prolong Pharmaceuticals, LLC, Bioverativ Inc., Gamida Cell, Celgene Corporation, and Other Market Players |
| Pitfalls & Challenges: | COVID-19 Empact,Challenges, Future, Growth, & Analysis |
Get more details on this report -
Request Free Sample PDF
Driving Factors
The market for hemoglobinopathies, a group of genetic blood disorders including sickle cell disease and thalassemias, is influenced by several key drivers, such as a growing global population, particularly in regions with a high prevalence of hemoglobinopathies, is contributing to the increasing patient pool, driving demand for diagnostics and treatments. Additionally, greater awareness and improved screening methods have led to earlier diagnosis, further expanding the market. Advancements in medical research and biotechnology are pivotal drivers as well. Novel therapies such as gene therapy and gene editing hold promise for potentially curative treatments, attracting substantial investments from pharmaceutical and biotech companies. Furthermore, increasing government initiatives and support for rare disease research and treatment development, coupled with regulatory incentives like orphan drug status and fast-track designations, have spurred research and development activities in the hemoglobinopathies sector. Patient advocacy groups and their efforts to raise awareness, improve patient access to care, and push for policy changes have gained momentum, influencing the market dynamics. This has led to greater emphasis on patient-centric approaches in treatment development and healthcare delivery. In recent years, the market has witnessed a surge in innovative treatment modalities, including gene therapies, disease-modifying drugs, and stem cell transplants. These therapies offer the potential to transform the treatment landscape and improve the quality of life for patients, driving investments and partnerships in the field. Additionally, the globalization of healthcare and increased collaborations between academic institutions, pharmaceutical companies, and healthcare providers have facilitated the sharing of knowledge and resources, accelerating the development of new treatments and therapies.
Restraining Factors
The hemoglobinopathies market faces several restraints that impact its growth and development, limited awareness and understanding of these rare disorders among healthcare professionals and the general population can result in delayed diagnosis and hinder patient access to appropriate care. Additionally, the high cost associated with developing innovative therapies like gene editing and gene therapy poses a significant financial challenge for both patients and healthcare systems. Furthermore, regulatory complexities and varying reimbursement policies across different regions can slow down the approval and adoption of new treatments. The lack of infrastructure and resources in low-income regions with a high prevalence of hemoglobinopathies can limit access to adequate healthcare and treatment options, exacerbating the burden of the disease in these areas.
Market Segmentation
In 2022, the sickle cell disease segment accounted for around 42.5% market share
On the basis of the indication type, the global hemoglobinopathies market is segmented into sickle cell disease, alpha thalassemia, and beta thalassemia. The sickle cell disease segment has secured the largest market share in the hemoglobinopathies market due to its high prevalence and significant disease burden, particularly in regions like Sub-Saharan Africa and certain parts of North America. This segment has attracted substantial research investments and pharmaceutical developments, leading to a broader range of therapeutic options. Additionally, the growing recognition of sickle cell disease as a global health concern has prompted increased funding, awareness, and advocacy efforts, further propelling its prominence within the hemoglobinopathies market.
The red blood cell count test segment held the largest market with more than 32.8% revenue share in 2022
Based on the test type, the global hemoglobinopathies market is segmented into red blood cell count test, genetic testing, hemoglobin by high-performance liquid chromatography test, hemoglobin isoelectric focusing, hemoglobin electrophoresis test, and hemoglobin solubility test. The red blood cell count test segment has claimed the largest market share in the hemoglobinopathies diagnostic market due to its fundamental role in assessing and diagnosing various blood disorders, including hemoglobinopathies. It serves as a key initial screening tool for healthcare providers to detect abnormalities in red blood cell count, shape, and hemoglobin content, which are critical indicators of these conditions. With the rising prevalence of hemoglobinopathies, the demand for accurate and reliable diagnostic tests has surged, driving the dominance of the red blood cell count test segment in the market.
The diagnostic laboratories segment held the largest market with more than 45.2% revenue share in 2022
Based on the end-user, the global hemoglobinopathies market is segmented into hospitals, diagnostic laboratories, and clinics. The diagnostic laboratories segment has emerged as the dominant player in the hemoglobinopathies diagnostic market due to its pivotal role in offering comprehensive and precise diagnostic services. These specialized laboratories possess state-of-the-art equipment and highly trained personnel, enabling them to conduct a wide range of tests and analyses, including genetic testing and hemoglobin electrophoresis. As hemoglobinopathies often require complex and specialized diagnostics for accurate identification and classification, diagnostic laboratories provide essential services, making them the primary choice for healthcare providers and patients, thus contributing to their largest market share.
Regional Segment Analysis of the Hemoglobinopathies Market
North America (U.S., Canada, Mexico)
Europe (Germany, France, U.K., Italy, Spain, Rest of Europe)
Asia-Pacific (China, Japan, India, Rest of APAC)
South America (Brazil and the Rest of South America)
The Middle East and Africa (UAE, South Africa, Rest of MEA)
North America dominated the market with more than 36.4% revenue share in 2022.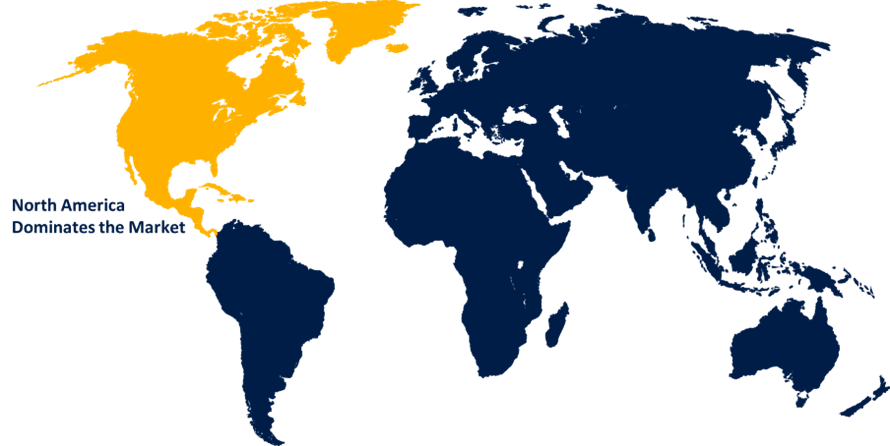 Get more details on this report -
Request Free Sample PDF
Based on region, North America's dominant revenue share in the hemoglobinopathies market can be attributed to advanced healthcare infrastructure, high healthcare expenditure, and a strong focus on research and development. Additionally, North America has a relatively large population with diverse ethnic backgrounds, including populations with a higher prevalence of hemoglobinopathies such as sickle cell disease. These factors collectively drive demand for diagnostics, treatments, and therapies, making North America a significant contributor to the market's revenue share.
Asia Pacific region is projected for the fastest growth in the hemoglobinopathies market due to several key factors, such as rising population numbers, particularly in countries like India and China, which contribute to a substantial patient pool. Additionally, improving healthcare infrastructure, increasing awareness, and expanding access to advanced diagnostics and treatments are driving market growth. Moreover, Asia Pacific's growing biotechnology and pharmaceutical industry, coupled with government initiatives to address rare diseases, are fostering research and development efforts, creating a conducive environment for rapid market expansion in the coming years.
Recent Developments
In March 2023, Bluebird Bio applied to the FDA for approval of their sickle cell gene therapy, lovo-cel. When approved, the medicine would compete with CRISPR Therapeutics and Vertex Pharmaceuticals. The treatment is scheduled to be available for purchase in the second half of this year.
In May 2023, The Union Minister of State for Health and Family Welfare launched the third phase of the Health Ministry's Thalassemia Bal Sewa Yojana. In addition, the government created the Thalassemia Bal Sewa Yojana Portal.
Competitive Analysis:
The report offers the appropriate analysis of the key organizations/companies involved within the global hemoglobinopathies market along with a comparative evaluation primarily based on their product offering, business overviews, geographic presence, enterprise strategies, segment market share, and SWOT analysis. The report also provides an elaborative analysis focusing on the current news and developments of the companies, which includes product development, innovations, joint ventures, partnerships, mergers & acquisitions, strategic alliances, and others. This allows for the evaluation of the overall competition within the market.
List of Companies:
Sangamo Therapeutics, Inc.
Global Blood Therapeutics, Inc.
Bluebird Bio, Inc.
Emmaus Life Sciences Inc.
Pfizer, Inc.
Novartis AG
Prolong Pharmaceuticals, LLC
Bioverativ Inc.
Gamida Cell
Celgene Corporation
Key Target Audience
Market Players
Investors
End-Users
Government Authorities
Consulting and Research Firm
Venture Capitalists
Value-Added Resellers (VARs)
Market Segment
This study forecasts revenue at global, regional, and country levels from 2019 to 2032. Spherical Insights has segmented the global hemoglobinopathies market based on the below-mentioned segments:
Hemoglobinopathies Market, By Indication Type
Sickle Cell Disease
Alpha Thalassemia
Beta Thalassemia
Hemoglobinopathies Market, By Test Type
Red blood cell (RBC) count test
Genetic testing, hemoglobin by high-performance liquid chromatography (HPLC) test
Hemoglobin isoelectric (Hb IEF) focusing
Hemoglobin electrophoresis (Hb ELP) test
Hemoglobin solubility test
Hemoglobinopathies Market, By End-User
Hospitals
Diagnostic Laboratories
Clinics
Hemoglobinopathies Market, Regional Analysis
North America
Europe

Germany
UK
France
Italy
Spain
Russia
Rest of Europe

Asia Pacific

China
Japan
India
South Korea
Australia
Rest of Asia Pacific

South America

Brazil
Argentina
Rest of South America

Middle East & Africa

UAE
Saudi Arabia
Qatar
South Africa
Rest of Middle East & Africa
Need help to buy this report?