Global Hearables Market Size, By Type (In Ear, On Ear, Over Ear), By Products (Headsets, Earbuds, Hearing Aids), By Connectivity Technology (Wired, Wireless), By End User (Consumer, Industrial, Healthcare, Others), By Geographic Scope and Forecast, 2023 – 2032
Industry: Consumer Goods
---
REPORT FORMAT

---
Global Hearables Market Size, Forecasts to 2032
The Hearables Market Size was valued at USD 34.3 Billion in 2022.
The Market is Growing at a CAGR of 13.6% from 2022 to 2032
The Global Hearables Market Size is expected to reach USD 123.3 Billion by 2032
North America is expected to grow the fastest during the forecast period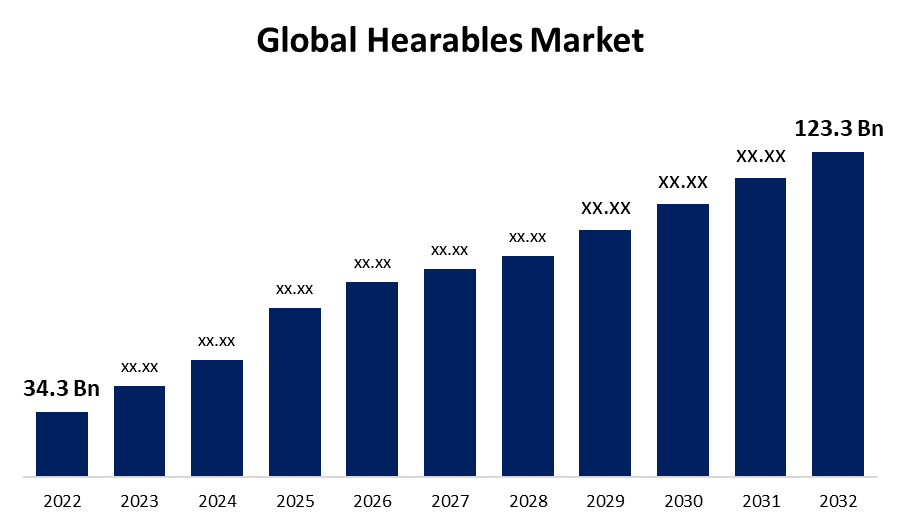 Get more details on this report -
Request Free Sample PDF
The Global Hearables Market Size is expected to reach USD 123.3 Billion by 2032, at a CAGR of 13.6% during the forecast period 2022 to 2032.
Hearables, often known as smart earbuds, are wireless in-ear devices that amplify sound and provide other functions. Hearables for hearing health are separated from hearables for other applications. Hearables, as opposed to typical earbuds, contain specialized processors and internal storage, allowing them to function without being connected to a phone, computer, or other smart device. Because they include capabilities such as sound amplification, feedback cancellation, and directional microphones, hearables are a popular alternative to hearing aids. In addition, hearables can be outfitted with biometric sensors, which can be used for health monitoring and fitness tracking. Hearables are also beneficial in industrial applications for short and long-distance inter-team communication. The increased demand for wireless headphones and infotainment devices is significantly boosting the steady expansion of the hearables market, because of a switch in consumer preference from traditional wired headphones to wireless models, as wireless earbuds and headphones are equipped with Bluetooth and Wi-Fi technology, allowing users to connect their phones to other devices and headsets. In addition, an increase in demand for miniature wearable electronic devices for health monitoring is propelling market expansion.
Global Hearables Market Report Coverage
| Report Coverage | Details |
| --- | --- |
| Base Year: | 2022 |
| Market Size in 2022: | USD 34.3 Billion |
| Forecast Period: | 2022-2032 |
| Forecast Period 2022-2032 CAGR: | 13.6% |
| 2032 Value Projection: | USD 123.3 Billion |
| Historical Data for: | 2019-2021 |
| No. of Pages: | 200 |
| Tables, Charts & Figures: | 120 |
| Segments covered: | By Type, By Products, By Connectivity Technology, By End User and By Geographic Scope |
| Companies Covered: | Apple, Inc., Bose Corporation, BRAGI GmbH, Koninklijke Philips N.V., Samsung Electronics Co., Ltd., Sony Corporation, Sennheiser Electronic GMBH & Co. KG, Skullcandy, Inc., Jabra (GN Store Nord A/S), LG Electronics, Doppler, Miracle-Ear, Valancell, Earin AB, and Others. |
| Growth Drivers: | Rising demand for highly sophisticated wireless hearables will drive market expansion. |
| Pitfalls & Challenges: | COVID-19 Empact, Challenges, Future, Growth, & Analysis |
Get more details on this report -
Request Free Sample PDF
Market Outlook
Hearables Market Price Analysis
With the incorporation of developing technologies in conventional or wired hearable goods, the global hearable market pricing analysis is highly dynamic. The market's pricing is heavily influenced by everything from the procurement of raw materials to the change in consumer preferences to advanced hearable devices. As a result of the expensive cost and anticipated limited reliability of low battery output, users are hesitant to embrace more modern hearables. However, as technologies such as sensors, AI & ML, miniaturization, and other technologies gain popularity, the market for hearables is predicted to rise due to their high adaptability, ease of use, and compact size. Furthermore, with manufacturers' ongoing efforts to control prices and reduce third-party distribution the cost of hearables is likely to decrease greatly.
Hearables Market Distribution Analysis
The analysis of the hearable market distribution demonstrates a diverse context with multiple sources and a worldwide reach. The key channels for hearable distribution have been manufacturers, OEMs, and dealers. These mediums sell their products through a variety of distribution channels, including hypermarkets/supermarkets, multi-brand stores, exclusive stores, online, and others. Among these, exclusive stores are the most common type of consumer distribution. However, the growth of e-commerce has resulted in the rise of online marketplaces, which have provided a significant boost to hearable products. E-commerce platforms have grown in popularity as a means of distribution, giving ease of access and accessibility.
Market Dynamics
Hearables Market Dynamics
Rising demand for highly sophisticated wireless hearables will drive market expansion.
The worldwide hearable market forecasts continued growth due to increased demand for highly sophisticated wireless hearables as buyers grow increasingly competent at learning and utilizing technologies that provide them with flexibility, ease of use, and other advantages. Consumers are actively pursuing hassle-free, tangle-free audio experiences and hearables which enable them to eliminate the need for and use of wired connections, which can be challenging to handle. The increasing popularity of smartphones, which have removed headphone ports from many devices, such as Apple phones, is a major factor in the increase in demand. Most recent versions of such hearables include extra capabilities such as health and fitness tracking, which is a profitable point of sale among the health-conscious consumer group.
Restraints & Challenges
Exorbitant expenses to limit market growth
While industry consumers can anticipate price reductions in coming years, the majority of products available in the commercial market are still premium or prohibitively costly when compared to traditional wired competitors. This might severely limit global hearing sector growth, particularly in economically disadvantaged or undeveloped countries, where individuals may select less expensive alternatives. Furthermore, the regulatory and compliance requirements for such complex systems are more onerous, limiting new market entrants. Moreover, as hearables become more sophisticated and feature-rich, providing longer battery life and convenient charging methods becomes a difficulty.
Regional Forecasts
Asia Pacific Market Statistics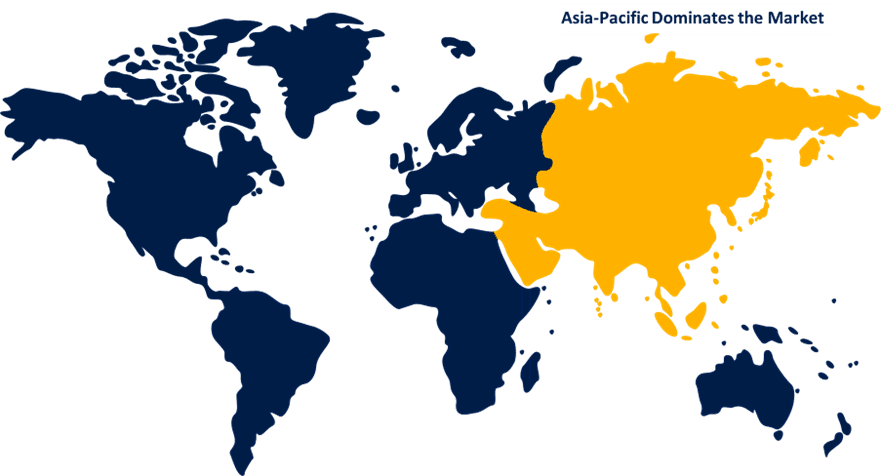 Get more details on this report -
Request Free Sample PDF
Asia Pacific is anticipated to dominate the Hearables market from 2023 to 2032. The primary drivers of the market include industrialization and rising urbanization in developing nations such as India, China, and Japan. Additionally, an increase in consumer electronics spending and the increasing proliferation of jack-less mobile phones are raising demand for hearables devices in the Asia-Pacific area, namely in India, Japan, and China. Furthermore, the growing number of companies launching their goods had increased the strategic pricing of the products, eventually resulting in the lower cost of the devices, and increasing the marketplace of wireless hearables. Moreover, the region is on the rise as a result of the rapid adoption of revolutionary technologies such as blockchain, machine learning (ML), artificial intelligence (AI), and the Internet of Things (IoT). These developments are among the key drivers of the region's establishing e-commerce ecosystem, contributing to the region's thriving economic sector and increasing demand for hearables.
North America Market Statistics
North America is witnessing the fastest market growth between 2023 to 2032. This is due to an increase in demand for hearable goods in the region as jack-less mobile phones become more popular and electronic goods spending surges. Furthermore, the United States had the biggest market share, while Canada had the fastest-expanding market in the North American region. The increasing disposable income of North American consumers is also one of the primary factors driving the sales of hearables devices, which promotes the region's hearables market growth.
Segmentation Analysis
Insights by Type
The in-ear segment accounted for the largest market share over the forecast period 2023 to 2032. This is due to the increased popularity of completely wireless earbuds, which are popular due to characteristics such as their small size, mobility, and simplicity. In-ear hearables, as opposed to on-ear gadgets, fit directly into the ear canal and hence give a more secure or snug fit. They are perfect for sporting events, commuting, and everyday use. Furthermore, during the projected period, the on-ear category is expected to develop the fastest. Because it strikes a balance between an immersive audio experience and a lower risk of hearing impairment. On-ear hearables, as opposed to in-ear devices that are placed directly within the ear canal and over-ear choices that cover the entire ear, rest lightly on the outer ear. This arrangement reduces the hazards connected with long-term use, making them a popular choice among health-conscious consumers.
Insights by Product
The hearing aids segment accounted for the largest market share over the forecast period 2023 to 2032. Hearing aids can help individuals who have a range of hearing difficulties, including hearing loss and some balance issues. Hearing aids are popular because they function better than other devices that are used for the same objective. Hearing aid users now have a wide choice of options, and hearing devices are significantly less expensive. They could push them completely into the canal or slightly behind the ear. They feature more comfortable smaller shapes and batteries that last longer.
Insights by Connectivity
The wireless segment accounted for the largest market share over the forecast period 2023 to 2032. The shift in consumer preference from wired to wireless headphones is projected to have a substantial impact on the market. Wireless communication via Bluetooth earphones technology has revolutionized headphones. This is because wireless headphones are equipped with Bluetooth and Wi-Fi technologies, allowing users to connect their phones to other devices and headsets. Furthermore, wireless earbuds contain smart features such as communication, tracking via fitness apps, and health monitoring. As a result, the wireless technology segment is expected to dominate the hearable market over the forecast period.
Insights by End User
The consumer segment accounted for the largest market share over the forecast period 2023 to 2032. This is due to an increasing number of hearable devices among regular consumers looking for enhanced audio experiences, augmented communication, and better lifestyle integration. Additionally, this dominance is expected to continue and expand in the next years, driven by the ongoing evolution of consumer tastes and technology innovation. The consumer sector's position is anticipated to cement as hearable gadgets become more sophisticated, enabling a greater range of services such as health monitoring, fitness tracking, and seamless networking.
Competitive Landscape
Major players in the market
Apple, Inc.
Bose Corporation
BRAGI GmbH
Koninklijke Philips N.V.
Samsung Electronics Co., Ltd.
Sony Corporation
Sennheiser Electronic GMBH & Co. KG
Skullcandy, Inc.
Jabra (GN Store Nord A/S)
LG Electronics
Doppler
Miracle-Ear
Valancell
Earin AB
Recent Market Developments
On June 2023, Masimo, a leading developer of medical technology solutions as well as consumer health and audio equipment, is expanding its premium Denon brand to introduce Masimo AATTM (Adaptive Acoustic TechnologyTM), its latest breakthrough. Denon PerLTM and PerL ProTM True Wireless (TWS) Earbuds with Masimo AAT let customers develop a personal audio profile to optimize the headphones' sound quality.
On March 2023, STMicroelectronics rolls out an all-in-one motion and bone-conduction sensor for hearables, hoping to allow a new class of hearables for applications such as true wireless stereo (TWS) with its new sensor IC.
On March 2023, USound has announced a partnership with partners to create and deliver a reference design for a cutting-edge over-the-counter (OTC) hearing aid. The reference design will incorporate USound's newest Kore 4.0 audio module, ASE's Micro SiP (System-in-Package), and OBO Pro2's unique hearing aid design, resulting in the market's most advanced hearing aid.
Market Segmentation
This study forecasts revenue at global, regional, and country levels from 2023 to 2032.
Hearables Market, Products Analysis
Headsets
Earbuds
Hearing Aids
Hearables Market, Type Analysis
Hearables Market, Connectivity Technology Analysis
Hearables Market, End User Analysis
Consumer
Industrial
Healthcare
Others
Hearables Market, Regional Analysis
Germany
Uk
France
Italy
Spain
Russia
Rest of Europe
China
Japan
India
South Korea
Australia
Rest of Asia Pacific
Brazil
Argentina
Colombia
UAE
Saudi Arabia
South Africa
Need help to buy this report?