Global Graphic Processing Unit Market Size, Share, and COVID-19 Impact Analysis, By Component (Hardware, Software, and Service), By Deployment Type (On-premises and Cloud), By Application (Gaming, Design and manufacturing, Automotive, Real estate, Healthcare, and Others), By Region (North America, Europe, Asia-Pacific, Latin America, Middle East, and Africa), Analysis and Forecast 2022 – 2032)
Industry: Semiconductors & Electronics
---
REPORT FORMAT

---
Global Graphic Processing Unit Market Insights Forecasts to 2032
The Graphic Processing Unit Market Size was valued at USD 38.43 Billion in 2022.
The Market Size is Growing at a CAGR of 31.5% from 2022 to 2032
The Worldwide Graphic Processing Unit Market Size is expected to reach USD 594.19 Billion by 2032
Asia-Pacific is expected To Growth the fastest during the forecast period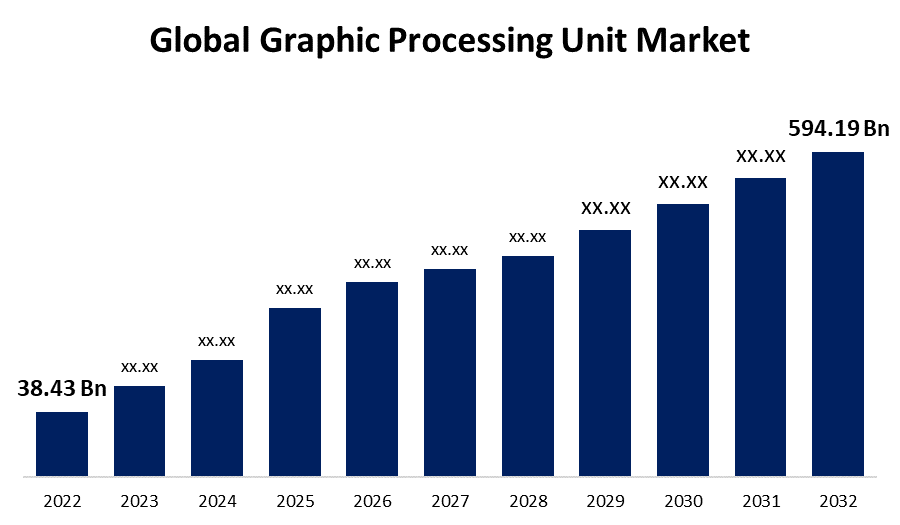 Get more details on this report -
Request Free Sample PDF
The Global Graphic Processing Unit Market Size is expected to reach USD 594.19 Billion by 2032, at a CAGR of 31.5% during the forecast period 2022 to 2032.
Market Overview
A graphic processing unit is a specialized electronic circuit designed to rapidly process and manipulate computer graphics and images. It excels at parallel processing, making it an essential component for rendering high-resolution graphics, and complex animations, and running demanding applications like video editing and gaming. GPUs are optimized for performing repetitive calculations simultaneously, making them ideal for machine learning, artificial intelligence, and data processing tasks. They are capable of handling massive amounts of data in real-time, providing accelerated performance compared to traditional central processing units. With their high core counts and dedicated memory, GPUs enable faster image and video processing, enhancing visual experiences and enabling breakthroughs in scientific research. The development of GPUs has revolutionized fields such as computer graphics, deep learning, and scientific simulations, driving advancements in various industries that rely on visual computing and data-intensive applications.
Report Coverage
This research report categorizes the market for graphic processing unit market based on various segments and regions and forecasts revenue growth and analyzes trends in each submarket. The report analyses the key growth drivers, opportunities, and challenges influencing the graphic processing unit market. Recent market developments and competitive strategies such as expansion, product launch, and development, partnership, merger, and acquisition have been included to draw the competitive landscape in the market. The report strategically identifies and profiles the key market players and analyses their core competencies in each sub-segments of the graphic processing unit market.
Global Graphic Processing Unit Market Report Coverage
| Report Coverage | Details |
| --- | --- |
| Base Year: | 2022 |
| Market Size in 2022 : | USD 38.43 Billion |
| Forecast Period: | 2022-2032 |
| Forecast Period 2022-2032 CAGR: | 31.5% |
| 2032 Value Projection: | USD 594.19 Billion |
| Historical Data for: | 2018-2021 |
| No. of Pages: | 200 |
| Tables, Charts & Figures: | 120 |
| Segments covered: | By Component, By Deployment Type, By Application, By Region |
| Companies Covered: | Intel Corporation, Advanced Micro Devices Inc., Nvidia Corporation, Imagination Technologies Group, Samsung Electronics Co. Ltd, Arm Limited, EVGA Corporation, SAPPHIRE Technology Limited, Qualcomm Technologies Inc., Dassault Systems, Google LLC, International Business Machines Corporation, Siemens, Sony Corporation |
| Pitfalls & Challenges: | COVID-19 Empact, Challenge, Future, Growth, & Analysis |
Get more details on this report -
Request Free Sample PDF
Driving Factors
The graphic processing unit market is driven by several factors that contribute to its growth and expansion. Firstly, the booming gaming industry is a major driver as it demands high-performance GPUs capable of delivering immersive and realistic graphics. With the rise of virtual reality (VR) and augmented reality (AR), the need for powerful GPUs has increased further, creating strong market demand. Secondly, the growing adoption of artificial intelligence (AI) and machine learning (ML) technologies is another key driver. GPUs excel in parallel processing, making them well-suited for AI and ML tasks that involve complex calculations and massive data processing. As AI applications expand across industries such as healthcare, finance, and autonomous vehicles, the demand for GPUs continues to rise. Additionally, the increasing utilization of GPUs in data centers for big data analytics and real-time data processing is driving market growth. With the ever-growing volume of data, GPUs offer accelerated data processing capabilities, enabling faster insights and decision-making.
Restraining Factors
Despite the numerous drivers of the graphics processing unit market, there are also several restraints that can hinder its growth. One major restraint is the high cost of GPUs, which limits their adoption in certain markets. Additionally, the global shortage of semiconductors has severely impacted the supply of GPUs, resulting in increased prices and reduced availability. Another restraint is the rising demand for mobile devices, which has led to a shift away from traditional desktops and laptops, impacting the market for discrete GPUs. Moreover, the increasing popularity of cloud computing and virtualization has reduced the need for high-end GPUs in certain applications. Lastly, concerns around data privacy and security have also hampered the adoption of GPUs in some industries. These restraints pose significant challenges to the growth of the GPU market, but innovative solutions and advancements in technology may help overcome these barriers in the future.
Market Segmentation
In 2022, the hardware segment accounted for around 65.3% market share
On the basis of the type of component, the global graphic processing unit market is segmented into hardware, software, and service. The hardware segment is dominating with the largest market share in 2022, primarily due to its essential role in powering and supporting various computing systems. Hardware encompasses a wide range of physical components, including processors, memory modules, storage devices, and peripherals like keyboards and monitors. The dominance of hardware can be attributed to its indispensability in enabling computing operations. It forms the backbone of devices such as computers, servers, smartphones, and other electronic devices. Additionally, hardware advancements drive technological progress by offering increased processing power, storage capacity, and improved performance. In particular, hardware's market share is significant in areas such as data centers, where powerful servers and networking equipment are crucial for storing and processing vast amounts of information. Furthermore, emerging technologies like artificial intelligence, virtual reality, and the Internet of things (IoT) rely heavily on robust hardware infrastructure to deliver seamless user experiences and support complex computations.
The cloud segment is expected to grow at a CAGR of around 32.4% during the forecast
Based on deployment type, the global graphic processing unit market is segmented into on-premises and cloud. The cloud segment is projected to experience substantial growth during the forecast period in the technology industry. Cloud computing involves the delivery of computing resources, including storage, processing power, and applications, over the internet. It offers scalability, flexibility, and cost-efficiency to businesses and individuals, leading to its increasing adoption. Several factors contribute to the expected growth of the cloud segment. Firstly, businesses are increasingly shifting towards cloud-based solutions to streamline their operations, reduce infrastructure costs, and enhance collaboration. Additionally, the growing demand for data storage and processing capabilities, driven by the proliferation of big data and digital transformation initiatives, fuels the expansion of cloud services. Moreover, advancements in cloud technology, such as improved security measures, hybrid cloud solutions, and serverless computing, contribute to the growing confidence in cloud adoption. The COVID-19 pandemic has further accelerated the adoption of cloud services, as remote work and digital connectivity became critical for business continuity. Overall, the cloud segment's anticipated growth is a result of its ability to offer scalable and cost-effective computing resources, empowering businesses to innovate and adapt to evolving market demands in a rapidly changing digital landscape.
Regional Segment Analysis of the Graphic Processing Unit Market
North America (U.S., Canada, Mexico)
Europe (Germany, France, U.K., Italy, Spain, Rest of Europe)
Asia-Pacific (China, Japan, India, Rest of APAC)
South America (Brazil and the Rest of South America)
The Middle East and Africa (UAE, South Africa, Rest of MEA)
Asia-Pacific dominated the market with more than 45.8% revenue share in 2022.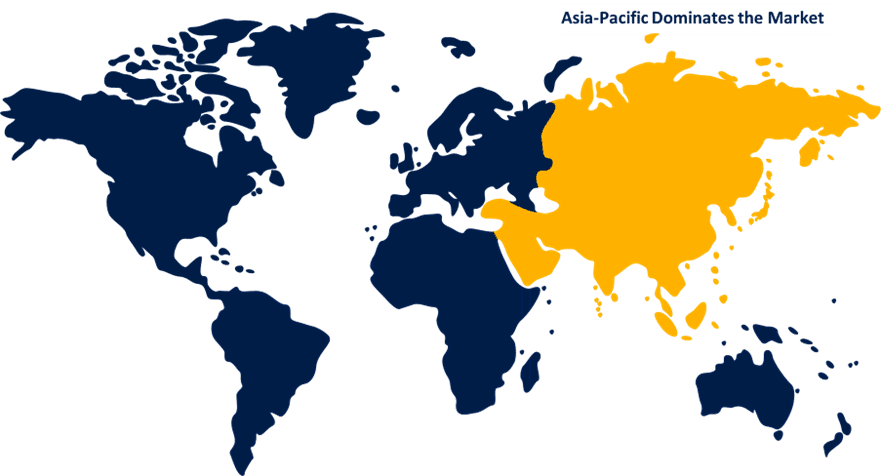 Get more details on this report -
Request Free Sample PDF
Based on region, the Asia-Pacific region has held the largest market share in the graphics processing unit market for several reasons. Firstly, the region is home to some of the world's largest technology manufacturers and consumers, contributing to increased demand for GPUs. Additionally, Asia-Pacific has a rapidly growing gaming industry and a large population of avid gamers, driving the demand for high-performance GPUs. Furthermore, the region's increasing adoption of artificial intelligence, machine learning, and data analytics applications fuels the need for powerful GPUs. Moreover, the rising investments in infrastructure development and technological advancements in countries like China, Japan, and South Korea further support the growth of the GPU market.
Recent Developments
In August 2022, Intel launched the Intel Data Center GPU Flex Series Arctic Sound-M, which caters to the demands of intelligent visual cloud workloads. The Flex Series GPU is capable of providing 5x media transcode throughput performance and can simultaneously support up to 68 cloud gaming streams. This GPU is designed to fulfill the specific requirements of intelligent visual cloud tasks.
Competitive Analysis:
The report offers the appropriate analysis of the key organizations/companies involved within the global graphic processing unit market along with a comparative evaluation primarily based on their product offering, business overviews, geographic presence, enterprise strategies, segment market share, and SWOT analysis. The report also provides an elaborative analysis focusing on the current news and developments of the companies, which includes product development, innovations, joint ventures, partnerships, mergers & acquisitions, strategic alliances, and others. This allows for the evaluation of the overall competition within the market.
List of Companies:
Intel Corporation
Advanced Micro Devices Inc.
Nvidia Corporation
Imagination Technologies Group
Samsung Electronics Co. Ltd
Arm Limited
EVGA Corporation
SAPPHIRE Technology Limited
Qualcomm Technologies Inc.
Dassault Systems
Google LLC
International Business Machines Corporation
Siemens
Sony Corporation
Key Target Audience
Market Players
Investors
End-Users
Government Authorities
Consulting and Research Firm
Venture Capitalists
Value-Added Resellers (VARs)
Market Segment
This study forecasts revenue at global, regional, and country levels from 2019 to 2032. Spherical Insights has segmented the global graphic processing unit market based on the below-mentioned segments:
Graphic Processing Unit Market, By Component
Hardware
Software
Service
Graphic Processing Unit Market, By Deployment Type
Graphic Processing Unit Market, By Application
Gaming
Design and manufacturing
Automotive
Real estate
Healthcare
Others
Graphic Processing Unit Market, Regional Analysis
North America
Europe

Germany
UK
France
Italy
Spain
Russia
Rest of Europe

Asia Pacific

China
Japan
India
South Korea
Australia
Rest of Asia Pacific

South America

Brazil
Argentina
Rest of South America

Middle East & Africa

UAE
Saudi Arabia
Qatar
South Africa
Rest of Middle East & Africa
Need help to buy this report?