Global Graphic Films Market Size By Film Type (Reflective, Opaque), By End-User (Promotional & Advertisement, Industrial), By Component (Polyethylene (PE), Polypropylene (PP), Polyvinyl Chloride (PVC)), By Region, And Segment Forecasts, By Geographic Scope And Forecast 2022 – 2032
Industry: Chemicals & Materials
---
REPORT FORMAT

---
Global Graphic Films Market Size Insights Forecasts to 2032
The Global Graphic Films Market Size was valued at USD 32.7 Billion in 2022.
The Market Size is Growing at a CAGR of 6.6% from 2022 to 2032
The Worldwide Graphic Films Market Size is expected to reach USD 49.4 Billion by 2032
Asia Pacific is expected To Grow the fastest during the forecast period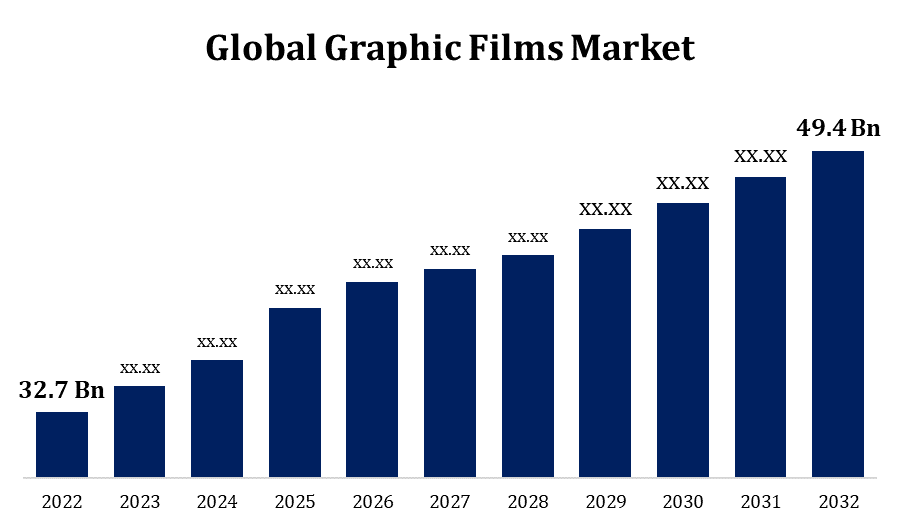 Get more details on this report -
Request Free Sample PDF
The Global Graphic Films Market Size is expected to reach USD 49.4 Billion by 2032, at a CAGR of 6.6% during the forecast period 2022 to 2032.
There has been some remarkable growth in the graphic films market. The demand for aesthetically pleasing information is rising across multiple industries due to technological improvements. Graphic films are finding new and varied uses in everything from automobile and packaging to entertainment and advertising. The demand for high-quality visuals has increased as a result of the emergence of digital platforms, streaming services, and online content creation, which has helped the graphic films market expand. Graphic films have also been given new opportunities by developments in printing technology, augmented reality, and interactive content.
Graphic Films Market Value Chain Analysis
The polymeric raw ingredients, which are the fundamental components of graphic films and include PVC, PET, and other materials, are where the adventure starts. Using techniques including coating, calendaring, and extrusion, manufacturers transform these basic materials into graphic films. Making the graphics that will be used in the movies is the task of this step. It could be elaborate patterns, components of branding, or anything else the imaginative minds can come up with. This is where printing techniques like offset, screen, and digital printing are useful. When the graphic films are complete, they must find distribution across a number of sectors. The distribution of these films to final consumers is mostly dependent on distributors and wholesalers. The consumers are the advertising, automobile, packaging, and entertainment industries. Applying the graphic films to the desired surfaces is what this phase entails. It could be a vehicle, a structure, or a good. Expert installers guarantee precise and efficient application of the graphic films. When used graphic films are recycled or disposed of responsibly, the cycle is completed. An increasingly important component of this sector is sustainability.
Graphic Films Market Opportunity Analysis
Dynamic and interactive graphic information is becoming more and more in demand as more sectors embrace digitalization. There is a lot of room for expansion for graphic films that can work with digital technologies like augmented reality or interactive displays. Investigating novel and unusual uses for graphic films can lead to intriguing prospects. In the fields of fashion, architecture, and healthcare, thinking beyond the box can open up new opportunities and unrealized potential. Graphic films that provide effortless customization, be it for automobile wraps, packaging, or personal devices, can meet the desire for distinctive and personalized goods. As the world grows increasingly interconnected, graphic films have a chance to reach a worldwide audience. One of the main forces behind growth can be an awareness of and ability to accommodate different cultural quirks and preferences.
Global Graphic Films Market Report Coverage
| Report Coverage | Details |
| --- | --- |
| Base Year: | 2022 |
| Market Size in 2022: | USD 32.7 Billion |
| Forecast Period: | 2022-2032 |
| Forecast Period 2022-2032 CAGR: | 6.6% |
| 2032 Value Projection: | USD 49.4 Billion |
| Historical Data for: | 2018-2021 |
| No. of Pages: | 200 |
| Tables, Charts & Figures: | 110 |
| Segments covered: | By Film Type, By End-User, By Component, By Region, By Geographic Scope. |
| Companies Covered: | DuPont de Nemours, Inc., 3M, Innova Films, Avery Dennison Corporation, HEXIS S.A., KPMF Limited, DUNMORE, Achilles USA, CONSTANTIA, Drytac Corporation, THE GRIFF NETWORK, Arlon Graphics, LLC, FDC Films, Nekoosa Inc., Charter NEX, Aura Graphics Limited, and Other Key Vendors. |
| Growth Drivers: | Increase in the adoption of graphic films in the construction |
| Pitfalls & Challenges: | COVID-19 Empact, Challenge, Future, Growth, & Analysis |
Get more details on this report -
Request Free Sample PDF
Market Dynamics
Graphic Films Market Dynamics
Increase in the adoption of graphic films in the construction
Building exteriors and interiors are being transformed with the use of graphic films. Architectural coverings can offer buildings a fresh look and increase their visual attractiveness. This can be particularly important in cities where buildings vie for people's attention. Graphic films are used on construction sites for signage and branding. These films provide a flexible and affordable way to convey messages, whether they are fleeting or long-lasting. They can show project details or promote the businesses involved. Additionally, graphic films are used for security. Enhancing safety precautions on building sites can be accomplished through the use of visual cues and graphics on floors, walls, or barricades. These can guide workers and visitors and communicate potential hazards. With the use of graphic films, building businesses can customize the images to fit their identity or project-specific requirements.
Restraints & Challenges
Sometimes, high-quality graphic films are very expensive. Businesses might be reluctant to invest in these items in cost-sensitive regions, which would hinder the growth of the market as a whole. Rapid technological breakthroughs might be problematic. To be competitive, businesses must keep up with the newest printing and application technologies. Reduced demand for a product can result from outdated technologies. Because the market is so competitive, innovation must always be happening. Businesses must continue to lead in terms of application strategies, printing technologies, and design prowess. For some firms, this ongoing demand for innovation might be difficult. Graphic film installation calls for competence and skill. It can be difficult to make sure installers are competent and well-trained, particularly as the industry grows and the need for qualified experts rises.
Regional Forecasts
North America Market Statistics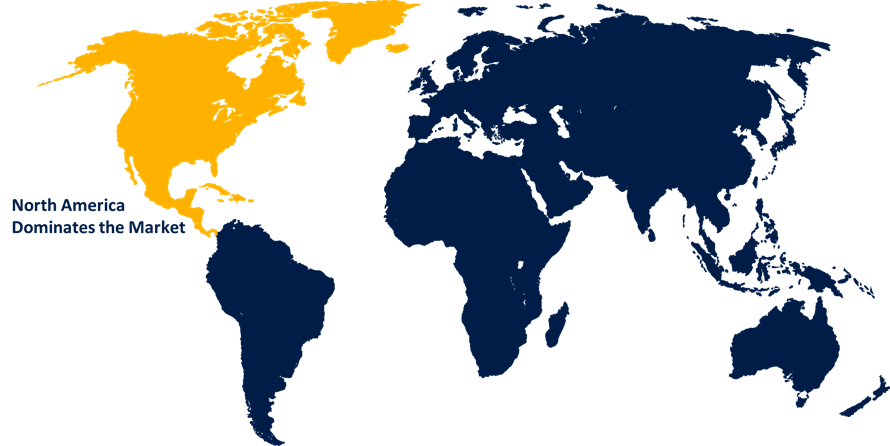 Get more details on this report -
Request Free Sample PDF
North America is anticipated to dominate the Graphic Films Market from 2023 to 2032. Graphic films are being utilized more frequently for architectural wraps, signs, and branding on construction sites as a result of the construction industry's notable rise in North America. North American companies are using graphic films for eye-catching displays, car wraps, and promotional items, with a strong emphasis on marketing and advertising. For car wraps and graphics, the automobile industry is one of the biggest users of graphic films. These films are in high demand because of North America's booming auto industry. Films can now feature elaborate and high-quality visuals thanks to the growing acceptance of modern digital printing methods. This is in line with the region's preference for cutting-edge technologies.
Asia Pacific Market Statistics
Asia Pacific is witnessing the fastest market growth between 2023 to 2032. The need for graphic films in architectural and construction applications is being driven by the fast urbanization of the Asia-Pacific region. This covers the application of films to interior design, signage, and building coverings. The advertising sector expands in tandem with the growth of the local economies. In order to create visually striking displays, billboards, and promotional materials, graphic films are essential. The burgeoning automotive sector in Asia-Pacific has resulted in a surge in the utilization of graphic films for vehicle wraps and graphics. The graphic films market in Asia-Pacific reflects the region's cultural variety. Different cultures and aesthetics have affected a wide spectrum of design choices and applications.
Segmentation Analysis
Insights by Component
The PVC packaging films segment accounted for the largest market share over the forecast period 2023 to 2032. PVC packaging films are well-known for being flexible and versatile, which makes them appropriate for a variety of packaging uses. To fit different product forms and sizes, they are simply molded and formed. It is simple to print vivid, high-quality graphics on PVC films. They are therefore the perfect option for packaging materials where product information and branding are essential. Packaging designs that are both visually appealing and educational are made possible by PVC's printability. The packaged goods are protected and made to last thanks to PVC packaging films. They assist perishable goods last longer on the shelf by providing resistance to moisture, gases, and outside impurities. PVC packaging films are used in a variety of industries, such as consumer goods, pharmaceuticals, cosmetics, and food & beverage.
Insights by Film Type
The opaque segment accounted for the largest market share over the forecast period 2023 to 2032. For security and privacy concerns, opaque coatings are frequently employed. These films act as an impermeable barrier that lets light through but blocks outward vision in areas such as conference rooms, offices, and homes. For car coverings and branding, opaque films are essential in the automotive industry. They provide a strong backdrop for branding and visual elements, guaranteeing prominent display and a polished look. To make packaging and promotional materials, opaque films are used. They provide a flexible surface for eye-catching branding and images, enhancing the visual appeal of products on shelves. The appeal of opaque films is increased by the possibility of personalising them with a range of hues, patterns, and textures. This design's adaptability enables imaginative uses in various contexts.
Insights by End User
Promotional and advertisements segment is witnessing the fastest market growth over the forecast period 2023 to 2032. Dynamic and aesthetically pleasing content is in greater demand as digital advertising becomes more prevalent. A flexible platform for producing visually compelling content for a range of digital advertising channels is provided by graphic films. Graphic films are widely used for displays and signs in the retail industry. Graphic films enable colorful and striking branding for a variety of applications, including window graphics, floor decals, and in-store promotional items. In terms of sponsorship and event branding, graphic films are essential. These videos help create a visually consistent and powerful brand presence at events with banners, posters, floor graphics, and stage backdrops. Point-of-sale advertising uses graphic flicks to sway customers' decisions right before they make a buy. Window displays, shelf talkers and other marketing materials fall under this category.
Recent Market Developments
In February 2021, Best-in-class innovator, designer, and manufacturer of manufacturing solutions for the healthcare and industrial markets, Scapa Group Plc, is located in the United Kingdom. Schweitzer-Mauduit International, Inc. announced plans to acquire the company.
Competitive Landscape
Major players in the market
DuPont de Nemours, Inc.
3M
Innova Films
Avery Dennison Corporation
HEXIS S.A.
KPMF Limited
DUNMORE
Achilles USA
CONSTANTIA
Drytac Corporation
THE GRIFF NETWORK
Arlon Graphics, LLC
FDC Films
Nekoosa Inc.
Charter NEX
Aura Graphics Limited
Market Segmentation
This study forecasts revenue at global, regional, and country levels from 2023 to 2032.
Graphic Films Market, Film Type Analysis
Graphic Films Market, Component Analysis
Polyethylene (PE)
Polypropylene (PP)
Polyvinyl Chloride (PVC)
Graphic Films Market, End User Analysis
Promotional & Advertisement
Industrial
Graphic Films Market, Regional Analysis
Need help to buy this report?