Global Geosynthetics Market Size, Share, and COVID-19 Impact Analysis, By Type (Geotextiles, Geomembranes, Geogrids, Geofoam, Geonets, and Others), By Application (Waste Management, Water Management, Transportation Infrastructure, Civil Construction, and Others), By Region (North America, Europe, Asia-Pacific, Latin America, Middle East, and Africa), Analysis and Forecast 2023 – 2032
Industry: Advanced Materials
---
REPORT FORMAT

---
Global Geosynthetics Market Insights Forecasts to 2032
The Global Geosynthetics Market Size was valued at USD 10.64 billion in 2022.
The market is growing at a CAGR of 6.9% from 2023 to 2032
The global geosynthetics market is expected to reach USD 20.74 billion by 2032
Asia-Pacific is expected to grow the fastest during the forecast period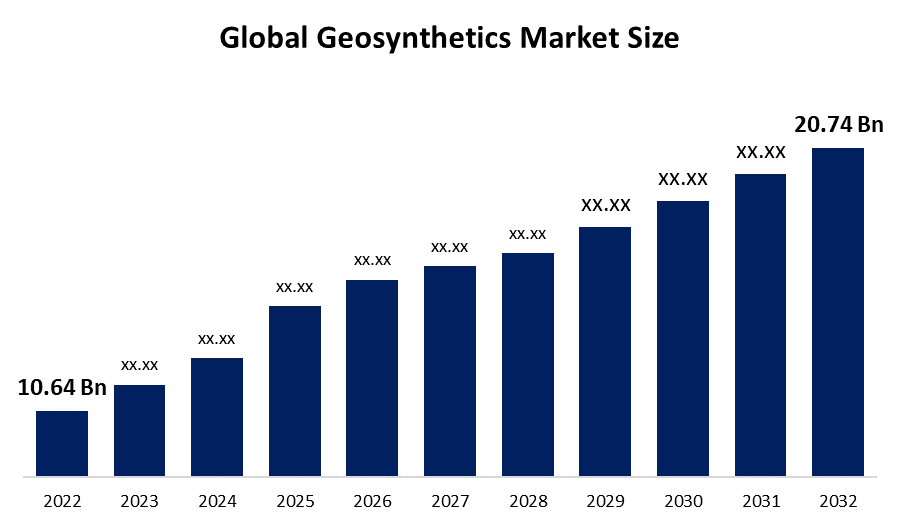 Get more details on this report -
Request Free Sample PDF
The Global Geosynthetics Market Size is expected to reach USD 20.74 billion by 2032, at a CAGR of 6.9% during the forecast period 2023 to 2032.
Market Overview
Geosynthetics are synthetic materials used in civil engineering and environmental applications to improve the performance and durability of geotechnical structures. These materials are typically made from polymers, and they are used to provide reinforcement, separation, filtration, drainage, and erosion control in various construction projects. Geosynthetics are commonly used in applications such as road and railway construction, slope stabilization, retaining walls, landfills, and coastal protection. They offer numerous benefits, including increased soil stability, reduced construction costs, improved environmental performance, and extended service life of structures. Geosynthetics have become an essential component of modern civil engineering and have revolutionized the way geotechnical engineering projects are designed and constructed, providing sustainable solutions for a wide range of geotechnical challenges.
Report Coverage
This research report categorizes the market for geosynthetics market based on various segments and regions and forecasts revenue growth and analyzes trends in each submarket. The report analyses the key growth drivers, opportunities, and challenges influencing the geosynthetics market. Recent market developments and competitive strategies such as expansion, product launch, and development, partnership, merger, and acquisition have been included to draw the competitive landscape in the market. The report strategically identifies and profiles the key market players and analyses their core competencies in each sub-segments of the geosynthetics market.
Global Geosynthetics Market Report Coverage
| Report Coverage | Details |
| --- | --- |
| Base Year: | 2022 |
| Market Size in 2022: | USD 10.64 Billion |
| Forecast Period: | 2022 - 2032 |
| Forecast Period 2022 - 2032 CAGR: | 6.9% |
| 2032 Value Projection: | USD 20.74 Billion |
| Historical Data for: | 2018 - 2021 |
| No. of Pages: | 214 |
| Tables, Charts & Figures: | 121 |
| Segments covered: | By Type, By Application, By Region |
| Companies Covered: | TenCate Geosynthetics, Solmax International Inc., HUESKER Synthetic GmbH, GSE Environmental LLC, Propex GeoSolutions, Tensar International Corporation, NAUE GmbH & Co. KG, Thrace Group, Maccaferri S.P.A., Raven Industries, Inc., CETCO, Strata Systems, Inc., Low & Bonar, Carthage Mills, Hanes Geo Components |
Get more details on this report -
Request Free Sample PDF
Driving Factors
The drivers of the geosynthetics market include increasing demand for infrastructure development, growing awareness of sustainable construction practices, need for cost-effective solutions for reinforcement and filtration, rising environmental concerns, regulatory requirements for erosion control and waste management, advantages of geosynthetics in terms of durability and performance, expanding applications in geotechnical engineering, rising investments in civil engineering projects, and technological advancements in geosynthetic materials and manufacturing processes. These factors are propelling the growth of the geosynthetics market globally, as they offer effective solutions for various civil engineering and environmental applications.
Restraining Factors
The restraints in the geosynthetics market include high initial costs associated with geosynthetic materials and installation, lack of awareness and education among end-users, limited availability of skilled labor for proper installation, potential environmental concerns related to the use of synthetic materials, varying regulatory standards across regions, competition from alternative materials, and challenges in product standardization and quality control. Additionally, economic fluctuations, project delays, and political uncertainties can impact the demand for geosynthetics. These factors may hinder the growth of the geosynthetics market and pose challenges to its widespread adoption in certain regions or applications.
Market Segmentation
In 2022, the geotextiles segment accounted for around 46.5% market share
On the basis of the type, the global geosynthetics market is segmented into geotextiles, geomembranes, geogrids, geofoam, geonets, and others. The geotextiles segment is dominating the market with the largest market share in 2022, due to its widespread use and diverse applications. Geotextiles are permeable fabrics made from synthetic materials that are used in civil engineering and construction projects to provide reinforcement, separation, filtration, and drainage functions. They are highly versatile and can be used in a wide range of applications, including roads, railways, erosion control, soil stabilization, and environmental protection. Geotextiles offer excellent tensile strength, durability, and resistance to environmental factors, making them a preferred choice for infrastructure projects. Additionally, geotextiles are cost-effective, environmentally friendly, and promote sustainable construction practices, further contributing to their dominance in the geosynthetics market. Their superior performance and versatility have established geotextiles as a leading segment in the geosynthetics industry.
In 2022, the waste management segment dominated with the market with more than 33.7% revenue share
Based on the application, the global geosynthetics market is segmented into waste management, water management, transportation infrastructure, civil construction, and others. Out of this, the waste management segment is dominating the market with the largest market share in 2022, due to the increasing need for effective waste containment solutions. Geosynthetics, which are synthetic materials used in civil engineering and construction, offer a range of applications in waste management, including landfill liners, caps, and covers. Geosynthetic liners, made of impermeable materials, prevent harmful substances from contaminating the soil and groundwater, ensuring safe waste containment. They also provide stability and durability to landfill structures. Geosynthetic covers, on the other hand, reduce odors, gas emissions, and wildlife intrusion, and can be used for the final capping of closed landfills. With the growing awareness of environmental protection and regulations on waste management, geosynthetics are increasingly being adopted as effective solutions, driving the growth of the waste management segment in the geosynthetics market.
Regional Segment Analysis of the Geosynthetics Market
North America (U.S., Canada, Mexico)
Europe (Germany, France, U.K., Italy, Spain, Rest of Europe)
Asia-Pacific (China, Japan, India, Rest of APAC)
South America (Brazil and the Rest of South America)
The Middle East and Africa (UAE, South Africa, Rest of MEA)
Asia-Pacific led the market with the highest revenue share for more than 40.7% in 2022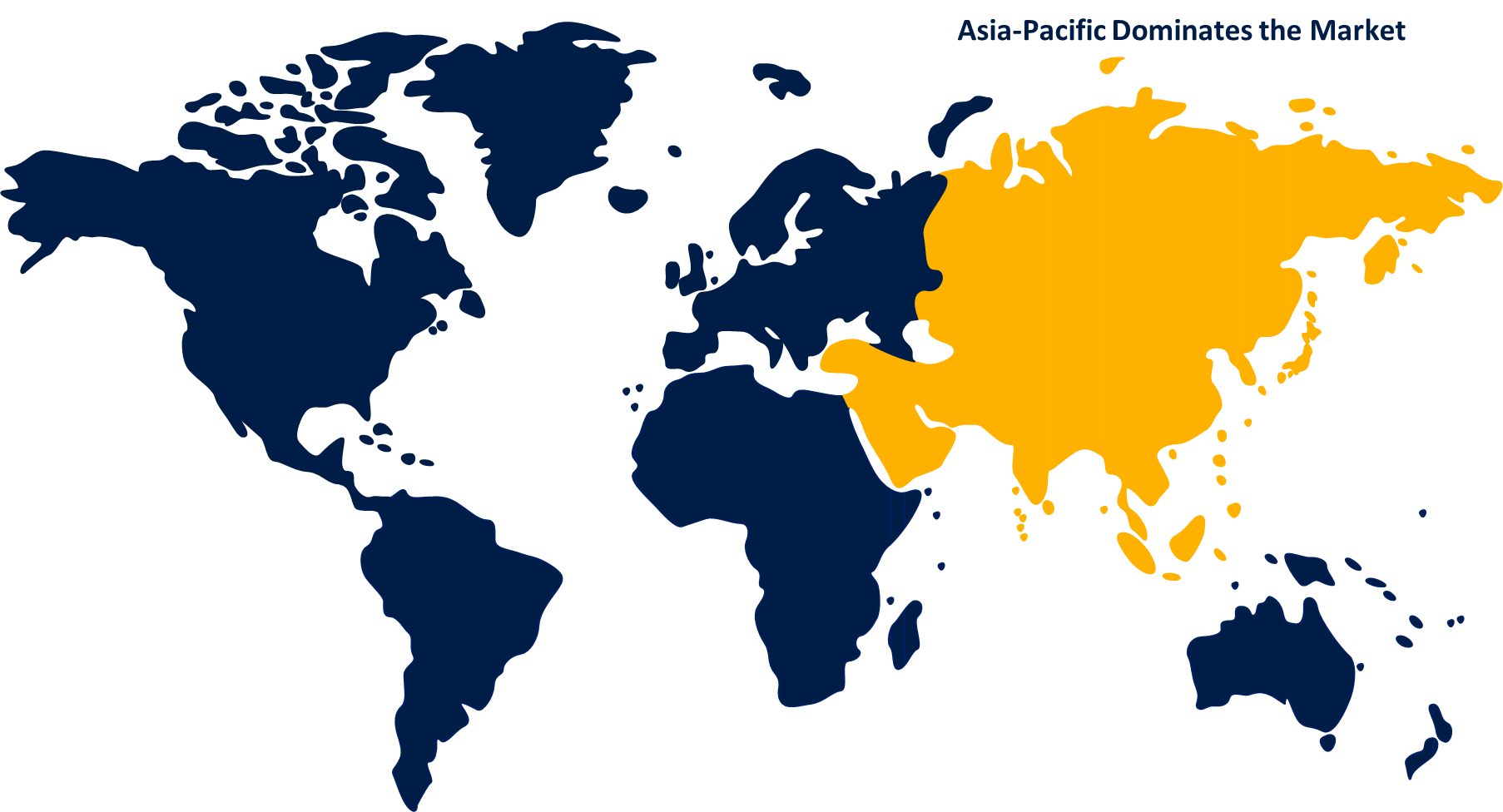 Get more details on this report -
Request Free Sample PDF
Based on region, Europe has emerged as a dominant market in the geosynthetics industry, with a significant share of the global market. The region's dominance can be attributed to factors including rapid economic growth and urbanization, which has led to increased demand for infrastructure development in sectors such as construction, transportation, and energy. Additionally, the growing population and rising middle class in Asia-Pacific countries have resulted in increased consumer spending, leading to higher demand for goods and services. Moreover, favorable government policies, investments in mega projects, and advancements in technology have also contributed to the growth of industries such as manufacturing, automotive, and telecommunications in the region. The Asia-Pacific market offers immense potential due to its large and dynamic consumer base, rising disposable incomes, and expanding industrial and commercial sectors, making it the fastest-growing market in many industries.
Competitive Analysis:
The report offers the appropriate analysis of the key organizations/companies involved within the global Geosynthetics Market along with a comparative evaluation primarily based on their product offering, business overviews, geographic presence, enterprise strategies, segment market share, and SWOT analysis. The report also provides an elaborative analysis focusing on the current news and developments of the companies, which includes product development, innovations, joint ventures, partnerships, mergers & acquisitions, strategic alliances, and others. This allows for the evaluation of the overall competition within the market.
List of Companies:
TenCate Geosynthetics
Solmax International Inc.
HUESKER Synthetic GmbH
GSE Environmental LLC
Propex GeoSolutions
Tensar International Corporation
NAUE GmbH & Co. KG
Thrace Group
Maccaferri S.P.A.
Raven Industries, Inc.
CETCO
Strata Systems, Inc.
Low & Bonar
Carthage Mills
Hanes Geo Components
Key Target Audience
Market Players
Investors
End-Users
Government Authorities
Consulting and Research Firm
Venture Capitalists
Value-Added Resellers (VARs)
Recent Developments
In June 2021, Solmax, a global leader in geosynthetics and industrial textiles, acquired TenCate Geosynthetics, a renowned geosynthetics provider based in the Netherlands. This strategic acquisition aims to enhance Solmax's innovative capabilities and global presence, unlocking new commercial opportunities in various applications including containment and infrastructure sectors such as mining, transportation, energy, waste management, and civil engineering. The purchase is expected to further strengthen Solmax's position in the geosynthetics market and enable the company to better serve its customers with advanced solutions worldwide.
Market Segment
This study forecasts revenue at global, regional, and country levels from 2019 to 2032. Spherical Insights has segmented the global geosynthetics market based on the below-mentioned segments:
Geosynthetics Market, By Type
Geotextiles
Geomembranes
Geogrids
Geofoam
Geonets
Others
Geosynthetics Market, By Application
Waste Management
Water Management
Transportation Infrastructure
Civil Construction
Others
Geosynthetics Market, Regional Analysis
North America
Europe

Germany
Uk
France
Italy
Spain
Russia
Rest of Europe

Asia Pacific

China
Japan
India
South Korea
Australia
Rest of Asia Pacific

South America

Brazil
Argentina
Rest of South America

Middle East & Africa

UAE
Saudi Arabia
Qatar
South Africa
Rest of Middle East & Africa
Need help to buy this report?