Global Geomatics Market Size, Share, and COVID-19 Impact Analysis, By Product (Hardware, Software, and Services), By End-User (Transport and Logistics, Agriculture, Construction, Mining and Geology, Oil and Gas, Aerospace and Defense, Government, and Others), By Region (North America, Europe, Asia-Pacific, Latin America, Middle East, and Africa), Analysis and Forecast 2023 – 2032
Industry: Electronics, ICT & Media
---
REPORT FORMAT

---
Global Geomatics Market Insights Forecasts to 2032
The Geomatics Market Size was valued at USD 7.35 Billion in 2022.
The market is growing at a CAGR of 11.5% from 2023 to 2032
The Worldwidde Geomatics Market is expected to reach USD 21.83 Billion by 2032
Asia-Pacific is expected to grow the fastest during the forecast period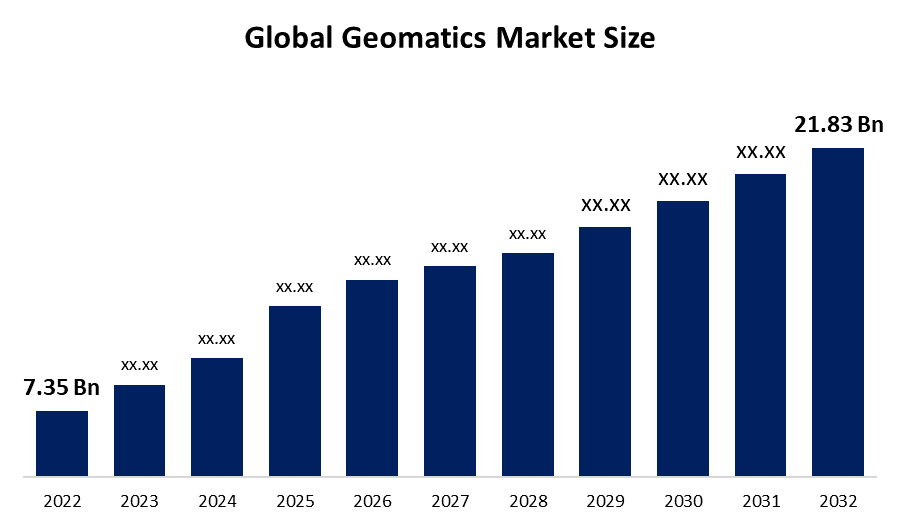 Get more details on this report -
Request Free Sample PDF
The Global Geomatics Market is expected to reach USD 21.83 Billion by 2032, at a CAGR of 11.5% during the forecast period 2023 to 2032.
Market Overview
Geomatics is a multidisciplinary field that integrates surveying, geographic information systems (GIS), remote sensing, and spatial analysis to collect, manage, analyze, and visualize geospatial data. Geomatics professionals utilize advanced technology, such as GPS, LiDAR, and drones, to capture precise location data and create digital maps, 3D models, and geospatial databases. These tools and techniques are applied in various sectors, including urban planning, natural resource management, environmental monitoring, agriculture, transportation, and disaster management. Geomatics plays a critical role in decision-making processes, allowing for better understanding of spatial relationships, patterns, and trends. With its wide-ranging applications, Geomatics is increasingly used in industries and research to support sustainable development, resource management, and informed decision-making at local, regional, and global scales.
Report Coverage
This research report categorizes the market for geomatics market based on various segments and regions and forecasts revenue growth and analyzes trends in each submarket. The report analyses the key growth drivers, opportunities, and challenges influencing the geomatics market. Recent market developments and competitive strategies such as expansion, product launch, and development, partnership, merger, and acquisition have been included to draw the competitive landscape in the market. The report strategically identifies and profiles the key market players and analyses their core competencies in each sub-segments of the geomatics market.
Global Geomatics Market Report Coverage
| Report Coverage | Details |
| --- | --- |
| Base Year: | 2022 |
| Market Size in 2022: | USD 7.35 Billion |
| Forecast Period: | 2022-2032 |
| Forecast Period 2022-2032 CAGR: | 11.5% |
| 2032 Value Projection: | USD 21.83 Billion |
| Historical Data for: | 2018-2021 |
| No. of Pages: | 200 |
| Tables, Charts & Figures: | 100 |
| Segments covered: | By Product, By End-User, By Region, COVID-19 Impact Analysis |
| Companies Covered: |   Trimble Inc., Hexagon AB, Autodesk Inc., Bentley Systems, Inc., Leica Geosystems AG,  Topcon Corporation,  The Schneider Corporation,  Fugro N.V., Harris Geospatial Inc., SuperMap Software Co., Ltd.,  TomTom NV, PASCO Corporation,  DigitalGlobe Inc.·, Teledyne Technologies Inc |
| Pitfalls & Challenges: | COVID-19 Empact, Challenge, Future, Growth, & Analysis |
Get more details on this report -
Request Free Sample PDF
Driving Factors
The geomatics market is being propelled by various drivers. These include the rising demand for precise geospatial information across diverse industries, advancements in geospatial analytics, AI, and IoT technologies, growing awareness of sustainable resource management, government initiatives and investments in geospatial infrastructure, adoption of geospatial solutions by industries, and the increasing proliferation of location-based services and applications. These factors are driving the growth of the geomatics market, as the significance of accurate geospatial data for decision-making, efficient resource management, and policy formulation becomes increasingly prominent. The combination of these drivers is expected to continue supporting the expansion of the geomatics market in the foreseeable future, as organizations and industries recognize the value of geospatial data in their operations and decision-making processes.
Restraining Factors
The restraints in the geomatics market include challenges such as limitations in satellite imagery resolution and coverage, complexities in data integration and interoperability, high costs associated with geospatial data acquisition and processing, regulatory and legal issues related to data privacy and security, and limited awareness and understanding of geospatial technologies among potential users. These restraints can impede the growth and adoption of geomatics solutions, hindering the market's expansion. Overcoming these challenges requires addressing technological, regulatory, and financial barriers, as well as increasing awareness and education about the benefits of geospatial technologies.
Market Segmentation
In 2022, the software segment accounted for around 45.7% market share
On the basis of the product type, the global geomatics market is segmented into hardware, software, and services. The software segment is dominating the market with the largest market share in 2022. Software plays a crucial role in data processing, analysis, visualization, and interpretation, allowing users to extract valuable insights from geospatial data. With advancements in geospatial technologies, there has been a growing demand for sophisticated and feature-rich software solutions that can handle large and complex geospatial datasets. Additionally, geomatics software offers increased flexibility, scalability, and customization options, making it a preferred choice for various industries and applications. Moreover, the increasing adoption of cloud-based geospatial solutions and the integration of AI and IoT technologies in geomatics software has further fueled its dominance in the market.
In 2022, the transport & logistics segment dominated with around 41.3% market share
Based on the end-use, the global geomatics market is segmented into transport and logistics, agriculture, construction, mining and geology, oil and gas, aerospace and defense, government, and others. Out of this transport & logistics, plays a crucial role in the geomatics market, including route planning, fleet management, supply chain optimization, asset tracking, and cargo monitoring. Geospatial technologies enable precise and real-time tracking of vehicles, shipments, and assets, leading to enhanced operational efficiency, cost savings, and improved customer service. Furthermore, geomatics solutions are widely used in location-based services, such as navigation systems, tracking applications, and geofencing, which are integral to the transport and logistics industry. The adoption of geomatics in transport and logistics has increased due to the growing need for accurate and timely location-based information for efficient and optimized operations.
Regional Segment Analysis of the Geomatics Market
North America (U.S., Canada, Mexico)
Europe (Germany, France, U.K., Italy, Spain, Rest of Europe)
Asia-Pacific (China, Japan, India, Rest of APAC)
South America (Brazil and the Rest of South America)
The Middle East and Africa (UAE, South Africa, Rest of MEA)
Europe dominated the market with over than 34.8% revenue share in 2022.
Get more details on this report -
Request Free Sample PDF
Europe has emerged as the dominant region in the geomatics market, holding the largest share. This can be attributed to several factors. Europe has a well-developed geospatial infrastructure, with advanced technologies and capabilities for data acquisition, processing, and analysis. The region has witnessed significant government investments in geospatial initiatives, such as INSPIRE (Infrastructure for Spatial Information in Europe), which promotes interoperability and harmonization of spatial data across European countries. Moreover, Europe has a strong presence of key players in the geospatial industry, including geomatics solution providers, data providers, and service providers. The region also has a high demand for geospatial information across various industries, including agriculture, transportation, environmental management, and urban planning. All these factors have contributed to Europe's dominant position in the geomatics market.
Competitive Analysis:
The report offers the appropriate analysis of the key organizations/companies involved within the global geomatics market along with a comparative evaluation primarily based on their product offering, business overviews, geographic presence, enterprise strategies, segment market share, and SWOT analysis. The report also provides an elaborative analysis focusing on the current news and developments of the companies, which includes product development, innovations, joint ventures, partnerships, mergers & acquisitions, strategic alliances, and others. This allows for the evaluation of the overall competition within the market.
List of Companies:
Esri
Trimble Inc.
Hexagon AB
Autodesk Inc.
Bentley Systems, Inc.
Leica Geosystems AG
Topcon Corporation
The Schneider Corporation
Fugro N.V.
Harris Geospatial Inc.
SuperMap Software Co., Ltd.
TomTom NV
PASCO Corporation
DigitalGlobe Inc.
Teledyne Technologies Inc.
Key Target Audience
Market Players
Investors
End-Users
Government Authorities
Consulting and Research Firm
Venture Capitalists
Value-Added Resellers (VARs)
Recent Developments
In September 2022, CATALYST has announced its collaboration with Microsoft's AI for Earth initiative, which enables simplified access to earth data. Through this partnership, Microsoft is leveraging CATALYST's trusted scientific expertise to provide researchers and decision-makers worldwide with foundational, terrain-corrected Sentinel-1 imagery through the Planetary Computer platform. This collaboration has streamlined the process of accessing earth data and empowered users to utilize CATALYST's reliable science for various applications related to environmental research and decision-making.
Market Segment
This study forecasts revenue at global, regional, and country levels from 2019 to 2032. Spherical Insights has segmented the global geomatics market based on the below-mentioned segments:
Geomatics Market, By Product
Hardware
Software
Services
Geomatics Market, By End-User
Transport and Logistics
Agriculture
Construction
Mining and Geology
Oil and Gas
Aerospace and Defense
Government
Others
Geomatics Market, Regional Analysis
North America
Europe

Germany
Uk
France
Italy
Spain
Russia
Rest of Europe

Asia Pacific

China
Japan
India
South Korea
Australia
Rest of Asia Pacific

South America

Brazil
Argentina
Rest of South America

Middle East & Africa

UAE
Saudi Arabia
Qatar
South Africa
Rest of Middle East & Africa
Need help to buy this report?