Global Gas Separation Membrane Market Size By Material Type (Polyimide & Polyaramide, Polysulfone, Cellulose Acetate, and Others), By Application (Nitrogen Generation & Oxygen Enrichment, Hydrogen Recovery, Carbon Dioxide Removal, and Others), By Geographic Scope And Forecast, 2023 - 2032 Global Gas Separation Membrane Market Insights Forecasts to 2032
Industry: Chemicals & Materials
---
REPORT FORMAT

---
Global Gas Separation Membrane Market Size, Forecasts to 2032
The Global Gas Separation Membrane Market was valued at USD 0.91 Billion in 2022.
The market is growing at a CAGR of 6.94% from 2022 to 2032
The Global Gas Separation Membrane Market is expected to reach USD 1.78 Billion by 2032
Asia Pacific is expected to grow the fastest during the forecast period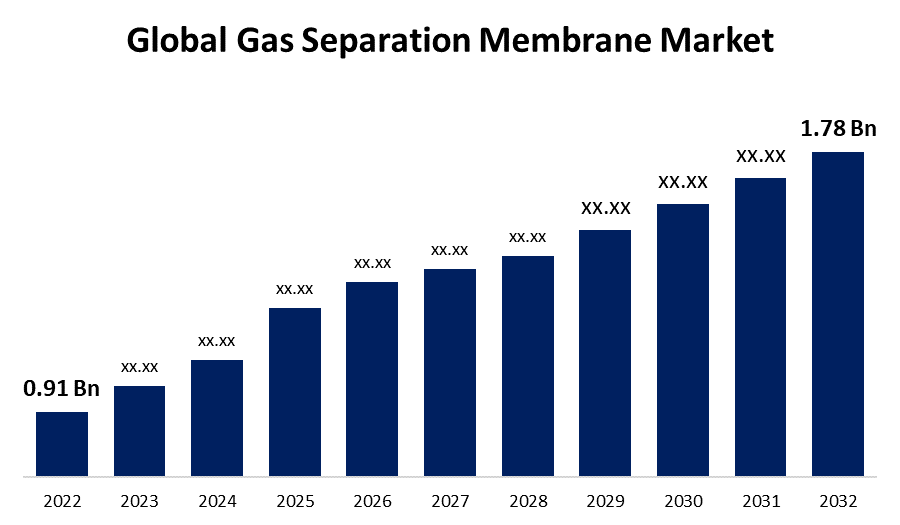 Get more details on this report -
Request Free Sample PDF
The Global Gas Separation Membrane Market is expected to reach USD 1.78 Billion by 2032, at a CAGR of 6.94% during the forecast period 2022 to 2032.
Gas separation membranes are thin, selective barriers that enable the separation of different gases based on their molecular size and properties, making them indispensable in applications ranging from natural gas processing to nitrogen generation and carbon capture. The global gas separation membrane market is experiencing significant growth and transformation, driven by the rising demand for clean energy, industrial gases, and the need for efficient gas separation processes across various industries. One of the key drivers for this market is the increasing emphasis on environmental sustainability. As concerns over climate change and carbon emissions intensify, industries are adopting gas separation membranes to capture and purify CO2 emissions, facilitating the transition towards cleaner energy sources. Moreover, the expanding use of nitrogen in food packaging, electronics manufacturing, and pharmaceuticals has boosted the demand for nitrogen gas separation membranes, contributing to market growth. The market is characterized by ongoing technological advancements, with manufacturers focusing on improving membrane performance, durability, and cost-effectiveness. These innovations are expanding the range of applications, making gas separation membranes more accessible to a broader spectrum of industries.
Market Outlook
Gas Separation Membrane Market Price Analysis
Price analysis in the global gas separation membrane market is a critical aspect that directly influences industry dynamics. Factors such as membrane material, technology, and application specificity significantly impact pricing structures. Polymeric membranes are often more cost-effective than ceramic counterparts, making them a preferred choice for various applications. Moreover, evolving manufacturing processes and economies of scale are driving down costs. The market is also witnessing price competitiveness due to increased market players and technological advancements. Nevertheless, pricing strategies must be balanced with the need for high-quality, reliable gas separation solutions. Companies must navigate this landscape to offer competitive yet sustainable pricing options in this rapidly expanding market.
Gas Separation Membrane Market Distribution Analysis
Distribution analysis in the global gas separation membrane market is pivotal in ensuring efficient supply chain management. The distribution network for gas separation membranes involves various players, including manufacturers, distributors, and end-users. Manufacturers often distribute their products through a network of distributors, agents, or directly to end-users. The choice of distribution channels depends on factors like product type, geographic reach, and market dynamics. Gas separation membranes are increasingly being made available through online platforms, simplifying the procurement process. Efficient distribution strategies, timely deliveries, and proximity to end-users are essential in meeting the diverse demands of industries such as petrochemicals, clean energy, and manufacturing, ensuring that gas separation membrane solutions reach the market when and where they are needed.
Global Gas Separation Membrane Market Report Coverage
| Report Coverage | Details |
| --- | --- |
| Base Year: | 2022 |
| Market Size in 2022: | USD 0.91 Billion |
| Forecast Period: | 2022-2032 |
| Forecast Period 2022-2032 CAGR: | 6.94% |
| 2032 Value Projection: | USD 1.78 Billion |
| Historical Data for: | 2019-2021 |
| No. of Pages: | 200 |
| Tables, Charts & Figures: | 110 |
| Segments covered: | By Material, By Application, By Geographic scope |
| Companies Covered: | Air Products and Chemicals, Inc., Air Liquide, UBE Corporation., Honeywell UOP, Fujifilm Manufacturing Europe B.V., Schlumberger Limited, DIC Corporation, Parker-Hannifin Corporation, Membrane Technology and Research, Inc., Generon, Inc. and Others key vendors. |
| Pitfalls & Challenges: | COVID-19 Empact,Challenges, Future, Growth, & Analysis |
Get more details on this report -
Request Free Sample PDF
Market Dynamics
Gas Separation Membrane Market Dynamics
Environmental laws and strict emission standards
Governments and regulatory bodies enact environmental regulations to protect the environment, human health, and public safety. These regulations aim to establish standards, guidelines, and restrictions for various industries and activities in order to reduce their environmental impact. Many industries are required to reduce their emissions of greenhouse gases (GHGs) and other pollutants into the atmosphere, such as sulfur dioxide (SO2) and nitrogen oxides (NOx). Carbon capture and storage (CCS) applications use gas separation membranes to selectively separate and capture CO2 emissions from flue gases before they are released. This assists industries in meeting emission reduction targets and adhering to environmental regulations. Gas separation membranes allow industries to meet increasingly stringent environmental regulations while maintaining or even improving process efficiency. These membranes' selectivity and efficiency allow for the separation of specific gases and contaminants, reducing waste and energy consumption.
Restraints & Challenges
Plasticization of polymer membranes in high-temperature applications refers to a phenomenon in which the polymer material used in the membrane becomes more flexible and less selective when heated. This can happen because thermal energy disrupts the molecular structure of the polymer, allowing gas molecules to pass through the membrane more easily. As a result, the membrane's selectivity for specific gases diminishes, jeopardizing its separation performance. This plasticization effect is important to consider when designing polymer-based gas separation membranes for high-temperature environments, such as those found in natural gas processing or industrial applications, because it can affect the membrane's long-term stability and efficiency. Researchers frequently investigate advanced polymer materials with higher glass transition temperatures or use hybrid membranes with inorganic components to maintain membrane integrity and selectivity under extreme temperature conditions to mitigate plasticization.
Regional Forecasts
North America Market Statistics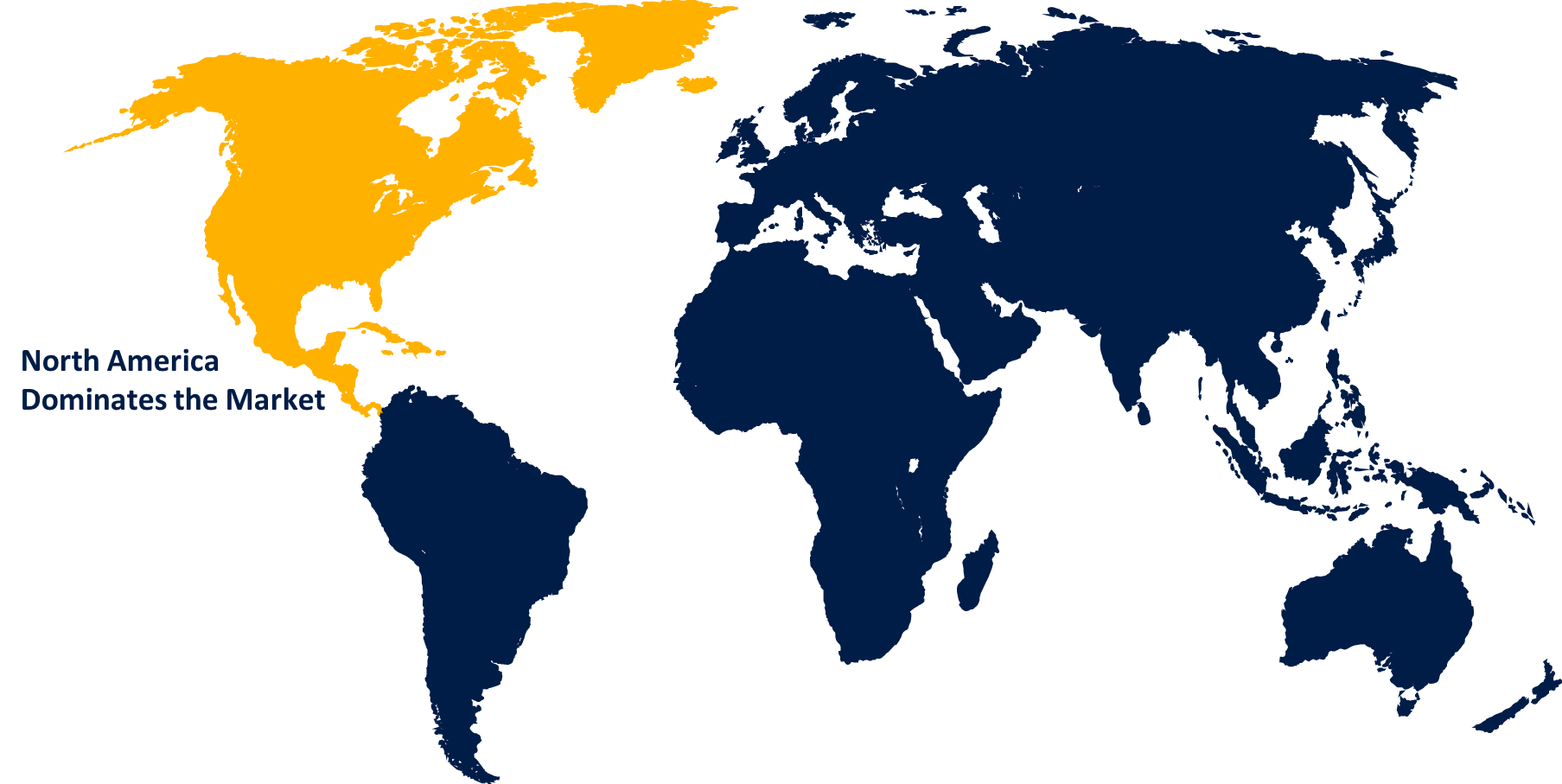 Get more details on this report -
Request Free Sample PDF
North America is anticipated to dominate the Gas Separation Membrane market from 2023 to 2032. North America, particularly the United States and Canada, held a significant share in the gas separation membrane market. This was due to a robust industrial base, increased shale gas production, and a growing focus on environmental sustainability, which drove demand for gas separation technologies.
Asia Pacific Market Statistics
Asia Pacific is witnessing the fastest market growth between 2023 to 2032. The Asia-Pacific region, including countries like China, Japan, and South Korea, experienced rapid growth in gas separation membrane adoption. Industrial expansion, particularly in manufacturing and electronics, contributed to the increasing demand for nitrogen generation and other gas separation applications. Furthermore, government initiatives aimed at reducing greenhouse gas emissions are propelling the adoption of gas separation membranes, making the Asia-Pacific market a hotspot for R&D and deployment of these technologies.
Segmentation Analysis
Insights by Material Type
The Polyimide & Polyaramide segment accounted for the largest market share over the forecast period 2023 to 2032. These materials are known for their high-temperature stability and excellent gas separation performance. They are often used in critical applications, such as petrochemical and natural gas processing, where high selectivity and efficiency are crucial.
Insights by Application
The Nitrogen Generation & Oxygen Enrichment segment accounted for a significant market share over the forecast period 2023 to 2032. Gas separation membranes are widely used for nitrogen generation and oxygen enrichment. These membranes selectively separate nitrogen from air, which is essential in various industries, including food packaging, electronics manufacturing, and pharmaceuticals. Oxygen enrichment is also crucial in medical applications.
Recent Market Developments
In July 2021, Air Liquide has completed the construction of Canada's largest helium purification facility, which is expected to provide critical support to North America Helium's operations in southwest Saskatchewan, Canada. This plant is the largest helium production facility in the country.
Competitive Landscape
Major players in the market
Air Products and Chemicals, Inc.
Air Liquide
UBE Corporation.
Honeywell UOP
Fujifilm Manufacturing Europe B.V.
Schlumberger Limited
DIC Corporation
Parker-Hannifin Corporation
Membrane Technology and Research, Inc.
Generon, Inc.
Others
Market Segmentation
This study forecasts revenue at global, regional, and country levels from 2023 to 2032.
Gas Separation Membrane Market, Material Type Analysis
Polyimide & Polyaramide
Polysulfone
Cellulose Acetate
Others
Gas Separation Membrane Market, Application Analysis
Nitrogen Generation & Oxygen Enrichment
Hydrogen Recovery
Carbon Dioxide Removal
Others
Gas Separation Membrane Market, Regional Analysis
Need help to buy this report?