Global Functional Safety Market Size, Share, and COVID-19 Impact Analysis, By Devices (Safety Sensors, Safety Controllers, Programmable Safety Systems, Safety Switches, Emergency Stop Devices, Others), By Safety System (ESD, HIPPS, BMS, TMC, F&G, DCS, SCADA, Others), By Verticals (Process Industry, Power Generation, Chemicals, Food & beverages, Water & Wastewater Treatment, Pharmaceuticals, Metals & Mining, Discrete Industry, Automotive, Railways, Medical, Others), and By Region (North America, Europe, Asia-Pacific, Latin America, Middle East, and Africa), Analysis and Forecast 2021 – 2030
Industry: Semiconductors & Electronics
---
REPORT FORMAT

---
Global Functional Safety Market Insights Forecasts to 2030
The Functional Safety Market Size was valued at USD 4.7 billion in 2021.
The market is growing at a CAGR of 11.94% from 2021 to 2030
The Worldwide Functional Safety Market is expected to reach USD 12.97 billion by 2030
Asia Pacific is expected to grow the fastest during the forecast period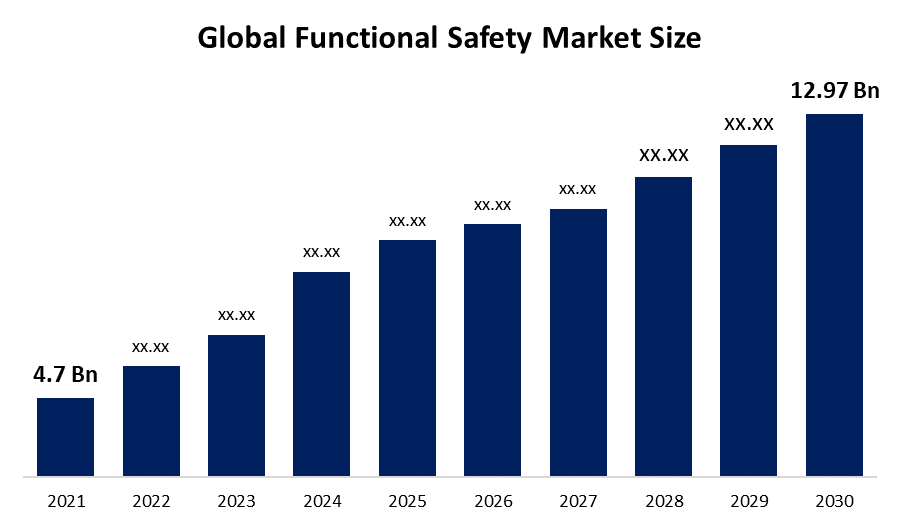 Get more details on this report -
Request Free Sample PDF
The Global Functional Safety Market Size is expected to reach USD 12.97 billion by 2030, at a CAGR of 11.94% during the forecast period 2021 to 2030.
Functional safety is the aspect of an equipment increased security that varies depending on automatic protection correctly responding to inputs or failing in a linear pattern. The automatic protection system is needed to handle potential technical intervention, extraneous variables, equipment failures, and operations and maintenance burnout. The overall objective of functional safety is to eliminate the unconscionable possibility of physical harm or damage to individuals and communities, whether individually or collectively through damage to the environment or property, by implementing appropriate one and more automatic protection functions, also known as safety functions.
Functional safety has been adopted by a variety of industries, including pharmaceuticals, the process industry, mining, power generation, and oil and gas. By ensuring that machinery with potentially dangerous motion has a safe stop and start function, manufacturers and suppliers have employed predictable techniques like safety relays and safety controllers to maintain surveillance on people's safety from accidents and injuries. The market for functional safety is increasing globally as a result of all these factors.
COVID-19 Impact on Functional Safety
Globally, COVID-19 has had a major impact over every industry. Most manufacturers have suspended or whittled down their manufacturing capacity. However, the COVID-19 outbreak has decreased the demand for functional safety on a worldwide platform. This is directly relevant to supply chain disruptions occurring all over the world. As a direct consequence of a large decline in product demand, the global economy went into recession. The decrease in manufacturing and the receding size of the functional safety systems market are also both primarily the result of factors such as a shortage of raw materials, a fall in export industries, and disrupted supply chains.
Global Functional Safety Market Report Coverage
| Report Coverage | Details |
| --- | --- |
| Base Year: | 2021 |
| Market Size in 2021: | USD 4.7 Billion |
| Forecast Period: | 2021 - 2030 |
| Forecast Period 2021 - 2030 CAGR: | 11.94% |
| 2030 Value Projection: | USD 12.97 Billion |
| Historical Data for: | 2017 - 2020 |
| No. of Pages: | 210 |
| Tables, Charts & Figures: | 180 |
| Segments covered: | By Devices, By Safety System, By Verticals, By Region |
| Companies Covered: | ABB Ltd., Balluff, SICK AG, Siemens AG, Emerson Electric Co., Schneider Electric, Johnson Controls, General Electric Company, Proserv Ingenious Simplicity, Honeywell International Inc., Rockwell Automation Inc., Omron Corporation, TÜV Rheinland, Banner Engineering Corporation, Yokogawa Electric Corporation |
Get more details on this report -
Request Free Sample PDF
Driving Factors
The rising adoptions of connected devices, as well as the rapid deployment of management software via over-the-air (OTA), are anticipated to increase demand for the functional safety systems market. The Fourth Industrial Revolution has resulted in greater demand for dependable safety systems to protect employees and assets. Commercial enterprises across a range of industries currently have the functionality they need to automatically prevent dangerous failures and take ownership in the event they occur by implementing functional safety systems and a data-centric strategy. Such are the factors that are expected to contribute to market revenue expansion during the projected time frame.
The demand for functional safety market has been growing as the number of workplace hazards increases and the importance of operational safety in workplace operations continues to grow. To efficiently and successfully decrease workplace accidents and equivalent risks, extensive quality, assurance, and security protocols are being implemented. As a result, the Global Functional Safety Systems Market is likely to be rapidly expanding, driven primarily by the growing demand for industrial equipment safety and quality.
A number of government projects would also facilitate the growth of companies that engage in the creation of functional safety devices and solutions. When utilized in conjunction with various functional safety devices and systems, the widely spread application of modern technologies like Artificial Intelligence (AI) and Machine Learning (ML) improves effectiveness and monitoring. As a result, these numerous factors are boosting the future demand for the functional safety market penetration.
Restraining Factors
However, the organization's budget is severely constrained by the cost of functional safety components as well as deployment, maintenance, and repair costs. Although major corporations could handle these costs, small and medium-sized companies may struggle with these expenses.
Furthermore, the functional safety market must accede to regulations concerning system performance, efficiency, and software and hardware interface constraints. As safety standards are constantly updated in accordance with emerging demands and trends, organizations are bound to modify their safety systems. As a result, the functional safety market's growth is expected to be highly restricted.
Market Segmentation
By Devices Insights
The safety sensors segment is dominating the market with the largest revenue share over the forecast period.
On the basis of devices, the global functional safety market is segmented into safety sensors, safety controllers, programmable safety systems, safety switches, emergency stop devices, and others. Among these, the safety sensors segment is dominating the market with the largest revenue share of 36.3% over the forecast period. Safety sensors are critical for the functional safety market and devices. These safety sensors include backup components, so that if one fails, another takes over the functioning, preventing productivity losses from closure. Safety sensors are integrated into functional safety systems for a variety of applications, including sensing the mobility and location of machines and equipment, monitoring equipment statistics, and assisting in the integration of automated processes. Furthermore, there are numerous advantages to real-time continuous monitoring, risk evaluation, quality assurance, diagnosis, and other related processes.
By Safety System Insights
The ESD segment accounted the largest market share over the forecast period.
On the basis of the safety system, the global functional safety market is segmented into ESD, HIPPS, BMS, TMC, F&G, DCS, SCADA, and Others. Among these, the ESD segment is dominating the market and is going to continue its dominance over the forecast period. The Emergency Shutdown System (ESD) may be utilized to protect individuals, the workplace, as well as other important assets. The emergency shutdown systems are widely adopted in industries, which have potential or explosion risks, primarily nuclear power, oil and gas, and similar industries. Oil and gas infrastructures, in particular, are vulnerable to incidents that may result in a damaging effect on people and the surroundings. In oil and gas facilities, functional safety measures, such as emergency shutdown systems, can significantly decrease the likelihood of disasters. The emergency shutdown system is an ideal solution for containing and avoiding the spread of major emergencies such as fire and flash floods.
By Verticals Insights
The power generation segment accounted the largest revenue share of more than 45% over the forecast period.
On the basis of verticals, the global functional safety market is segmented into the process industry, power generation, chemicals, food & beverages, water & wastewater treatment, pharmaceuticals, metals & mining, discrete industry, automotive, railways, medical, and others. Among these, power generation is dominating the market with the largest revenue share of 45% over the forecast period. The power generation industry offers support such as water and wastewater treatment, electricity transmission, and generation using conventional and renewable energy sources. Due to the significance of performing proactive maintenance on the infrastructure as well as machinery in this industry, the power generation sector was one of the pioneers of functional safety systems. The efficiency of the turbines and generators has a significant impact on the power plants overall productivity. Failures of rotating machinery are the leading causes of power generation compelled blackouts. The turbines and generators rotating parts must function effectively, with minimal downtime and total processing capacity.
Regional Insights
North America dominates the market with the largest market share over the forecast period.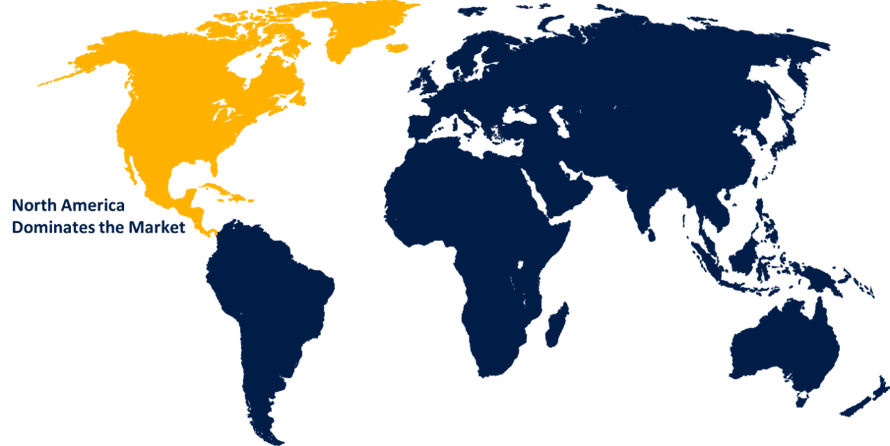 Get more details on this report -
Request Free Sample PDF
North America is dominating the market with more than 43.7% market share over the forecast period. The United States is one of the region's largest markets for functional safety systems. The nation is well-known for its innovation processes, and it is at the leading edge of major developments encompassing evolving technologies related to Industry 4.0. The country is home to notable businesses such as Honeywell International, Rockwell Automation, Banner Engineering Corp, and General Electric. Rising investments in power-generating projects are expected to drive up demand for the functional safety systems market in the region over the forecast period.
Asia Pacific, on the contrary, is expected to grow the fastest during the forecast period. Increasing demand from emerging economies like China, Japan, India, and South Korea is propelling the region's Functional Safety marketplace forward. The globalization of highly regulated sectors like oil and gas and power has expanded the market for functional safety in emerging economies like China and India. Despite its limited overall land area, Japan is the world's largest producer and consumer of energy. The safety of workers in a wide range of industries is the primary focus of Japan's strict safety regulations. In addition, major organizations are developing innovative functional safety devices to accommodate the increasing need due to the region's wide and varied industry sectors.
List of Key Market Players
ABB Ltd.
Balluff
SICK AG
Siemens AG
Emerson Electric Co.
Schneider Electric
Johnson Controls
General Electric Company
Proserv Ingenious Simplicity
Honeywell International Inc.
Rockwell Automation Inc.
Omron Corporation
TÜV Rheinland
Banner Engineering Corporation
Yokogawa Electric Corporation
Key Market Developments
On January 2023, TÜV Rheinland agreed to purchase ABB's UK technical engineering consulting business, which is part of ABB's Energy Industries division. The combined company will be a scalable, broad-based technical engineering provider with a full-service offering to high-risk industries, assisting customers with energy transition and energy security.
In August 2022, Proserv, the global leader in controls technology, reached an agreement on a Memorandum of Understanding (MoU) with Ortomation, a UK-based start-up. The collaboration will aid in the development and commercialization of novel real-time optimization (RTO) software. The agreement is the latest step in Proserv's ambitious technology roadmap, which is focused on delivering impactful, disruptive monitoring and optimization solutions that leverage the power of data analytics to bring benefits to the entire energy sector.
In March 2021, SICK introduced ScanGrid2, a solid-state safety solution for line-guided small vehicles. SICK's scanGrid2 safe multibeam scanner is the world's first of its kind. The small sensor employs a novel and in-house developed solid state LiDAR technology to boost the productivity of small autonomous and line-guided transport vehicles, known as Automated Guided Carts. The scanGrid2 is a Type 2 / SIL 1 safety sensor that can protect hazardous areas up to performance level c and can be used for collision avoidance. An app and cloning function also ensure high usability and quick sensor solution commissioning.
Market Segment
This study forecasts revenue at global, regional, and country levels from 2019 to 2030. Spherical Insights has segmented the Global Functional Safety Market based on the below-mentioned segments:
Functional Safety Market, Devices Analysis
Safety Sensors
Safety Controllers
Programmable Safety Systems
Safety Switches
Emergency Stop Devices
Others
Functional Safety Market, Safety System Analysis
Emergency Shutdown System (ESD)
High Integrity Pressure Protection System (HIPPS)
Burner Management System (BMS)
Turbomachinery Control (TMC)
Fire & Gas Monitoring System (F&G)
Distributed Control Systems (DCS)
Supervisory Control and Data Acquisition (SCADA)
Others
Functional Safety Market, Verticals Analysis
Process Industry
Power Generation
Chemicals
Food & beverages
Water & Wastewater Treatment
Pharmaceuticals
Metals & Mining
Discrete Industry
Automotive
Railways
Medical
Others
Functional Safety Market, Regional Analysis
North America
Europe

Germany
Uk
France
Italy
Spain
Russia
Rest of Europe

Asia Pacific

China
Japan
India
South Korea
Australia
Rest of Asia Pacific

South America

Brazil
Argentina
Rest of South America

Middle East & Africa

UAE
Saudi Arabia
Qatar
South Africa
Rest of Middle East & Africa
Need help to buy this report?