Global Functional Food Market By Ingredient (Carotenoids, Dietary Fibers, Fatty Acids, Minerals, Prebiotics & Probiotics, Vitamins & Others), By Product (Bakery & Cereals, Dairy Products, Meat, Fish & Eggs, Soy Products, Fats & Oils & Others), By Application (Sports Nutrition, Weight Management, Immunity, Digestive Health, Clinical Nutrition, Cardio Health & Others), By Distribution Channel (Supermarket/Hypermarket, Online, Drugstore, Nutrition & Health Food Store & Others); By Region (U.S., Canada, Mexico, Rest Of North America, The UK, France, Germany, Italy, Spain, Nordic Countries (Denmark, Finland, Iceland, Sweden, Norway), Benelux Union (Belgium, The Netherlands, Luxembourg), Rest Of Europe, China, Japan, India, New Zealand, Australia, South Korea, Southeast Asia (Indonesia, Thailand, Malaysia, Singapore, Rest Of Southeast Asia), Saudi Arabia, UAE, Egypt, Kuwait, South Africa, Rest Of Middle East & Africa, Brazil, Argentina, Rest Of Latin America) – Global Insights, Growth, Size, Comparative Analysis, Trends And Forecast, 2021-2030
Industry: Food & Beverages
---
REPORT FORMAT

---
The Global Functional Food Market Size was valued at USD 189.5 billion in 2021. The market is projected to grow USD 285.3 billion in 2030, at a CAGR of 4.52%. The development is expected to be fueled by rising demand for nutritious and fortifying food additives. Food and beverage makers are fortifying their products with nutritious additions including omega-3 fatty acids, fibre, vitamins, minerals, and others. The primary goal of adding the aforementioned chemicals into the food and beverage sector is to boost the nutritional value of food products. It does not cure disease, but it does help to minimise the risk of fatal diseases by enhancing the body's health by supplying important minerals and proteins. Incorporating functional foods into one's diet can improve one's physiological status.

Get more details on this report -
Request Free Sample PDF
Fish oils and yoghurt are abundant in functional components like omega-3 and probiotics, which help to lower the risk of cardiovascular disease and increase the quality of intestinal microbiota. Over the next few years, this tendency is projected to boost the industry. Furthermore, in view of increased concerns about decreasing Greenhouse Gas (GHG) emissions, the European Commission and the Environmental Protection Agency (EPA) have created supportive laws to increase the production and consumption of organically derived substances.

The rise and growth of wellness-focused diets like keto and paleo is prompting food manufacturers to adapt their goods to fit this trend. Because of the growing popularity of low-carbohydrate, high-protein, and paleo diets, digestive wellness is the fastest-growing segment. For example, in 1955, the Japanese business Yakult Honsha introduced a probiotic dairy drink that was initially disregarded by industry experts; yet, it is now the world's largest probiotic dairy brand, with locations in Asia, Europe, and the Americas.

Global Functional Food Market Report Coverage
| Report Coverage | Details |
| --- | --- |
| Base Year: | 2021 |
| Market Size in 2021: | USD 189.5 Billion |
| Forecast Period: | 2021 - 2030 |
| Forecast Period 2021 - 2030 CAGR: | 4.52% |
| 2030 Value Projection: | USD 285.3 Billion |
| Historical Data for: | 2017 - 2020 |
| No. of Pages: | 200 |
| Tables, Charts & Figures: | 119 |
| Segments covered: | By Ingredient, By Product, By Application, By Distribution Channel, By Region. |
| Companies Covered: | BASF SE, Cargill Inc, General Mills, Inc, Coca-Cola Co, Standard Functional Foods Group, Inc, GFR Pharma, Danone, Glanbia PLC, Hearthside Food Solutions LLC, Mars, Incorporated, Meiji Co., Ltd, Nestlé S.A, Raisio PLC, Royal frieslandcampina N.V, The Kraft Heinz Company |
| Growth Drivers: | 1) The vitamins segment accounted largest market share 2) The dairy products segment accounted largest market share |
Get more details on this report -
Request Free Sample PDF
Ingredient Outlook
The vitamins segment accounted largest market share for the global functional food market in 2020 owing to the rising concern of health benefits which are associated with the fiber consumption is linked to a variety of health benefits, including bowel health maintenance, cholesterol reduction, and blood sugar control, to name a few. These benefits, together with the rising functional food business, are likely to drive the dietary fibre segment forward.

The prebiotics and probiotics segment is anticipated to register a significant growth rate over the forecast period for the global functional food market in 2020 owing to the prebiotics are short-chain carbohydrates that are not digested by human digestive enzymes and boost the activity of certain helpful bacteria. Beneficial bacteria in the colon ferment prebiotics to produce short-chain fatty acids. Prebiotics provide a variety of other health benefits in the large intestine, including reduced cancer risk and enhanced calcium and magnesium absorption. Prebiotics are a type of prebiotic that may be found in a variety of vegetables and fruits. They are considered functional food ingredients with considerable technical benefits.

Product Outlook
The dairy products segment accounted largest market share for the global functional food market in 2020 owing to the growing consumption of dairy products across across urban as well as rural areas. Milk is a fairly complete food since it contains a good amount of protein, fat, and essential minerals. Dairy goods include butter, cheese, ice cream, yoghurt, and condensed and dry milk, as well as any meal made from milk. People are eating more dairy products because they are good for creating strong bones and keeping a healthy weight. Because of its great nutritional value and numerous health benefits, yoghurt is commonly employed as a functional food. Fruits including peaches, cherries, apricots, papaya, cactus pear, and blueberries are used to manufacture yoghurt, making it healthier and more nutritious.

The ready-to-drink segment is anticipated to register a significant growth rate over the forecast period for the global functional food market in 2020 owing to the

Application Outlook
The sports nutrition segment registers the highest market share in 2020 of the global functional food market. This is due to the increasing understanding that nutritional issues might affect the physical and mental performance ability of people who engage in strenuous exercise, such as bodybuilders and athletes. Following strenuous exercise, the body may require specific nutritional elements, which can be met by functional food. In addition, the rise in the number of health clubs and fitness facilities is predicted to enhance demand for functional foods through sport nutrition applications.

Distribution Channel Outlook
The online segment accounted largest market share for the global functional food market in 2020 owing to the boom of e-commerce has effectively created severe headwinds for functional food product online retail sales. Following the outbreak of the pandemic, major manufacturers have increased their use of prominent e-commerce platforms by offering a combination of enticing prices, strong sales and support, and a better purchasing experience for consumers. This aspect is expected to help internet platforms become one of the world's fastest-growing distribution channels.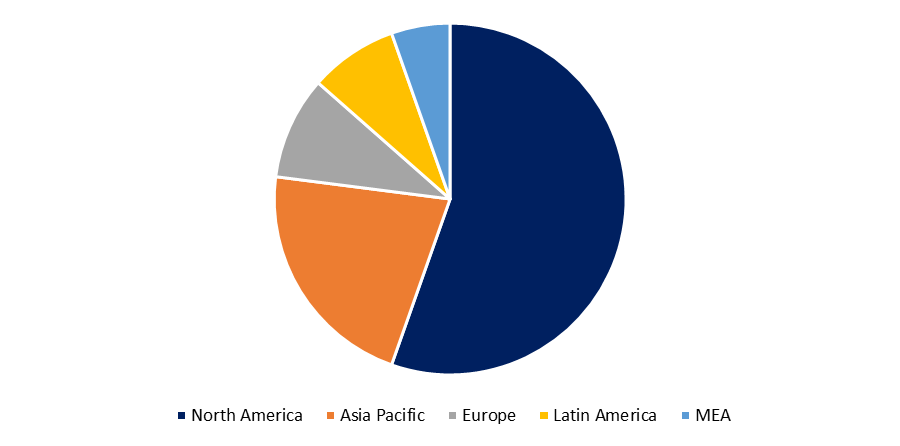 Get more details on this report -
Request Free Sample PDF
Regional Outlook
North America dominated largest market share for the global functional food market in 2020 owing to the prevalence of chronic diseases as a result of hurried lives, as well as growing consumer knowledge of the health benefits of functional foods, are driving this dominance. Furthermore, the region has the greatest obesity rate. The functional food ingredients sector is putting more money into research projects in order to produce new ingredients that will meet the diverse needs of potential customers in the region. Cargill, Incorporated (US), Archer Daniels Midland Company (US), and DuPont are the major companies in the North American functional food ingredients market (US). These companies have research and development labs where they develop a wide range of functional food additives for the food and beverage industries. Cargill made a USD 146 million investment.

Asia Pacific is anticipated to emerge as the fastest-growing region over the forecast period. Owing to the greater disposable income and a growing population. Consumption of processed foods is rapidly increasing, and there is a growing awareness of health and fitness in developing economies, which are important driving factors for the regional industry. Growing consumer worries about food safety are impacting consumer behavior and, as a result, fueling growth in the region. To counteract rising worries about hunger and poverty, the government is anticipated to prioritize food fortification. As a result, this aspect is projected to have a major impact on market growth.

Key Companies & Recent Developments
Partnerships, strategic mergers, and acquisitions are expected to be the most successful strategies for industry participants to get speedy access to growing markets while also improving technological capabilities. For example, in March 2021, Zomato, a food delivery service based in Gurugram, has launched a line of functional foods. Customers will be able to order products through the company's app, which will be available online. In October 2020, Rosewood Private Investments announced acquisition of Living Ecology to expand Rosewood Private Investments existing portfolio of R&D and manufacturing companies in the health and wellness industry into functional foods' burgeoning market. In August 2021, Danone has expanded its research partnership with artificial intelligence company Brightseed to look into the health benefits of plants.

In addition, product differentiation and developments, as well as service expansion, are projected to help organizations thrive in the market. For instance, in May 2021, Cargill launched EpiCor, a new probiotic product, a dried yeast fermentate clinically established in dietary supplement trials to beneficially modify the gut microbiota and give immune system support. In May 2021, With the new Kellogg's® Little Debbie® Cosmic® Brownies Cereal, Kellogg Company has introduced a new cereal product that transforms a beloved childhood pleasure into cereal.

Market Segmentation of Global Functional Food Market
By Ingredient
Carotenoids
Dietary Fibers
Fatty Acids
Minerals
Prebiotics & Probiotics
Vitamins
Others
By Product
Bakery & Cereals
Dairy Products
Meat, Fish & Eggs
Soy Products
Fats & Oils
Others
By Application
Sports Nutrition
Weight Management
Immunity
Digestive Health
Clinical Nutrition
Cardio Health
Others
Key Players:
BASF SE
Cargill Inc
General Mills, Inc
Coca-Cola Co
Standard Functional Foods Group, Inc
GFR Pharma
Danone
Glanbia PLC
Hearthside Food Solutions LLC
Mars, Incorporated
Meiji Co., Ltd
Nestlé S.A.
Raisio PLC
Royal frieslandcampina N.V.
The Kraft Heinz Company
Global Functional Food Market Size Overview: Watch Video By YouTube
Need help to buy this report?