Global Frozen Potatoes Market Size, Share, and COVID-19 Impact Analysis, By Product (Potato Fried, Potato Wedges, Stuffed Potatoes, Potato Slices, Potato Chunks, Potato Dices, Baked Potato, Others), By Distribution Channel (Offline and Online), By Region (North America, Europe, Asia-Pacific, Latin America, Middle East, and Africa), Analysis and Forecast 2022 – 2032
Industry: Food & Beverages
---
REPORT FORMAT

---
Global Frozen Potatoes Market Insights Forecasts to 2032.
The Frozen Potatoes Market Size was valued at USD 59.8 Billion in 2022.
The Market is Growing at a CAGR of 5.7% from 2022 to 2032
The Global Frozen Potatoes Market Size is expected to reach USD 104.3 Billion by 2032
Asia-Pacific is expected to grow fastest during the forecast period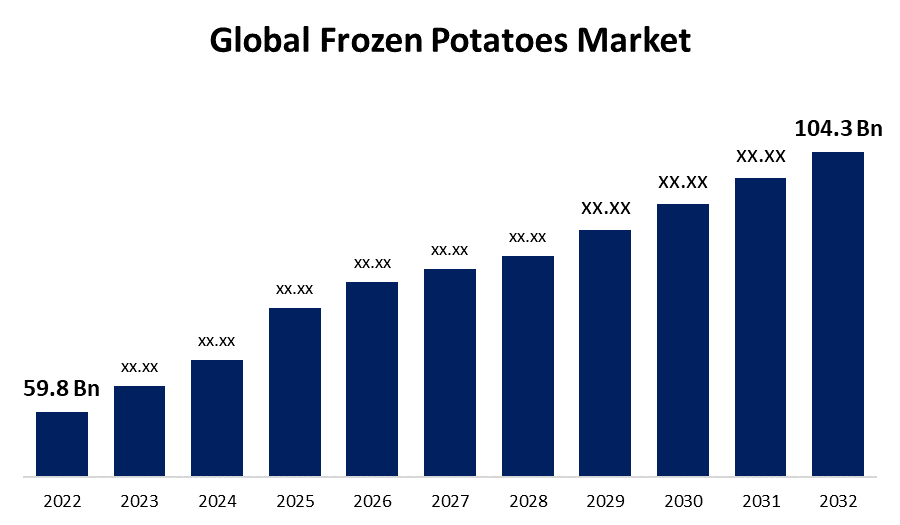 Get more details on this report -
Request Free Sample PDF
The Global Frozen Potatoes Market Size is expected to reach USD 104.3 Billion by 2032, at a CAGR of 5.7% during the forecast period 2022 to 2032.
Market Overview
Frozen potatoes are a versatile and convenient food product that has gained immense popularity worldwide. These frozen potato products encompass a wide range of options, including french fries, hash browns, potato wedges, and more. They are typically made from high-quality potatoes that are harvested, cleaned, and processed before being frozen to lock in their freshness. Frozen potatoes offer consumers a quick and hassle-free way to enjoy the delicious taste and texture of potatoes without the need for extensive preparation. Whether used as a side dish, snack, or ingredient in various recipes, frozen potatoes have become a staple in many households, restaurants, and fast-food chains. Their long shelf life, consistent quality, and ease of preparation make them a convenient choice for individuals seeking a tasty and convenient potato solution.
Report Coverage
This research report categorizes the market for frozen potatoes market based on various segments and regions and forecasts revenue growth and analyzes trends in each submarket. The report analyses the key growth drivers, opportunities, and challenges influencing the frozen potatoes market. Recent market developments and competitive strategies such as expansion, product launch, and development, partnership, merger, and acquisition have been included to draw the competitive landscape in the market. The report strategically identifies and profiles the key market players and analyses their core competencies in each sub-segments of the frozen potatoes market.
Global Frozen Potatoes Market Report Coverage
| Report Coverage | Details |
| --- | --- |
| Base Year: | 2022 |
| Market Size in 2022: | USD 59.8 Billion |
| Forecast Period: | 2022-2032 |
| Forecast Period 2022-2032 CAGR: | 5.7% |
| 2032 Value Projection: | USD 104.3 Billion |
| Historical Data for: | 2018-2021 |
| No. of Pages: | 200 |
| Tables, Charts & Figures: | 110 |
| Segments covered: | By Product, By Distribution Channel, By Region and COVID-19 Impact Analysis. |
| Companies Covered: | Unilever PLC, Nestle S.A., General Mills, Inc., Nomad Foods Ltd., Tyson Foods Inc., Conagra Brands Inc., Wawona Frozen Foods, Bellisio Parent, LLC, The Kellogg Company, The Kraft Heinz Company, and other key vendors. |
| Pitfalls & Challenges: | COVID-19 Empact, Challenge, Future, Growth, & Analysis |
Get more details on this report -
Request Free Sample PDF
Driving Factors
The frozen potatoes market is influenced by a myriad of drivers that collectively shape its growth and dynamics, changing consumer lifestyles and an increasing demand for convenient and time-saving meal solutions have significantly boosted the market. Frozen potatoes offer quick and easy preparation, making them an attractive option for busy households. Health-conscious consumers seeking alternatives to traditional fried potatoes have also driven market growth. Many frozen potato products are now available in healthier varieties, such as baked or air-fried options, appealing to those looking for lower-fat alternatives. Globalization and the expansion of fast-food chains have further fueled the market, as french fries, a popular frozen potato product, are a staple menu item at many fast-food outlets. Additionally, the versatility of frozen potatoes as an ingredient in various cuisines, such as poutine in Canada or loaded fries in the United States, has contributed to their growing popularity. Supply chain improvements and advancements in frozen food technology have led to better quality and longer shelf life for frozen potato products, enhancing their appeal to both consumers and food service providers. Moreover, the development of innovative frozen potato variants, such as flavored fries or gluten-free options, has expanded the market's reach. Environmental concerns and sustainability have also impacted the market, with some consumers opting for frozen potato products from brands committed to responsible sourcing and eco-friendly packaging. Moreover, the COVID-19 pandemic underscored the importance of having convenient, longer-lasting food items at home, further boosting the demand for frozen potatoes. The rise of e-commerce and online grocery shopping has made frozen potato products more accessible to consumers, allowing them to conveniently purchase and stock up on their favorite frozen potato items.
Restraining Factors
The frozen potatoes market faces several restraints that can impede its growth. One significant challenge is increasing consumer awareness of the health risks associated with excessive consumption of fried and processed foods, including frozen potato products. This has led some consumers to opt for healthier alternatives, impacting market demand. Additionally, fluctuating raw material prices, supply chain disruptions, and the need for continuous innovation to meet evolving consumer preferences pose economic and operational challenges for industry players. Competition from other convenient food options, such as fresh potatoes and other frozen vegetables, also limits the market's potential for growth. Moreover, concerns about the environmental impact of frozen food packaging and processing methods are prompting increased scrutiny from environmentally conscious consumers and regulators, adding to market pressures.
Market Segmentation
In 2022, the potato fried segment accounted for around 41.7% market share
On the basis of the product, the global frozen potatoes market is segmented into potato fried, potato wedges, stuffed potatoes, potato slices, potato chunks, potato dices, baked potato, and others. The potato fried segment has secured the largest revenue share in the market. Frozen potato fries are one of the most popular and commonly consumed frozen potato products worldwide. They are available in a variety of forms and sizes, including thin-cut, shoestring, and steak fries. To make crispy and delectable appetizers or side dishes, these are often deep-fried or oven-baked. They are simple to create, frequently loved and come in a number of forms and flavors to suit a wide range of consumer tastes. The ubiquitous popularity of fries, fueled by fast-food chains' global reach and the product's convenience, ensures its domination. Fries are liked by people of all ages all around the world, whether in a restaurant, from a street seller or made at home.
The online segment is expected to grow at a CAGR of around 5.4% during the forecast period
Based on the distribution channel, the global frozen potatoes market is segmented into offline and online. The online distribution channel is poised for rapid growth during the forecast period due to the increasing digitalization of retail and changing consumer behavior, driven by the convenience of online shopping, which has bolstered the popularity of purchasing frozen potato products and ready meals through e-commerce platforms. The COVID-19 pandemic accelerated the shift towards online grocery shopping, creating a sustained preference for this channel. Additionally, the vast assortment of frozen potato products available online, combined with the ease of doorstep delivery, appeals to a broader customer base. These factors collectively position online distribution as a key driver of growth in the frozen potato market's future.
Regional Segment Analysis of the Frozen Potatoes Market
North America (U.S., Canada, Mexico)
Europe (Germany, France, U.K., Italy, Spain, Rest of Europe)
Asia-Pacific (China, Japan, India, Rest of APAC)
South America (Brazil and the Rest of South America)
The Middle East and Africa (UAE, South Africa, Rest of MEA)
North America dominated the market with more than 30.8% revenue share in 2022.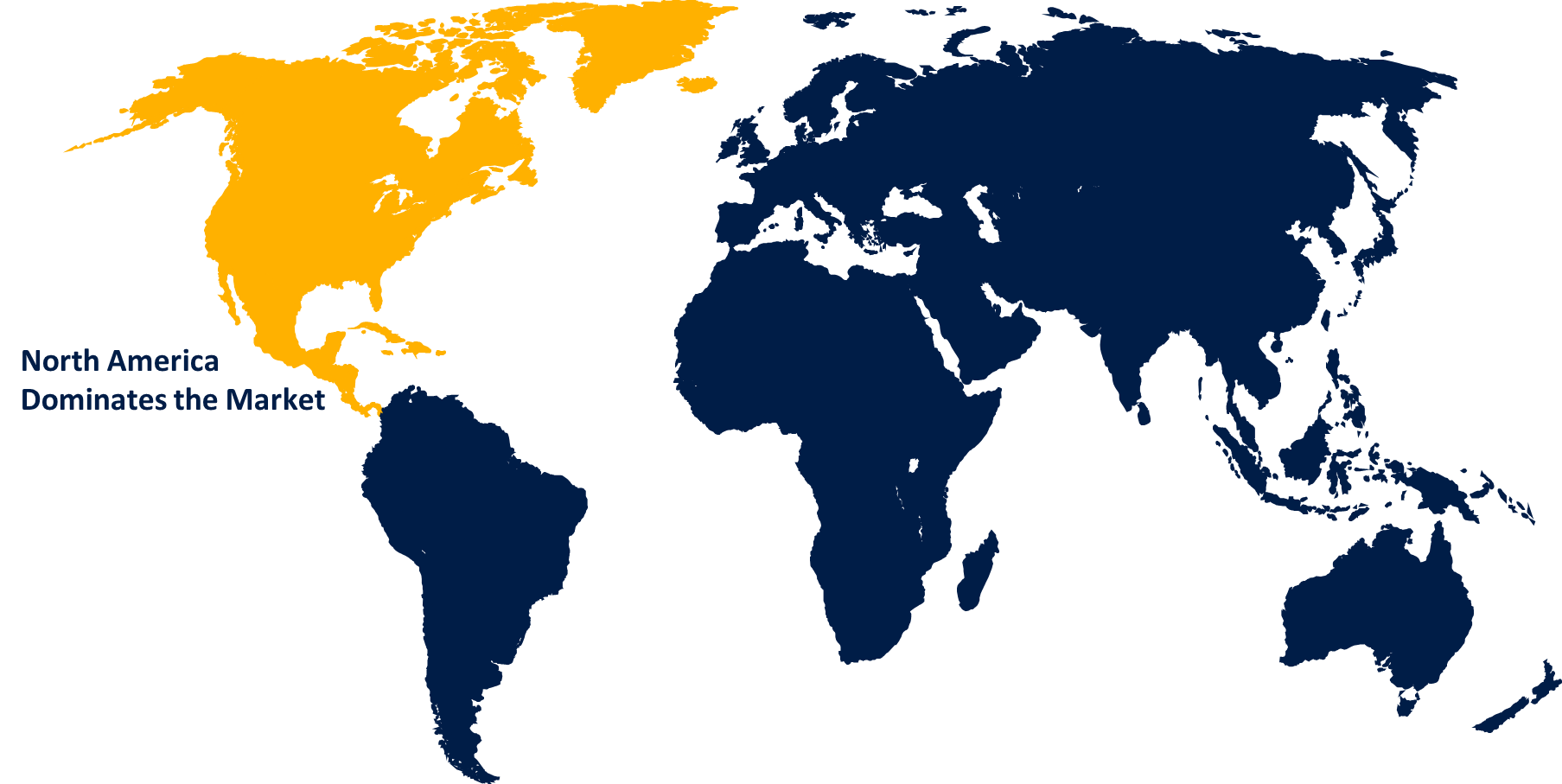 Get more details on this report -
Request Free Sample PDF
Based on region, North America has emerged as a dominant player in the global frozen potatoes market, making the largest contribution due to various factors. The region's significant share is primarily attributed to the widespread popularity of frozen potato products, particularly french fries and potato wedges, as staple items in the diets of North Americans. Additionally, the presence of well-established fast-food chains and quick-service restaurants that serve these products has fueled demand. Furthermore, consumer preferences for convenience and the busy lifestyles in North America have driven the consumption of frozen potatoes, making them a household favorite. These factors collectively establish North America as a key contributor to the global market.
Asia Pacific stands out as the fastest-growing market in the forecast period for the rapid economic development, urbanization, and an expanding middle-class population have led to changing dietary habits and an increasing demand for convenient and processed foods. As a result, frozen potato products have found a growing consumer base in Asia Pacific, driven by the rising popularity of fast food, Western-style dining, and the convenience of frozen options. Furthermore, foodservice industry expansion, changing consumer lifestyles, and the penetration of global fast-food chains have significantly boosted the demand for frozen potatoes in the region, making it a key growth driver in the forecasted period.
Recent Developments
In March 2021, The frozen food division of Fortenova was purchased by Nomad Foods. The agreement for the sale of the aforementioned firm includes Ledo Plus, Ledo Citluk, Frikom, as well as numerous other minor linked businesses.
In April 2021, Amazon created Aplenty, a private-label food and snack brand with hundreds of goods including frozen meals, pita chips, crackers, small biscuits, and sauces. These meals will be offered online and in-store at Amazon Fresh, increasing product visibility among customers.
In January 2023, Potato Cheezz, a revolutionary plant-based product that tastes and looks like cheese and is salt-free, fat-free, and lactose-free, as well as an ecologically beneficial, animal-friendly, and safe invention, was launched by Aviko, a Dutch potato processor. The company hoped to use this to broaden its product offering and strengthen its commercial position.
Competitive Analysis:
The report offers the appropriate analysis of the key organizations/companies involved within the global frozen potatoes market along with a comparative evaluation primarily based on their product offering, business overviews, geographic presence, enterprise strategies, segment market share, and SWOT analysis. The report also provides an elaborative analysis focusing on the current news and developments of the companies, which includes product development, innovations, joint ventures, partnerships, mergers & acquisitions, strategic alliances, and others. This allows for the evaluation of the overall competition within the market.
List of Companies:
Unilever PLC
Nestle S.A.
General Mills, Inc.
Nomad Foods Ltd.
Tyson Foods Inc.
Conagra Brands Inc.
Wawona Frozen Foods
Bellisio Parent, LLC
The Kellogg Company
The Kraft Heinz Company
Key Target Audience
Market Players
Investors
End-Users
Government Authorities
Consulting and Research Firm
Venture Capitalists
Value-Added Resellers (VARs)
Market Segment
This study forecasts revenue at global, regional, and country levels from 2019 to 2032. Spherical Insights has segmented the global frozen potatoes market based on the below-mentioned segments:
Frozen Potatoes Market, By Product
Potato Fried
Potato Wedges
Stuffed Potatoes
Potato Slices
Potato Chunks
Potato Dices
Baked Potato
Others
Frozen Potatoes Market, By Distribution Channel
Frozen Potatoes Market, Regional Analysis
North America
Europe

Germany
UK
France
Italy
Spain
Russia
Rest of Europe

Asia Pacific

China
Japan
India
South Korea
Australia
Rest of Asia Pacific

South America

Brazil
Argentina
Rest of South America

Middle East & Africa

UAE
Saudi Arabia
Qatar
South Africa
Rest of Middle East & Africa
Need help to buy this report?