Global Frozen Foods Market Size By Type (Raw Material, Half-cooked, and Ready-to-Eat), By Product (Fruits & Vegetables, Dairy Products, Bakery Products, Meat and seafood Products, Plant-Based Protein, Convenience Food and ready Meals, Pet Food), Distribution Channel (Online and Offline), By Geographic Scope And Forecast, 2023 - 2032
Industry: Food & Beverages
---
REPORT FORMAT

---
Global Frozen Foods Market Insights Forecasts to 2032
· The Frozen Foods Market Size was valued at USD 278.9 Billion in 2022.
· The Market Size is Growing at a CAGR of 4.72% from 2022 to 2032
· The Global Frozen Foods Market Size is expected to reach USD 442.2 Billion by 2032
· Asia Pacific is expected to Grow the fastest during the forecast period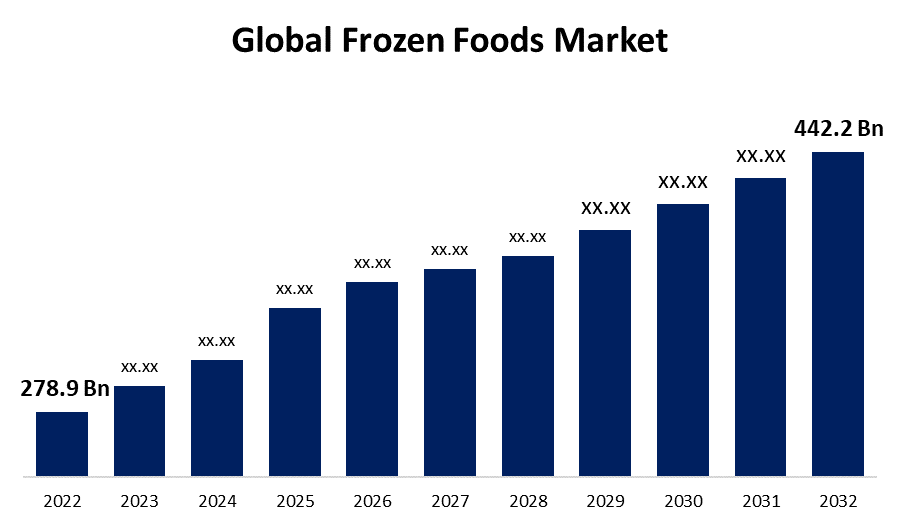 Get more details on this report -
Request Free Sample PDF
The Global Frozen Foods Market Size is expected to reach USD 442.2 Billion by 2032, at a CAGR of 4.72% during the forecast period 2022 to 2032.
The Global Frozen Foods Market refers to a vast and changing industry that includes a diverse range of food products that have been frozen and preserved to maintain quality and extend shelf life. This market offers a wide range of frozen food products, including fruits and vegetables, meat, seafood, ready-made meals, and desserts. It provides a convenient, long-lasting, and often cost-effective alternative to fresh produce for modern increasingly busy consumers. The frozen food market has witnessed remarkable growth in recent years due to several key factors. Changing consumer preferences, the need for convenience, and an emphasis on food safety are among the primary drivers of this market's expansion. As people seek quick and hassle-free meal options without compromising on taste and nutrition, frozen foods have become a popular choice. Furthermore, advancements in freezing and packaging technologies have allowed manufacturers to maintain the nutritional value and taste of frozen products, making them a viable alternative to fresh food items. This sector also demonstrates an increased focus on sustainability, with many companies adopting eco-friendly practices in packaging and production processes.
Market Outlook
Frozen Foods Market Price Analysis
Key determinants include raw material costs, transportation expenses, energy prices, and packaging materials. Seasonal fluctuations also play a vital role, affecting the pricing of specific products, such as fruits and vegetables. Competitive pressures among manufacturers and retailers influence pricing strategies, with promotions and discounts impacting consumer choices. Additionally, global economic conditions and currency fluctuations can influence prices, especially for imported frozen goods.
Frozen Foods Market Distribution Analysis
Distribution analysis within the Global Frozen Foods Market involves a complex network of channels that ensure products reach consumers efficiently. These channels encompass various stakeholders, including manufacturers, distributors, retailers, and e-commerce platforms. Manufacturers often work with distribution partners to transport their frozen products to regional distribution centers and retailers. E-commerce has gained prominence, offering direct-to-consumer options. Cold storage facilities and transportation logistics are crucial, maintaining the integrity of frozen products.
Global Frozen Foods Market Report Coverage
| Report Coverage | Details |
| --- | --- |
| Base Year: | 2022 |
| Market Size in 2022: | USD 278.9 Billion |
| Forecast Period: | 2022-2032 |
| Forecast Period 2022-2032 CAGR: | 4.72% |
| 2032 Value Projection: | USD 442.2 Billion |
| Historical Data for: | 2018-2021 |
| No. of Pages: | 200 |
| Tables, Charts & Figures: | 100 |
| Segments covered: | By Type, By Product, Distribution Channel, By Geographic and COVID-19 Impact Analysis |
| Companies Covered: | General Mills Inc., Conagra Brands, Inc., GRUPO BIMBO, Nestle, Unilever, Kellogg Co., McCain Foods Limited, The Kraft Heinz Company, Associated British Foods plc, Ajinomoto Co. Inc., Vandemoortele, Lantmannen Unibake, Cargill, Incorporated, Europastry, JBS Foods, and Others. |
| Growth Drivers: | Rapid Growth in the packaged food and beverage industry propels the frozen foods market. |
| Pitfalls & Challenges: | COVID-19 Empact, Challenges, Future, Growth, & Analysis |
Get more details on this report -
Request Free Sample PDF
Market Dynamics
Frozen Foods Market Dynamics
Rapid growth in the packaged food and beverage industry propels the frozen foods market.
The rapid expansion of the packaged food and beverage industry is significantly boosting the frozen foods market. Several key factors can be attributed to this synergy. For starters, the packaged food and beverage sector is seeing increased demand as consumer lifestyles and preferences change. Convenience, portability, and a longer shelf life are all appealing to today's busy consumers. Frozen foods complement these trends by providing convenient, ready-to-eat or easy-to-prepare meal options. They provide a practical solution for individuals and families looking for convenient, hassle-free dining options in the packaged food realm. Furthermore, the robust distribution networks and marketing strategies of the packaged food industry make it easier for frozen food products to reach a broader consumer base. This collaborative growth benefits both sectors by meeting changing consumer demands for convenience and variety in their food choices.
Restraints & Challenges
Growing Preference for Fresh and Natural Food Products
The increasing preference for fresh and natural food products is limiting the growth of the frozen foods market. Consumers today are more health-conscious and prefer choices that are perceived as less processed and more wholesome. This preference shift is driven by a desire for higher nutritional value and fewer additives in their diets. As a result, the frozen foods market faces the challenge of convincing health-conscious consumers that their products provide comparable nutritional benefits to fresh alternatives. Furthermore, the perception that fresh foods are inherently healthier can discourage potential customers from exploring frozen options.
Regional Forecasts
North America Market Statistics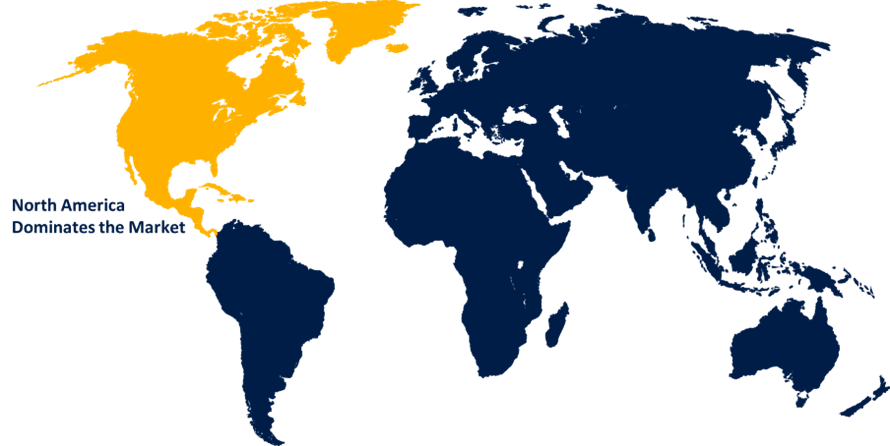 Get more details on this report -
Request Free Sample PDF
North America is anticipated to dominate the Frozen Foods market from 2023 to 2032. North America has held the largest share of the global frozen foods market. The United States and Canada are major contributors, with consumers valuing the convenience of frozen food products. The market offers a diverse range of items, from frozen pizzas and snacks to vegetables and meat products. Health-conscious trends have driven demand for healthier frozen options, such as organic and low-sodium products.
Asia Pacific Market Statistics
Asia Pacific is witnessing the fastest market growth between 2023 to 2032. Countries like China and India are witnessing a surge in demand due to urbanization, changing dietary habits, and rising disposable incomes. While traditional frozen products like vegetables and seafood are popular, there's a growing market for Western-style frozen foods like ready-to-eat meals and snacks.
Segmentation Analysis
Insights by Type
The raw material segment accounted for the largest market share over the forecast period 2023 to 2032. This segment includes ingredients or food items that are minimally processed and frozen in their natural state. Examples of raw materials include fruits, vegetables, meat, and seafood. These are often used as a base for further culinary preparations by consumers or foodservice establishments. Raw materials retain their natural texture and taste, making them versatile for a wide range of cooking applications.
Insights by Product
The fruits & vegetables segment accounted for the significant market share over the forecast period 2023 to 2032. This segment encompasses a wide variety of frozen fruits and vegetables, including berries, broccoli, corn, peas, and more. Frozen fruits and vegetables are popular due to their extended shelf life and retention of nutritional value. They are widely used in home cooking, smoothies, and as ingredients in various food products.
Recent Market Developments
In April 2023, Nestlé and the private equity firm PAI Partners have agreed to form a joint venture in Europe focused on Nestlé's frozen pizza business. This move aimed to establish a specialized player in a highly competitive and ever-changing market segment. Nestlé would retain a minority stake in this joint venture, ensuring equal voting rights in collaboration with PAI Partners.
Competitive Landscape
Major players in the market
General Mills Inc.
Conagra Brands, Inc.
GRUPO BIMBO
Nestle
Unilever
Kellogg Co.
McCain Foods Limited
The Kraft Heinz Company
Associated British Foods plc
Ajinomoto Co. Inc.
Vandemoortele
Lantmannen Unibake
Cargill, Incorporated
Europastry
JBS Foods
Others
Market Segmentation
This study forecasts revenue at global, regional, and country levels from 2023 to 2032.
Frozen Foods Market, Type Analysis
Raw Material
Half-cooked
Ready-to-Eat
Frozen Foods Market, Product Analysis
Fruits & Vegetables
Dairy Products
Bakery Products
Meat and seafood Products
Plant-Based Protein
Convenience Food and ready Meals
Pet Food
Frozen Foods Market, Distribution Channel Analysis
Frozen Foods Market, Regional Analysis
Need help to buy this report?