Global Flow Computer Market Size, Share, and COVID-19 Impact Analysis, By Component (Hardware and Software), By Connectivity (Wired and Wireless), By Application (Oil & gas, Water & wastewater, Energy & power generation, Food & beverage, Chemical, Pulp & paper, Metal & mining, and Others), By Region (North America, Europe, Asia-Pacific, Latin America, Middle East, and Africa), Analysis and Forecast 2022 – 2032
Industry: Energy & Power
---
REPORT FORMAT

---
Global Flow Computer Market Insights Forecasts to 2032
The Global Flow Computer Market Size was valued at USD 742.65 million in 2022.
The market is growing at a CAGR of 5.3% from 2022 to 2032
The global flow computer market is expected to reach USD 1,244.71 million by 2032
Asia-Pacific is expected to grow the fastest during the forecast period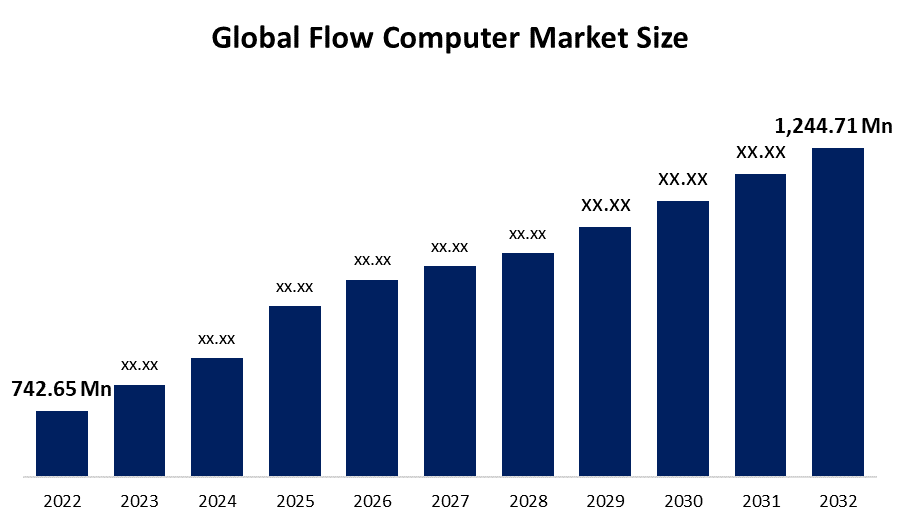 Get more details on this report -
Request Free Sample PDF
The Global Flow Computer Market Size is expected to reach USD 1,244.71 million by 2032, at a CAGR of 5.3% during the forecast period 2022 to 2032.
Market Overview
A flow computer is a specialized electronic device used to measure, calculate, and control the flow of liquids or gases in various industrial processes. It is commonly employed in industries such as oil and gas, petrochemicals, water treatment, and manufacturing. Flow computers gather data from multiple sensors and instruments, including flow meters, pressure sensors, temperature probes, and density meters, to accurately determine the flow rate, volume, and other relevant parameters. They perform complex calculations, including linearization, compensation for temperature and pressure variations, and flow rate conversions. These devices often have built-in communication capabilities to transmit data to supervisory control and data acquisition (SCADA) systems or other control systems. Flow computers play a vital role in process optimization, monitoring, and ensuring accurate billing in industries where precise flow measurement is critical for operational efficiency, safety, and regulatory compliance.
Report Coverage
This research report categorizes the market for flow computer market based on various segments and regions and forecasts revenue growth and analyzes trends in each submarket. The report analyses the key growth drivers, opportunities, and challenges influencing the flow computer market. Recent market developments and competitive strategies such as expansion, product launch, and development, partnership, merger, and acquisition have been included to draw the competitive landscape in the market. The report strategically identifies and profiles the key market players and analyses their core competencies in each sub-segments of the flow computer market.
Global Flow Computer Market Report Coverage
| Report Coverage | Details |
| --- | --- |
| Base Year: | 2022 |
| Market Size in 2022: | USD 742.65 Million |
| Forecast Period: | 2022 - 2032 |
| Forecast Period 2022 - 2032 CAGR: | 5.3% |
| 2032 Value Projection: | USD 1,244.71 Million |
| Historical Data for: | 2018 - 2021 |
| No. of Pages: | 210 |
| Tables, Charts & Figures: | 136 |
| Segments covered: | By Component, By Connectivity, By Application, By Region |
| Companies Covered: | ABB Ltd., Cameron International, Emerson, Rockwell Automation, Yokogawa Electric Corporation, Honeywell International, Thermo Fischer Scientific, Dynamic Flow Computers, Kessler-Ellis Products, Schneider Electric, OMNI Flow Computers, Inc. |
Get more details on this report -
Request Free Sample PDF
Driving Factors
The flow computer market is driven by several key factors. The increasing demand for accurate flow measurement and control in various industries, such as oil and gas, chemical, and water management, is a major driver. Industries are increasingly focused on optimizing processes, ensuring operational efficiency, and complying with regulatory requirements, which necessitates reliable flow measurement solutions. The growing adoption of automation and digitalization in industrial processes is fueling the demand for advanced flow computing devices that integrate with modern control systems and enable seamless data transmission. Additionally, the need for enhanced operational safety, improved product quality, and precise billing and custody transfer solutions further contribute to the growth of the flow computer market. Moreover, the expanding exploration and production activities in the oil and gas sector and the increasing investments in infrastructure development projects are also propelling the demand for flow computers.
Restraining Factors
While the flow computer market has significant growth potential, it also faces certain restraints. One of the key challenges is the high initial investment required for implementing flow computing solutions. The cost of acquiring and installing flow computers, along with integrating them into existing infrastructure, can be substantial, especially for small and medium-sized enterprises. Additionally, the complex nature of flow measurement technologies and the need for skilled professionals to operate and maintain these systems pose a barrier to adoption. Furthermore, the market is influenced by stringent regulations and standards for flow measurement accuracy, which can add compliance complexities and costs for businesses. These factors can limit the widespread adoption of flow computers in certain industries and regions.
Market Segmentation
In 2022, the software segment is expected to grow at higher CAGR during the forecast period
On the basis of component type, the global flow computer market is segmented into hardware and software. The software segment is anticipated to witness significant growth in the forecast period in the flow computer market. This growth can be attributed to several factors. Advancements in software technology have led to the development of sophisticated flow computer software solutions with enhanced functionalities and user-friendly interfaces. These software solutions offer features such as data analysis, reporting, remote monitoring, and integration with other control systems, enabling seamless data management and process optimization. The increasing adoption of industrial automation and digitalization has fueled the demand for software-based flow computing solutions that can integrate with existing infrastructure and provide real-time data insights. Moreover, software solutions offer flexibility, scalability, and easier upgrades compared to hardware-based flow computers. As industries increasingly focus on data-driven decision-making and operational efficiency, the software segment is expected to experience substantial growth in the flow computer market.
In 2022, the wireless segment dominated with more than 72.5% market share
Based on the connectivity, the global flow computer market is segmented into wired and wireless. The wireless segment has emerged as the dominant player, holding the largest market share in the flow computer market. This can be attributed to several factors. Wireless technologies offer numerous advantages such as flexibility, ease of installation, and cost-effectiveness compared to wired solutions. With wireless flow computers, data can be transmitted in real-time without the need for extensive cabling infrastructure. This enables easier deployment and reduces installation costs, particularly in remote or hard-to-reach areas. Wireless solutions provide greater mobility, allowing for easy repositioning of flow meters or sensors without the constraints of physical wiring. This flexibility is particularly advantageous in industries with dynamic or changing process requirements. Additionally, wireless technologies offer improved scalability, making it easier to expand or modify flow measurement systems as per operational needs. As industries increasingly prioritize wireless connectivity and automation, the wireless segment is expected to retain its significant market share and witness continued growth in the flow computer market.
Regional Segment Analysis of the Flow Computer Market
North America (U.S., Canada, Mexico)
Europe (Germany, France, U.K., Italy, Spain, Rest of Europe)
Asia-Pacific (China, Japan, India, Rest of APAC)
South America (Brazil and the Rest of South America)
The Middle East and Africa (UAE, South Africa, Rest of MEA)
North America dominated the market with more than 42.6% revenue share in 2022.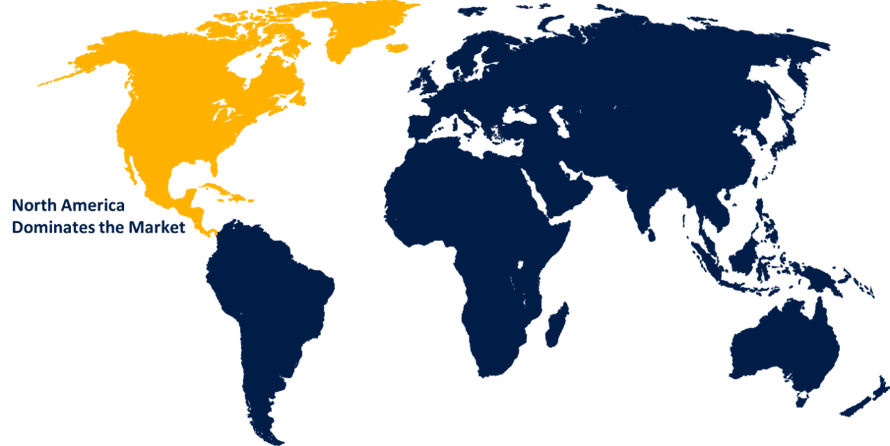 Get more details on this report -
Request Free Sample PDF
Based on region, North America has emerged as the leading market for flow computers, primarily due to several factors. The region has a strong presence of key industries such as oil and gas, chemical, and water management, which extensively utilize flow measurement and control systems. These industries require accurate and reliable flow computing solutions to optimize their processes, ensure operational efficiency, and comply with stringent regulations. North America is known for its advanced technological infrastructure and a high level of industrial automation, which promotes the adoption of sophisticated flow computer technologies. Additionally, the region benefits from a skilled workforce and well-established research and development facilities, contributing to the innovation and development of flow computing solutions. Moreover, the growing investments in infrastructure development and the presence of major flow computer manufacturers in the region further solidify North America's dominance in the flow computer market.
Recent Developments
In June 2022, ABB and Wison Offshore & Marine Limited (WOM), a clean energy technology and solution provider, have partnered to jointly develop and deploy floating liquefied natural gas (FLNG) facilities globally. The collaboration aims to enhance production efficiency by delivering standardized electrification and safety systems.
Competitive Analysis:
The report offers the appropriate analysis of the key organizations/companies involved within the global flow computer market along with a comparative evaluation primarily based on their product offering, business overviews, geographic presence, enterprise strategies, segment market share, and SWOT analysis. The report also provides an elaborative analysis focusing on the current news and developments of the companies, which includes product development, innovations, joint ventures, partnerships, mergers & acquisitions, strategic alliances, and others. This allows for the evaluation of the overall competition within the market.
List of Companies:
ABB Ltd.
Cameron International
Emerson
Rockwell Automation
Yokogawa Electric Corporation
Honeywell International
Thermo Fischer Scientific
Dynamic Flow Computers
Kessler-Ellis Products
Schneider Electric
OMNI Flow Computers, Inc.
Key Target Audience
Market Players
Investors
End-Users
Government Authorities
Consulting and Research Firm
Venture Capitalists
Value-Added Resellers (VARs)
Market Segment
This study forecasts revenue at global, regional, and country levels from 2019 to 2032. Spherical Insights has segmented the global flow computer market based on the below-mentioned segments:
Flow Computer Market, By Component
Flow Computer Market, By Connectivity
Flow Computer Market, By Application
Oil & gas
Water & wastewater
Energy & power generation
Food & beverage
Chemical
Pulp & paper
Metal & mining
Others
Flow Computer Market, Regional Analysis
North America
Europe

Germany
UK
France
Italy
Spain
Russia
Rest of Europe

Asia Pacific

China
Japan
India
South Korea
Australia
Rest of Asia Pacific

South America

Brazil
Argentina
Rest of South America

Middle East & Africa

UAE
Saudi Arabia
Qatar
South Africa
Rest of Middle East & Africa
Need help to buy this report?