Global FinTech Blockchain Market Size, Share & Trends, COVID-19 Impact Analysis Report, By Application (Smart Contracts, Exchanges and Remittance, Clearing and Settlements, Identity Management, Compliance Management/KYC, Others), By End-User (Small and Medium Size Enterprises (SMEs), Large Enterprises), By Industry (Banking, Non-Banking Financial, Insurance) : Global Opportunity Analysis and Industry Forecast, 2021 – 2030
Industry: Information & Technology
---
REPORT FORMAT

---
The global market for FinTech Blockchain estimated at US$1.1 Bn in the year 2021, is projected to reach a revised size of US$8.7 Billion by 2030, growing at a CAGR of 43.8%. FinTech is a new financial technology that focuses on innovation and providing technologically improved financial solutions and services. FinTech is also involved in the creation and invention of blockchain technology. For example, smart contracts employ blockchain technology to automatically execute the contract between buyer and seller. The banking industry is increasingly using blockchain technology to reduce infrastructure costs and boost operating efficiency. According to a PWC analysis from 2017, blockchain has been accepted in the finance sector with 55% in Payment Infrastructure, 50% in Fund Transfer Infrastructure, and 46% in Digital Identity Management. Furthermore, there is an increase in investment in the FinTech business to introduce technologically improved solutions for the financial and non-financial industries. This will most likely fuel the FinTech blockchain sector.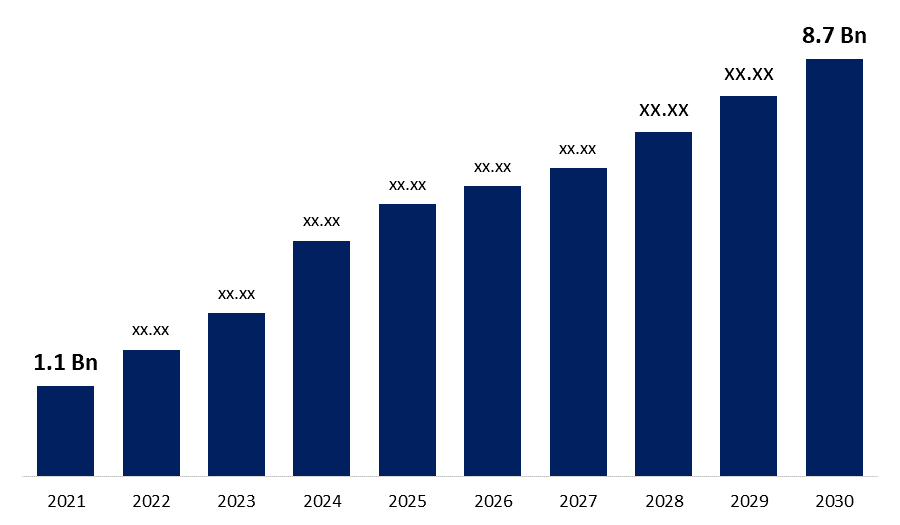 Get more details on this report -
Request Free Sample PDF
The market's primary drivers have increased interoperability with the financial industry's ecosystem, rising cryptocurrency market cap and Initial Coin Offering (ICO), speedier transactions, and lower total cost of ownership. The increased adoption of blockchain applications such as payments, clearing, settlements, smart contracts, and identity management, as well as a new breed of programmable blockchain platform, is among the market's potential growth opportunities. Because digital platforms are utilised to execute the majority of these transactions, such as fee payments, the expanding usage of web-based and e-learning methods has set the ground for enormous development prospects.

Furthermore, increased acceptance of cryptocurrencies, digital tokens built on a distributed ledger architecture known as a blockchain, for payment is predicted to bolster the market. According to Crypterium, a Fintech company, the volume of crypto payments and the average amount climbed in 2019, reaching a seven-month high in April of around USD 1.6 billion. To maximise profits, bitcoin payment providers in the sector are required to offer new solutions for both merchants and clients.

Global FinTech Blockchain Market Report Coverage
| Report Coverage | Details |
| --- | --- |
| Base Year: | 2021 |
| Market Size in 2021: | US$1.1 Billion |
| Forecast Period: | 2021-2030 |
| Forecast Period 2021-2030 CAGR: | 43.8% |
| 2030 Value Projection: | US$8.7 Billion |
| Historical Data for: | 2017-2020 |
| No. of Pages: | 210 |
| Tables, Charts & Figures: | 118 |
| Segments covered: | By Application, By End-User, By Industry |
| Companies Covered: | Accenture, Amazon Web Services, Inc., Bitfury Group Limited, BTL, Chain, Inc., Digital Asset Holdings, LLC, Earthport PLC, Huawei Technologies Co. Ltd., IBM Corporation, Infosys Limited, Liquefy Limited, Microsoft, Oracle, RecordesKeeper, Ripple Labs Inc., SAP SE, Symbiont, Tata Consultancy Services Limited, Corin Group. |
| Growth Drivers: | 1)The insurance segment dominated the global fintech blockchain market 2)The North America region dominated the global fintech blockchain market |
| Pitfalls & Challenges: | COVID-19 has the potential to impact the global market |
Get more details on this report -
Request Free Sample PDF
End-User Outlook
Large enterprises are likely to lead the market in terms of market size, as they focus on integrating blockchain applications to boost customer loyalty and lower overall infrastructure costs. However, due to the ease of availability and scalability of cloud-based deployments, the Small and Medium-sized Enterprises (SMEs) segment is predicted to develop at a faster CAGR.

Industry Outlook
The insurance segment dominated the global fintech blockchain market owing to because insurance firms are incurring large losses because of false claims and scams that occur daily in the business, and most participants are incorporating technologies such as blockchain into their existing workflow. According to the SAP Digital Transformation Executive Study, banking and insurance executives expect to more than treble their blockchain investments by 2019. For instance, the digital currency infrastructure fund, the first of its kind in Japan, was formed by Bitfury Group and Nippon Angel Investment Company (NAIC). Individual and institutional investors will be able to diversify their holdings into digital currency infrastructure through the fund.

Regional Outlook
The North America region dominated the global fintech blockchain market size is projected to grow at the highest CAGR of 5.8% during the forecast period. The cross-border payments are heavily legalized, but pricey distributed ledger technology has lowered costs and enhanced traceability. The majority of fintech companies are rapidly building and innovating new platforms for the delivery of online financial services. Across the borders of the United States, Mexico, and Canada, global financial technology businesses are collaborating with local cellular providers, money transfer operators, and banks. According to the Blockchain -International Financial Corporation 2019 research, the United States accounts for up to 54% of the worldwide blockchain market. Furthermore, according to the UNCTAD research -Digital Economy Report 2019-, the United States and China will hold 75% of blockchain patent applications in the future. As a result, it is expected that North America will control the majority of the FinTech blockchain technology market.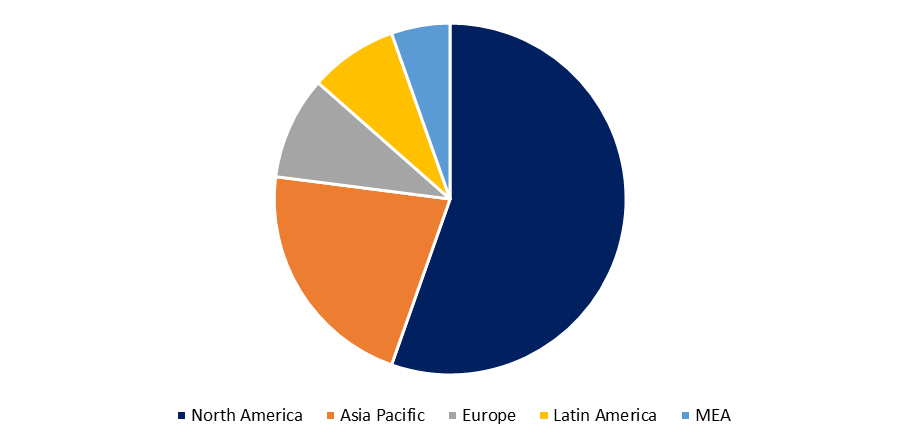 Get more details on this report -
Request Free Sample PDF
Key Companies & Recent Developments
The global fintech blockchain market analysis is done based on application, end-user, vertical, and region. Generic strategies adopted by the companies usually include mergers & acquisitions, distribution network expansion, and product portfolio expansion. For instance, JPMorgan Chase & Co. and Microsoft Corporation have joined forces to develop enterprise blockchain. Ethereum blockchain is the first distributed ledger platform offered through Microsoft Azure Blockchain service. Customers will be able to develop and deploy blockchain networks on the cloud. This platform will provide customers with built-in governance, allowing them to focus on application development while lowering costs and simplifying deployment. Liquefy Limited has collaborated with the Amazon Web Services network. This collaboration provides Real Asset Tokenization Solutions to its customers by employing blockchain technology. It also assists them in tokenizing their assets and issuing digital securities secured by a digital registry of members on blockchain. The blockchain Certificate Issuance Platform has been launched by Auxesis Services & Technologies (P) Ltd. This platform is now available on the Auxledger Network. This was the initiative of the Government of India's NITI Aayog, which inked an SOI deal with Auxesis Services & Technologies (P) Ltd. The platform is built on a completely "trust-free" basis, including smart contract capabilities.

The major companies profiled in this report include Microsoft, Ripple, Amazon.com, Inc., Oracle, Digital Asset Holdings, LLC, Bitfury Group Limited., BTL., Liquefy Limited., Earthport PLC. and others.

Segmentation:
By Application
Smart Contracts
Exchanges and Remittance
Clearing and Settlements
Identity Management
Compliance Management/KYC
Others
By End-User
Small and Medium Size Enterprises (SMEs)
Large Enterprises
By Industry
Banking
Non-Banking Financial
Insurance
Key Players
Accenture
Amazon Web Services, Inc.
Bitfury Group Limited
BTL
Chain, Inc.
Digital Asset Holdings, LLC
Earthport PLC
Huawei Technologies Co. Ltd.
IBM Corporation
Infosys Limited
Liquefy Limited
Microsoft
Oracle
RecordesKeeper
Ripple Labs Inc.
SAP SE
Symbiont
Tata Consultancy Services Limited
Need help to buy this report?