Global Fiber Optics Market Size, Share, and COVID-19 Impact Analysis, By Type (Single mode, Multi-mode) By Fiber Type (Glass, Plastic), By Application (Utility, Military & Aerospace, Oil & Gas, BFSI, Railway, Telecom, Medical, Industrial, Others), and By Region (North America, Europe, Asia-Pacific, Latin America, Middle East, and Africa), Analysis and Forecast 2022 – 2032
Industry: Semiconductors & Electronics
---
REPORT FORMAT

---
Global Fiber Optics Market Insights Forecasts to 2032
The Global Fiber Optics Market Size was valued at USD 8.24 billion in 2022.
The market is growing at a CAGR of 8.35% from 2022 to 2032
The Worldwide Fiber Optics Market is expected to reach USD 16.96 billion by 2032
Asia Pacific is expected to grow the fastest during the forecast period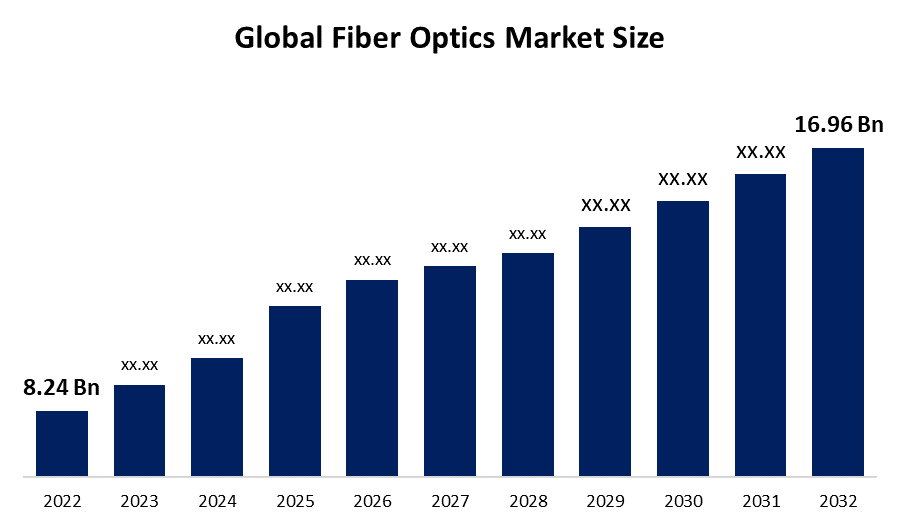 Get more details on this report -
Request Free Sample PDF
The Global Fiber Optics Market Size is expected to reach USD 16.96 billion by 2032, at a CAGR of 8.35% during the forecast period 2022 to 2032.
Fiber optics, often known as optical fiber, is a technology that uses light pulses to convey data through a glass or plastic fiber. In recognition of the numerous benefits that fiber optics provides, it is widely used in wide area networks (WANs), telecommunications, and data communication networks. For every communication network, fiber optic is the most extensively utilized core infrastructure for communication. The main advantages of adopting fiber optic networks are wide bandwidth, low attenuation, minimal cross-talk, excellent security, and great reliability across distant locations.
There are various varieties of fiber optic cables based on their design, operation, and number of strands, however, there are two major types of optical fiber: single-mode fiber optic and multi-mode fiber optic. Specially engineered fibers are also employed in a range of other applications, such as fiber optic sensors and fiber lasers. Fiber optics technology has grown throughout the world due to its value-added features and adjustable capabilities. Fiber optics are used to optimize interconnections and data transfer speeds in computer networks, as well as in the electronic devices and broadcasting sectors. Telephone companies are gradually implementing this technology, and corresponding to that the industry will continue to lead communication operations for the foreseeable future.
Driving Factors
The rising internet penetration and data traffic, increasing number of data centers globally, and growing demand for higher bandwidth are key factors driving the demand for the fiber optics market. The majority of connector production companies are increasing their production lines in order to interconnect extremely secured as well as precisely coordinated fiber optic networks. Furthermore, technical improvements in network connectivity and information transmission technologies are expected to drive the fiber optic technology market over the forecast period.
In addition to the increasing popularity of fiber optics for telecommunications applications over the last decade, emerging fiber-optic technological innovations have resulted in excellent quality and low-cost optical fibers that can similarly be employed for chemical sensing uses. Furthermore, the application of fiber optics as sensors is steadily expanding in the manufacturing and semiconductor industry. Sensor applications, like other applications, are classified into three general groups: military, medical, and industrial.
The increasing deployment of fiber optic cables beneath the sea led to market growth by increasing the use of installed fiber, improving network capacity, and improving spectral efficiency. Furthermore, rising government initiatives for high-speed fiber optic cable deployment have boosted the demand for fiber optics market growth. The emergence of low-cost, high-efficiency fiber optic cables for telecommunications applications, combined with technological improvements in the semiconductor industry, has fueled the demand for optical sensor development.
With the growing popularity of IoT and cloud computing, there has been a greater demand for increased bandwidth and improved connectivity in workspaces and office buildings for commercial purposes. Fiber optics is regarded as the optimum solution since it delivers a dependable and secure connection between IoT devices. Additionally, with such a high demand for optical fibers in scientific research, new approaches such as Raman and Attenuated Total Reflectance fiber optic probes can be employed for communications, military and defense, detecting, and medicinal research. The widespread adoption of 5G in both developed and emerging nations will create demands on fiber optics providers in the market. The deployment of optical fibers is essential for the development of the infrastructure needed for 5G.
Global Fiber Optics Market Report Coverage
| Report Coverage | Details |
| --- | --- |
| Base Year: | 2022 |
| Market Size in 2022: | USD 8.24 billion |
| Forecast Period: | 2022 - 2032 |
| Forecast Period 2022 - 2032 CAGR: | 8.35% |
| 2032 Value Projection: | USD 16.96 billion |
| Historical Data for: | 2018 - 2021 |
| No. of Pages: | 210 |
| Tables, Charts & Figures: | 123 |
| Segments covered: | By Type, By Fiber Type, By Application, By Region |
| Companies Covered: | Corning Incorporated, Optical Cable Corporation, Molex, LLC, Prysmian Group, Hengtong Group Co., Ltd., Fujikura Ltd., LEONI, Adtell Integration, Adtran, Inc., Cisco Systems, Inc., Sterlite Technologies Ltd., LS Cable & System Ltd., Sumitomo Electric Industries, Ltd., TongDing, Group Co., Ltd., Optiwave Systems, Inc., OFS Fitel, LLC, Finolex Cables Ltd., and among others. |
Get more details on this report -
Request Free Sample PDF
Restraining Factors
However, the substantial upfront purchasing and installation expenses are impeding the market's growth. An optical fiber system is made up of multiple components such as optical cables, transmitters, and receivers. The deployment of the complete system is a demanding labor operation, particularly the network installation for subterranean and underwater links, which is one of the most expensive and time-consuming procedures. Furthermore, the set-up process for deploying optical networks, which is an incredibly expensive component, is projected to impede the fiber optics market expansion over the forecast period. Furthermore, one of the primary constraining issues for fiber optics companies is the growing utilization of wireless communication technologies over fiber systems.
Market Segmentation
By Type Insights
The multi-mode segment is dominating the market with the largest revenue share over the forecast period.
On the basis of type, the global fiber optics market is segmented into single-mode and multi-mode. Among these, the multi-mode segment is dominating the market with the largest revenue share of 48.73% over the forecast period. The rise of this market can be ascribed to the several advantages of fiber optics, such as low cost and broad use in light exposure and surgical illumination in the healthcare industry. Furthermore, multi-mode fiber optics are employed to produce improved quality, performance, and precision in medical devices and testing, surgical spaces, telemedicine, and medical imaging applications. The multi-mode category also addresses communication, lighting, and sensing demands for vehicle systems. Furthermore, because of its large bandwidth and inexpensive cost, the multi-mode segment is rapidly being employed as the communication medium most commonly used for mission-critical applications. As a result of such reasons, the demand for fiber optics in the multi-mode fiber optics segment is expected to grow rapidly.
By Fiber Type Insights
The glass segment is witnessing significant CAGR growth over the forecast period.
On the basis of fiber type, the global fiber optics market is segmented into glass and plastic. Among these, the glass segment is witnessing significant CAGR growth over the forecast period. The market segment is also predicted to increase at a faster rate throughout the projection period. Glass optical fibers have a greater numerical aperture than plastic optical fibers, which allows higher frequencies of rays into the system's structure. One of the main drivers of this market's expansion is the outstanding efficiency of glass fiber optics in situations with severe temperatures and acidic substances as well as their capacity for transmitting both ultraviolet (UV) and infrared light.
By Application Insights
The telecom segment accounted the largest revenue share of more than 43.7% over the forecast period.
On the basis of application, the global fiber optics market is segmented into utility, military & aerospace, oil & gas, BFSI, railway, telecom, medical, industrial, and others. Among these, telecom segment is dominating the market with the largest revenue share of 43.7% over the forecast period. Fiber optics technology's potential for growth in the telecom market is optimistic, primarily to modern technology's rising acceptance in data transfer as well as communication solutions. In addition, the rising adoption of technologies such as cloud-based apps, Video-on-Demand (VoD) services, and audio-video services are driving the rising demand for fiber optic installations. Furthermore, optical communications enable the fabrication of significantly longer-distance telecommunications networks with far lower levels of transmitting medium losses. Additionally, factors including the rising number of Internet users, the accessibility of affordable communication devices, the inexpensive cost of services provided by service providers, and the rising number of consumers for various wireless technology and fixed-point communication equipment contribute to the expansion of the telecom segment in the fiber optics
Regional Insights
North America dominates the market with the largest market share over the forecast period.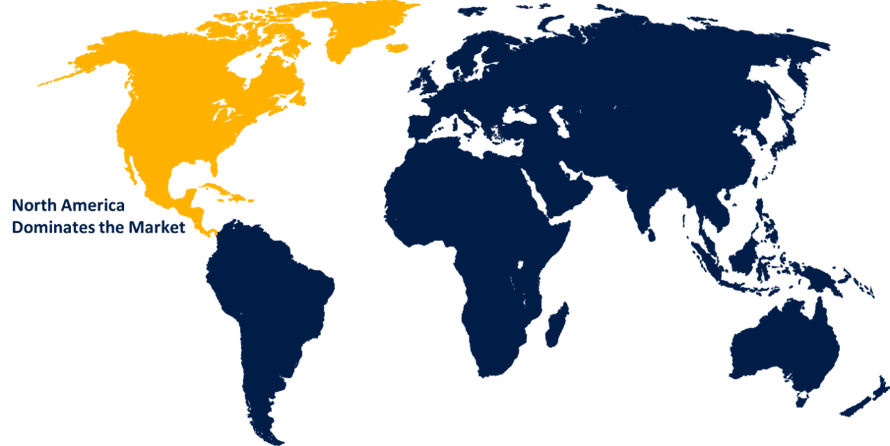 Get more details on this report -
Request Free Sample PDF
North America is dominating the market with more than 38.27% market share over the forecast period, owing to response to the greater demand for rapid connectivity internet and data transfer. In addition to major telecommunications and technology businesses investing in fiber optic networks, the United States has the highest number of customers for fiber optic technology. The growing usage of fiber optics in a variety of end-user industries, including healthcare, defense, and others, is additionally driving the region's economy ahead. Growing government efforts to upgrade communications networks, along with increased demand for cloud-based computing, are driving market expansion. Furthermore, the emergence of smart cities, as well as the increased usage of IoT technologies, will increase demand for fiber optics in North America. Furthermore, the growing need in North America for linked wearable technology, smartphones, and tablets has considerably raised consumer interest in fiber optic networks, which boosts demand for the fiber optic market.
Asia Pacific, on the contrary, is expected to grow the fastest during the forecast period. This growth can be ascribed to increased technological breakthroughs, widespread usage in the IT and telecommunications sectors, administrative sectors, and the construction of fiber-integrated infrastructure. One of the key end-use markets for fiber optics in the Asia Pacific region is telecom. The increasing IT & telecommunications industry manufacturing facilities sector's rapid adoption incidence throughout the Asia Pacific region is boosting the market's dominance in the region. Furthermore, the widespread deployment of 5G base stations in China, South Korea, and Japan is likely to drive growth in the region's fiber optics industry.
List of Key Market Players
Corning Incorporated
Optical Cable Corporation
Molex, LLC
Prysmian Group
Hengtong Group Co., Ltd.
Fujikura Ltd.
LEONI
Adtell Integration
Adtran, Inc.
Cisco Systems, Inc.
Sterlite Technologies Ltd.
LS Cable & System Ltd.
Sumitomo Electric Industries, Ltd.
TongDing, Group Co., Ltd.
ZTT International Limited
Birla Furukawa Fibre Optics
Lumentum Operations LLC
Optiwave Systems, Inc.
OFS Fitel, LLC
Finolex Cables Ltd.
Yangtze Optical Fiber and Cable Joint Stock Limited Company
Key Market Developments
On April 2023, Adtran announced its participation in the EU-funded Software Enabled Fiber Optic Multisensing Network (SoFiN) project. The project will create a versatile platform for fiber-based sensing applications in critical infrastructure. SoFiN will develop low-cost, energy-efficient multi-sensing systems to meet the monitoring requirements of a variety of industries, including telecommunications, power grids, and water supply networks.
On April 2023, STL, a leading provider of optical and digital solutions, announced the development of its thinnest optical fiber to date, a 180 micron optical fiber. This fiber allows for the lowest diameters in cables while maintaining the highest fiber density. STL demonstrated a next-generation micro cable with 288 fibers that can be installed in 8 mm ducts. The 180 micron G657 A2 fiber combines bend-insensitive qualities with a fully backward-compatible cable architecture, making it an optical industry "ready to deploy" innovation.
On March 2023, OFS, a leading designer, manufacturer, and supplier of cutting-edge fiber optic network solutions, announced the creation of multicore fiber for its ocean product line. TeraWave® SCUBA 4X Multicore Ocean Fiber is optimized for four times the bandwidth in ocean applications by utilizing four-core space division multiplexing (SDM) technology. SCUBA 4X has demonstrated attenuation < 0.165 dB/km at 1550 nm and industry-leading adjacent core crosstalk of - 70 dB/km at 1550 nm, with good transmission qualities in C- and L-bands.
Market Segment
This study forecasts revenue at global, regional, and country levels from 2020 to 2032. Spherical Insights has segmented the Global Fiber Optics Market based on the below-mentioned segments:
Fiber Optics Market, Type Analysis
Fiber Optics Market, Fiber Type Analysis
Fiber Optics Market, Application Analysis
Utility
Military & Aerospace
Oil & Gas
BFSI
Railway
Telecom
Medical
Industrial
Others
Fiber Optics Market, Regional Analysis
North America
Europe

Germany
Uk
France
Italy
Spain
Russia
Rest of Europe

Asia Pacific

China
Japan
India
South Korea
Australia
Rest of Asia Pacific

South America

Brazil
Argentina
Rest of South America

Middle East & Africa

UAE
Saudi Arabia
Qatar
South Africa
Rest of Middle East & Africa
Need help to buy this report?