Global Fiber Cement Market Size, By Material (Silica, Portland Cement, Cellulosic Fiber, Others), By Application (Molding & Trim, Siding, Roofing, Wall Partitions, Flooring, Backer Boards, Others), End Use (Residential, Non-Residential), By Geographic Scope and Forecast, 2022 – 2032
Industry: Construction & Manufacturing
---
REPORT FORMAT

---
Global Fiber Cement Market Insights Forecasts to 2032
The Fiber Cement Market Size was valued at USD 17.85 Billion in 2022.
The Market is Growing at a CAGR of 4.8% from 2022 to 2032
The Worldwide Fiber Cement Market Size is expected to reach USD 28.51 Billion by 2032
North America is expected to Grow the fastest during the forecast period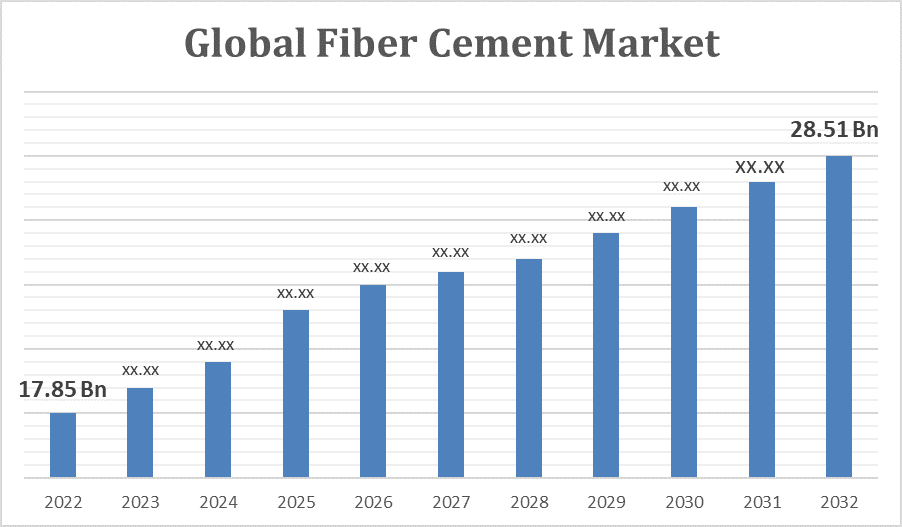 Get more details on this report -
Request Free Sample PDF
The Global Fiber Cement Market Size is expected to reach USD 28.51 Billion by 2032, at a CAGR of 4.8% during the forecast period 2022 to 2032.
Fiber cement is a composite building and construction material that is primarily used in roofing and facade products due to the material's durability and strength. The most prevalent use of fiber cement siding on buildings is gaining popularity due to its fire resistance and low maintenance requirements. Fiber cement is now regarded as a material that is physically suitable for construction products such as cladding and roofing. It is primarily because of its function, performance, and monetary significance. Fiber-cement products are widely used in a variety of construction sectors, including industrial, agricultural, domestic, and residential buildings, primarily in roofing and insulation applications for building new structures and renovation undertakings. Additionally, the increase in population density has increased the enormous market for residential construction activities such as building, houses, villas, and bungalows. Because fiber cement is widely used in exterior wall systems to reduce structure temperature, the increase in these activities has increased product demand. Furthermore, because of the increased emphasis on green building products and environmentally conscious building procedures, fiber concrete has grown in popularity within the construction industry. It has the potential to boost energy consumption in buildings. Fiber concrete has a lower carbon footprint than other materials because it is made from recyclable and renewable materials. As a result, increased adoption of green building practices increases market dynamics. As such, all of these factors are expected to boost the growth of the fiber cement market over the forecast period.
Market Outlook
Fiber Cement Market Price Analysis
The fiber cement market encompasses products made from a composite of cement reinforced with cellulose fibers, offering durability, resistance to wear, and versatility. Price analysis of this market reveals several influencing factors. Raw material costs, primarily cement and cellulose, significantly affect product pricing. Additionally, technological advancements in manufacturing processes, which can enhance product quality and longevity, might introduce premium pricing for advanced fiber cement products. Regional variations also play a role; logistics, labor costs, and local demand-supply dynamics can create price disparities. Moreover, the competitive landscape, shaped by the presence of key global players and regional manufacturers, influences pricing strategies. A surge in construction activities, especially in developing regions, coupled with the growing preference for sustainable and durable building materials, is amplifying demand. Yet, potential challenges, such as availability of substitutes and fluctuating raw material prices, can exert downward pressure on market prices.
Fiber Cement Market Distribution Analysis
The fiber cement market deals with the production and distribution of a composite material used extensively in construction. Distribution analysis highlights a network that encompasses manufacturers, distributors, retailers, and end-users. Key distribution channels include direct sales, wholesale distributors, and third-party online platforms. Geographical factors play a role; areas with booming construction activities, such as urban centers or rapidly developing regions, often witness heightened demand. Moreover, partnerships or agreements between manufacturers and local distributors can significantly influence market penetration and product accessibility. The evolution of e-commerce has also opened digital channels for product distribution, expanding reach and customer base.
Global Fiber Cement Market Report Coverage
| Report Coverage | Details |
| --- | --- |
| Base Year: | 2022 |
| Market Size in 2022: | USD 17.85 Billion |
| Forecast Period: | 2022-2032 |
| Forecast Period 2022-2032 CAGR: | 4.8% |
| 2032 Value Projection: | USD 28.51 Billion |
| Historical Data for: | 2018-2021 |
| No. of Pages: | 200 |
| Tables, Charts & Figures: | 120 |
| Segments covered: | By Material, By Application, End User, By Geographic Scope. |
| Companies Covered: | Etex Group NV, James Hardie Industries PLC, Evonik Industries AG, Compagnie De Saint Gobain SA, Toray Industries Inc., CSR Limited, The Siam Cement Public Company Limited, Nichiha Corporation, Plycem Corporation, Cembrit Holding A/S, Akzo Nobel NV, Canfor Corporation, Ecolab InPPG Industries Incorporated and other key vendors. |
| Growth Drivers: | Rising demand for durable and low maintenance construction materials |
| Pitfalls & Challenges: | COVID-19 Empact, Challenge, Future, Growth, & Analysis |
Get more details on this report -
Request Free Sample PDF
Market Dynamics
Fiber Cement Market Dynamics
Rising demand for durable and low maintenance construction materials
Fiber cement products are renowned for their durability, resistance to wear, and minimal maintenance requirements. As modern construction projects prioritize longevity and reduced long-term maintenance costs, fiber cement becomes an increasingly attractive option. Its resistance to common challenges like termites, fire, rot, and harsh weather conditions ensures a longer lifespan for structures, making it a preferred choice for both residential and commercial buildings. This shift towards more durable construction materials has significantly driven the demand for fiber cement in the market.
Restraints & Challenges
Environmental concerns and sustainability issues
The production of cement, a primary component in fiber cement, is energy-intensive and associated with significant carbon dioxide emissions. As global focus shifts towards sustainable construction practices and reducing carbon footprints, the environmental implications of cement production can act as a deterrent for the fiber cement market. Regulatory bodies and green building councils are advocating for the use of sustainable materials, which might limit the appeal of conventional fiber cement products in certain eco-conscious markets.
Regional Forecasts
Asia Pacific Market Statistics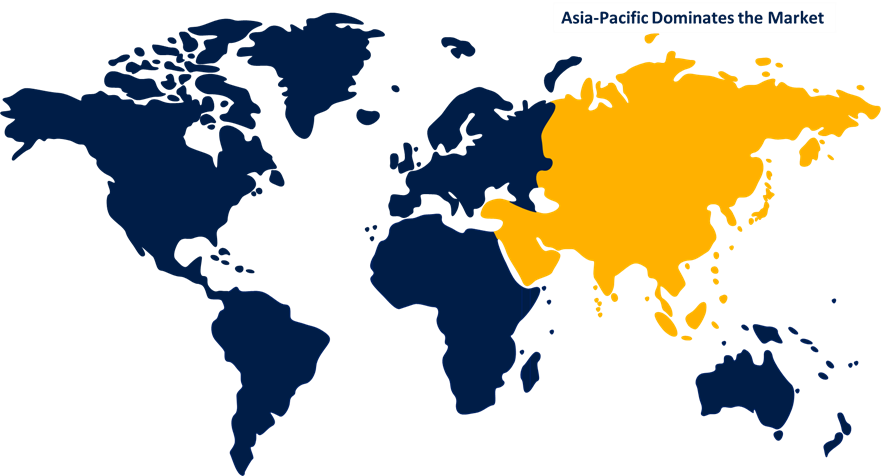 Get more details on this report -
Request Free Sample PDF
Asia Pacific is anticipated to dominate the fiber cement market from 2023 to 2032. The Asia Pacific region, primarily driven by countries like China, India, Japan, and Australia, has witnessed robust growth in the fiber cement market. The reasons can be attributed to the rapid urbanization, escalating construction activities in both residential and non-residential sectors, and increasing infrastructure investments in the region. Some leading manufacturers of fiber cement in this region include James Hardie Industries PLC, Nichiha Corporation, and Everest Industries among others. The growing awareness about the benefits of fiber cement products, such as durability, resistance to termites, moisture, fire, and rot, combined with the region's climatic conditions, plays a significant role in boosting the product demand. Additionally, favorable government initiatives and policies supporting infrastructure development in countries like India and China further fuel the market growth.
North America Market Statistics
North America is witnessing the fastest market growth between 2023 to 2032. The North American market, predominantly driven by the U.S. and Canada, has also seen a steady demand for fiber cement products. The region's growth can be attributed to the increasing adoption of fiber cement in siding due to its aesthetic appeal, durability, and low maintenance. There's a rising inclination towards non-asbestos fiber cement products, given the associated health concerns with asbestos. This shift towards safer products, coupled with the region's developed infrastructure and construction sector, augments the fiber cement market. Additionally, the recovery of the construction industry post the economic downturn and an increasing number of housing starts, especially in the U.S., have positively influenced market dynamics.
Segmentation Analysis
Insights by Material
The portland cement segment accounted for the largest market share over the forecast period 2023 to 2032. Portland cement is a relatively widely utilized form of cement used in the production of concrete and mortar. Calcium, silica, alumina, and iron are the primary chemical constituents of Portland cement. It is a cost-effective and easily accessible material, leading to it being one of the most widely used building materials worldwide. Ordinary Portland Cement (OPC) and Portland Pozzolana Cement (PPC) are the two types of Portland cement. Ordinary Portland cement is extensively employed in the construction of hospitals, emergency bridges, and other structures all over the world. China accounts for the majority of global Portland cement production. Furthermore, rigorous guidelines designed to reduce potential hazards associated with silica sand, silica dust exposure, and quartz sand are causing a surge in Portland cement utilization, elevating fiber cement market growth in this segment.
Insights by Application
The siding segment accounted for the largest market share over the forecast period 2023 to 2032. This is due to the rising popularity of fiber cement for a number of sliding materials in the construction and building industry sectors. Fiber cement siding is the most common application in both residential and non-residential constructions. In addition, given its durability, resistance to weather conditions, and low maintenance requirements, this material continues to grow as an increasingly common selection among consumers and builders. Fiber cement is applied to the exterior sides of the walls in this application in order to shield them from the damage caused by extreme weather conditions. They are available in a variety of forms, including sheets, slates, and others. Fiber cement siding also enhances the visual appeal of buildings. Fiber cement siding is inexpensive and ideal for areas prone to severe weather.
Insights by End Use
The non-residential segment accounted for the largest market share over the forecast period 2023 to 2032. Non-residential fiber cement end-users include industrial, commercial, and agricultural structures. Also, fiber cement is commonly utilized in the development of mills, factories, warehouses, and looms, as required by many government laws. The high strength, durability against fire, and low upkeep attributes of fiber cement contribute to it being the ideal option for these segment demands. Given the implementation of restrictions by several governments prohibiting the use of asbestos, fiber cement is frequently utilized in industrial buildings such as factories, mills, and warehouses. Additionally, because these are low-emitting materials, these building materials contribute to LEED credits. Furthermore, the steady expansion of the non-residential sector, attributed to the rising gentrification, industrialization, and infrastructure changes, leads to this segment's major domination of the market.
Competitive Landscape
Major players in the market
Etex Group NV
James Hardie Industries PLC
Evonik Industries AG
Compagnie De Saint Gobain SA
Toray Industries Inc.
CSR Limited
The Siam Cement Public Company Limited
Nichiha Corporation
Plycem Corporation
Cembrit Holding A/S
Akzo Nobel NV
Canfor Corporation
Ecolab Incorporated
PPG Industries Incorporated
Recent Market Developments
On April 2023, BlueLinx Holdings Inc., a leading wholesale distributor of building supplies in the United States, and Allura USA, a leading manufacturer of fiber cement siding, have expanded their distribution cooperation. Allura's branded SpectrumTM Prefinished Siding, Trim, and Accessories, as well as Allura's primed options in Panels, Trim, Soffit, Shake, and Backerboard, are included in the extension.
On December 2022, Elementia S.A.B. de C.V., a Mexican corporation led by magnates Carlos Slim and Antonio del Valle Ruiz, announced a US$17 million investment in a cement facility in Costa Rica. The new facilities will have a capacity of 250,000 tons, according to the Mexico City-based firm.
On June 2022, Swisspearl Group AG acquired Denmark's fiber cement major, Cembrit, thereby emerging as the second-largest fiber cement manufacturer in Europe. This acquisition strengthened Swisspearl Group's geographical reach and aided it in developing new focus markets.
Market Segmentation
This study forecasts revenue at global, regional, and country levels from 2023 to 2032.
Fiber Cement Market, Material Analysis
Silica
Portland Cement
Cellulosic Fiber
Others
Fiber Cement Market, Application Analysis
Molding & Trim
Siding
Roofing
Wall Partitions
Flooring
Backer Boards
Others
Fiber Cement Market, End Use Analysis
Residential
Non-Residential
Fiber Cement Market, Regional Analysis
Germany
UK
France
Italy
Spain
Russia
Rest of Europe
China
Japan
India
South Korea
Australia
Rest of Asia Pacific
Brazil
Argentina
Colombia
UAE
Saudi Arabia
South Africa
Need help to buy this report?