Global Feed Additives Market Size By Livestock (Pork, Poultry, Cattle), By Type (Phosphates, Amino Acids, Vitamins, Acidifiers, Carotenoids, Enzymes, Flavors & Sweeteners, Mycotoxin Detoxifiers, Minerals, and Antioxidants), By Form (Liquid, Dry), By Geographic Scope And Forecast, 2022 - 2032
Industry: Food & Beverages
---
REPORT FORMAT

---
Global Feed Additives Market Insights Forecasts to 2032
The Feed Additives Market was valued at USD 37.8 Billion in 2022.
The market is growing at a CAGR of 4.69% from 2022 to 2032
The Wordwild Feed Additives Market is expected to reach USD 59.8 Billion by 2032
Asia Pacific is expected to grow the fastest during the forecast period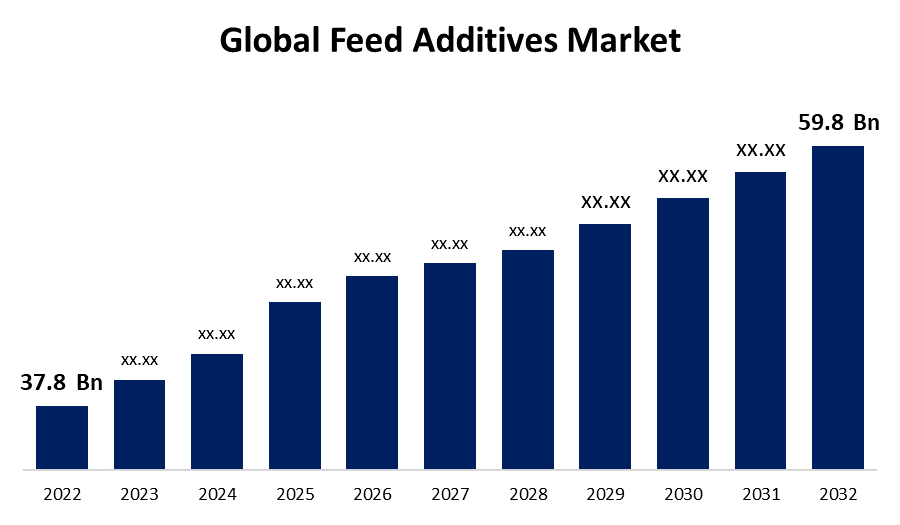 Get more details on this report -
Request Free Sample PDF
The Global Feed Additives Market Size is expected to reach USD 59.8 Billion by 2032, at a CAGR of 4.69% during the forecast period 2022 to 2032.
Feed additives are products utilized in livestock nutrition to enhance the quality of animal feed and food or to improve animal performance and health, such as by increasing feed material digestibility. Chemicals, substances, or organisms used in feed additives help with nutrient digestion, absorption, and assimilation, as well as growth and health. These affect physiological processes such as immunity, stress resistance, and reproduction. Feed additives include feed attractants, immunostimulants, prebiotics, probiotics, acidifiers, essential oils, and other inclusions. Most of the time, these additives are unnecessary nutrients. Feed additives have been used in animal agriculture to reduce pathogen colonization in animal stomachs. In addition to being added to feeds and feed components, several organic acids, such as formic and propionic acids, have been given directly to broiler chicks to minimize or eradicate foodborne infections from their intestines and prevent the shedding of these bacteria. Prebiotics and probiotics can be added to diets as additives to reduce or prevent pathogen colonization in the gut. Rising consumer awareness of livestock-related diseases such as swine flu and foot and mouth disease has raised concerns about meat quality and safety, prompting the use of feed additives.
Global Feed Additives Market Report Coverage
| Report Coverage | Details |
| --- | --- |
| Base Year: | 2022 |
| Market Size in 2022: | USD 37.8 Billion |
| Forecast Period: | 2022-2032 |
| Forecast Period 2022-2032 CAGR: | 4.69% |
| 2032 Value Projection: | USD 59.8 Billion |
| Historical Data for: | 2019-2021 |
| No. of Pages: | 200 |
| Tables, Charts & Figures: | 120 |
| Segments covered: | COVID-19 Impact Analysis, By Livestock, By Type, By Form, By Geographic Scope |
| Companies Covered: | Cargill, Incorporated, ADM, International Flavors & Fragrances, Evonik Industries AG, BASF SE, DSM, Ajinomoto, Novozymes, CHR. HANSEN, TEGASA, Nutreco, Kemin Industries Inc, Adisseo, BRF, Solvay, Others, and Key vendors |
| Growth Drivers: | Feed Additives Market Dynamics |
| Pitfalls & Challenges: | COVID-19 Empact,Challenges, Future, Growth, & Analysis |
Get more details on this report -
Request Free Sample PDF
Market Outlook
Feed Additives Market Price Analysis
Key determinants include raw material costs, transportation expenses, energy prices, and packaging materials. Seasonal fluctuations also play a vital role, affecting the pricing of specific products. The animal feed additive value chain is optimally integrated by multiple industry players. Key grain producers, such as BASF SE and Cargill Inc., are integrated throughout the value chain to provide feed additives and serve as a comprehensive supplier to animal feed manufacturers, lowering sourcing and logistics costs. To reduce raw material costs, companies such as Alltech and Charoen Pokphand (CP) are also integrating backward to produce raw materials (feed grains) as well as animal feed end-products.
Feed Additives Market Distribution Analysis
The global industry's competition is heavily influenced by the product's quality, the number of manufacturers and distributors, and their geographical locations. Several participants and stakeholders are focusing on expanding their manufacturing capacities as well. Over the last five years, major market participants such as DSM, BASF, Evonik, and Danisco have been very active in M&A activities. In contrast to Novozymes and Ajinomoto, which offer specific products such as enzymes and amino acids, these companies offer a diverse portfolio of products.
Market Dynamics
Feed Additives Market Dynamics
Increased concern about feed quality
As consumers become more concerned about the quality and safety of animal-derived products like meat, milk, and eggs, there has been an increase in demand for healthier and more sustainable livestock production practices. As a result, farmers and producers are increasingly aware that the nutritional content and safety of animal feed have a direct impact on the health, growth, and overall performance of their livestock. This increased awareness has resulted in an increase in the demand for feed additives, which are critical in improving the nutritional value of animal feed while also ensuring its safety. Furthermore, the occurrence of disease outbreaks in the livestock industry has heightened public awareness. Outbreaks such as avian influenza and swine fever have highlighted the critical importance of maintaining strict feed quality standards to prevent disease spread and protect animal health. As a result, farmers are investing more in high-quality feed additives to improve animal nutrition, reduce disease risks, and maximize production efficiency.
Restraints & Challenges
Antibiotic bans in various countries
Due to growing concerns about antibiotic resistance and its potential impact on human health, several countries have taken stringent measures to reduce the use of antibiotics in animal feed in recent years. These bans have not only reduced the use of antibiotic-based feed additives, but have also prompted an industry-wide paradigm shift toward more sustainable and responsible alternatives. While this action is consistent with global efforts to protect public health and promote responsible livestock farming practices, it presents challenges to the feed additives market. Producers and suppliers have had to adapt by creating innovative non-antibiotic additives capable of maintaining animal health and promoting growth without the use of antibiotics. Complying with various regulations across different countries has also added complexity to the global feed additives market, influencing production and distribution dynamics. As it navigates these challenges, the industry strives to strike a balance between animal welfare, food safety, and market sustainability.
Regional Forecasts
North America Market Statistics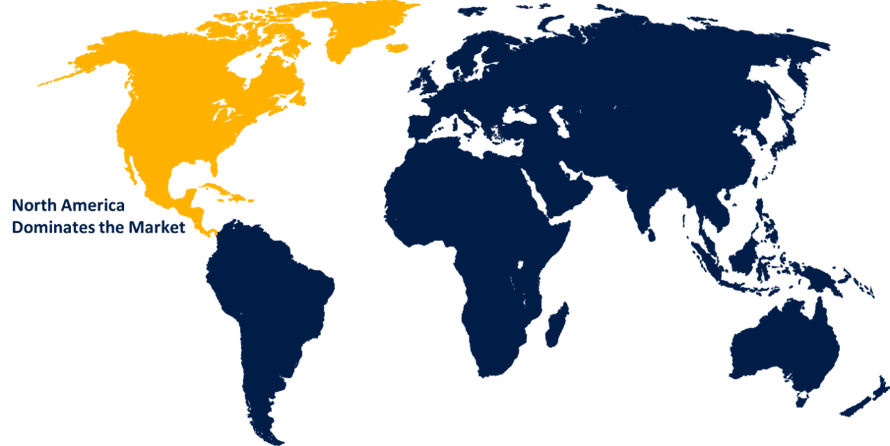 Get more details on this report -
Request Free Sample PDF
North America is anticipated to dominate the feed additives market from 2023 to 2032. Rising consumer health consciousness, combined with rising per capita meat consumption in the country, will help the industry expand even further. Rising meat consumption in North America, particularly in the United States, combined with stringent meat quality regulations, is expected to remain a key driving factor for the market. The milling and pet food manufacturing industries' strong presence will boost product demand. Furthermore, abundant raw materials such as maize and dextrose are expected to drive the market during the forecast period.
Asia Pacific Market Statistics
Asia Pacific is witnessing the fastest market growth between 2023 to 2032. Asia Pacific has a diverse agricultural landscape, with China and India emerging as major players in livestock production. Adoption of modern farming practices, as well as increased awareness of the importance of animal health and nutrition, have fueled demand for feed additives. Furthermore, a large number of feed manufacturers and a rapidly expanding aquaculture sector in countries such as Indonesia and Vietnam contribute to the region's dominance.
Segmentation Analysis
Insights by Livestock
The poultry segment accounted for the largest market share over the forecast period 2023 to 2032. Due to changing dietary preferences and an increasing population, global demand for poultry products such as chicken and eggs has increased dramatically. To meet the rising demand for poultry, farmers have increasingly turned to feed additives to improve the overall health, growth, and productivity of their birds. As a result, the poultry industry has emerged as a major driver of the feed additives market.
Insights by Form
The dry segment accounted for the largest market share over the forecast period 2023 to 2032. Dry forms are preferred by feed manufacturers because they are easier to store, measure, and incorporate into animal feed. Their lower transportation costs and ease of transport contribute to their larger market share. Furthermore, dry feed additives are more adaptable in various feeding systems and are compatible with a wide range of animal diets, providing farmers with versatility. This adaptability boosts their demand among livestock producers, bolstering their market dominance and growth prospects even further.
Recent Market Developments
In July 2023, Yes Sinergy was acquired by Olmix to strengthen its animal care portfolio. With this transaction, Olmix pursued international expansion and established itself as a major supplier of biosourced solutions.
In June 2023, Altech has announced the release of Triad, an advanced solution that promotes pig livability and successful farrowing. Triad is a delectable combination of the company's signature ingredients.
Competitive Landscape
Major players in the market
Cargill, Incorporated
ADM
International Flavors & Fragrances
Evonik Industries AG
BASF SE
DSM
Ajinomoto
Novozymes
CHR. HANSEN
TEGASA
Nutreco
Kemin Industries Inc
Adisseo
BRF
Solvay
Others
Market Segmentation
This study forecasts revenue at global, regional, and country levels from 2023 to 2032.
Feed Additives Market, Livestock Analysis
Feed Additives Market, Type Analysis
Phosphates
Amino Acids
Vitamins
Acidifiers
Carotenoids
Enzymes
Flavors & Sweeteners
Mycotoxin Detoxifiers
Minerals
Antioxidants
Feed Additives Market, Form Analysis
Feed Additives Market, Regional Analysis
Need help to buy this report?