Europe Tourism Market Size, Share, and COVID-19 Impact Analysis, By Type (Local/Domestic and International), By Purpose (Adventure, Business, Medical, Religious and Others), By Country (United Kingdom, Germany, Italy, France, Spain, the Netherlands, Rest of Europe), and Europe Tourism Market Insights, Industry Trend, Forecasts to 2032
Industry: Consumer Goods
---
REPORT FORMAT

---
Europe Tourism Market Insights Forecasts to 2032
The Europe Tourism Market Size was valued at USD XX Million in 2022.
The Market is growing at a CAGR of 5.4% from 2022 to 2032
The Europe Tourism Market Size is expected to reach USD XX Million by 2032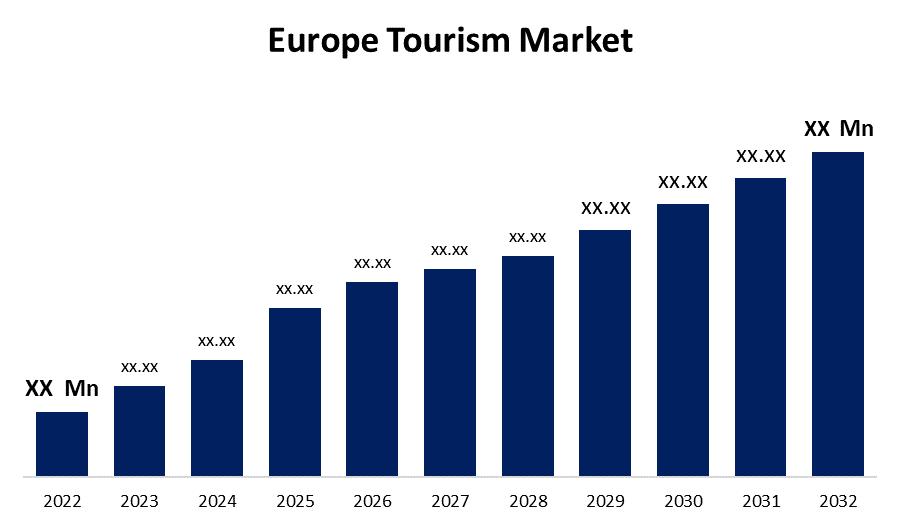 Get more details on this report -
Request Free Sample PDF
The Europe Tourism Market Size was valued at USD XX million in 2022. The Europe Tourism Market is projected to exceed USD XX Million by 2032, growing at a CAGR of 5.4% from 2022 to 2032.
Market Overview
The European tourism market is a thriving and diverse industry that encompasses a wide range of cultures, landscapes, and historical treasures. Europe, as one of the world's leading tourist destinations, offers a distinct blend of modernity and tradition, attracting visitors from all over the world. From iconic landmarks like the Eiffel Tower and the Colosseum to picturesque countryside retreats and charming coastal villages, this market offers a diverse range of experiences. The Europe tourism market encompasses all of the activities and industries that cater to visitors looking for leisure, exploration, and cultural enrichment on the European continent. This includes a wide range of services such as lodging, transportation, attractions, entertainment, and hospitality. The market's allure stems from its rich history, architectural marvels, diverse culinary scenes, and artistic heritage, which foster a wide range of travel motivations.
Report Coverage
This research report categorizes the market for Europe tourism market based on various segments and regions and forecasts revenue growth and analyzes trends in each submarket. The report analyses the key growth drivers, opportunities, and challenges influencing the Europe tourism market. Recent market developments and competitive strategies such as expansion, product launch, and development, partnership, merger, and acquisition have been included to draw the competitive landscape in the market. The report strategically identifies and profiles the key market players and analyses their core competencies in each sub-segment of the Europe tourism market.
Europe Tourism Market Report Coverage
| Report Coverage | Details |
| --- | --- |
| Base Year: | 2022 |
| Market Size in 2022: | USD XX Million |
| Forecast Period: | 2022-2032 |
| Forecast Period 2022-2032 CAGR: | 5.4% |
| 2032 Value Projection: | USD XX Million |
| Historical Data for: | 2019-2021 |
| No. of Pages: | 200 |
| Tables, Charts & Figures: | 120 |
| Segments covered: | COVID-19 Impact Analysis, By Type, By Purpose, By Country,  |
| Companies Covered: | Intrepid Travel, Abercrombie & Kent, Topdeck, Globus Journey, Trafalgar, Topdeck, Insight Vacation, Penguin Travel, G Adventures, Others, and Key venders |
| Pitfalls & Challenges: | COVID-19 Empact,Challenges, Future, Growth, & Analysis |
Get more details on this report -
Request Free Sample PDF
Driving Factors
Europe has a rich cultural heritage, historical landmarks, and artistic treasures that draw visitors looking to immerse themselves in its rich tapestry. The centuries-old cities, castles, museums, and monuments of Europe provide an immersive journey through time and culture. Europe has well-developed transportation networks, which include high-speed trains, efficient airports, and extensive road networks. This connectivity makes it possible to travel easily within and between countries, increasing accessibility and encouraging exploration. Europe's iconic landmarks and architectural marvels, such as the Eiffel Tower, the Parthenon, and the Vatican, continue to be major draws for tourists eager to see these structures in person and learn about their historical significance.
Restraining Factors
While many parts of Europe have excellent transportation and lodging infrastructure, some regions, particularly rural areas, may lack adequate facilities to accommodate a large number of tourists. Inadequate infrastructure can stymie tourism expansion to lesser-known destinations.
Market Segment
The Europe Tourism Market share is segmented into type and purpose.
The international segment is expected to hold the largest share of the Europe tourism market during the forecast period.
The Europe tourism market is divided by type into local/domestic and international. Among these, the international segment is expected to hold the largest share of the Europe tourism market during the forecast period. This is because Europe has a global appeal as a multifaceted tourist destination that draws visitors from all over the world. The historical significance, cultural diversity, natural landscapes, and modern amenities of the continent make it a top choice for international travelers seeking memorable experiences. While the domestic/local segment is significant, the sheer volume of international tourists, combined with their higher spending habits, gives the international segment a larger share of the Europe tourism market.
The adventure segment is expected to grow at the fastest pace in the Europe tourism market over the forecast period.
Based on the purpose, the Europe tourism market is classified into adventure, business, medical, religious and others. Among these, the adventure segment is expected to grow at the fastest pace in the Europe tourism market over the forecast period. Europe's adventure tourism industry caters to travelers looking for thrilling and active experiences. Hiking, skiing, rock climbing, water sports, cycling, and other activities fall into this category. From the Swiss Alps to the Mediterranean coast, Europe's diverse landscapes provide a playground for adventurers. Nature lovers, adrenaline junkies, and those looking to push themselves physically and mentally flock to this segment.
Competitive Analysis:
The report offers the appropriate analysis of the key organizations/companies involved within the Europe tourism market along with a comparative evaluation primarily based on their product offering, business overviews, geographic presence, enterprise strategies, segment market share, and SWOT analysis. The report also provides an elaborative analysis focusing on the current news and developments of the companies, which includes product development, innovations, joint ventures, partnerships, mergers & acquisitions, strategic alliances, and others. This allows for the evaluation of the overall competition within the market.
List of Key Companies
Intrepid Travel
Abercrombie & Kent
Topdeck
Globus Journey
Trafalgar
Topdeck
Insight Vacation
Penguin Travel
G Adventures
Others
Key Target Audience
Market Players
Investors
End-users
Government Authorities
Consulting and Research Firm
Venture capitalists
Value-Added Resellers (VARs)
Market Segment
This study forecasts revenue at, regional, and country levels from 2019 to 2032. Spherical Insights has segmented the Europe Tourism Market based on the below-mentioned segments:
Europe Tourism Market, By Type
Local/Domestic
International
Europe Tourism Market, By Purpose
Adventure
Business
Medical
Religious
Others
Europe Tourism Market, By Country
United Kingdom
Germany
Italy
France
Spain
Netherlands
Rest of Europe
Need help to buy this report?