Europe Limestone Market Size, Share, and COVID-19 Impact Analysis, By End-use Industry (Construction, Industrial, Iron & Steel, Agriculture, Chemical, Water Treatment, Others), By Country (Germany, UK, France, Italy, Spain, Russia, Rest of Europe), and Europe Limestone Market Insights Forecasts to 2032
Industry: Advanced Materials
---
REPORT FORMAT

---
Europe Limestone Market Insights Forecasts to 2032
The Europe Limestone Market Size was valued at USD 13.5 Billion in 2022.
The Market Size is Growing at a CAGR of 4.7% from 2022 to 2032.
The Europe Limestone Market Size is expected to reach USD 21.38 Billion by 2032.
Europe is expected to Grow the fastest during the forecast period.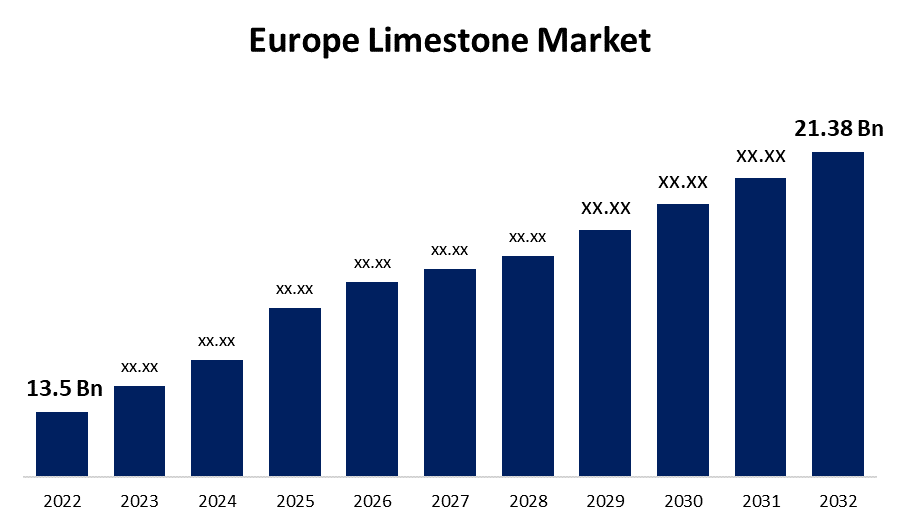 Get more details on this report -
Request Free Sample PDF
The Europe Limestone Market Size is expected to reach USD 21.38 Billion by 2032, at a CAGR of 4.7% during the forecast period 2022 to 2032.
Market Overview
Limestone is a type of sedimentary rock composed primarily of calcium carbonate (CaCO3) in the form of calcite or aragonite. It may also contain significant amounts of magnesium carbonate (dolomite); minor elements that are frequently present include clay, iron carbonate, feldspar, pyrite, and quartz. Limestone is of significant commercial relevance due to its diverse usage in a variety of end-use industries. Limestone is a substance found in aggregate, cement, building stones, chalk, and crushed stone, and is widely utilized in road and building construction applications. Limestone is the raw material of lime (calcium oxide), which is used in the production of steel, mining, paper, water treatment and purification, and plastics. Lime is also used extensively in the production of glass and agriculture. Growing expenditures in the development and construction industry, rising demand for PCC and GCC from the paper industry, and high fertilizer consumption are expected to fuel the expansion of the Europe limestone market throughout the forecast duration.
Report Coverage
This research report categorizes the market for Europe Limestone Market based on various segments and regions and forecasts revenue growth and analyzes trends in each submarket. The report analyses the key growth drivers, opportunities, and challenges influencing the Europe Limestone Market. Recent market developments and competitive strategies such as expansion, product launch, and development, partnership, merger, and acquisition have been included to draw the competitive landscape in the market. The report strategically identifies and profiles the key market players and analyses their core competencies in each sub-segments of the Europe Limestone Market.
Europe Limestone Market Report Coverage
| Report Coverage | Details |
| --- | --- |
| Base Year: | 2022 |
| Market Size in 2022: | USD 13.5 Billion |
| Forecast Period: | 2022-2032 |
| Forecast Period 2022-2032 CAGR: | 4.7% |
| 2032 Value Projection: | USD 21.38 Billion |
| Historical Data for: | 2018-2021 |
| No. of Pages: | 200 |
| Tables, Charts & Figures: | 90 |
| Segments covered: | By End-use Industry, By Country, and COVID-19 Impact Analysis |
| Companies Covered: | Nordkalk, CARMEUSE, Graymont, Lhoist, Omya AG, Sibelco, Ognyanovo-K, WIG Wietersdorfer Holding GmbH, Franzefoss Minerals, Kalkfabrik Netstal AG, CARRIÈRES DU HAINAUT, SCHAEFER KALK GmbH & Co. KG, and Others. |
| Pitfalls & Challenges: | COVID-19 Empact, Challenges, Future, Growth, & Analysis |
Get more details on this report -
Request Free Sample PDF
Driving Factors
The use of fertilizers in agriculture to sustain the rising population is predicted to boost the growth of the Europe limestone market. Additionally, the increasing number of green buildings in conjunction with renewable energy measures launched by governments in the European nations is a significant driver. Limestone is utilized in a wide range of end-use sectors and is growing increasingly popular due to its advantages over other materials such as durability, high strength, corrosion resistance, and ease of availability. These factors are expected to assist the European limestone market rapidly over the forecast period. Other reasons, such as the progress of infrastructure development programs and the construction of smart cities, as well as increased industrialization, are expected to propel the market even further. Furthermore, the growing prominence of the residential and non-residential construction industries is expected to be a key driver of limestone demand growth. Economic growth elements such as industrial production and substantial public investment are also expected to benefit the non-residential construction sector. Moreover, renewed public infrastructure spending is likely to spur Europe's limestone industry growth.
Restraining Factors
However, market expansion is hampered by severe laws and regulations governing the mining sector, which impedes market production and supply. Mining and subsequent processing of limestone have a significant environmental impact, resulting in air, soil, and water pollution, loss of natural flora and fauna, deterioration of agricultural land, as well as shifts in landscapes and forest deforestation.
Market Segment
In 2022, the construction segment is expected to hold the largest share of Europe Limestone market during the forecast period.
Based on the end-use industry, the Europe Limestone Market is classified into construction, industrial, iron & steel, agriculture, chemical, water treatment, and others. Among these, the construction segment is expected to hold the largest share of the Europe Limestone market during the forecast period. Limestone is utilized to make cement, aggregate, tiles, mortar and plaster, and other building materials. Construction and infrastructure demands are high in European countries, owing to the European Union's ambitious policy program since 2008, which has set targets for improving energy efficiency, increasing renewable energy, and reducing greenhouse gas emissions. Furthermore, limestone is processed to make GCC and PCC, which are utilized in a variety of applications such as paper, paints and coatings, plastics, adhesives, and sealants. The European paper sector has grown steadily in recent years as a result of the growing sustainability trend in packaging.
In 2022, the France segment accounted for the largest revenue share of more than 25.8% over the forecast period.
On the basis of Country, the Europe Limestone Market is segmented into Germany, UK, France, Italy, Spain, Russia, and Rest of Europe. Among these, the France segment dominates the market with the highest revenue share of 25.8% over the forecast period. France's expanding demographics have mostly contributed to an increase in residential construction activity. Increasing investments in residential buildings are projected to boost cement and aggregate demand, and thus limestone usage, over the projection period. Spain's demand for cement is expected to rise in the future years as the country's infrastructure undergoes modernization. The United Kingdom is another important market in the region, with the agricultural sector expanding due to the increased need for fertilizers.
Competitive Analysis:
The report offers the appropriate analysis of the key organizations/companies involved within the Europe Limestone Market along with a comparative evaluation primarily based on their product offering, business overviews, geographic presence, enterprise strategies, segment market share, and SWOT analysis. The report also provides an elaborative analysis focusing on the current news and developments of the companies, which includes product development, innovations, joint ventures, partnerships, mergers & acquisitions, strategic alliances, and others. This allows for the evaluation of the overall competition within the market.
List of Key Companies
Nordkalk
CARMEUSE
Graymont
Lhoist
Omya AG
Sibelco
Ognyanovo-K
WIG Wietersdorfer Holding GmbH
Franzefoss Minerals
Kalkfabrik Netstal AG
CARRIÈRES DU HAINAUT
SCHAEFER KALK GmbH & Co. KG
Key Target Audience
Market Players
Investors
End-users
Government Authorities
Consulting and Research Firm
Venture capitalists
Value-Added Resellers (VARs)
Recent Developments
On January 2023, In France, Holcim established Europe's first low-carbon calcined clay cement factory, reducing carbon emissions by 50% and assisting in the delivery of 500,000 tons of cement yearly. This is expected to increase demand for limestone mining and Portland limestone cement in the region.
In September 2022, CEMEX has been given permission to expand its quarry license at the Serreta Larga quarry in Spain. The company can now supply limestone at a pace of 520,000 tons per year for the next 30 years.
In October 2022, Opterra Zement GmbH and Opterra Beton GmbH, both part of the international CRH Group, were acquired by Thomas Gruppe. This comprises the decommissioned Karsdorf facility, as well as the Neufahrn ready-mix concrete plant. With this transaction, the family-owned company Thomas continues its long-term expansion trajectory by acquiring not only massive rock reserves but also an experienced workforce.
Market Segment
This study forecasts revenue at global, regional, and country levels from 2021 to 2032. Spherical Insights has segmented the Europe Limestone Market based on the below-mentioned segments:
Europe Limestone Market, By End-use Industry
Construction
Industrial
Iron & Steel
Agriculture
Chemical
Water Treatment
Others
Europe Limestone Market, By Country
Germany
UK
France
Italy
Spain
Russia
Rest of Europe
Need help to buy this report?