Global Engineered Stone Market Size, By Product (Tiles, Blocks & Slabs), By Application (Countertops, Flooring, Others), By Geographic Scope and Forecast to 2022 – 2032
Industry: Advanced Materials
---
REPORT FORMAT

---
Global Engineered Stone Market Insights Forecasts to 2032
The Engineered Stone Market Size was valued at USD 23.7 Billion in 2022
The Market Size is Growing at a CAGR of 5.4% from 2022 to 2032
The Global Engineered Stone Market Size is expected to reach USD 40.38 Billion by 2032
Asia Pacific is expected to grow the fastest during the forecast period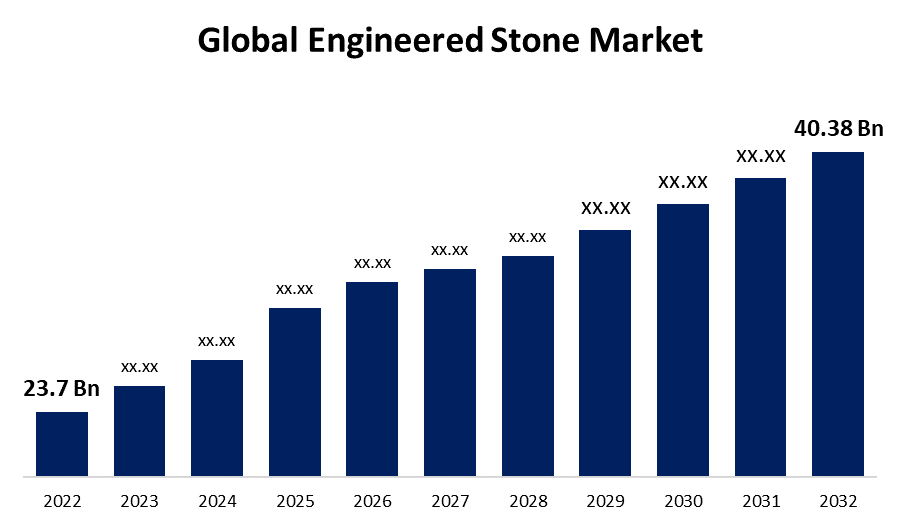 Get more details on this report -
Request Free Sample PDF
The Global Engineered Stone Market Size is expected to reach USD 40.38 Billion by 2032, at a CAGR of 5.4% during the forecast period 2022 to 2032.
Engineered stone, also known as engineered quartz or composite stone, is a cutting-edge innovation in both the construction and interior design fields. This artificial material is designed to mimic the appearance of natural stone, such as marble and granite, while also providing increased durability and versatility. It is made of crushed natural stone, often quartz, that is held together with resin and chemicals. Given its versatility, it is commonly used for everything from kitchen countertops and bathroom vanities to flooring and wall cladding. In addition, due to its aesthetic appeal, durability, and resistance to stains and scratches, the engineered stone market has grown rapidly. The engineered stone market continues to impact how consumers approach interior design and construction, providing a balanced blend of elegance, durability, and environmental friendliness. Additionally, to its adaptability and aesthetic attributes, it is a popular choice for both residential and commercial uses. As environmental concerns grow, some engineered stone products use recycled elements, making them an environmentally friendly alternative.
Market Outlook
Engineered Stone Market Price Analysis
Price analysis in the engineered stone market is an ever-changing process impacted by an extensive number of components. The price of engineered stone will vary by factors such as raw material quality, manufacturing procedures, and competitiveness in the market. Because of the use of resins and advanced manufacturing methods, engineered stone is frequently more expensive than natural stone. However, prices vary depending on the brand, design, and materials utilized in the manufacturing. Prices are also influenced by sustainability and the growing demand for eco-friendly solutions since some consumers are willing to pay a premium for ecologically responsible engineered stone goods. In this industry, price analysis is an intricate equilibrium that ensures customers have access to quality while manufacturers maintain profitability in an increasingly competitive field.
Engineered Stone Market Distribution Analysis
The engineered stone market distribution analysis includes the difficult process of sourcing, manufacturing, and supplying these new materials to a varied spectrum of end-users. Manufacturers, distributors, vendors, and construction professionals are the primary players who enable the effective flow of engineered stone goods from manufacturing facilities to construction sites and design projects. Engineered stone reaches customers in both the residential and commercial sectors through global distribution networks. As the market evolves, sustainable and ecologically responsible distribution strategies are gaining traction, reflecting the industry's dedication to delivering high-quality products while limiting environmental impact. Distribution analysis is critical for preserving supply chain integrity, which is critical for addressing the growing demand for engineered stone in construction and design applications.
Global Engineered Stone Market Report Coverage
| Report Coverage | Details |
| --- | --- |
| Base Year: | 2022 |
| Market Size in 2022: | USD 23.7 Billion |
| Forecast Period: | 2022-2032 |
| Forecast Period 2022-2032 CAGR: | 5.4% |
| 2032 Value Projection: | USD 40.38 Billion |
| Historical Data for: | 2019-2021 |
| No. of Pages: | 200 |
| Tables, Charts & Figures: | 115 |
| Segments covered: | By Product, By Application, By Geographic |
| Companies Covered: | LX Hausys, Johnson Marble & Quartz, Technistone A.S., Caesarstone Ltd., Belenco, Quarella Group Ltd., Quartzforms, Stone Italiana S.p.A., Cosentino S.A., VICOSTONE, Topzstone, SantaMargherita, Viatera USA, and Others. |
| Growth Drivers: | Rising aesthetic appeal and product versatility in the construction and architecture industry |
| Pitfalls & Challenges: | Covid-19 Empact,Challenges,Growth, Analysis, |
Get more details on this report -
Request Free Sample PDF
Market Dynamics
Engineered Stone Market Dynamics
Rising aesthetic appeal and product versatility in the construction and architecture industry
The ability of engineered stone to replicate the appearance of real stone, such as granite or marble, is a strong market driver. It comes in a wide variety of colors, patterns, and finishes, resulting in it being highly versatile to a wide range of design preferences and uses. Furthermore, engineered stone is increasingly appealing to architects, interior designers, and homeowners due to its aesthetic adaptability. It can be easily and effortlessly integrated into a wide range of indoor and exterior settings, including kitchens and baths as well as commercial locations. Since it enables more creative and functional design options, engineered stone is in high demand.
Restraints & Challenges
Growing environmental concerns.
The use of resins and additives in the manufacturing process of engineered stone can cause adverse effects on the environment. Because these resins tend to be petroleum-based, they can release volatile organic compounds (VOCs) during production and installation. Mining for quartz, a main component of engineered stone, can have environmental consequences. Growing environmental awareness and a preference for sustainable building materials have pushed some customers and builders to explore for alternatives. Thus, the engineered stone industry has been put under pressure to address these concerns by producing more ecologically friendly materials and manufacturing processes.
Regional Forecasts
North America Market Statistics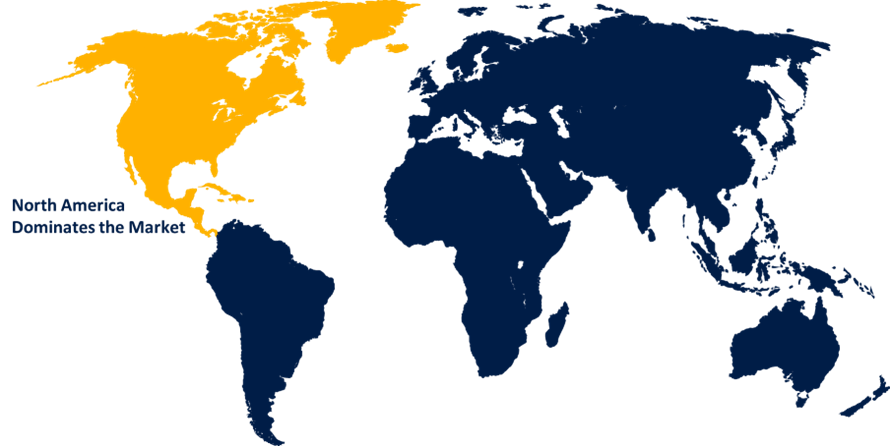 Get more details on this report -
Request Free Sample PDF
North America is anticipated to dominate the engineered stone market from 2023 to 2032. This is attributed to the region's well-established construction sector and the market demand for high-quality surface finishings. The region covers the United States and Canada, which have a high demand for engineered stone products. Engineered stone, which is largely constructed of natural quartz, resins, and pigments, is commonly utilized in residential and commercial construction for countertops, vanity tops, and flooring. In addition, there is a growing trend for aesthetically appealing and long-lasting surfaces in domestic kitchens and bathrooms. Additionally, engineered stone is in high demand in the commercial building sector due to its adaptability, ease of maintenance, and resilience to blemishes and scratches. Furthermore, a well-established distribution network and a competitive market with a wide range of engineered stone goods are available. Moreover, in North America, sustainability and environmentally friendly practices are becoming increasingly essential, leading to the introduction of engineered stone products including recycled components.
Asia Pacific Market Statistics
Asia Pacific is witnessing the fastest market growth between 2023 to 2032, due to its rapid economic growth and burgeoning construction sector, has been experiencing strong market expansion and is likely to continue growing. The Asia Pacific region is a competitive and rapidly expanding market for engineered stone goods. This region encompasses China, India, Japan, and Southeast Asian countries. Several factors contribute to the growth of the Asia Pacific engineered stone market, including growing urbanization and infrastructure development, the affordability of engineered stone products, and the presence of a significant manufacturing base. Furthermore, as customers in the region want modern and premium aesthetics, engineered stone is being employed more frequently in high-end residential and commercial applications. Moreover, the rising incidence of nuclear families and the increase in the number of homes in Asia Pacific are factors bolstering market growth over the forecast period.
Segmentation Analysis
Insights by Product
The blocks and slabs segment accounted for the largest market share over the forecast period 2023 to 2032. This is due to their widespread use in high-end residential and commercial applications that require a seamless and exquisite appearance. Larger surfaces, such as kitchen counters, bathroom vanity tops, and work surfaces, are often made of blocks and slabs. They are popular due to their smooth appearance and lack of grout lines. While blocks and slabs are available in a variety of standard sizes, they can also be modified to meet specific design specifications, making them useful for a wide range of applications. Furthermore, rising demand for elegant countertops to improve the aesthetics of interior structures, as well as their ease of installation and maintenance, are expected to drive demand throughout the projection period.
Insights by Application
The countertops segment accounted for the largest market share over the forecast period 2023 to 2032. This is attributed to its widespread use in household and commercial kitchens and bathrooms, particularly owing to its stain resistance. Engineered stone countertops are commonly utilized for countertop surfaces in kitchens and baths. They are valued for their nonporous and hygienic properties, which make them suitable for food preparation and sanitation. Countertops are available in a variety of colors, patterns, and finishes, allowing homeowners and designers to select surfaces that complement their design preferences as well as the overall decor of the area. Countertops are a prominent point in many rooms, and the aesthetic and functional attributes of engineered stone make it a popular choice.
Competitive Landscape
Major players in the market
LX Hausys
Johnson Marble & Quartz
Technistone A.S.
Caesarstone Ltd.
Belenco
Quarella Group Ltd.
Quartzforms
Stone Italiana S.p.A.
Cosentino S.A.
VICOSTONE
Topzstone
SantaMargherita
Viatera USA
Pokarna Limited
Recent Market Developments
On March 2022, MTI Baths and Aquatica have been acquired by Engineered Stone Group (ES Group). In the United States, MTI Baths manufactures premium engineered stone, acrylic, hydrotherapy bathtubs, and solid surface, whereas Aquatica is a well-known company that specializes in high-end solid surface spas and bathtubs, primarily catering to the internet direct-to-consumer market in North America. The strategic move is likely to strengthen ES group's position in the US market.
On January 2021, Lotte Chemical expanded its Belenco plant in Turkey with an engineered stone production line. This plant specializes in the production of fake marble using engineered stone resources. With this extension, the Belenco plant's annual production capacity has increased by 120,000 pieces. The development underscores Lotte Chemical's commitment to satisfying the increasing demand for engineered stone products while also enhancing its market position.
Market Segmentation
This study forecasts revenue at global, regional, and country levels from 2023 to 2032.
Engineered Stone Market, Product Analysis
Engineered Stone Market, Application Analysis
Countertops
Flooring
Others
Engineered Stone Market, Regional Analysis
Germany
UK
France
Italy
Spain
Russia
Rest of Europe
China
Japan
India
South Korea
Australia
Rest of Asia Pacific
Brazil
Argentina
Colombia
UAE
Saudi Arabia
South Africa
Need help to buy this report?